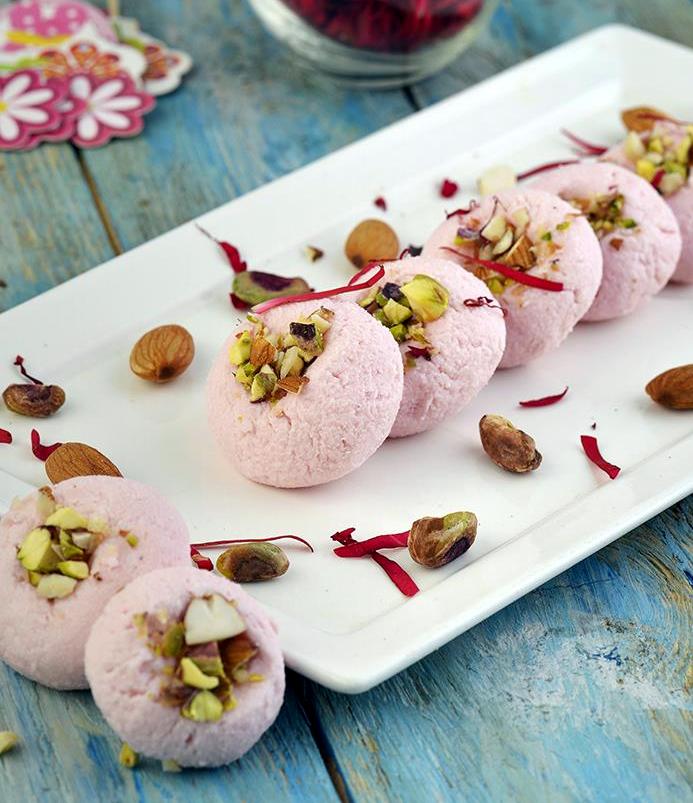 The last week of October heralds the fabulous festival of Diwali, marching in with all its glory, urging Indians all around the world to gear up to celebrate one of the biggest festivals of the season! Marked with Diyas (decorated oil lamps), beautiful clothes, lovely colors of the Rangoli, and lots of delicious snacks and sweets, this is one Indian festival you don't wan to miss!
Diwali is important for Hindus, both culturally and spiritually, and some households celebrate this as a 5-day festival, culminating with the Hindu New Year. If you are not familiar with Diwali, here's a post I wrote up last year about What is Diwali and how is it celebrated. Food is an integral part of any celebration, no matter what culture it belongs to – food is something that bridges gaps and unites people, spreading love ad awareness with every bite. And since its customary to share sweets and desserts with friends and family, I'd love to share one of my recent favorite desserts with all my readers, the lovely Rose Sandesh…
This quick and easy recipe is brought to you in association with tarladalal.com, and I love how super easy and efficient this quick version is! Traditionally, Sandesh is made from fresh chhanna, which is made at home. But this is a long process, so if you are short of time, this 10-minute version works just as well, and gets you a decadent dessert ready to please your guests in no time! Obviously, its important to use good-quality fresh paneer, and to get the best results, leave it out at room temperature for 15-20 minutes so its easier to mash and mold.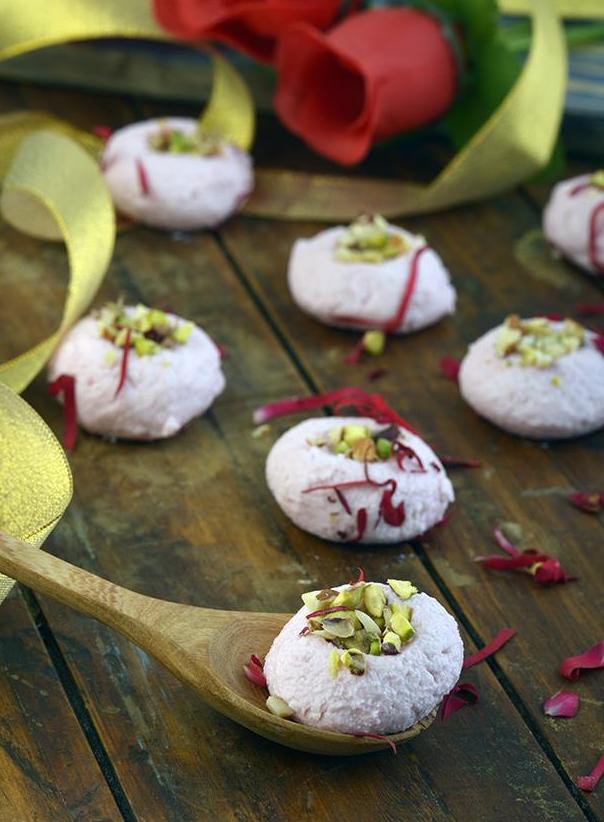 Rose Sandesh – Quick & Easy Indian Dessert, perfect for Diwali dinners or any other festive occasion

Prep Time: 5 mins Cook Time: 5 mins Refrigerate Time: 30 mins

Ingredients
5 drops rose essence
1 1/2 tbsp rose sherbet (flavored rose drink found in Indian grocery stores)
1 cup grated paneer (cottage cheese)
2 tbsp powdered sugar
1 tbsp finely slivered almonds
1 tbsp finely slivered pistachios
shredded rose petals (optional)

Directions
Crumble the paneer into tiny pieces with hand first (crumble, do not grate).
Combine the paneer with the rest of the ingredients in a big bowl and knead very well till smooth.
Cover the mixture with cling-wrap and stack it in the freezer for 15 minutes.
Remove the bowl from the freezer. Divide the mixture equally into bite-sized portions and roll each portion into a ball using your palms, then flatten it lightly. Make a depression in the centre using your index finger.
Garnish it with almonds, pistachios and rose petals. and put in the fridge for 30 minutes or until ready to serve.
This is a really festive treat that takes very less planning and even less time to execute. Plus, there's hardly any room for error, so there's no way you can mess this one up! The rosy pink color plays well with the festive mood, and the size and texture makes it easy to pair with almost any other disg. Try these other flavor variations, like add mango pulp, or saffron essence – they both would work equally well with the recipe.
Related Articles:
5 Easy Homemade Sweets For Diwali
Sevaiya Payasam Recipe
DIY: Scented Flameless Candles