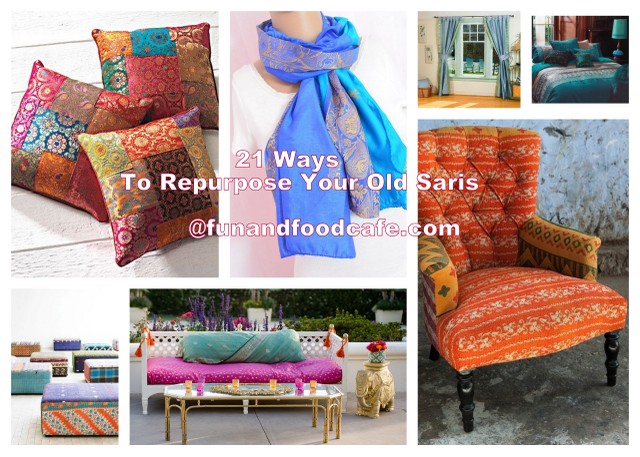 Its a no-brainer that all Indian ladies love their Sarees! In fact, you'll find a huge fan-following for these 7-9 yard pieces of fabric even outside the Indian community. With a myriad mix of fabrics and a versatile range of designs and colors, the Sari has now become a big fashion icon. But with changing trends, we move on to the latest fashion, and our beloved Saris are often left to age in vintage boxes or armoires. But worry no more, because I bring you a mix of fun and practical ideas to Upcycle your fabrics. You can repurpose them in several ways so they stay close to you, and yet find a meaning for their existence.
One of the latest trend in Indian fashion is to combine two old sarees and mix-and-match them to create a new outfit that has the best of both the worlds! You can even create a trendy dress like this one below. Just use a brocade sari for the front and a matching plain fabric for the back. Add some ruffle and you've got yourself a jaw-dropping creation.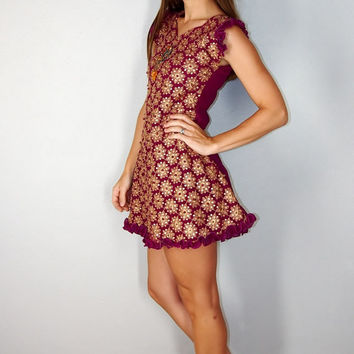 For a simple, easy yet stylish option, go for the Sari skirt. A mix and match of fabrics will give you a rich look. Make sure to use free-flowing fabric like Cotton, Georgette, Soft Silks or Chiffon if possible, as they generate a nice flair. Maybe add a Zardosi or Sequin border at the end to complete the look!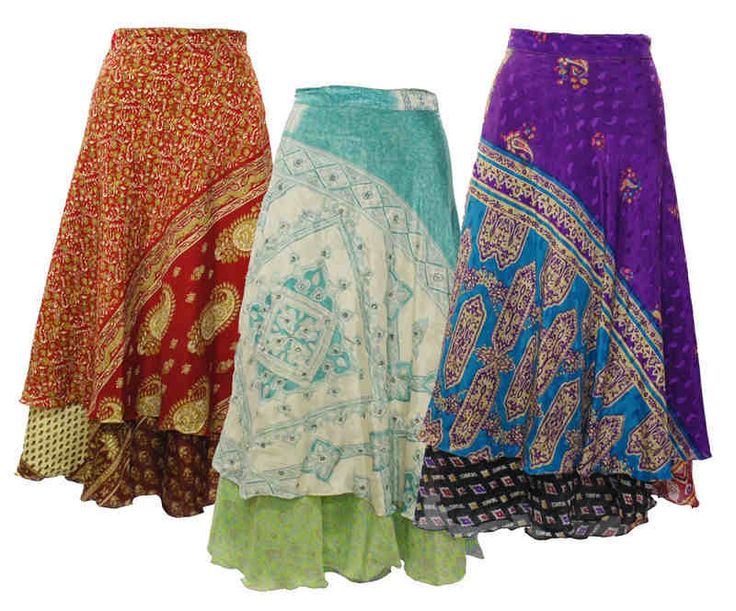 And for a stunning outfit that will blow your guests away, try something like this unique Evening dress designed by Mainbocher, and available via the online collection at Metropolitan Museum of Art!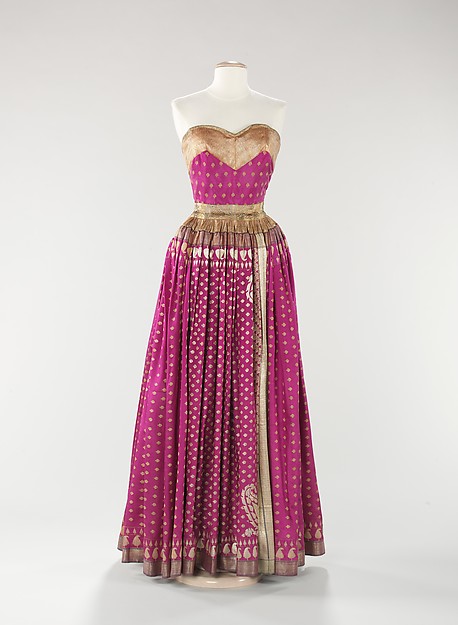 Here are some lovely Quilts using patchwork brocade and velvet sarees to create warm designs that are colorful and inviting. You can either color-co-ordinate them, or go for a rainbow pattern that combines patches of all your favorite old pieces. Tie it all in with a plain silk border and you've got yourself a winner.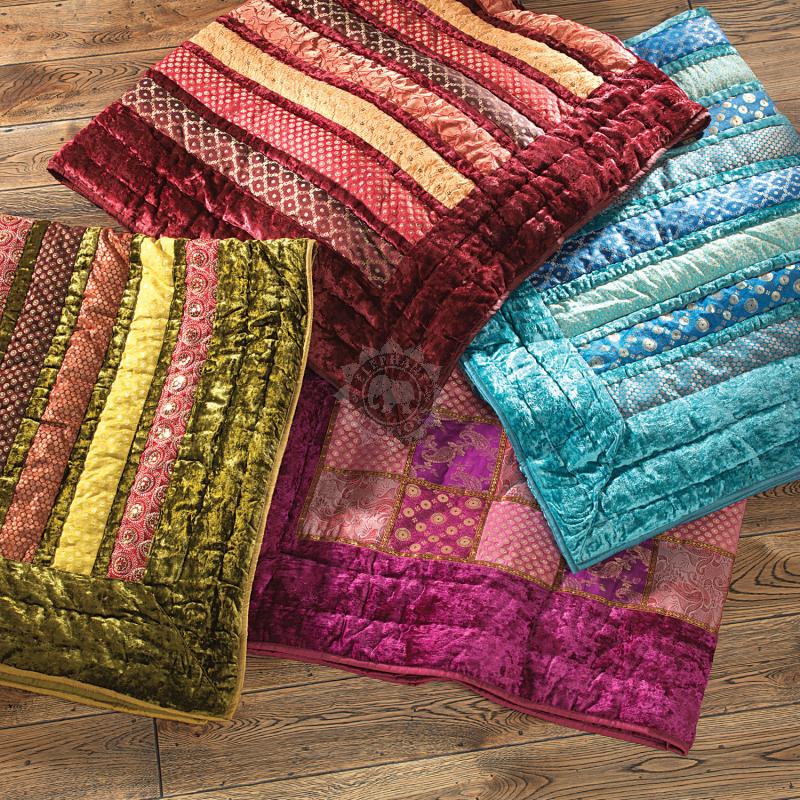 Next up is this colorful wall-hanging. Just hang a rod-curtain and roll over a finished piece of the sari fabric for a decor that is modern and traditional at the same time. If you have matching pieces in furniture, use them to pull of a designer-style ambience.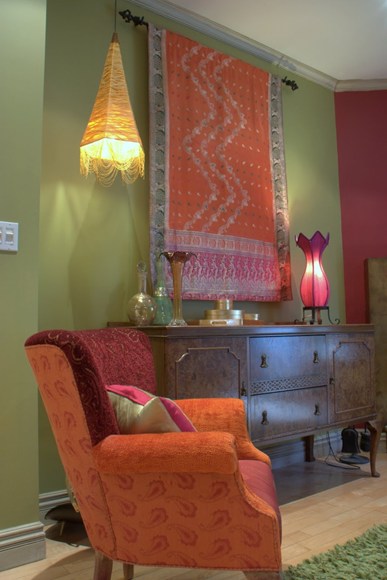 Bring an instant pop of color to any room using sari fabrics as pillow covers. This one is a tried-and-tested technique, and would be perfect for festival gatherings like Diwali, Holi or Navratri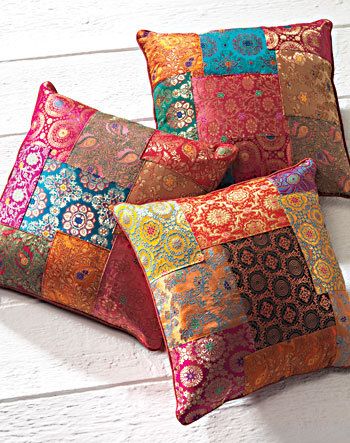 Looking for a low-cost table-cloth that will also look regal on any Indian occasion? That's where your old saris will come in handy. Just lay them out on the table and cover them with a transparent or glass protector. Then get ready for some oohs-and-aahs at the gathering.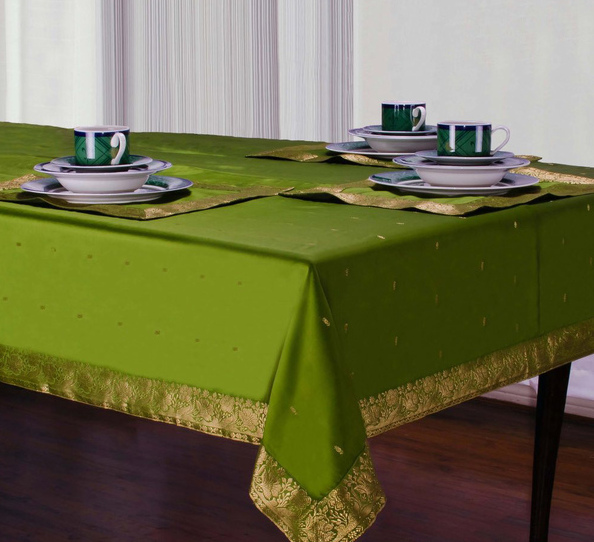 Add some more jazz to the table with a set of colorful Sari placemats. These can be an easy DIY project for a weekend, and will add a fun flair to your food.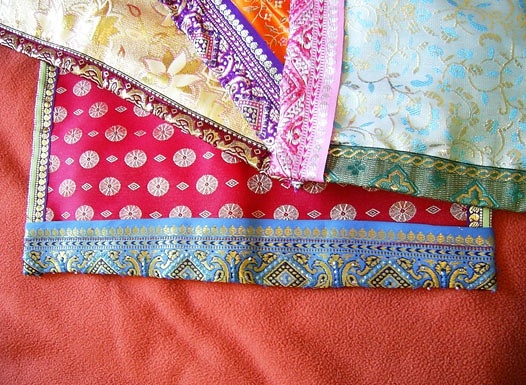 And if thats not enough color, why not change the look for an entire piece of furniture? Like this armchair below. Its not easy to pull off if you are thinking DIY, but if you know how to stitch, or can find a good tailer, I bet you can get this chiseled look at half of what you'd pay to buy it! And its perfect to add color to an otherwise dull room.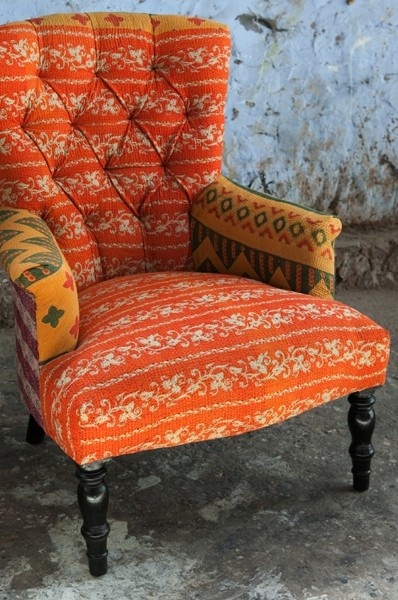 You know how we all need a storage ottoman in the house, but we hate the neutral blacks and browns it comes in! Here's an easy way to make them bright and cheery. Use your old sari to cover the entire ottoman, maybe just the sides, or just the top cover. Add a border or use a large span of fabric to achieve the look you fancy.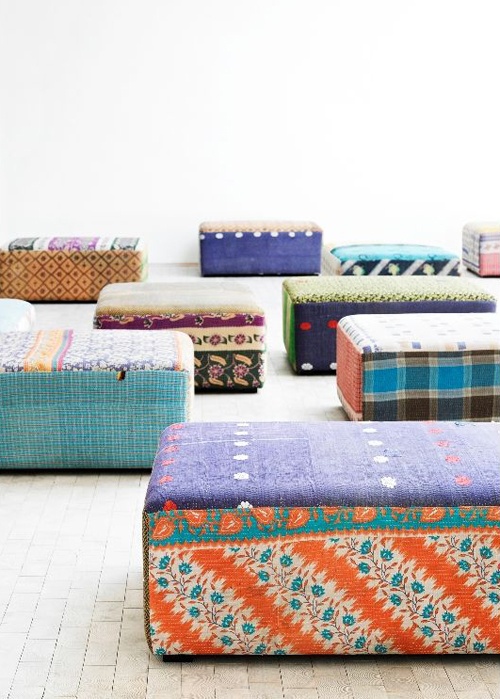 Or go to a consignment store and buy an ottoman base with legs, and then get a cushion stitched using your old saris. You could easily achieve the look sold at Pier One Imports or World Market at half the price, or even lesser than that!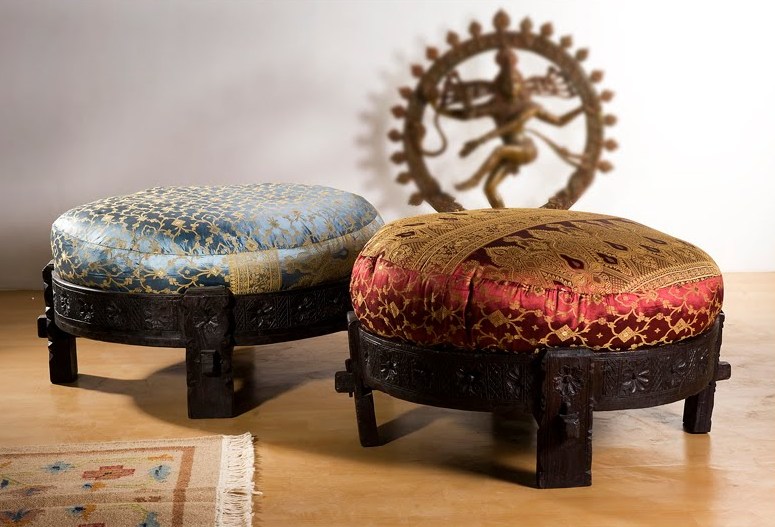 I really like the use of sarees on these tabletops. Just use starched cotton fabrics and glue them onto side tables or kitchen tables, and see how pretty they become. Its a perfect backdrop for some magazines, a cup of coffee or a bouquet of flowers.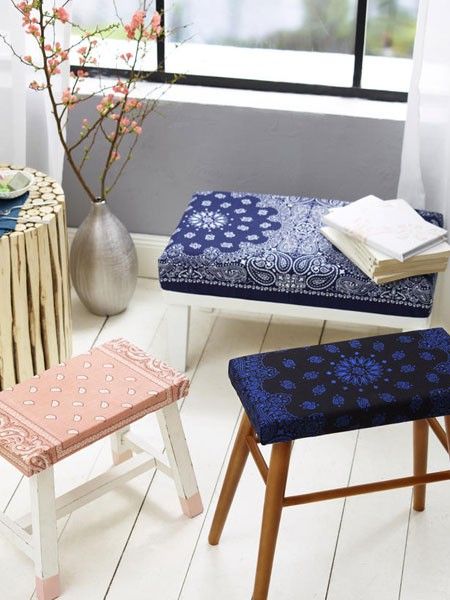 Another fun way to use your Sarees as Drapes. The length of the fabric can be put to great use, especially if you have plain sarees with light designs and borders. A bit of creativity can give you a chiseled look that can fit any decor. Add a layer underneath to ensure the fabric doesn't rip, and get room-darkening privacy as an added bonus.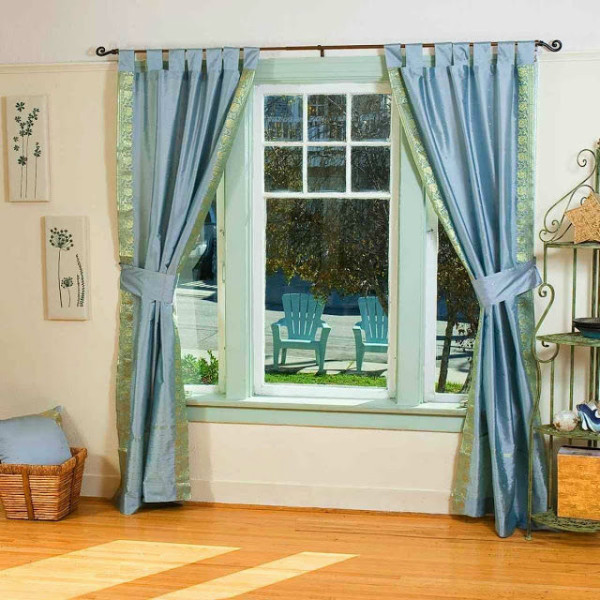 Or just bring a sense of personality and color to any of your windows, whether its a kitchen or a dining room, a sunroom or a craft room, a piece of an old saree can double up as a beautiful Valance over the window, giving it an instant pop!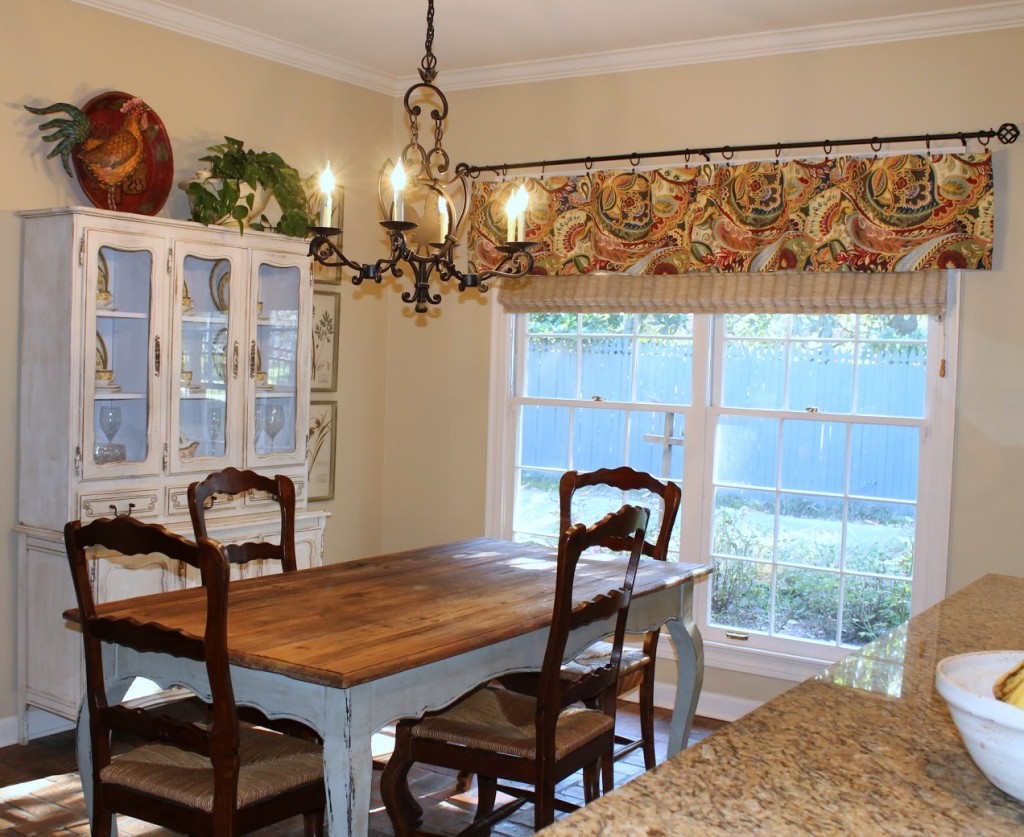 I bet you are always in need of a new purse or handbag, and the latest Boho style bags are a big rage. Create one of your own by using old fabrics. You can easily find a pattern online, or get a kit form a store like Michaels. Super easy and extremely useful! I have one of these myself, so I can vouch for it!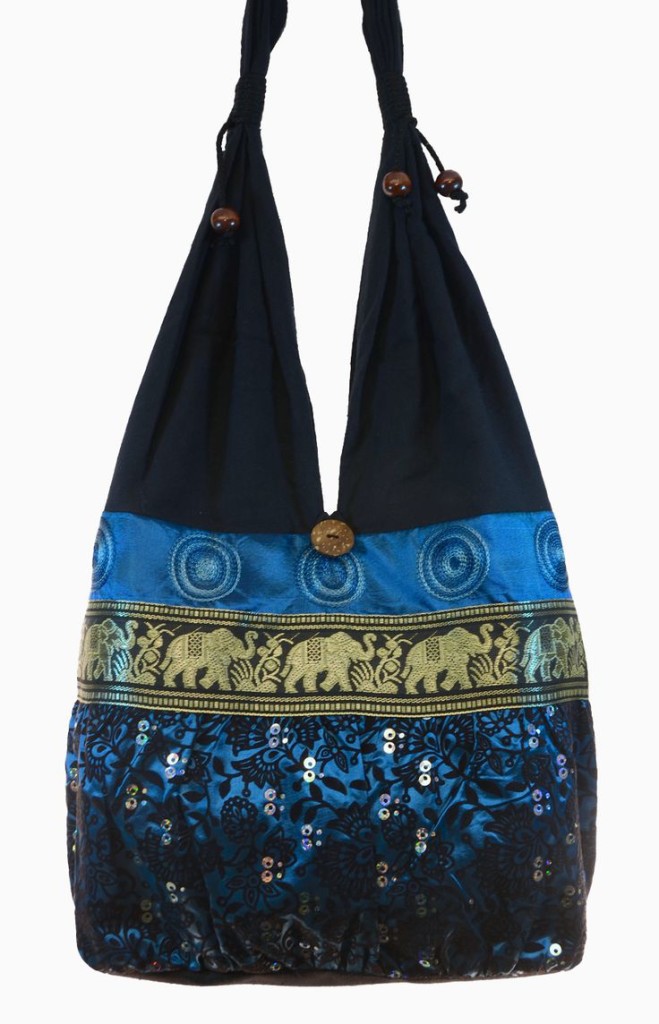 And if you don't want to carry a big bag, go for a cute and practical Potli Purse. Its perfect to hold a phone, keys, some money and cards. It even doubles up as a great gift bag for an ethnic occasion.
Have a bland box lying around. Deck it all up using borders from your saris. Like this elegant Jewelery box. Use the same concept to adorn wooden or cardboard boxes. They can be used as gift boxes or as keepsake boxes.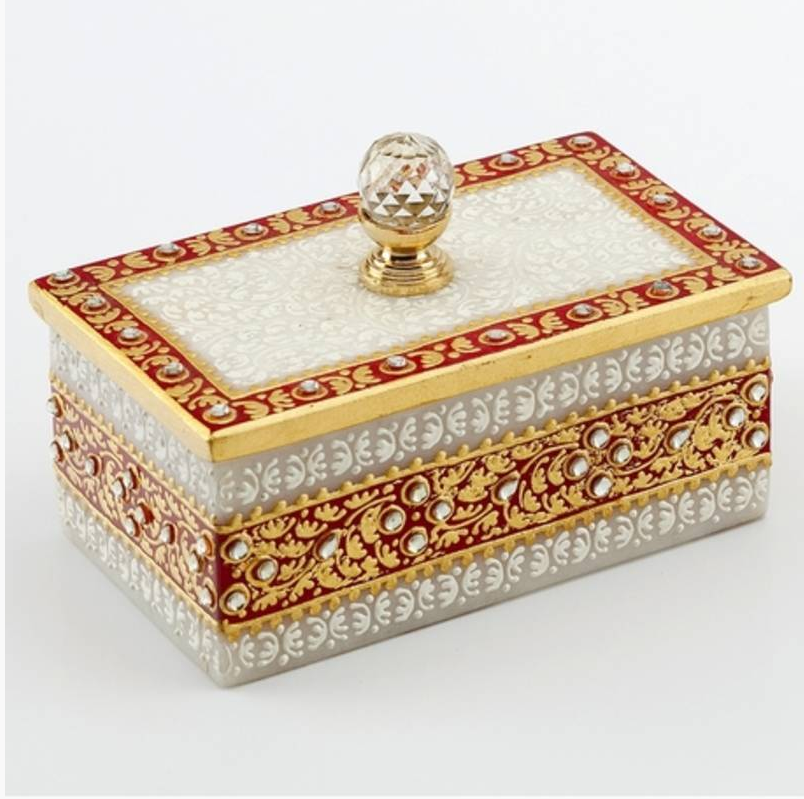 Another fascinating use for the Sarees is to turn them into elegant bedspreads. You can easily make a whole bedding set with sheets and two pillow covers by mixing 2 sarees. Stitching should be fairly simple, and the end result can be so appealing, you'd never want to sleep on anything else again.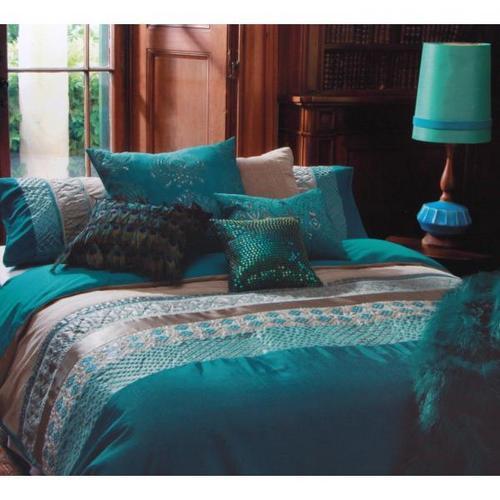 For a quick style statement, accessorize yourself with a silk scarf repurposed from an old saree, like the one below. A gold zari border on a plain sari is a perfect beginning, and you'll easily make a few scarves from one sari that you can give away as presents!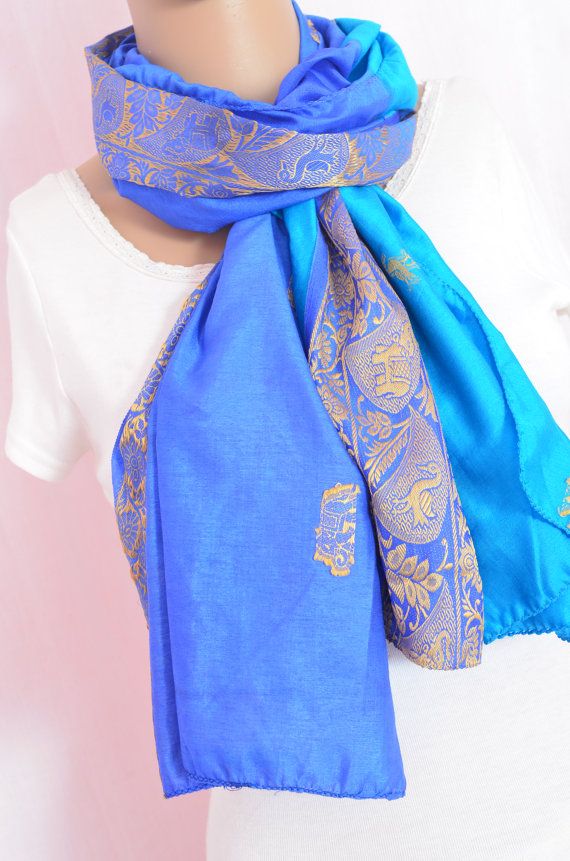 If you are planning an Indian event in your house like a wedding or a grand celebration, then go all in and use your best sequined sarees to cover your sofa or bench cusions, like the pink one below. Pair them with contrasting hues on the cushions and you have a royal decor without a price tag on it! Love the pink, blues and golds in the design below!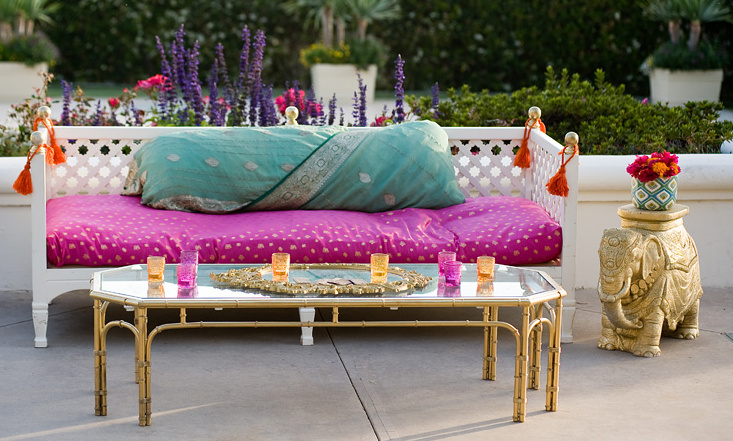 Here's a sophisticated way to deck up your bland walls. Take an old saree and cut it up into pieces. Then frame them and arrange on a wall to create a unique pattern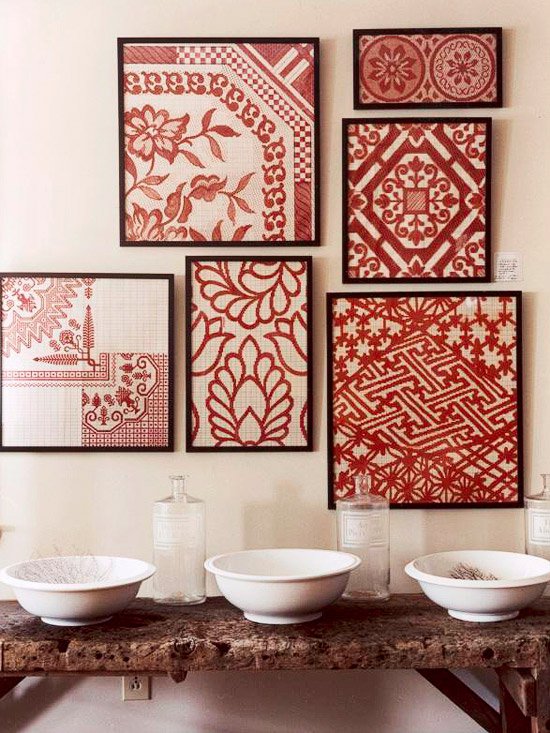 There, I think I've shared enough ideas with you to create lasting memories with your favorite heirloom saris. And if you have any interesting ways to repurpose them that I may have missed, please take a moment to share them with us!
Related Posts:
7 Summer Makeovers to Refresh Your Home
Quick DIY Ideas to Deck up your Walls on a Budget