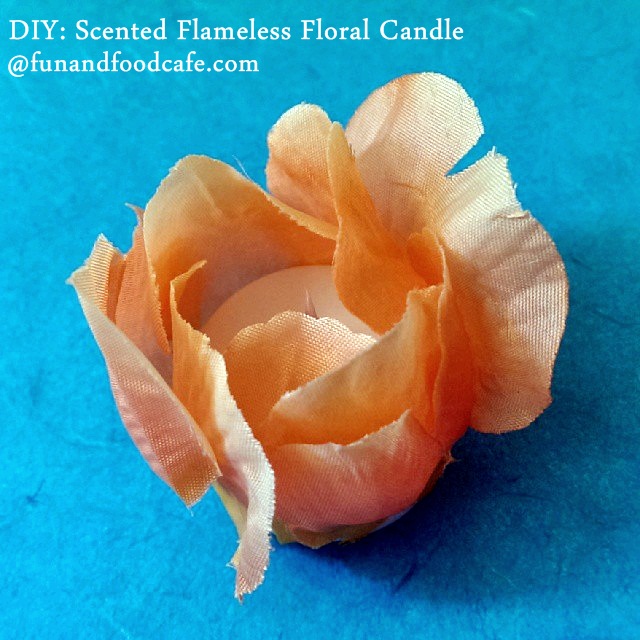 Diwali is just around the corner, and there is tonnes of activity going on in the house. Food is always an essential part of any festivities, but this festival of lights is incomplete without "Lights & Diyas". On Diwali, it is a tradition to decorate your entire house with lights, and light oil-lamps or diyas, to shun the darkness in our lives and fill it with light. Even I was looking for a fun project to do with my daughter where we could paint some diyas and decorate them. But when I was browsing the web last week, I came across Kelly's Flameless Rose Tea Lights, and they immediately caught my attention!
This was such a pretty DIY project for me and Ritika, and perfect for the upcoming holiday season. I decided to get on with it right away. I did not have plastic spoons, so I simply used artificial rose petals and glued them onto the tea-lights. However, the best part about candles for me is their uplifting scent, so I decided to add some fragrance to my candles – that's how my Scented Flameless Floral Candles were born.
Ritika was really excited about the project, and I tried to keep it as simple as possible. Here's what you need: some tea-lights, artificial rose flowers, glue, scissors and a bottle of fragrance oil. Nothing fancy, just the the oil that you use to refresh your potpourri works perfect. Remove the flowers from their stems, and cut up the petals. Then take a paintbrush and dip it in oil. Then rub it over the petals gently and let them dry.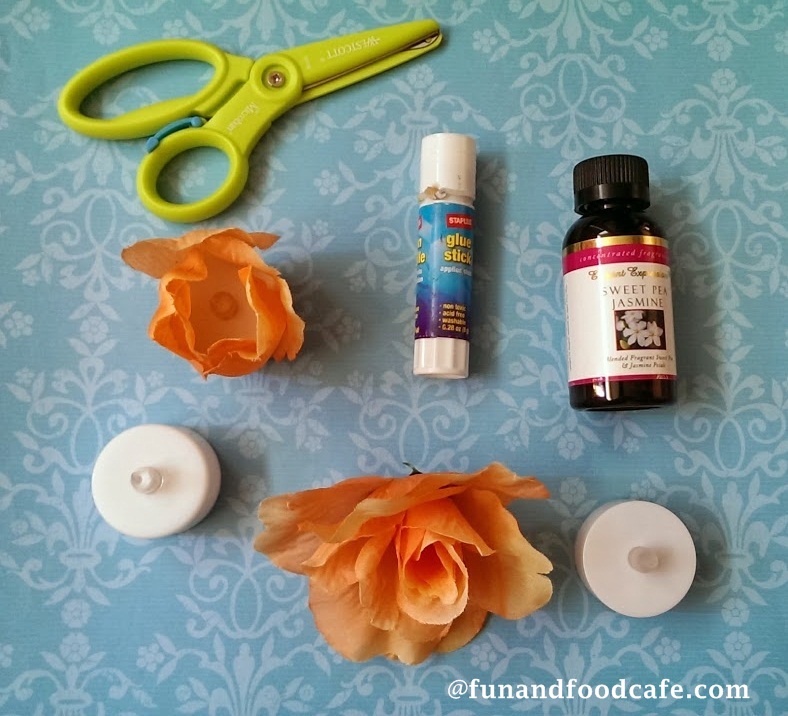 We then glued the petals one-by-one over the tea-lights, arranging them to make a lovely rose.A bit of practice and re-arranging will ensure that you create a nice-looking rose that covers the candle inside.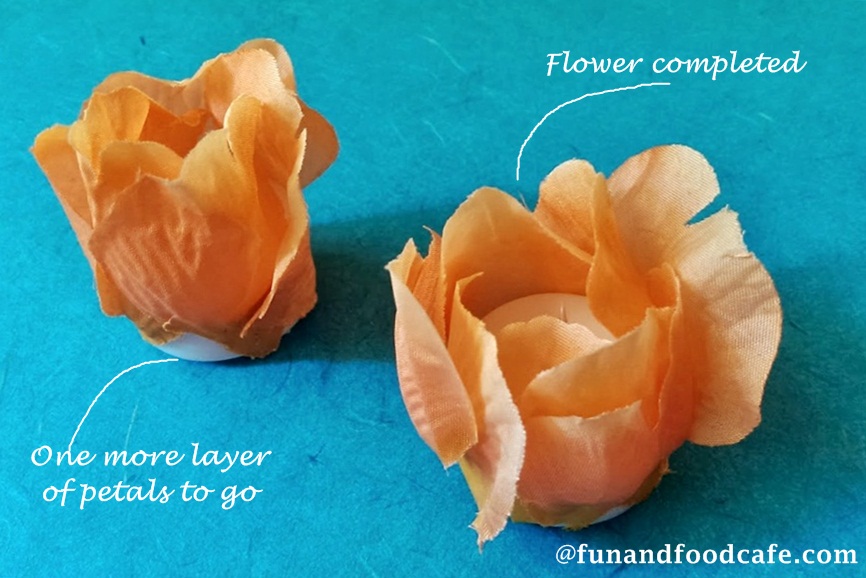 The scented candles looked lovely once they were done, and you can see how pretty they look when you turn them on. They make a wonderful accent inside the house, and Ritika has already arranged them over the mantel.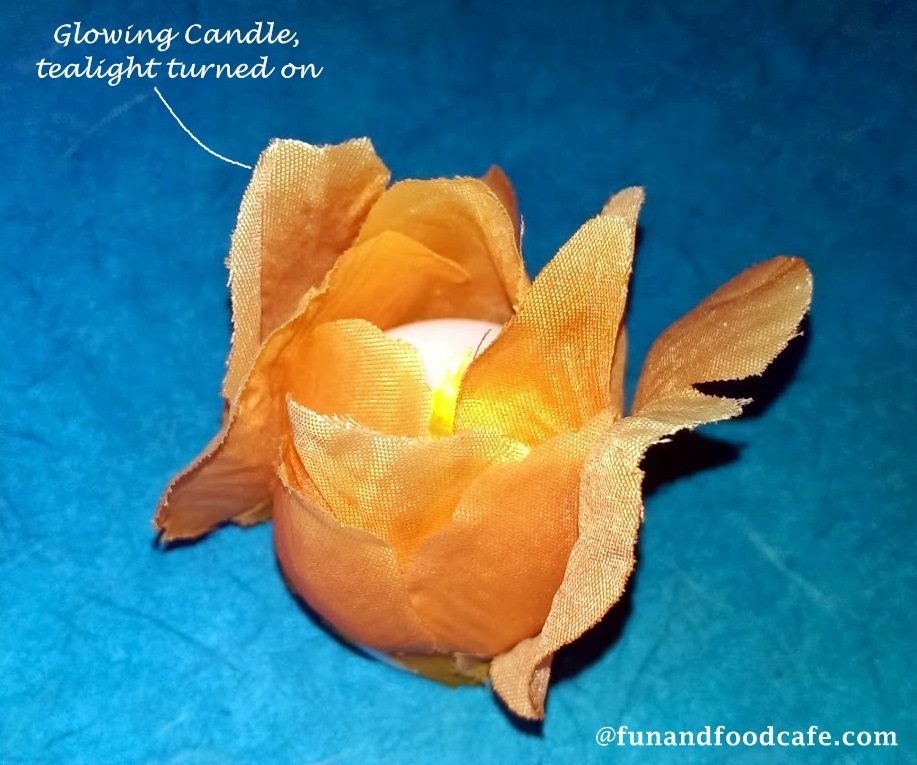 Scented Flameless Floral Candles
This DIY project featuring tea-ligt candles made to look like pretty roses, is perfect for the upcoming holiday season. Use it for Diwali as diyas, or for your Thanksgiving and Christmas centerpieces.
Author:
www.funandfoodcafe.com
Ingredients
battery-operated tea-lights
artificial rose flowers
scissors
heavy-duty glue
fragrance oil
paintbrush
Directions
First remove the artificial flowers from their stems. Then cut up each petal using scissors.
Dip a paintbrush in the aromatic oil and lightly brush it over each flower petal. Then set the petals aside to dry.
Cover the entire base of a tea-light with glue. Now arrange one layer of rose petals, starting with the smallest ones inside, then finish with a second layer of larger petals.
Arrange the petals so that they look like a rose.
Once done, turn on the LED candle and see how pretty your candle looks.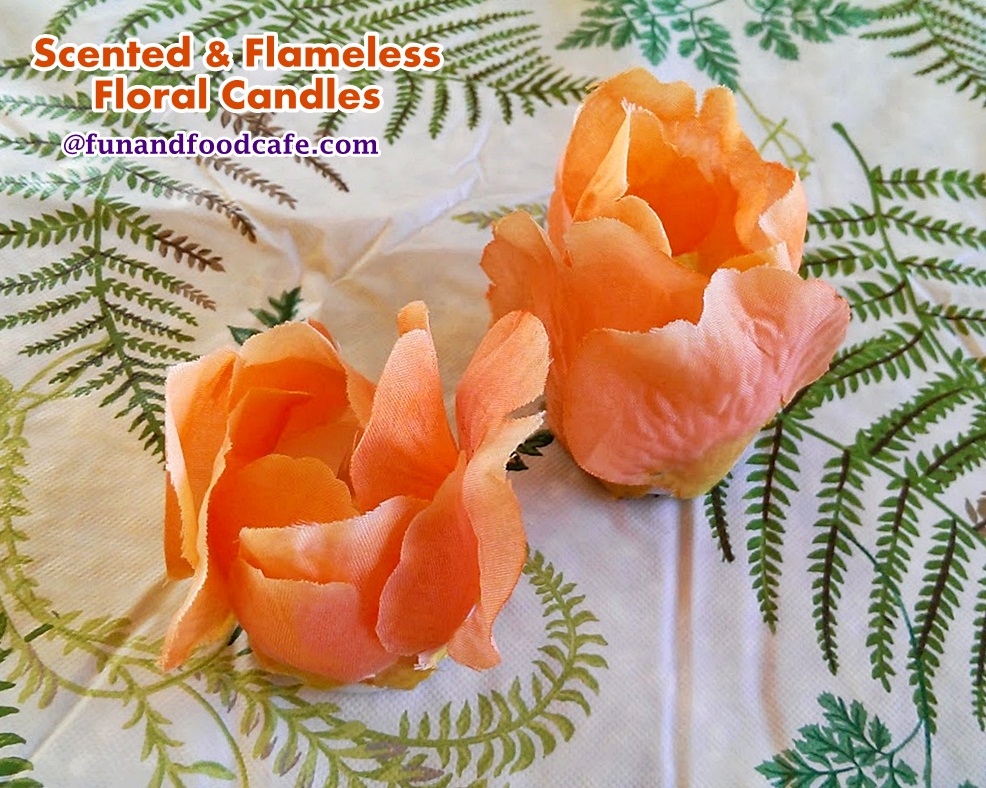 These easy DIY candles are a really fun project to do with your kids. It's a great alternative to traditional diyas, they would look wonderful on your Rangoli too!! And if you are not celebrating Diwali, don't worry, you could easily use them in your Thanksgiving or Christmas centerpieces, or just use them on your dinner tables. The soft light coming from the roses adds a beautiful accent to your decor, and the lovely scent that we added is just an extra bonus! In fact, you could even take them to your bath-tub for a relaxing soak, complete with these Homemade Floral Candles!