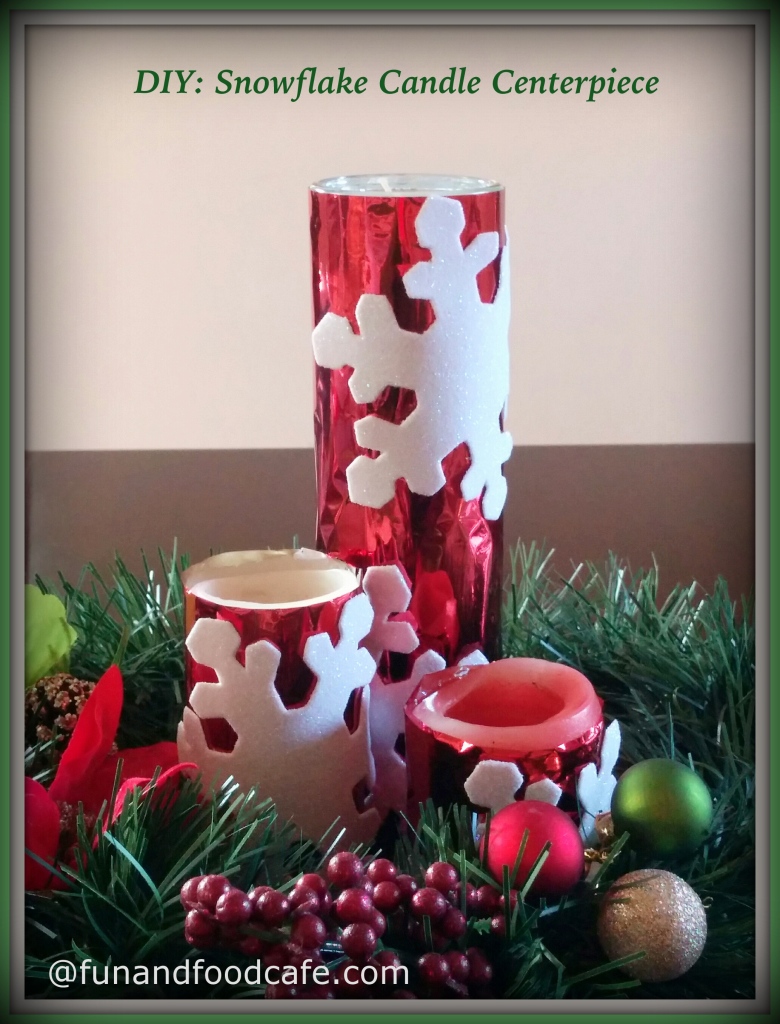 Who doesn't like decking up their homes during the holidays? but that does not necessarily mean that you need to buy expensive decorations. Every year I try to do something different during our Holiday decorations. Being a DIY fan, I love scouring Dollar stores, craft stores and the clearance sections in other stores to collect stuff that I can repurpose to make something beautiful. Making a wreath, a new centerpiece for the dinner table, and probably some DIY gifts for my colleagues at work are just a few things that take up my time during the Holiday season. So if you are like me, you'd not want to miss this quick and easy tutorial for making your own Snowflake Candles using fairly inexpensive Dollar Tree supplies.
I wanted to make a centerpiece with candles. However, I didn't want to use the regular wax candles, I needed to jazz them up a bit to make it table-worthy for the occasion:) So I headed to my nearest Dollar Tree, hunting for ideas and solutions. I found an idea on their website; I'm not going to write the instructions here because you can view them online on their site, just click on Snowflake Candles Tutorial. However, I did make a few changes, mainly because I needed more color for my centerpiece.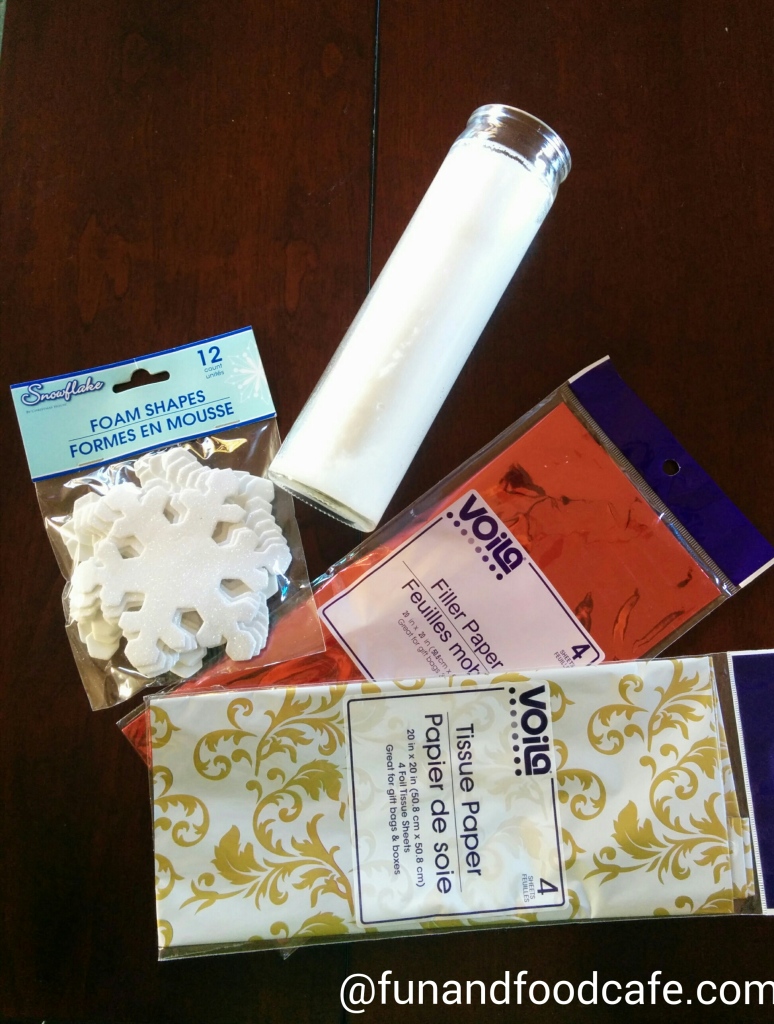 I picked up the plain white jar candles at the store, and also a couple others in varying sizes. Then I went and picked the snowflakes. The foam ones that I liked were pretty big for the thin candle, but I knew I could make them work somehow. Both me and my daughter didn't really love the effect of white snowflakes on the white candle, it was getting camouflaged, so I picked a bright shiny red Voile paper from the gift-wrapping supplies and decided to cover the candles with it first, before gluing on the snowflakes (be sure to either use LED candles, or keep the Voile paper away from the flame of a real candle).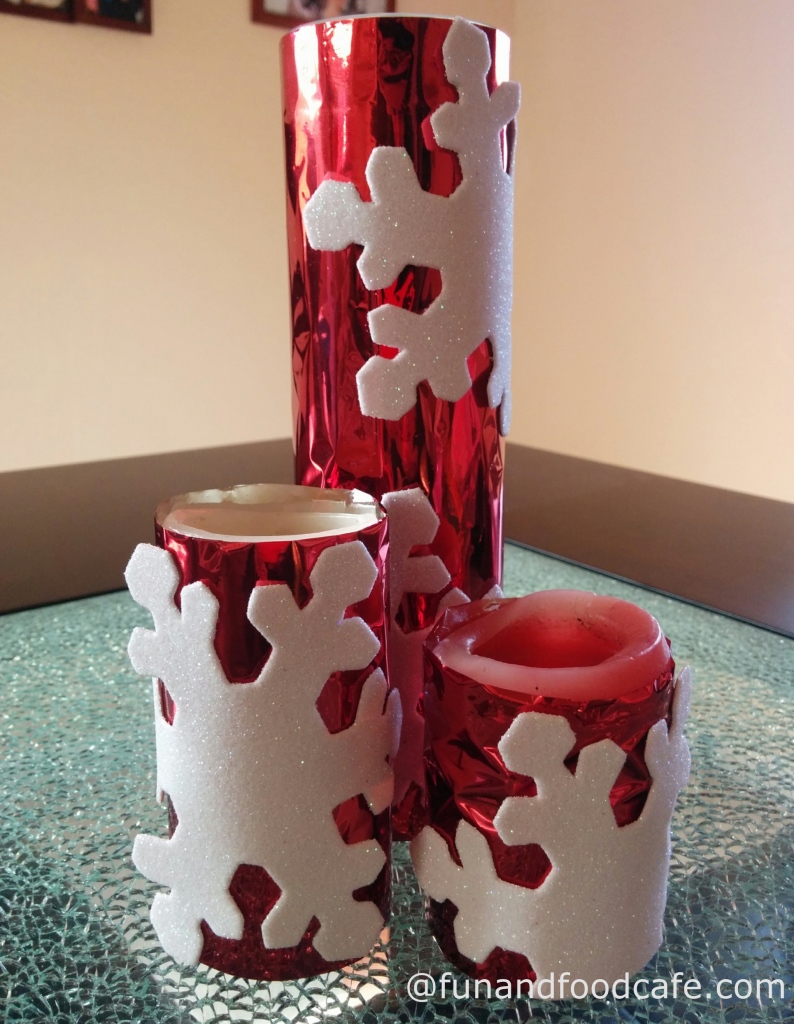 This seemed to work pretty well, and then I just arranged the snowflakes on it so they didn't clutter together. Gain, you can view complete instructions on the link I mentioned above. It was so simple even my daughter made her own candles. IN less than 10 minutes, and priced at roughly five bucks, we had three candles ready for our centerpiece. As you can see, I arranged them on my handmade wreath and they looked beautiful, just as I had expected! Here's a photo of them lighting up our table.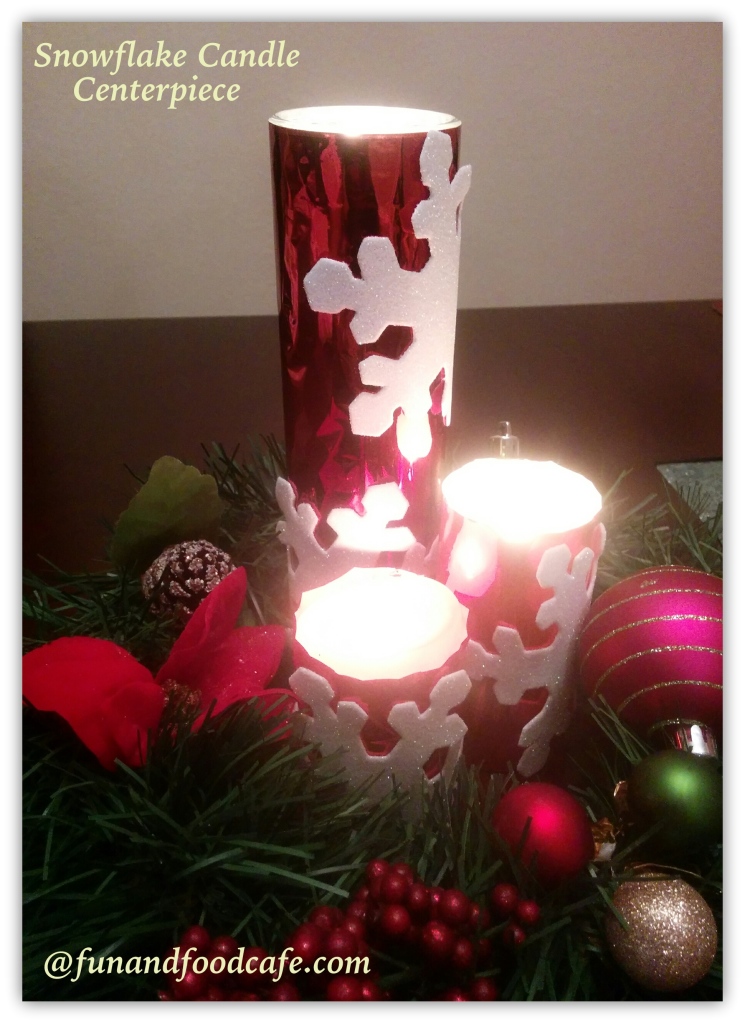 I was extremely happy with the way this project turned out, and my daughter wanted to make these as gifts for her teachers!:) You can also make your holiday projects come true, thanks to Dollar Tree. Check out Dollar Tree's loyalty program, The Value Seekers Club, it is a club full of crafts, recipes, décor and frugal fun ideas that can all be created with Dollar Tree products.
$50 Dollar Tree Gift Card Giveaway!!

Do you love shopping at Dollar Tree stores too? Then here's your chance to win $50 and make your holiday memorable!!! I am giving away a $50 Dollar Tree gift card to one of my readers. All you need to do is visit The Value Seekers Club website and come back to tell me what your favorite project is. Just leave a comment here with your answer, and my daughter will pick one random lucky winner by January 10th. Sorry, this giveaway is only open to people living in USA. The winner will have to provide a valid email address and mailing address so the gift card can be shipped.

So hurry on, visit the website and come back and tell us what got you interested!

UPDATE: The lucky winner has been chosen and its Jenna !! Hurrayyy! Please email me your email address where I can reach you by using the Contact Form on my site. I will forward your email to the sponsors and they will contact you directly to ship you your gift card. Enjoy your New Year gift, and Congratulations once again!:)

Happy Holidays Everyone!!
Disclosure: This post is sponsored by Dollar Tree. All original ideas and opinions are my own.
Related Articles:
DIY: Scented Flameless Floral Candles
Snowflake Holiday Sugar Cookies
Easy Candle Crafts for the Holiday season