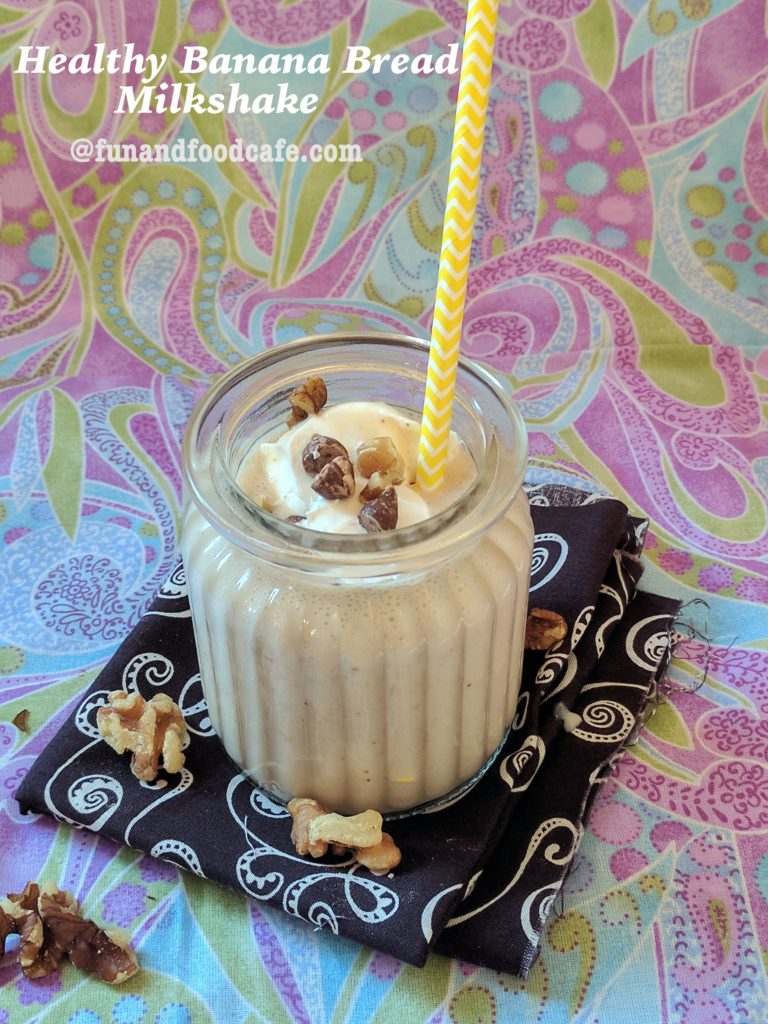 Could you ever imagine that these two words – 'healthy' and 'milkshake' could be used in the same sentence? I couldn't either, until I created this delicious recipe 2 days ago. Originally intending to use my over-ripe banana to bake Banana Bread, I instead ended up creating this thickshake that you can indulge in, so aptly named as Banana Bread Milkshake, without worrying about an overload of calories! You may find it hard to believe, but before you dispense me as crazy, do scroll down to read the recipe once.
My kids love milkshakes, so lately I've been trying to create healthier versions that uses natural sweeteners, aka Bananas, and healthy thickening agents instead of ice cream, aka Oats – yes, you heard it right! Now, you might have seen several recipes of Banana Oat Smoothies out there, but what makes this one unique is that it tastes just like Banana Bread! A handful of walnuts, a dash of high-quality Vanilla and one other secret ingredient makes this an all-time hit recipe that you'll never forget.
So what's that secret ingredient – it's actually a few crumbs of vanilla or pound cake. I know, this deters from the healthy path a bit, but I was making this for my kids, so calories wasn't a big concern. Plus, just a few crumbs won't get your scale go crazy, but they will definitely do loads to elevate the flavor of the milkshake. So shake away those blues and go for it, you'll thank me when you are done, and then you can add Healthy Milkshake to your recipe diary!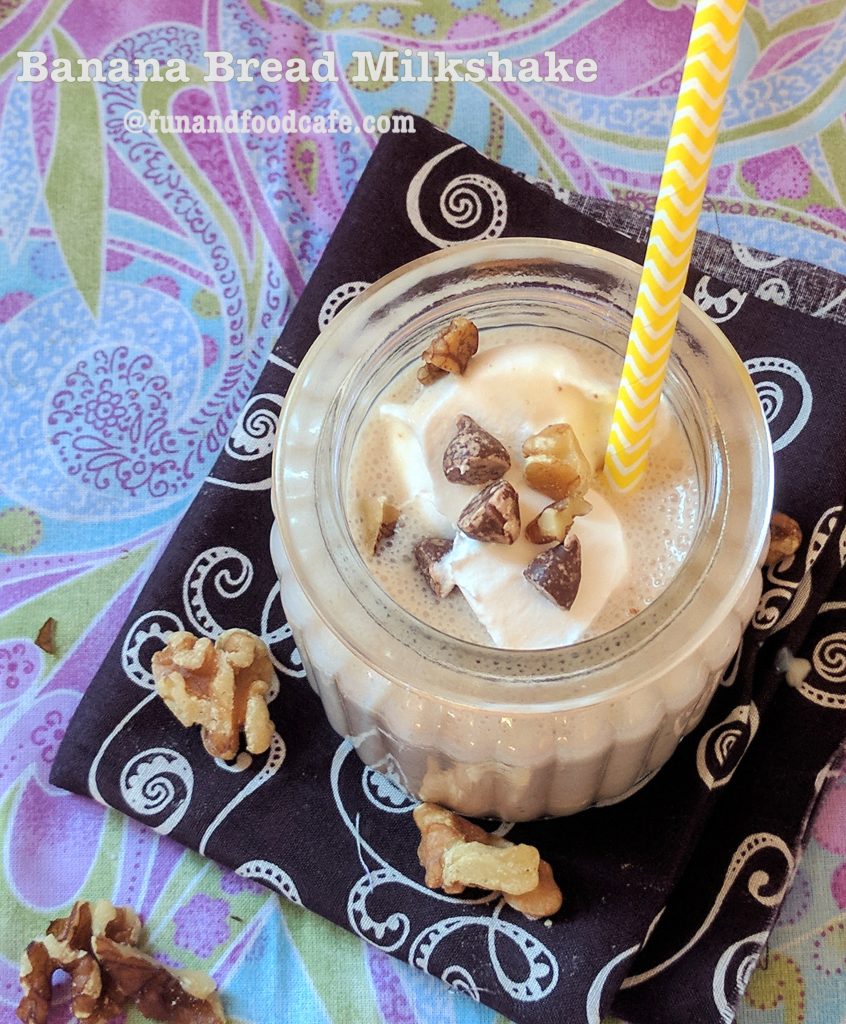 Banana Bread Milkshake
If you are a fan of Banana Bread, then you'll love this drinkable milkshake version of the classic dessert. Ready in no time, and undoubtedly healthier than its baked counterpart, this Banana Bread Milkshake is a perfect way to woo friends and family
Author:
www.funandfoodcafe.com
Ingredients
1 large (or 2 small) ripe bananas
½ cup milk
2 tbsp rolled oats
5-6 ice cubes
2 tbsp pound cake or vanilla cake crumbs (or substitute with ½ tsp vanilla essence)
2 tbsp crushed walnuts
1 tsp dark chocolate chips (optional)
Directions
Mix all the ingredients in a blender and mix till it becomes nice and thick
Make sure the ice is crushed well and the oats are powdered too. f you prefer, you can use coarsely ground oats powder, or grind them separately, then add the remaining ingredients.
Serve chilled, with a dollop of whipped cream on the top.
So, now that you've seen the end result, I'm sure you are all set to serving this to your kids tonight! In fact, this would also be a great breakfast milkshake – pair it with some eggs or buttered whole-grain bread and you'll be full of energy for a few hours. I love how versatile this recipe is; Bananas can be combined with several other ingredients to create delicious concoctions – peanut butter, chocolate, caramel, berries, almonds – you can choose any combo you want to make this more nutritious or more dessert-ish, depending on your mood:) So go ahead, play with it, and don't forget to come back and share your version with us!
Related Recipes
Oh-So-Good Banana Oatmeal Pancakes with Orange Maple Syrup
Nutella & Banana Muffins
A healthy Quick Sweet Bread That's Perfect For Fall