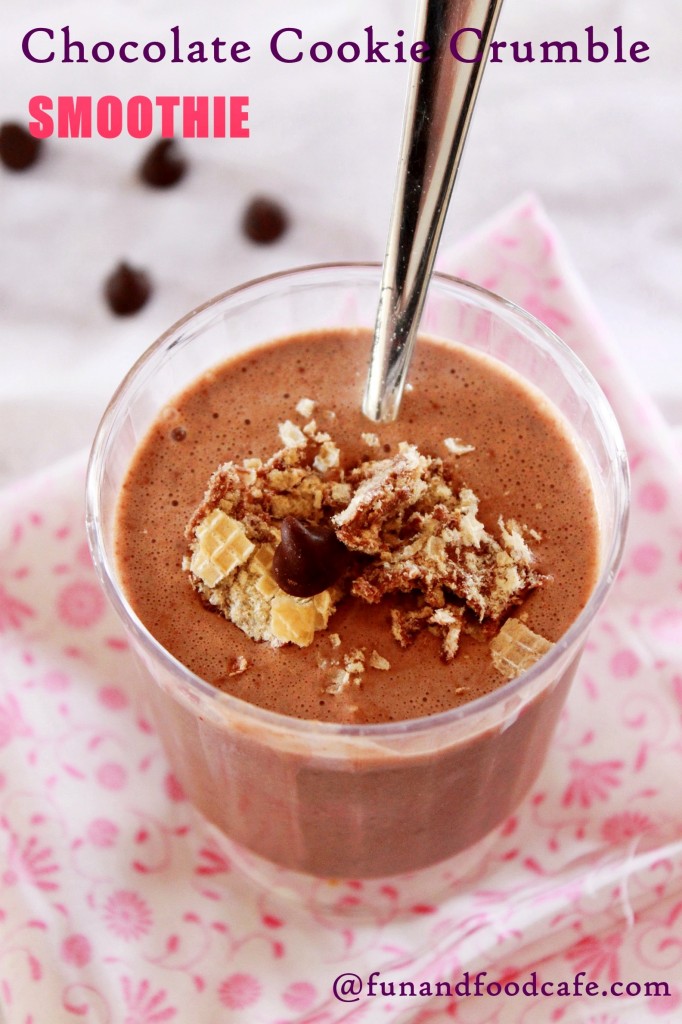 Do you ever fret about how skinny your pre-schooler or kindergartner looks? Do you often worry that you are not feeding her the right amount and type of food to keep her healthy? If you do, then you are not alone. Every mom feels responsible for how her child's physical and mental growth, and for good reason. Eating the right amount of healthy, nutritious food is imperative, especially in the early stages of development – remember why you did all that breast-feeding?? So as a concerned mom, I always look out for healthier alternatives to so-called 'junk' food; I don't deprive them of eating their fair share of cookies, chips and ice cream, but always in moderation. And if I can find something that can satisfy their sweet tooth without hampering the nutrition factor, then I think I've hit the jackpot! That's precisely what happened when I decided to try the Breakfast Essentials Drink Mix to spike up her morning breakfast meals.
As Chocolate is my daughter's favorite flavor, just like every other kid's, I grabbed a pack of the chocolate powder mix. I wanted to create a healthy smoothie that would not "look or feel healthy" to her, and she could still slurp it up like a dessert in the morning! So I decided to create a thick smoothie, more like an ice-cream shake, but without ice cream. I always store my over-ripe bananas in the freezer, because they come in handy in a lot of ways – I grabbed one to give a smooth and creamy base to my smoothie. I sneaked in some more nutritious ingredients like dates, almond butter, a teaspoonful of coconut and flaxseed powder. Then to add the kid-approved appeal, I crushed up some wafer cookies that I had (you could use any cookies that you like – Oreos would be perfect, I think!) and threw in a bunch of chocolate chips, because it makes everything taste a little better:)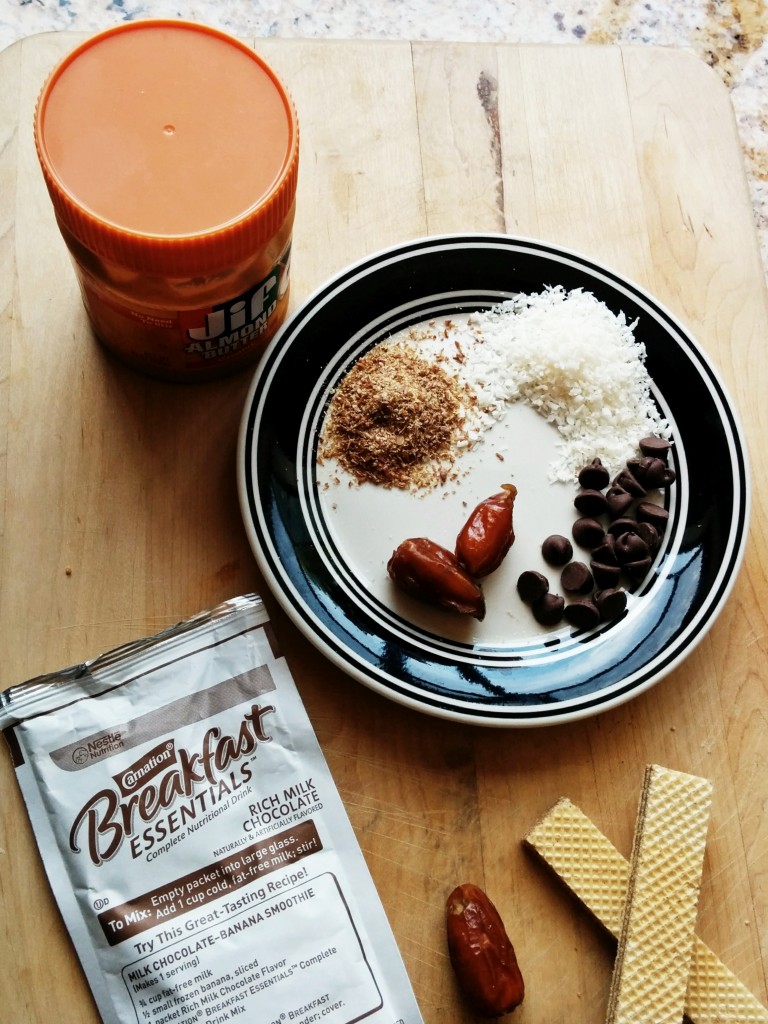 Mix all this into a blender, along with the Carnation breakfast Essentials drink mix, some ice cubes, and some milk, and give it a nice stir. Keep it smooth or chunky as you like, then pour it into two tall glasses, or better yet, serve it in a cup like an ice cream smoothie that your child can eat with a spoon – they will love this fun and fabulous start to their day, and you, as a busy concerned mom, will feel happy that you gave them the best meal of the day. With 21 Vitamins & Minerals, 13g of Protein and As Much Calcium as a 6 oz cup of yogurt, this is definitely the most deliciously nutritious smoothie I've ever tasted!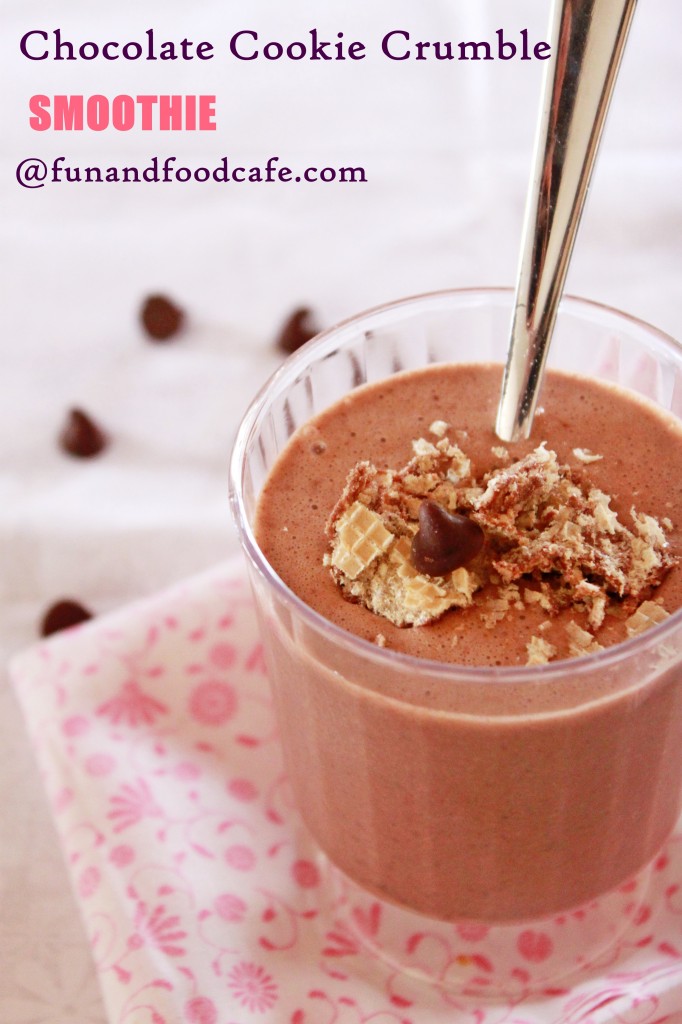 Chocolate Cookie Crumble Smoothie
Powered by healthy ingredients like flaxseed, coconut, banana, and dates that combine with a delicious chocolate base, this kid-approved smoothie recipe is a keeper for life!
Author:
www.funandfoodcafe.com
Ingredients
1 sachet Carnation Breakfast Essentials drink mix (chocolate flavor)
1 tsp coconut (shredded)
1 tbsp flaxseed powder
4-6 seedless dates
1 tbsp chocolate chips
4 crushed wafer cookies (or oreos)
1 small frozen banana
1 cup milk
4-5 ice cubes
Directions
Toss all the ingredients into a blender and give it a nice stir. Blend until smooth and creamy.
Divide into two smoothie glasses, or serve it in dessert bowls. This smoothie is so nice and thick your kid will love eating it with a spoon.
Top with some more crushed cookies and serve immediately.
I hope you will enjoy this deliciously healthy recipe as much as we did. Look for Carnation Breakfast Essentials offers here and use it to create a delicious tasting smoothie and don't forget to share your amazing recipe and photos with us!