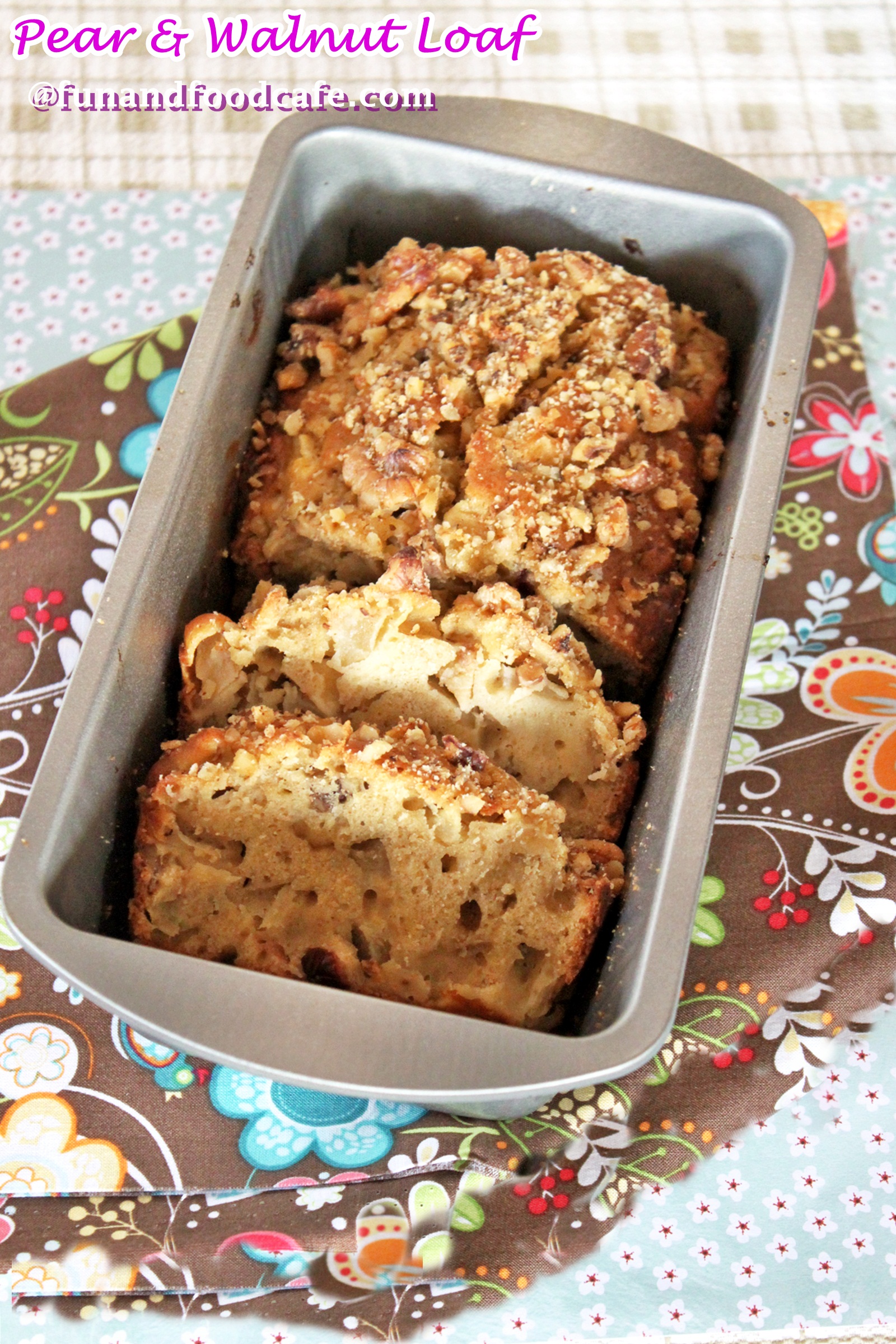 Pear Cranberry And Walnut Bread
Pear is a wonderful Fall fruit which is often neglected due to the abundance of Apples and other stone fruits during this season. However, you will be amazed to see how many different kinds of Pears are available in the market, and how each one has a unique taste and texture. Anjou, Asian, Bartlett, Bosc, Concorde, Comice and Seckel are the most common varieties, and yet I had only heard 3 of them, before I started blogging about food! Bartlett and Bosc are the most common Pears that people are familiar with, mainly because they are available throughout the season, are cheaper compared to other special varietals, and are easy to pick when they are ripe. I asked my Facebook Fans how they'd like to enjoy a pear at home – most of them said they'd eat it raw, some said they like it in Salads, and quite a few said they liked Roasted Pears or a Pear Cake. This weekend, I came across a recipe for a Pear Loaf that looked interesting, so I tweaked it quite a bit, adding dried cranberries and Fall spices like nutmeg and cardamom to it, resulting into a perfect Fall bread that is not too sweet, highlights the flavor of the Pears, and is perfect with a cup of tea or coffee in the morning!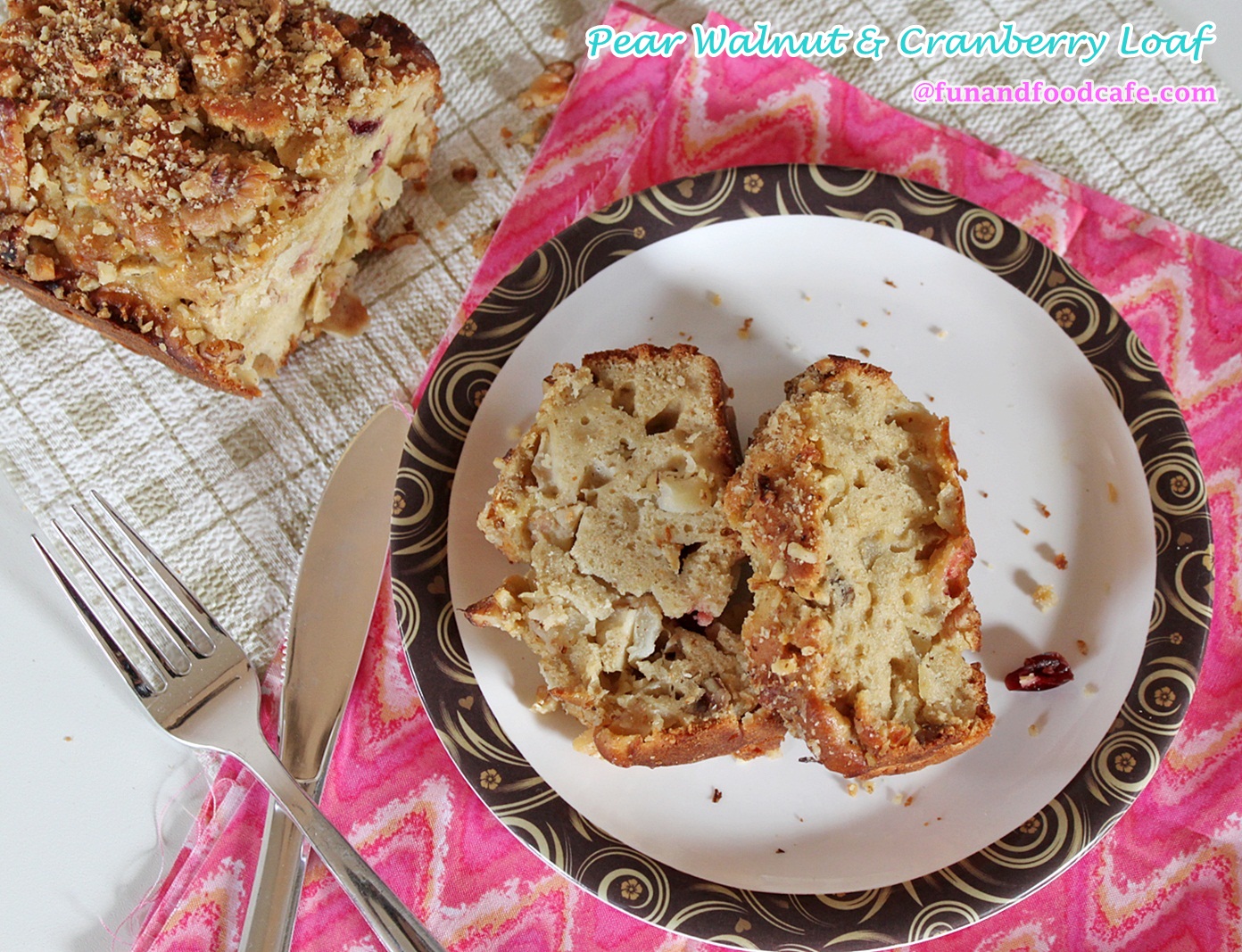 When you first bake this bread, it looks gorgeous, and you will be tempted to dig right in and enjoy a piece. However, unlike Banana Bread, you might be a little disappointed by its flavor when you take a piece right out of the oven. The important thing about Pears is that they are juicy, yet firm, and so it takes a little more time for their flavor to enhance a baking recipe. This bread will taste amazing on the second day, and probably even better on the third day, as all the flavors sink in to the bread. So if you want to enjoy in for Sunday Brunch, bake this bread on Saturday night, then let it sit on the counter-top overnight. I promise you will love it when you slice a piece the next morning, and enjoy it with your morning cup-a-joe!
When the bread comes out of the oven, it looks heavenly, especially because of the walnut layer on the top. Let it rest for 10-15 minutes on the wire rack, then slice it using a serrated knife. The tiny specs of ruby-red cranberries that deck the insides of the bread look simply beautiful, tempting you to dig right in! And it is a test of patience to wait for at least a few hours to enjoy the real flavor of the bread. But its definitely worth the wait. Serve it with some melted butter, or slather a layer of cream cheese on the top, or drizzle with some Orange-Maple Syrup for an unforgettable Holiday brunch!
 

Pear Cranberry & Walnut Bread
Pear is a wonderful fall fruit, and this breakfast bread recipe brings out all its flavor in full glory. Unlike apples, pears are more moist, and pairing them with sweet and tart cranberries gives a unique taste to this recipe. Sprinkle some chopped nuts on the top, and serve it with a slather of warm melted butter for a perfect Holiday brunch!
Author:
www.funandfoodcafe.com
Ingredients
2 cups bartlett pears, cored, peeled and chopped finely
¼ cup craisins (dried cranberries)
1½ cups all-purpose flour
1 tsp baking powder
1 tsp salt
¾ cup brown sugar
¼ cup milk
1 tbsp cardamom powder
1 tsp nutmeg, grated
1 tsp fresh ginger, grated
2 large eggs, whisked
¾ cups olive oil (or vegetable oil)
3 tbsp honey
1½ cups walnuts, chopped (plus ¼ cup for topping)
Directions
Preheat oven to 375 degrees. Grease one 9″x5″ loaf and set aside.
In a mixing bowl combine the flour, baking powder, salt, ginger, cardamom, brown sugar and nutmeg.
In a second mixing bowl combine eggs, oil, milk, honey and grated pear. Add in the flour mixture a bit at a time and fold until all ingredients are wet.
The mixture will not be as smooth as cake batter, but that's OK. This is a loaf, not a cake.
Add the chopped walnuts and craisins, and stir to mix well.
Spoon the mixture into the loaf and sprinkle the remaining walnuts evenly on the top.
Place in the oven on the middle rack and bake for 45 minutes or until a toothpick placed in the middle comes out clean.
Remove from oven and let rest for 5 minutes and then remove from pan, slice and serve.
As I said earlier, the flavor of this Pear Bread develops after 24 hours, so please give it some time and bake it a day ahead of when you want to serve it. Also, if you are not a big fan of plain fruit breads, I would suggest adding a handful of Chocolate chips to the recipe, to make Chocolate Pear Bread. I had this thought after I baked it, otherwise I would have done it myself! Oh, well, there's always a next time. But do give this a shot, and if you happen to bake it, please do let me know which one you preferred – the plain Pear Bread, or the chocolate version? I have a feeling the second option might very well win the race!! Linking this up to Tip Me Tuesdays – gather over to enjoy more glorious posts!