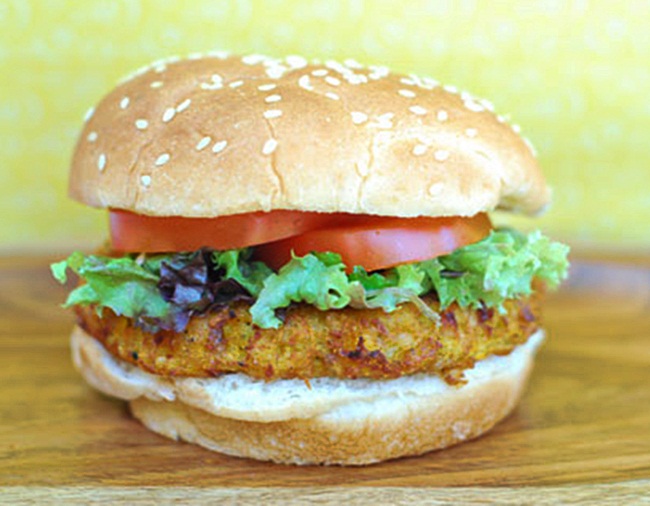 Summer sun is shining in full glory up here in Northern California, and everyone is out in their backyards or in a park, enjoying the warm weather and sunshine. We too, celebrated Mother's Day with a fun BBQ in our backyard, and I am sure many of you are already shaping up your plans for the Memorial Day, Father's Day or July 4th weekend! No matter what the occasion, firing up the grill to cook some of your favorite food is a great way to entertain friends and family, without a huge budget.
We had a potluck-sort-of BBQ, with a variety of food to be grilled. Tofu Wraps, Veggie Burgers, Corn-on-the-cob with a spicy chutney, paneer tikka, veggie skewers, baked potatoes, roasted garlic – you name it and we had it. It was a perfect Summer day, and we had the water slide out for the kids. They had a blast splashing in the water and playing with their water toys and water guns! With most of the prep completed on previous nights, the Moms were free to sit, chat and relax on their special day, as the Dads kept themselves busy at the grill, bringing out plate after plate of yummy food.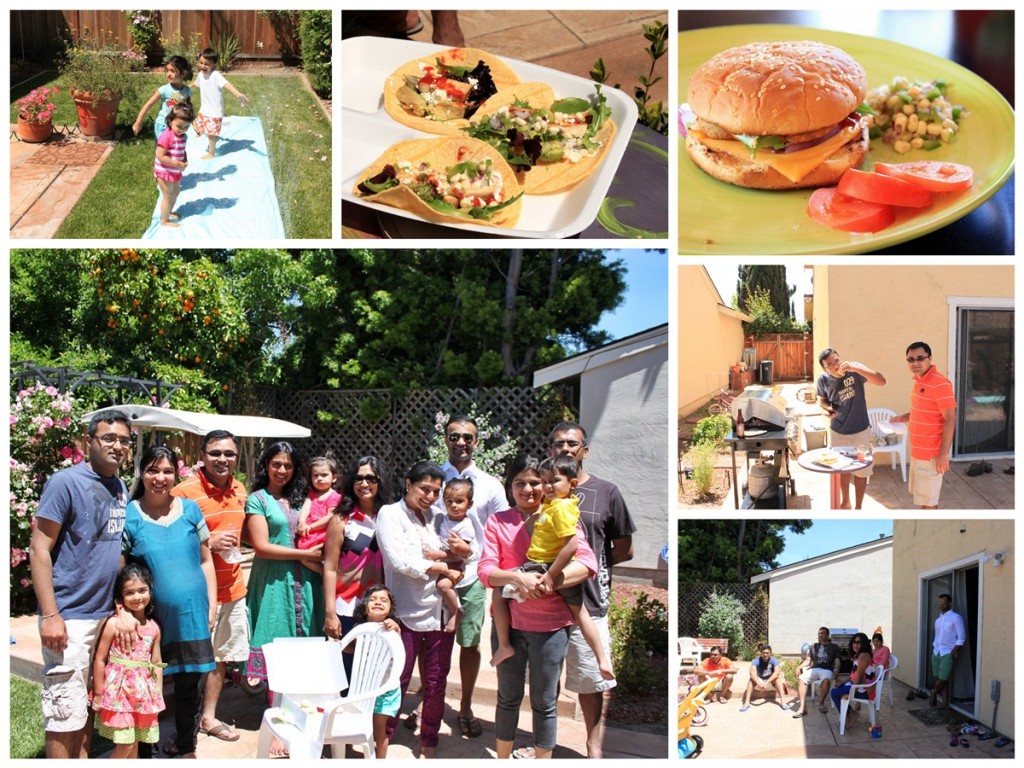 I don't think I could share all the recipes in just one post, so I'd like to share the Veggie Burger recipe, because I think it deserves a special mention. I usually make my Veggie burger patties using boiled potatoes and peas as a binding agent, and flavor it with Indian spices. But this time, inspired by Kathy's Sweet Potato Burgers, I decided to tread this path, and swapped my potatoes with their healthier counterpart. Instead of wheat flour, I used AP flour, just so they hold their shape better on the grill. I also added shredded carrots, and some Tandoori Tikka Masala for added flavor. And I would strongly recommend refrigerating your patties for an hour or so before you grill them, because otherwise the patties could break apart on the grill. But they taste amazing, so nothing should stop you from giving these a try. Everyone in our group loved them, including the kids in the gang!
As for the bread, we chose King's Hawaiian Ham Burger Buns to envelope our veggie patties. The bread's slightly sweet taste complimented the chipotle and horseradish sauce on our burgers. But what I really liked was the fact that the buns were firm on the grill, they don't break apart like some of the other Hamburger buns that we have used in the past. The kids went for the Kings Hawaiian Hot Dog Buns instead – some people also filled up their hot dog buns with the Marinated tofu mixture and enjoyed Hawaiian Hot Dog Tacos!
Veggie Burger
Delicious Veggie burgers made with sweet potatoes, carrots, white beans and Indian spices. They are perfect for BBQ season, or for any occasion to enjoy a good homemade veggie burger!
Author:
www.funandfoodcafe.com
Ingredients
2 cans white cannellini beans, drained
1 large sweet potato, baked & mashed (about 2 cups)
1 tbsp garam masala or tikka masala
¼ cup thinly shredded carrots
¼ cup all-purpose flour
lemon juice, add to taste
salt, add to taste
red chili powder or cayenne pepper, add to taste
2 tbsp Panko bread crumbs
1 tbsp vegetable oil
Directions
Mash the sweet potato and the cannelini beans, and mix them together.
Add the remaining ingredients, all your spices, the flour and the bread crumbs, and combine to make a smooth mixture. Cover with a plastic wrap and refrigerate for at least an hour.
Now take the sweet potato mixture, and divide it into 6 parts. Grease your palms with oil if needed, and shape them into nice and thick burger patties.
Again refrigerate them for 30 minutes, or until ready to grill.
Right before grilling, roll them in some more bread crumbs if needed, and put them straight on the grill. Or if you like, take some oil in a pan and saute them over the stove, until golden brown and cooked on both sides.
To serve, put your patty on a bun, top with a slice of cheese, lettuce, tomatoes, onions and some fresh avocado. Sprinkle with some spicy chutney, chipotle sauce or horseradish sauce and enjoy!
This was a fun weekend, and all the food made it even better. The Sweet Potato burger was a huge hit with everyone. A layer of chipotle on the top gave it the kick needed for the adults – it wasn't sweet like I had expected, and the Tandoori Masala addition was just perfect! The kids had a blast out in the water and sunshine, as you can see in the pictures, and I look forward to several more of such sunny weekends that bring friends and families together. What are some of your plans for the Summer? and what are some of your favorite BBQ recipes?
King's Hawaiian® wants to know how you bring people together. Reply below for a chance to win a $200 gift card! Sweepstakes Rules.
This is a sponsored conversation written by me on behalf of Kings Hawaiian. The opinions and text are all mine.