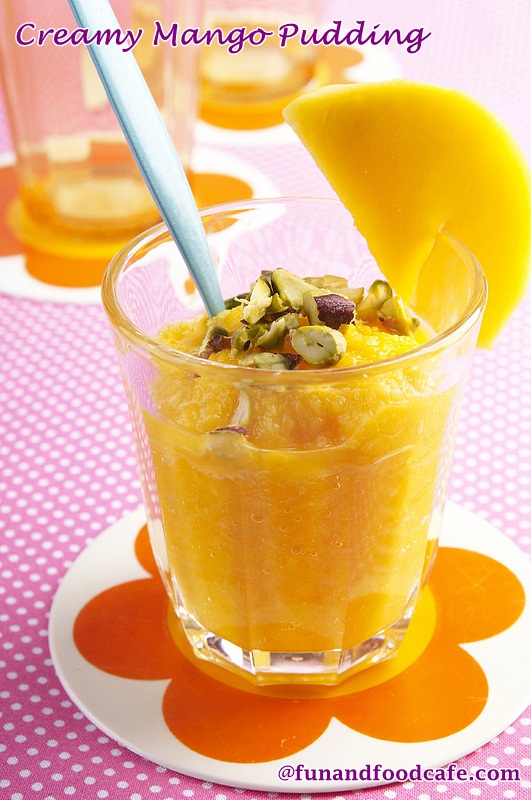 In India, Summer is synchronous with Mangoes – yes, you will find markets and homes flooded with this sweet juicy colorful fruit, which is known as King of Fruits for a valid reason! There are several varieties of Mangoes available in India, but Kesar and Alphonso are among the most famous ones. The former has a more elongated shape with a pointed tip, and is more sweeter than Alphonso, which is more rounded, fleshy, and has a nice sweet-tart flavor. Up until a couple years ago, these varieties were not imported to US, but now that Indian stores carry these Mangoes, I am thrilled, because it means we can savor the memories that we have grown up with, and enjoy every bit of this fruit!
Today's recipe is nothing fancy; in fact, it is the most simplest form of dessert that I have enjoyed since childhood. Just take a fresh Mango, scoop out its pulp, and blend it with some milk – this is called AamRas (Mango Juice) in India. Throughout the Summer season, this is pretty much a staple in every household. But when I make it for my family here, I try to jazz up the recipe with some more additives. So the version that you see here used whipped cream instead of milk, which gives it a more thick, pudding-like texture rather than being runny like juice. I also add some more flavors like Saffron, Cardamom and Vanilla, which all come together to give a nice Orange color, and a smooth and fragrant appearance. I also like adding a pinch of Soonth (dried ginger), because it balances the sweetness of Mangoes, and also helps in digestion.
This may look like a pretty mundane recipe, but its a cinch to pull off, and it has that natural charm to win someone over! Plus, Mangoes are a natural aphrodisiac, so if you are trying woo your loved one, this is the perfect dessert to serve on Valentine's day!:)
 

Mango Pudding
Indulge in this luscious summer treat featuring Mangoes, heavy cream, some saffron, cardamom and pistachios. A quick and refreshing dessert for Summer
Author:
www.funandfoodcafe.com
Ingredients
2 cups fresh mango pulp (or canned mango pulp)
1 cup cool whip
pinch of saffron (optional)
½ tsp cardamom powder
½ tsp dried ginger powder (soonth)
½ tsp vanilla essence
chopped pistachios (for garnish)
Directions
Add the cool whip to the mango pulp and beat together to make a nice and creamy pudding.
Dissolve the saffron in 2 tbsp warm milk; let it bleed so the milk becomes yellowish-orange in color.
Add the saffron, cardamom powder, and vanilla essence to the cream mixture, and whip together. Or you could blend it all for a more smoother texture.
Transfer in serving glasses and garnish with some chopped pistachios.
This is one quick and easy Summer dessert that you will not want to miss! As you plan your Mother's Day or memorial Day BBQ's, be sure to have this on your menu. It can be made a day in advance and serve it in small dessert glasses, topped with some shaved nuts, maybe drizzled with some honey or maple syrup, or even a dollop of whipping cream, for a truly elegant Fruit dessert, that celebrates the essence of Summer!
What are some of your favorite ways to enjoy Mangoes?