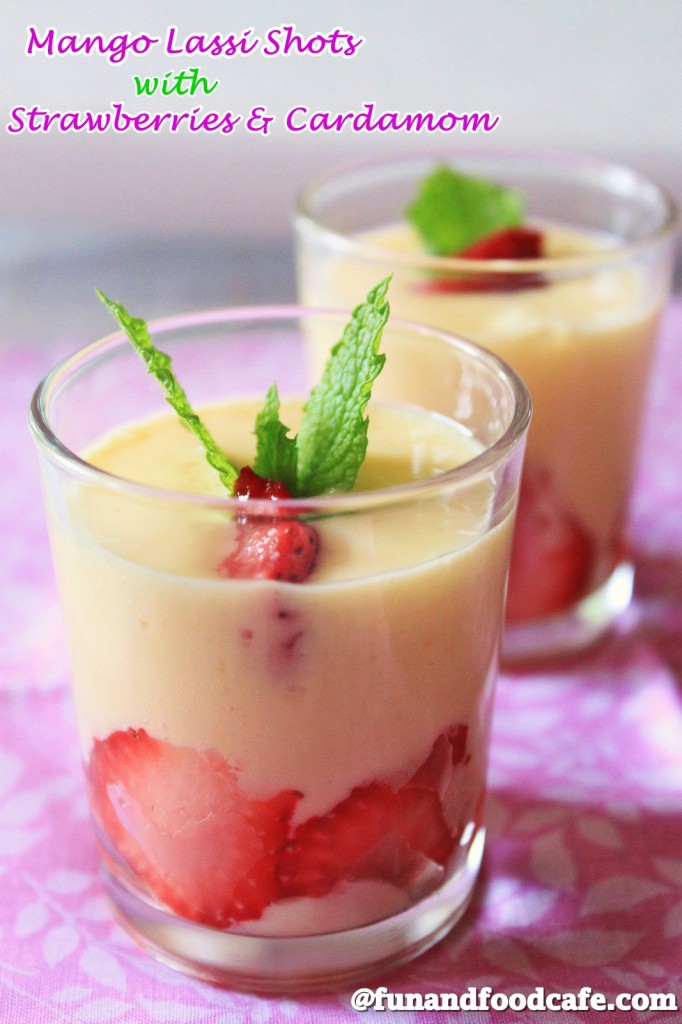 Summer and Mangoes go hand-in-hand, and if I were in India, I would have seriously gained a few sounds in Summer, just because of eating Mangoes every single day! This sweet, juicy and fibrous fruit is undoubtedly the King of Fruits, at least for me and my family. There's nothing like squeezing out fresh mango pulp and relishing it to your heart's desire. Luckily, my little one also loves it like crazy, so we make the most of this seasonal fruit by making fresh Mango Lassi almost every other day!
Mango Lassi needs no introduction – you will find it on any Indian restaurant menu, and almost every person on earth who has ever eaten Indian food is bound to know and enjoy this sweet, creamy yogurt drink that resembles a smoothie in many ways. Now, the Mango lassi that you get in restaurants often uses store-bought pulp, and also includes color additives to make it look deep orange in color. But when you go with fresh mangoes, your pulp will look more yellow than orange, depending on the varietals that you choose. However, to add more flavor and enhance its color, I added a pinch of Saffron, and a pinch of Cardamom. I also thought of serving these in the non-conventional way, layering it in small shot glasses, along with the other Summer favorite – Strawberries.
You could make the Mango Lassi as thick as you like, I have even added cream to it sometimes, to make it like a thick-shake, and you can layer it in dessert glasses with pieces of Mango cake and other fresh fruits as well as whipped cream, to make a delicious Trifle. Play around with the texture for variations, or enjoy it in the traditional old-fashioned way as outlined below. Saffron & Cardamom only impart flavor and color to the recipe, but you can leave them out if you like, as well as use other fruits to pair along with the Mango Lassi. It will make one satisfying and elegant dessert after the meal, I promise!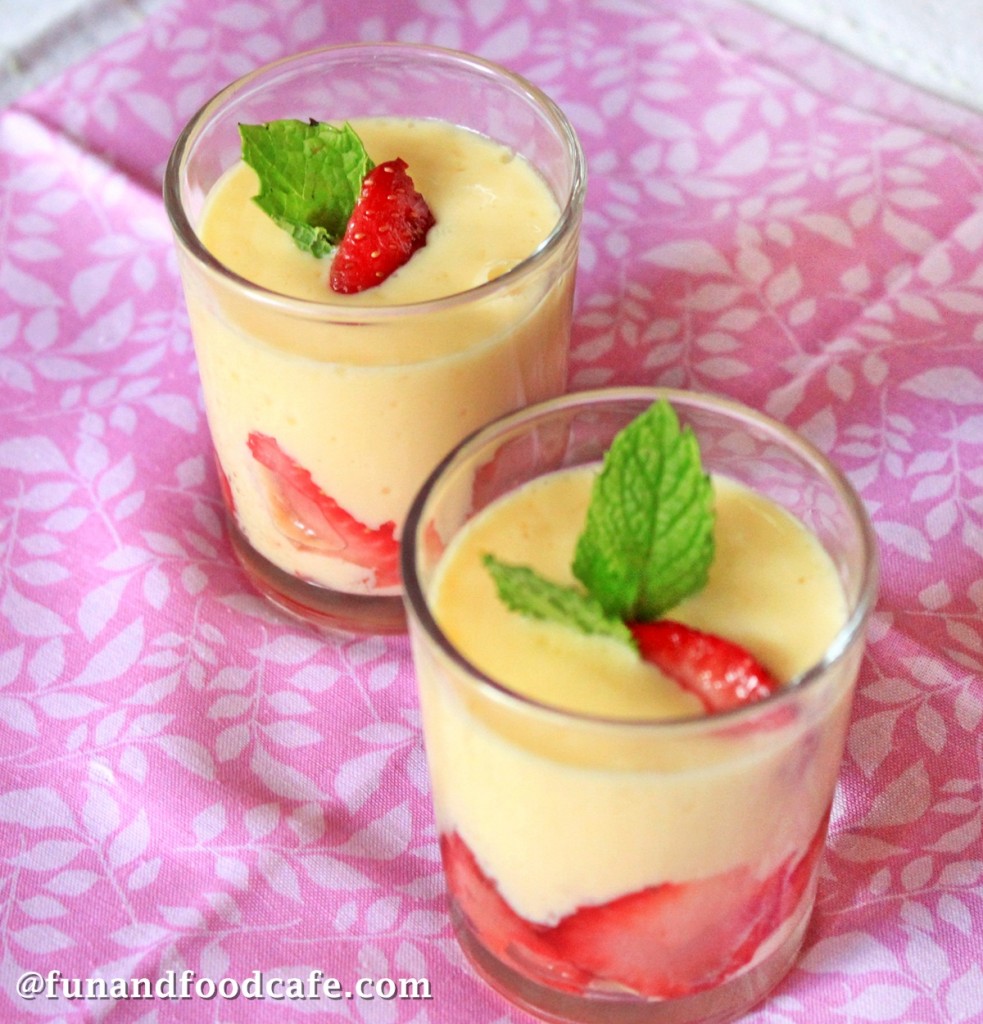 Mango Lassi Shots With Strawberries
Traditional Mango Lassi flavored with a hint of cardamom, saffron and layered with freshly-sliced strawberries, served in shot glasses for an elegant presentation.
Ingredients
1 cup yogurt
½ cup milk
1 fresh mango
1-2 tbsp sugar (as needed)
3-4 strands of saffron
a pinch of cardamom powder
4 medium-sized strawberries, sliced
mint sprigs, for garnish
Directions
Skin the Mango and remove its juice, or cut into big chunks, discarding the pit from the middle.
Take 1 tbsp milk, warm it in the microwave for 20 seconds, then add the saffron strands to it, letting them soak until they bleed color.
Blend the yogurt, mango puree, sugar, milk and cardamom powder in a food processor to make a smooth lassi, of smoothie consistency.
Add the saffron-milk to the Lassi and give a stir so it gets a nice orange color.
Slice the strawberries and layer them on the edges of 4 shot glasses, or small serving glasses. Gently pour the Mango Lassi in the glasses, taking care not to cover the strawberries, so a bit of red peaks out from the sides.
Add a sprig of mint on the top to garnish, then serve immediately, or place in the refrigerator and assemble when ready to serve.
Summer is about enjoying seasonal fruits, and Mango tops the chart for most Indians and non-Indians alike. So try this twist on an eternal favorite and see how it strikes a chord. In fact, go right now and grab a box of farm-fresh Mangoes today, and try this refreshing recipe to cool down in Summer, or serve these Mango Lassi Shots to your guests for a quick treat that leaves an impression! I'm sharing this with Cheryl's I'm Loving It roundup this week.
Related Recipes
Mango Ice Cream with Condensed Milk
Mango & Pineapple Mojito