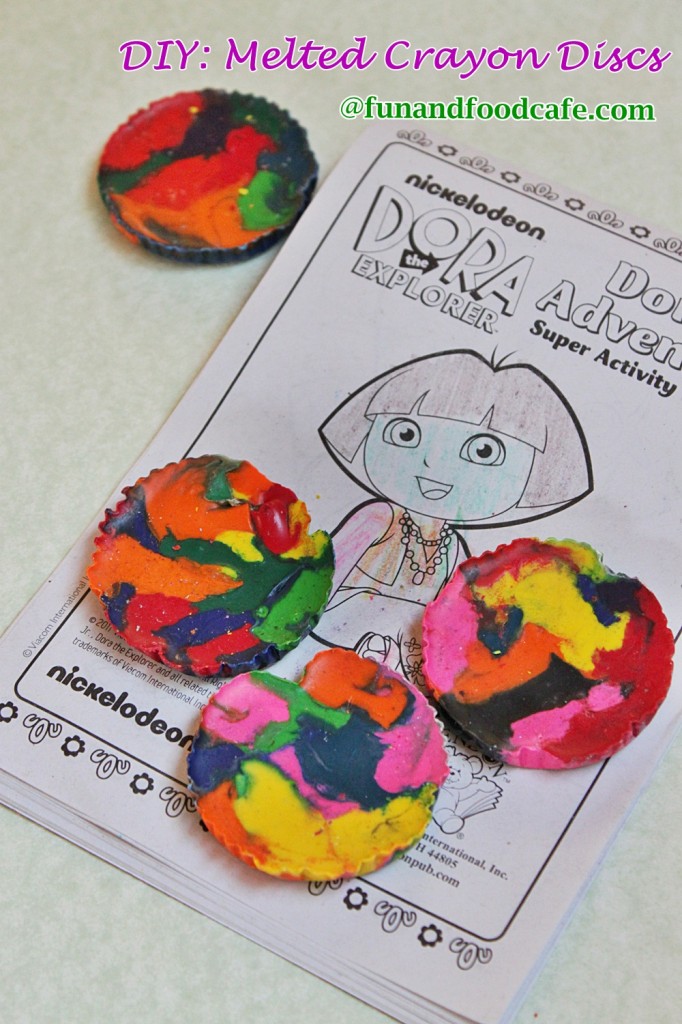 Multi-Color Crayons made by melting old & broken crayon chips
With kids, its easy to become a kid yourself and immerse into a colorful, magical world that one can only witness as a kid! My 3-year old has so many questions, sometimes I really wish I could put an end to them, but more often than not, her questions lead us to undertake beautiful adventures to find the answers that she seeks. Without beating around the bush, let me tell you what was the inspiration behind this post.
Ritika was busy coloring in her book, when she asked me – "Mamma, why can't I have just one piece of crayon that can change colors as I want? then I'll not need a big box of crayons and I can do all my art work with just one magical crayon stick, right?" "Hmmmm…..sure Ritu", I said, "that would be great, let's try to ask the magician to whip that up for you next time!" I dismissed her thought at the moment, but it lingered in my mind, especially because I had seen a product like that at a Target store a few days ago – it is called Kid Made Modern-Day Crazy Crayons. That's when I started researching it and found out from this post that quite frankly, its not that hard to make. It sounded like a fun experiment to do with my daughter, both intriguing, inspiring and magical, and the best part, you don't need anything fancy to create these. Just use your old run-down crayons that look broken and faded, and re-use them to create these magical Multi-Colored Crayon Discs.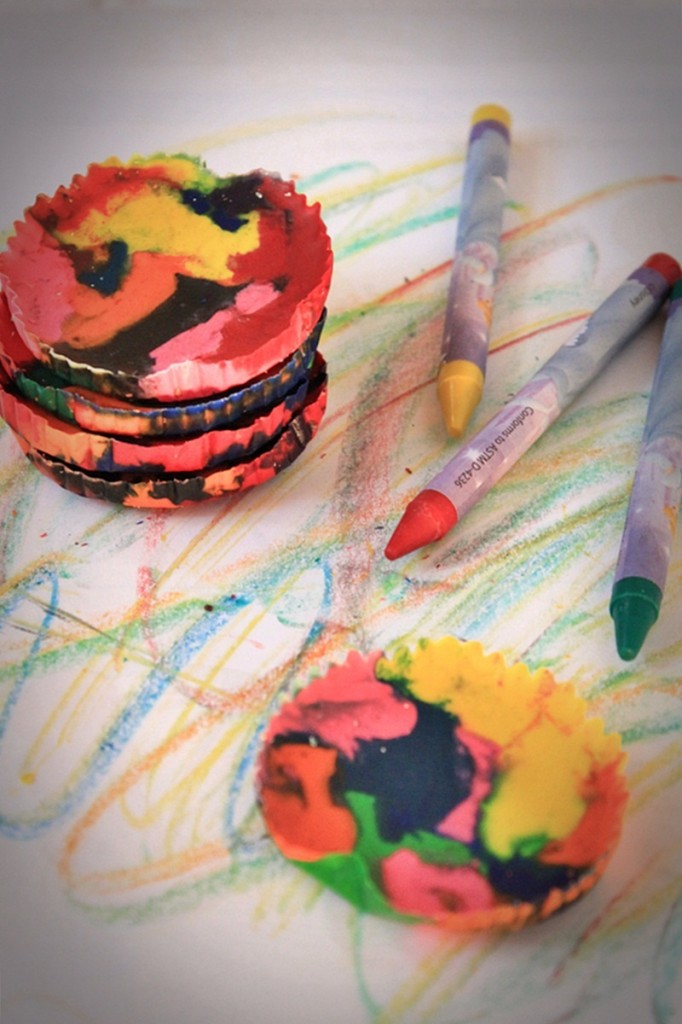 The concept is simple – melt your old crayons and let them reform and harden into a color-combination that you like. You can make solid color crayons or mix up two colors, or even several colors for the multi-colored ones. Whatever your child fancies, just dump little pieces of crayon bits into your muffin tin and watch the magic unfold! This is also a great exercise to do with toddlers so they can practice their colors, as well as scientifically see how a few pieces of broken crayons, a muffin pan and the heating/freezing action come together to bring even more color to your child's life! Don't have any broken crayons? run to the Dollar Store, get a pack of 3 for just a dollar, and start making these cute Crayon Discs – it's frugal and fun!
DIY: Multi-Colored Crayon Discs
Learn how to make multi-colored crayon discs at home by melting your old and broken crayons in muffin-pans. A fun activity to do with your kids at home!
Author:
www.funandfoodcafe.com
Ingredients
Old crayons
muffin pan
muffin liners
Directions
Take your old crayons and remove any paper covering them. If its hard to pull off the color wrappers, just dip them in a bowl of warm water and leave it for 2-3 minutes. The paper wrappers will fall off themselves.
Now take a sharp knife and chop each crayon into tiny bits, about ½ cm each piece. Repeat for all the crayons
Line a muffin pan with muffin liners. Layer the chopped bits of crayons into each muffin shell, filling them up half way. Use whatever color combination you like. Just place them together so they don't overlap too much.
Now preheat your oven to 250 degrees F, and place the muffin pan in the oven. Let the colors bake for about 4-5 minutes, just until the top-most layer of the crayon seems to be melting.
Refer to the picture above - you don't want them to melt too much and turn into a runny liquid, otherwise the colors will get mixed. You want them to be melted enough so the solid structure breaks, but the color layers are still separate, creating a multi-colored effect.
Once done, remove from the oven and leave them untouched for 5 minutes, then pop the entire muffin tray into the refrigerator for about 10-12 minutes. Or you could even freeze it so they harden faster.
That's it, once they are back to their solid form, remove the color discs from the liners and they are ready to be used.
Notes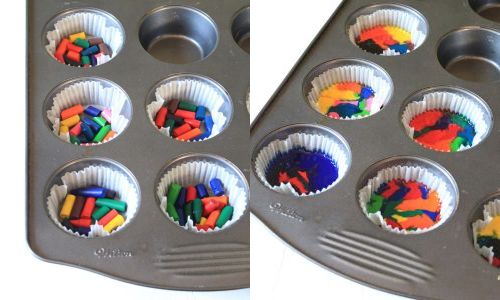 Bake the colors only until the top layer is mostly melted and smooth. It can take anywhere from 10-15 minutes at about 250 so just keep an eye on it. Baking time depends on how full they are, the brand of crayons, and more. Try to mix and match colors so they look appealing when the layers merge. You can even use silicone molds instead of muffin pans, but make sure to place your silicone molds on top of a foil lined cookie sheet when you put them in the oven, so the silicone itself does not melt.
This is a great activity to do with kids and explain scientific processes to them. Its a relatively simple DIY project with beautiful results that young scientists and artists can relish in! I'm sharing this craft idea with TidyMom, the DollarStoreCrafts and Naptime Crafters!