With the Summer season coming on, its time for parties and celebrations. Be it Graduation, 4th of July, Backyard BBQ or a Birthday celebration, every occasion deserves a special beverage, just like this colorful Ice Cream Float! Right from the time when I saw it on the Pillsbury website, I fell in love with it. With only 3 ingredients, this fresh, colorful, flavorful and extremely kid-friendly beverage will woo even the grown-ups at the party! It is a simple recipe packed with a ton of flavor. It uses Birthday Cake Icecream, me and my daughter's personal favorite – that's the one we always choose when we go for an ice cream treat at the Coldstone. Just the sight of the smooth creamy ice cream dotted with pieces of cake and colorful sprinkles makes her salivate, and I'm sure it has the same effect on your kids too! To kick up the flavor, we throw in a handful of fresh raspberries, but you are free to pick any berries that you like. Summer brings a bounty of fresh berries and you can have your pick. Finally, just add some fresh lime soda or limeade to create a bubbly drink that will surely be the limelight of your party. Its like Liquid Dessert, and pairs extremely well with almost any kind of food, be it Pizza, Burgers, Pasta or Sandwiches.
There's not much to this recipe post, I don't want to bore you with unrelated stories or a lengthy dialogue that has nothing to do with the recipe. The picture above is alluring enough to pique your interest, and here's another close-up of the delicious float that will draw you in. So head out and grab a pack of your favorite ice cream and some limeade, and make yourself an ice cream float that will take you back into childhood bliss! Recipe & image courtesy of pillsbury.com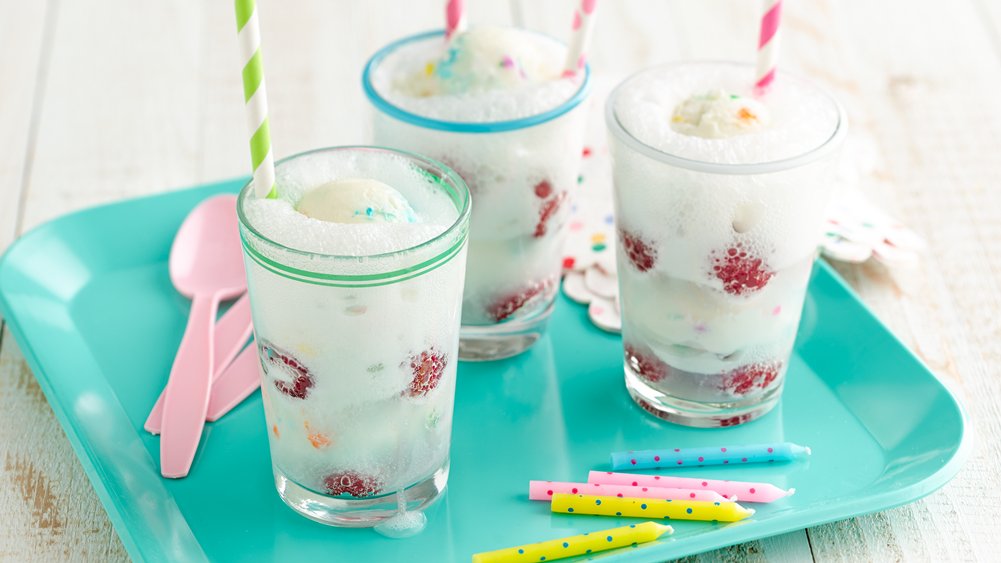 Cake Batter Ice cream Soda
This bubbly alternative to traditional milkshake will help you relive your childhood memories. With cake batter ice cream mixed with fresh raspberries and limeade, this is a perfect dessert beverage for any summer celebration
Author:
www.funandfoodcafe.com
Ingredients
Ingredients
2 cups birthday cake or cake batter flavored ice cream
1 pint fresh raspberries
4 cups limeade
Directions
In each of 4 glasses, layer ice cream and raspberries twice.
Pour beverage over ice cream and raspberries in glasses. Add some colorful straws and serve immediately.
I love the simplicity of this recipe. Its a no-fuss, no-mess treat that can be customized in so many ways. And with just three ingredients, you can't go much wrong! Now go ahead and start thinking what you'll serve with this beverage for your next party? Need some inspiration? Check out these cool recipe links below
Summer Entertaining Recipes
Pasta with Creamy Avocado Mint Pesto
Broccoli & Cheese Fritters
Grilled Paneer & Avocado Sliders
Summer Salad with Mangoes & Candied Walnuts
Coconut Panna Cotta with Berry Syrup
Avocado Chocolate Chip Ice Cream