As Summer seems to grow over the bay area, it seems like we are spending more and more time outdoors, especially in our garden! I've always loved gardening, and its great that I've been able to incorporate the love of outdoors in my little one too. My daughter loves helping me in the garden whether its weeding, painting pots, growing veggies or herbs, or just relaxing on the patio swing! A couple weeks ago, we painted the patio bench and the side table, and this week, we thought of adding a bird-feeder outside where the cute little hummingbirds could perch and have a bite! Always an advocate of DIY, I used this opportunity to teach her about reuse and recycle. Thanks to TreeTop, we had a fun activity outdoors, and I urge you to try it too!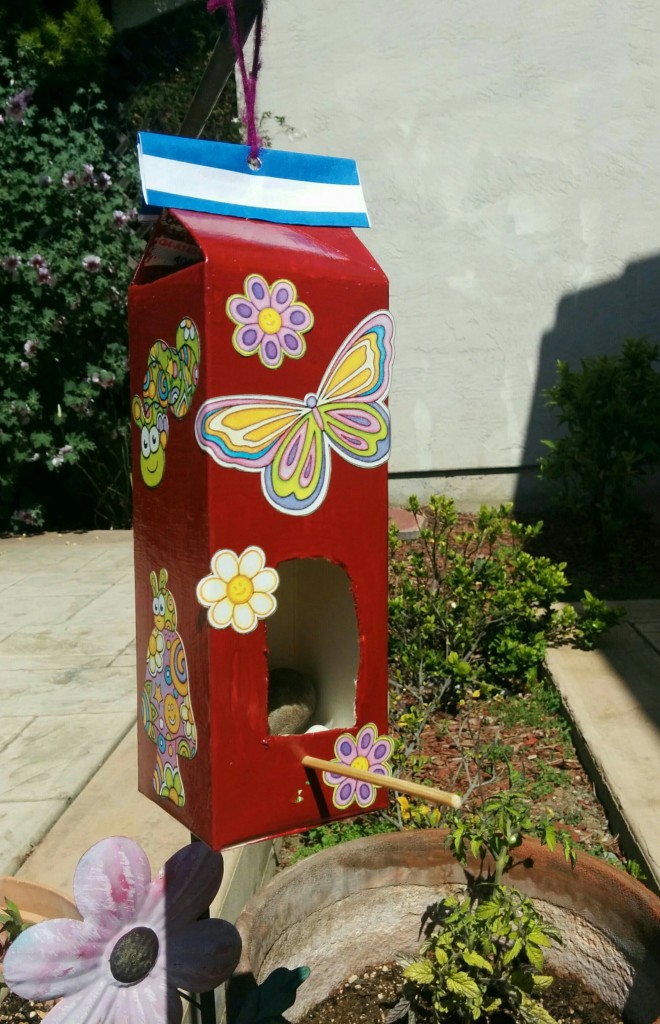 We used a cardboard milk carton to make the bird-feeder. You could go as fancy as you like, but for a 5-year old, I think this was a great first project to bring her closer to nature. We started with a simple milk carton and washed it in and out. When it dried completely, I used a craft knife to carve out an opening, like a little door for the bird-feeder. Then Ritu started with the paint job. After 2 generous coats, we were able to cover the carton with shiny glossy paint so that the writing didn't show.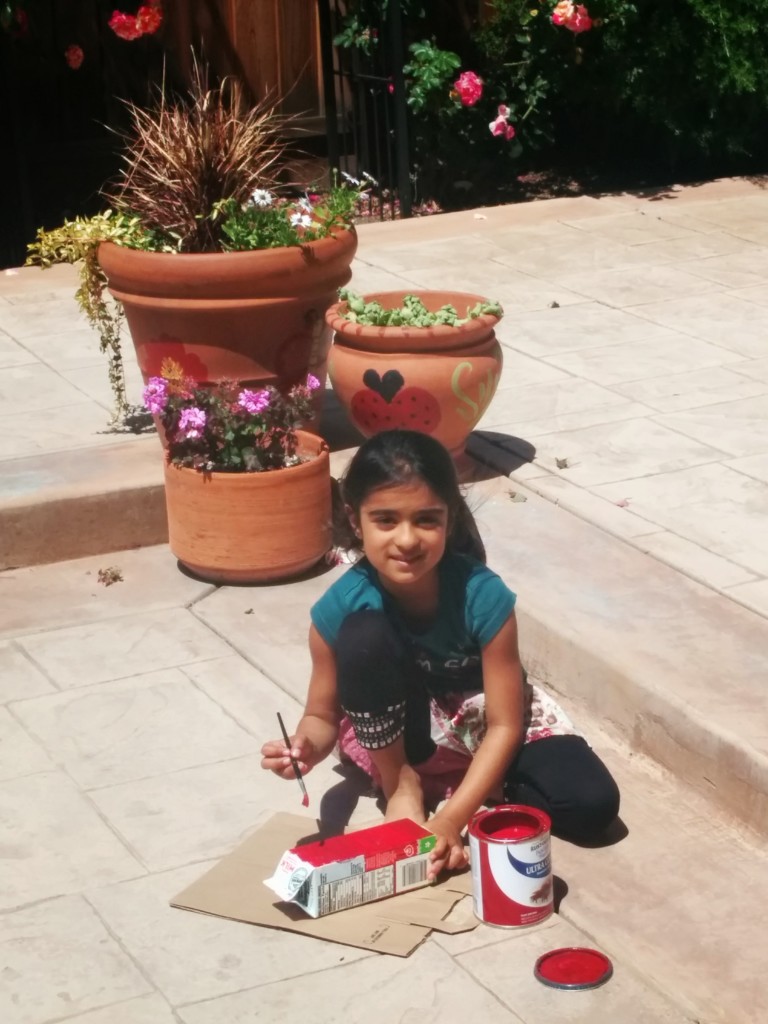 As the paint dried, we took a little snack break. When it comes to our food, I am a staunch supporter or home-grown or organic food. It would be awesome if I could grow everything in my garden, but that would be quite unrealistic, right? However, if it comes from a place like Tree Top where they are committed to Raising Good Apples to create the best products, I have no complaints. Tree Top Apple Sauce Pouches are mess-free, taste great and are made with pure fruit. Plus, they are squeezable and fun, making them perfect for on-the-go snacking. Not to mention that for every purchase of Tree Top Apple Sauce Pouches, Tree Top will donate a dollar to KidsGardening.org to help fund community garden projects and raise good apples across the country. What better way to instill good values in your child than using products that are close to your heart!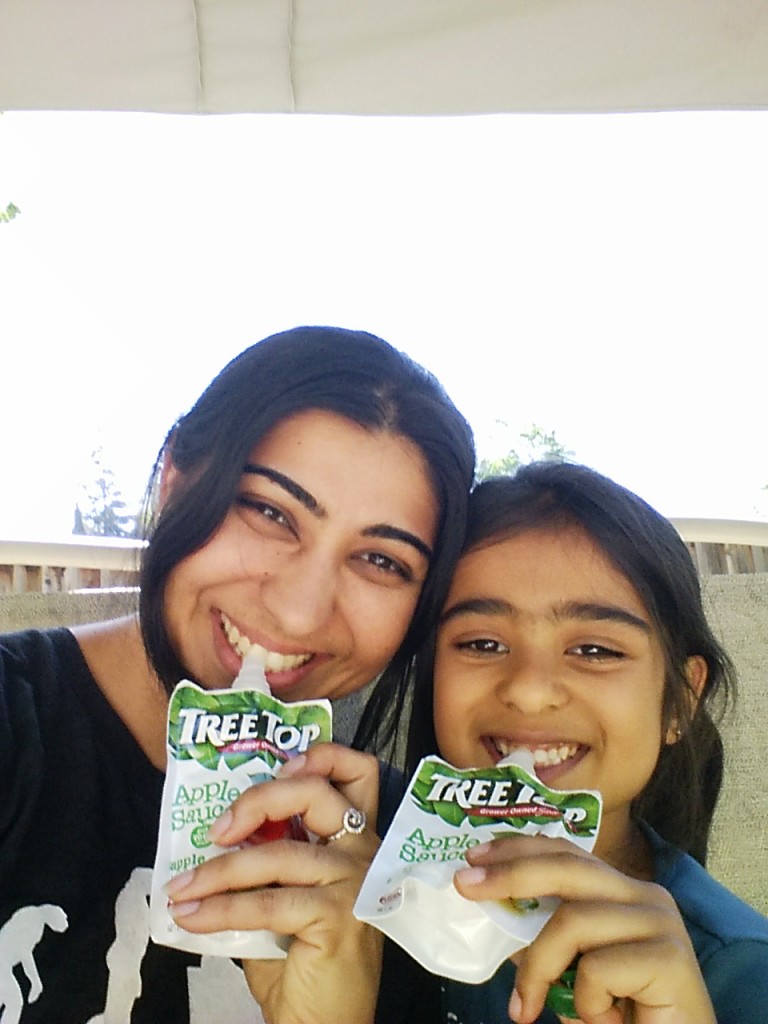 Anyways, when the paint dried, we took a wooden skewer and inserted it right under the opening to make a little perch for our feathered friends. Finally, it was time to get your creative hat on and decorate the bird-feeder. Ritu opted to use some stickers with butterflies, ladybug and flowers to make it more attractive.
When it was all done, we filled it with some bird-friendly grains and hanged it in a corner of our garden. Doesn't it look pretty out there?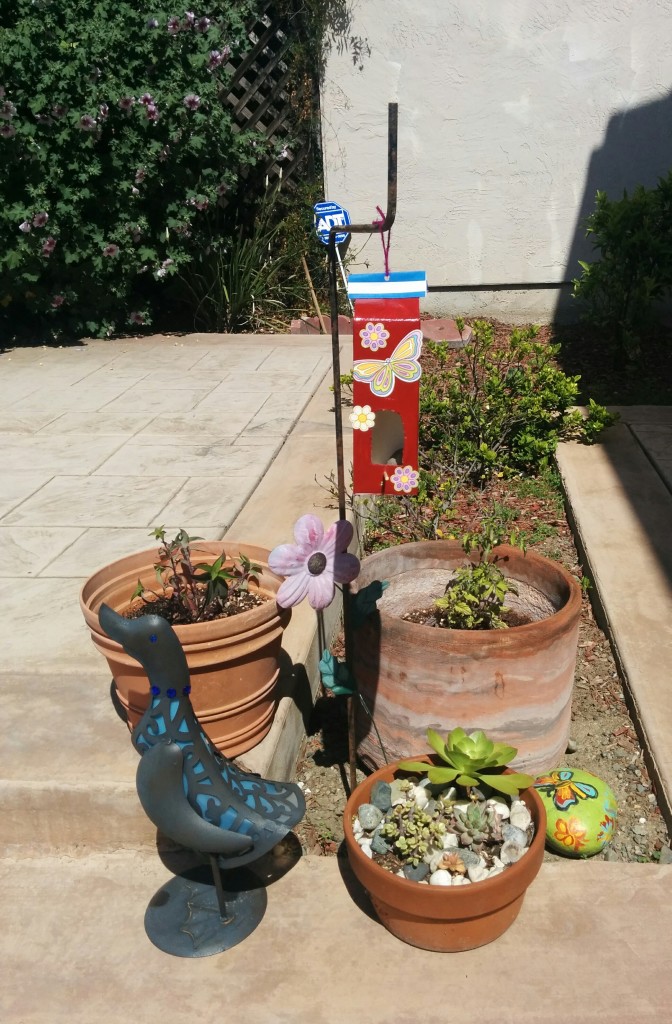 DIY: Milk-Carton Bird Feeder

Materials Needed
Recycled milk carton
Outdoor acrylic paint
stickers/permanent marker for decorating
String or ribbon for hanging
Craft knife (adult use)
Scissors
Hole Punch
A wooden skewer
Glue

Directions
To make this Recycled Milk Carton Bird Feeder, first lightly sand the milk cartons to help the paint adhere, then stick the top portion to close it.

Now apply two coats of acrylic outdoor paint, or whatever you have on hand. After the paint dries, use the craft knife to cut a large door as shown in the picture. You can help your child making an exact cut if its hard for them to handle the knife.

Make a hole in the top with a hole punch or something sharp, and hang somewhere the kids can see and enjoy their handiwork.

Fill with bird seed and enjoy the visits from your feathered friends.
This was a great way to spend some quality time with my daughter, at the same time it gave us an opportunity to be in tun with nature. We learnt about the needs of different birds, and how its important to understand the type of bird-food they need at different times of the year. Ritu learnt important concepts about responsibility, appreciating nature, as well as the DIY approach. If you believe in encouraging your kids to help out in the garden, be sure to enter this giveaway, and you could possibly win a gardening set worth $60 !!
Disclosure: This is a sponsored post written by me on behalf of Tree Top. However, the opinions and ideas presented are entirely mine.