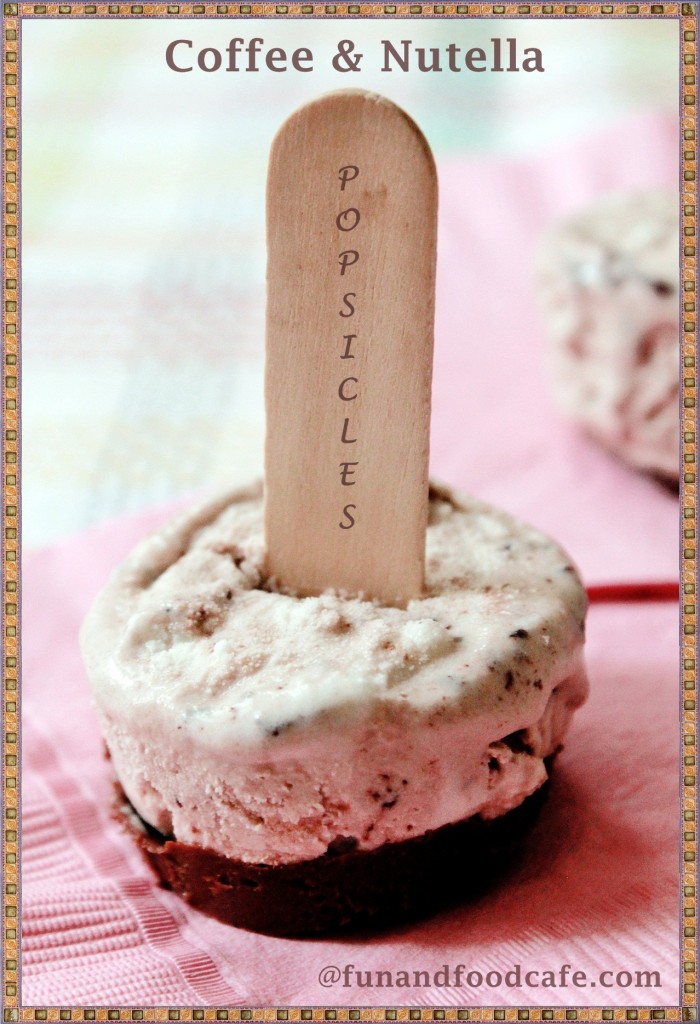 I am not a fan of hot coffee, in fact, like most other Indians, I am a hard-core Masala Chai person. I can't imagine starting my day without a cup of piping hot Tea, complete with milk, ginger and cardamom. But when it comes to Iced Coffee or Frappuccinos, that's a totally different story. I love cold coffee, and I would gladly accept one even if you offered it to me in a snowstorm! Anyways, jokes apart, I do have a soft spot for creamy coffee drinks blended with ice, so when Green Mountain approached me a few days ago to try their new Iced Lattes in Vanilla and Mocha flavors, there was no way I could refuse. You can buy these at many retail stores – here's a link to their $1 OFF coupon if you'd like to try one of these. Attractively packaged in glass bottles, these are similar to the Starbucks Iced Lattes that you find in convenient stores.  However, Green Mountain has developed a loyal following in the past for delicious coffee with complex flavors, and their new lineup of Espresso Roast Iced Lattes are a great addition to the brand name.
I bought a pack of two, and I went Bottoms-Up on one of them as soon as I reached home. For the second one, I wanted to try something interesting, so I decided to create a recipe that is easy, yet captures the flavor of the iced coffee. That's how my Iced Coffee & Nutella Popsicles were invented. Anyone who has tasted Nutella (and by that I mean everyone, because there really can't be anyone who hasn't fallen for Nutella yet!)  would agree with me that Hazelnut, Cocoa and Coffee go hand in hand. All three of these flavors work extremely well together, I wonder why they don't have a version of Nutella with Espresso yet!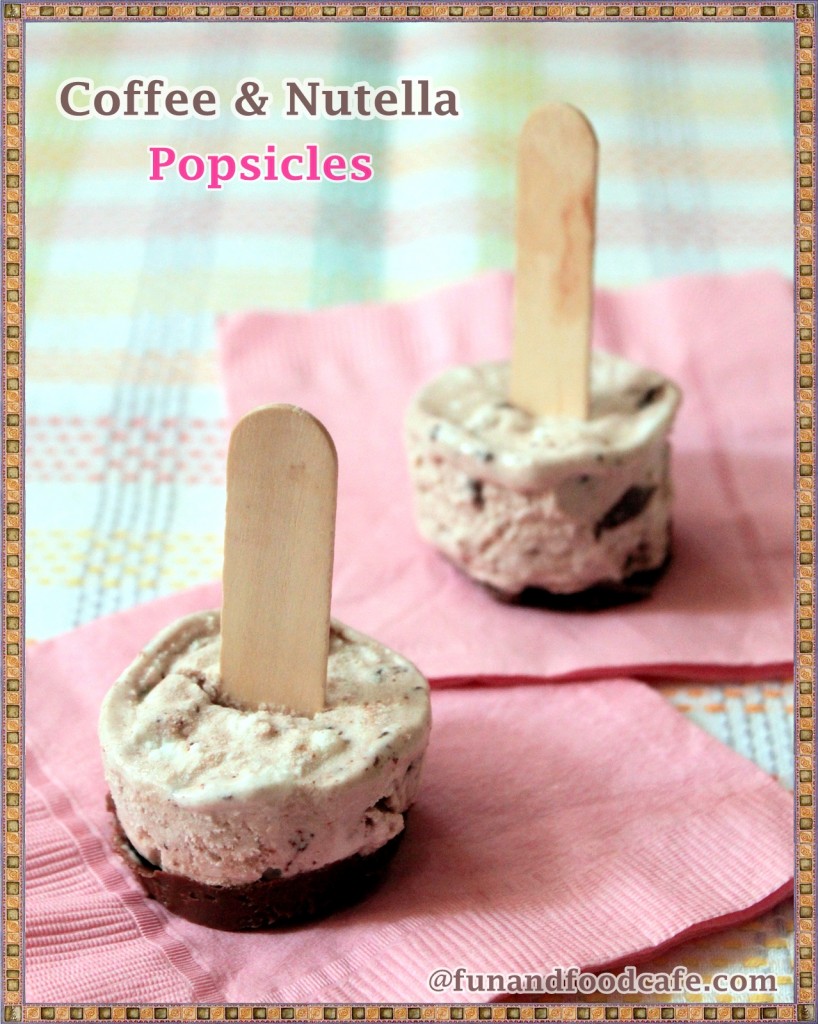 I took out my popsicle molds, layered them with Nutella at the bottom, and tucked them into the freezer for 5 minutes. Meanwhile, I mixed my iced coffee with equal parts vanilla ice cream and blended it into a milkshake. For a lighter version, you could even use whipping cream instead. With the Nutella hardened, I poured my Iced Latte milkshake into the mold, and threw in some more chocolate chips inside.
I then put the molds into the freezer again until the coffee was frozen. If you do not have popsicle molds, just use paper cups instead, and once the coffee is frozen, but not rock hard, remove them from the freezer and insert traditional popsicle sticks into them, then return to the freezer until ready to serve. Cut off the paper from one corner and peel it off when ready to serve.
Iced Coffee & Nutella Popsicles
Ready-made mocha iced coffee and nutella come together in this delicious recipe to create amazingly creamy popsicles which are stylish and chic- a new way to enjoy your iced coffee
Author:
www.funandfoodcafe.com
Ingredients
1 cup Iced Coffee Mocha
2 tbsp Nutella
½ cup vanilla ice cream
1 tbsp chocolate chips
popsicle molds
Directions
Mix your iced coffee with the ice cream to make it thick and creamy. Leave it out so it melts a bit
Take your popsicle molds, and layer 1 tbsp nutella at the bottom.
Put in the freezer for 5 minutes until nutella hardens.
Then remove and pour your coffee and ice cream mixture into the molds.
Add some chocolate chips to the mixture.
Then close the molds and return to freezer until the coffee is frozen.
Right before serving, remove from the freezer, let it thaw a little, then remove from the molds and serve.
More Ideas & Inspiration
These Coffee Pops were an amazing treat. To make them more delicious, keep a bowl of crushed Oreos ready. Dip the pops in this mixture right before serving. You could also use cookie crumbs, toasted coconut, or even sprinkles, to make them festive and colorful. If you like, use Condensed Milk instead of whipping cream for a richer, creamier pop recipe. I just didn't want to load up on extra sugar, but you are free to try it out. Also, add some flavoring like vanilla extract, peppermint, hazelnut to enhance the taste if you like.