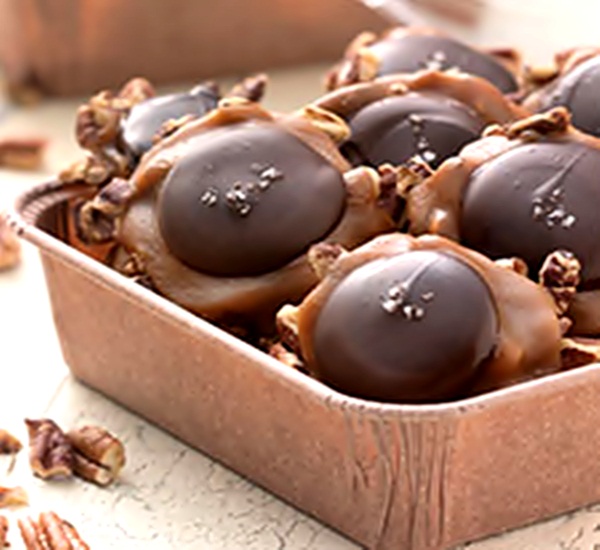 Salted Caramel & Chocolate Turtles (Candies)
When it comes to making Caramel, I tend to shy away from the process, not because its tedious, but because I don't have much preference for the gooey-chewy caramel that adheres to my teeth. But, my husband and two-year old love Caramel, so what's a Mum to do, except learn to live with it, or at least master the process to produce treats on holidays and occasions. And then, I saw these delicious Salted Caramel & Pecan candies on the KAF blog, and they looked sinful enough to steal another glance. I had also preciously bookmarked a recipe for Salted Caramel by the famous chef Michael Ruhlman, so between the two recipes, and the urge to try making Salted Caramel candies at home, a decision was made and the material for a blog post had started to take shape!
Caramel is a favorite sauce to dress up your delicious desserts without much fuss, be it ice-cream, cakes, pies or flans. However, caramel tastes great by itself, and hence Caramel Candies are such a huge rage. Salted Caramel is a wonderful concoction – a pinch of fleur de sel goes a long way in adding flavor and balancing the sweetness of the otherwise sugary-sweet caramel sauce. So whether you plan to make just plain salted caramel candies or combine them with pecans and chocolate as called for in the recipe below, or if you simply want to make a rich caramel sauce for your desserts, this is a recipe to hold on to. Images courtesy of King Arthur Flour and Wikimedia Commons.
Making Salted Caramel is not at all hard, all it needs is 15 minutes of your undivided attention, and the best quality of sea salt that you can grab. Also, the sauce thickens, bubbles and almost triples in volume once you add cream mixture to the sugar, so make sure you take a wide and deep saucepan to cook the sauce to avoid spluttering and burns. And for making Chocolate Caramel candies, just get store-bought chocolate disks of any flavor you like, and some good pecans. This is a great recipe to make for holidays and occasions, or even for special treats for family, your kid's class or other events.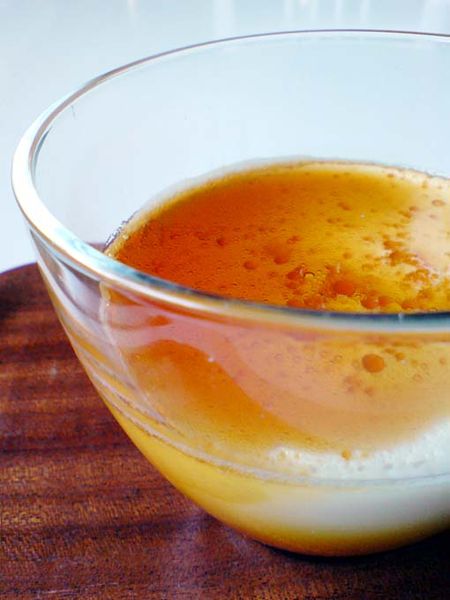 Salted Caramel Candies
Prep Time: 15 mins
Cook Time: 20 mins
Chilling Time: 2 hours
Yields: 16 candies

Ingredients

For the Salted Caramel
8 fl oz heavy/double cream
2 1/2 oz butter, cut into pieces
2 oz honey
1/4 cup water
7 oz fine/caster sugar
1 tsp sea salt, preferably Fleur de Sel
1/2 tsp vanilla extract

For the Candies
2/3 cup chopped pecans, toasted
4-ounce block of caramel, cut into 16 pieces; or 16 caramel candies
16 bittersweet chocolate disks (1 inch disks)
a pinch of Fleur de Sel or other sea salt, to garnish each candy

Method

Making the Salted Caramel
Line an 8″ square baking tin with parchment paper, brush lightly with olive oil.

In a medium saucepan, gently heat the cream, butter and salt together, just enough to melt the butter. Then remove from heat and set aside.

Place the honey, water and sugar into a large and deep heavy bottomed saucepan and stir well. Place on a high heat and bring to a rapid boil, continue to boil the mixture until it begins to turn a golden brown, something like the second photo shown above in the post, about 8-10 minutes, then quickly remove from the heat.

Slowly pour the butter and cream mixture into the bubbling sugar. Be careful, as it will start bubbling and rise in volume. Return the pan to heat and cook for 10 minutes or until the caramel reaches 250°F/120°C. Once this temperature is reached, remove from the heat.

Add the vanilla extract to the caramel and stir well then pour the mixture into the prepared tin. Leave to cool at room temperature, then pop the dish into the refrigerator for a couple of hours to firm up, so the candy becomes easy enough to scopp, shape or cut, without turning rock hard.

Remove from refrigerator and invert the parchment paper onto a cutting board. Use a serrated knife and cut into 16 cubes or pieces (or smaller pieces if you like). you can proceed from here to make the Chocolate Caramel Turtle Candies, or just wrap your caramel candies into candy wrappers and store in refrigerator until ready to eat.

Assembling the Candies
Preheat the oven to 325°F. Roughly chop the pecans into coarse pieces and divide them into 16 small piles on a parchment-lined or lightly greased baking sheet.

Flatten each caramel cube into the size of a half dollar coin, and place on the pecans.

Heat in the oven for 2 to 3 minutes, until the caramel softens and begins to melt. Remove from the oven; wait for 1 minute, then top each cluster with one disk of chocolate, pressing it into the softened caramel gently.

Top each candy with a few flakes of Fleur de Sel, or other coarse sea salt. Allow the caramel and chocolate to cool and set before removing candies from the pan. You can let them cool down, pack in individual decorative wrappers, or put them in an air-tight box to store for later use.
Related Recipes
All-Time Favorite Fudge Recipes
Favorite Christmas Candy Recipes
Candy-Topped Chocolate Muffins