"This shop is part of a social shopper marketing insight campaign with Pollinate Media Group™ and Wet-Nap but all my opinions are my own. #pmedia #showusyourmess http://my-disclosur.es/OBsstV"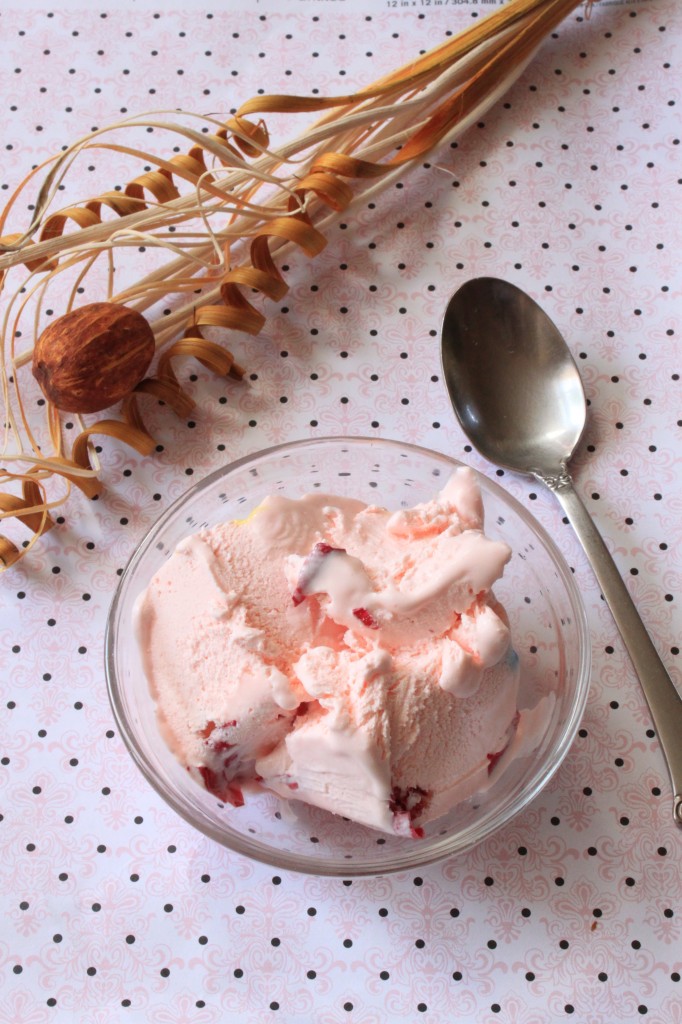 Summer vacation is a time to reconnect with your kids at a different level, its the only time when you can spend way more time with them than when school is on, and you can relive your childhood, or help create lasting memories of fun times with your kids that the whole family will cherish for days to come. I love doing different activities with my kids when they are off school, and lately, my 5-year old is into cooking, so I try to get her involved in whatever tasks that she can contribute to.
Making Ice Cream at home is one of our favorite ways to beat the summer heat. Ritu loves homemade ice cream, more so because she can help me make some, which in turn earns her some extra points on her "good girl" list! So last weekend, we decided to make some fresh Rose ice cream. We were playing in our garden when we saw some beautiful and fragrant red roses, which inspired us to use them in a delightful way while we cook. Everyone enjoys rose-flavored milkshakes in our house, so I thought, why not make some ice cream with some fresh candied rose petals!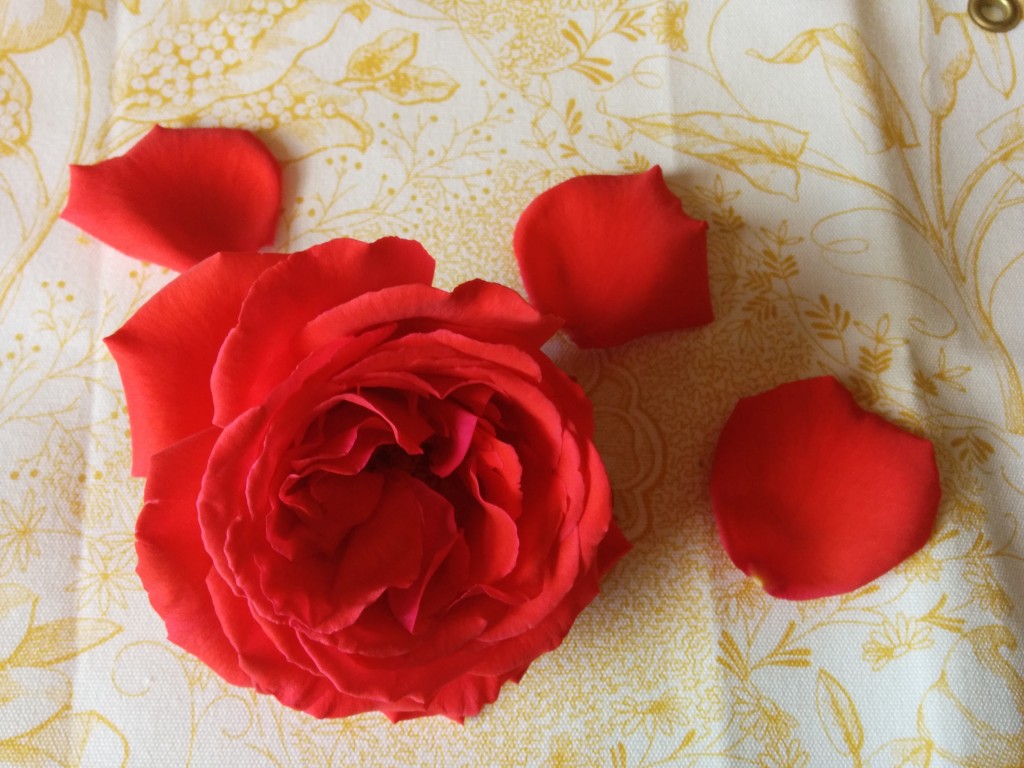 Ritu was excited when I told her what I had in mind, and was eager to help. To make the candied petals, we spread the petals in a dish, sprinkled them with some powdered sugar and lemon juice, and refrigerated them for 20 minutes while we worked on the other part of the recipe. Make sure you keep a box of WetNap next to you, because there's going to be lots of licking involved, and you are going to need them close-by to clean up the mess on your kiddo's face!:) I love keeping these handy because they are more softer, stronger and have moisturizing aloe in them that is perfect to clean my little one's face. Grab one at your nearest Walmart while you use your $0.55c coupon; they are available in the napkins/paper goods aisle, or my local Walmart carries it in the Baby hand wipes section
Don't worry, the other part doesn't take more than 15 minutes either! Just three ingredients and your favorite essence go into making this quick and easy recipe. Some whipped cream, evaporated milk, condensed milk and rose essence make this a smooth and creamy ice cream that is already so rice, that it just takes a couple hours to freeze. For extra creaminess, just let it set for an hour, blend it one more time, and re-freeze. Then enjoy whenever you want, and say bye-bye to the summer heat.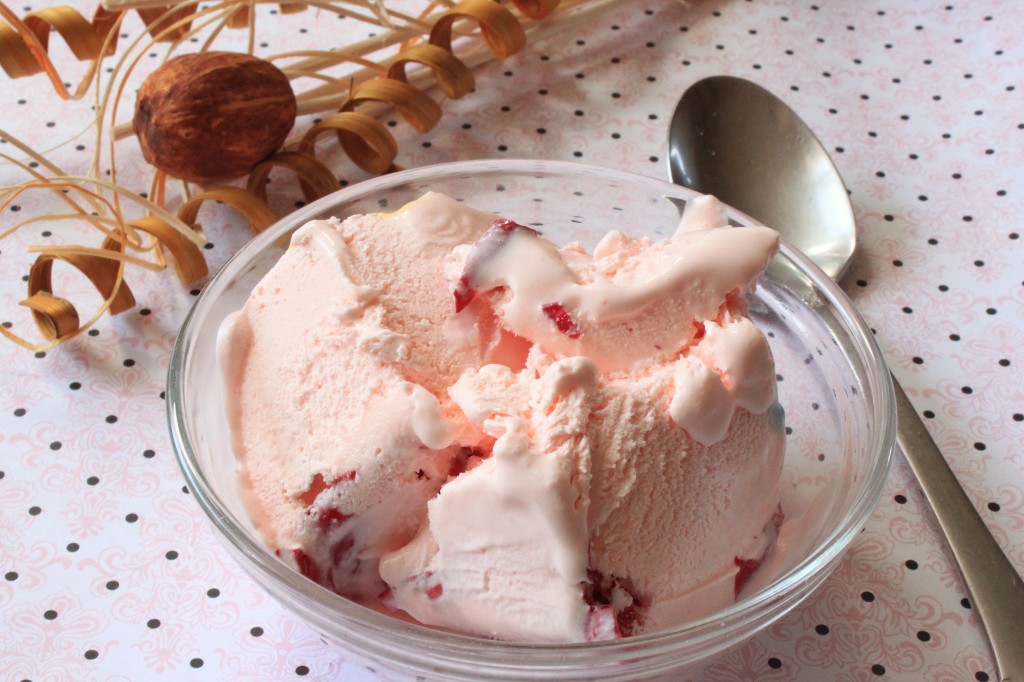 Quick-Freeze Ice Cream Recipe (Rose Ice Cream with Candied Rose Petals)
Your kids will love helping you make this quick-freeze ice cream that takes less than 10 minutes, literally! Use whatever flavor you like; it freezes in a few hours, and you do not need an ice-cream maker!
Author:
www.funandfoodcafe.com
Ingredients
1 tub cool whip
1 can evaporated milk
1 can sweetened condensed milk
3 tbsp rose water
½ cup rose essence/color (I used Roohafza)
candied rose petals (optional, recipe included)
Directions
For the candied rose petals, we picked fresh rose petals from our garden, washed them very thoroughly and sprinkled them with some sugar and a bit of lemon juice. Toss them evenly to coat, and let it refrigerate for 10-15 minutes.
For the ice cream, mix all the ingredients in a blender and give it a whir. If you don't want to use a blender, you can even use a spoon and your brute force to mix it all together. My daughter loved doing this by hand, and its a great way to get your kids involved in cooking.
Then drop the mixture in a cake pan, or any other container that you'd like to freeze it in, sprinkle the candied rose petals on the top, give it one final stir with your spoon, cover it with a cling wrap if the container is open, and let it freeze for 3-4 hours.
Remove when frozen. Serve immediately, topped with some crushed nuts if you like.
Look at that, isn't that a lovely looking ice cream, and even better are the smiles on my kiddo's face, right?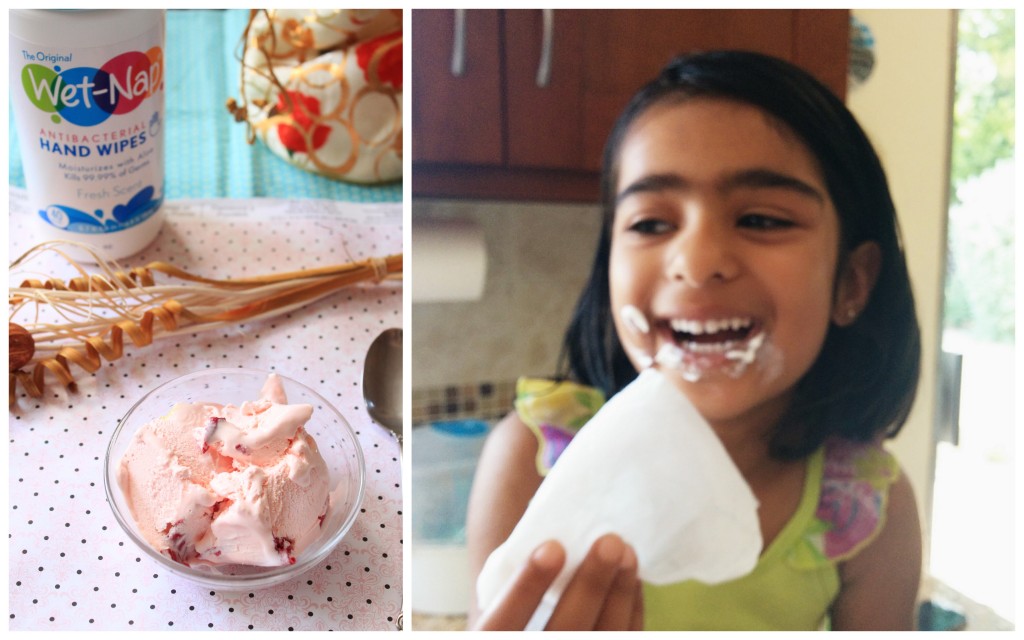 This was a great recipe to involve my 5-year old. It was safe, fun, and very invigorating. It gave us an opportunity to gel together on an emotional level, and I am sure you would love this opportunity for yourself too. SO what are you waiting for, go grab a rose out of your backyard, or borrow one form your neighbor's yard, and start making this yummy ice cream, you'll thank me for it!