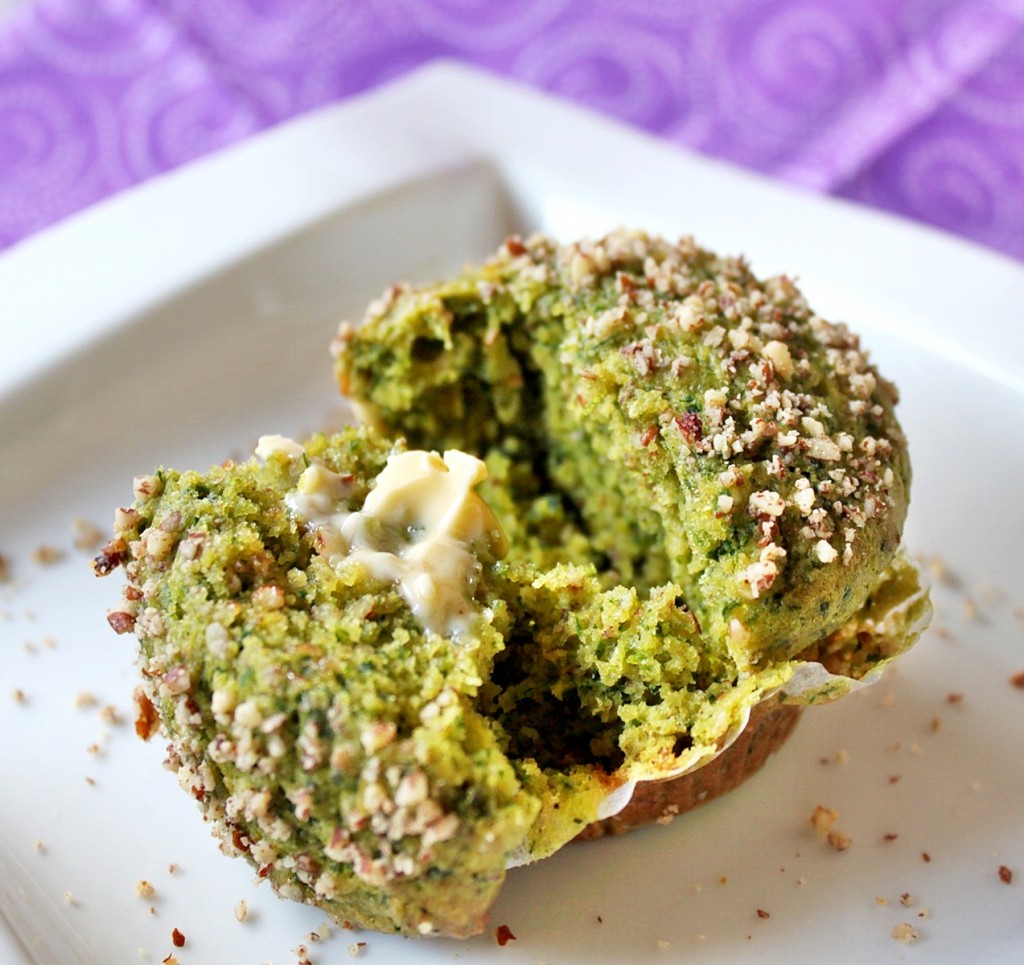 Healthy Green Muffins with Spinach Banana and Pecans
I'm back from a fabulous vacation in Australia, and I am ready to take it on! All the swimming, scuba-diving and snorkeling in the Great Barrier Reef, the heart-warming hikes in the rain-forests and the fabulous food in Sydney was a wonderful break, and now I am ready to ride the blogging trail again! The best part, we came home and see that our garden is blooming like never before – the vines are covered in roses, the pink jasmine is flowering like crazy, even the dead-looking Maple and Clematis are thriving, and all around I see colorful blooms dotting the scene, its like coming back to paradise! So I am refreshed enough to share a lovely spring recipe that fits the weather outside.
These gorgeous Green Muffins inspired by the Green Smoothie recipe, are a powerhouse of flavor and nutrition, and they are perfect for St.Patrick's Day celebration! With their beautiful Green color, and a wonderful combination of ingredients like Spinach, Banana and Nuts, you couldn't expect anything less! Plus, I love the fact that it uses very little sugar, and whole-wheat flour instead of all-purpose flour, and yet they rise beautifully, thanks to the addition of healthy ingredients like olive oil and yogurt. The batter itself looks so beautiful, its a treat to bake these muffins, and you just cannot guess that they are made with spinach!!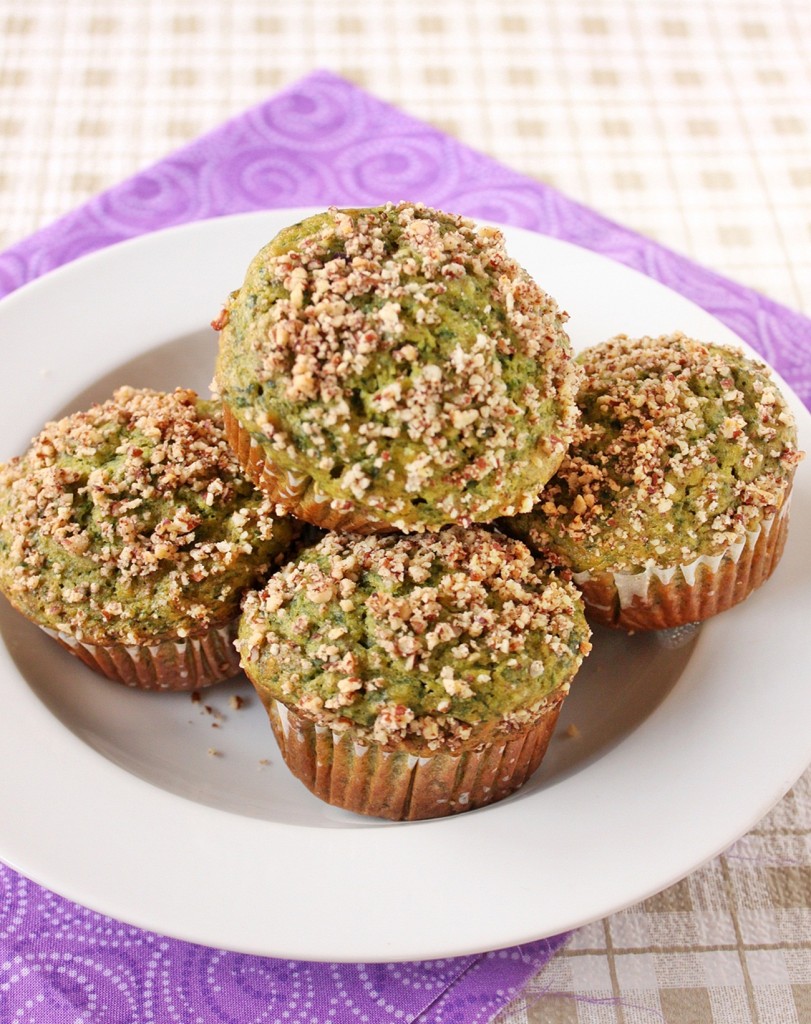 A perfectly healthy and nutritious treat for the whole family, these Green Muffins are a great snack option, perfect for kid's lunches too. They are not as sweet as other fruit muffins, and that's what makes them unique. And despite the uncommon ingredients, these muffins are super-moist and fluffy. In fact, my husband and 2-year old agreed that these were the best muffins I have ever baked! You can eat them anytime of the day, pair it with tea or coffee, dot it with some fresh butter, lightly melted on a warm muffin and its like a guilt-free indulgence.
 

Healthy Green Muffins
You'll never guess the secret ingredients in these moist and super-delicious muffins. Spinach, yes! mixed with bananas and oil, this power-packed muffin version of a Green smoothie recipe will keep you filled up for a long time, without compromising on the taste factor.
Author:
www.funandfoodcafe.com
Ingredients
1 cup whole wheat flour
1 teaspoon baking powder
¼ teaspoon baking soda
½ teaspoon salt
1 egg
⅓ cup white or brown sugar
2 tablespoons olive oil
¼ cup yogurt
1 teaspoon lemon zest
1 medium-sized banana
1 cup packed baby spinach leaves
¼ cup chopped walnuts or pecans
Directions
Preheat oven to 180C (350F). Grease or line muffin tin with paper liners and keep ready. Mash the banana and set aside.
In a large bowl, sift together the flour, baking powder, baking soda and salt. In another bowl, whisk the sugar and egg until creamy and fluffy. Stir in oil, yogurt, lemon zest and mashed banana.
In a food processor, blend the spinach leaves until very finely chopped. It will almost look like a pesto, and that's what we need. Coarse grind the pecans in another grinder, or just pound them with a mortar-pestle; you can even just chop them lightly if you like texture.
Fold in the chopped spinach and half of the pecans into the batter, leaving some of the nuts aside to sprinkle on the top. Fill batter into prepared muffin tin, filling them upto the brim. Remember, this recipe uses whole-wheat flour, which does not have as much gluten as AP flour, so the muffins will not rise too high, so fill the tin upto the brim.
Garnish each muffin with the remaining pecans. Bake for 20-25 minutes or until toothpick inserted in the center comes out clean.
Reader's Tip:
Several of our readers have already tried and loved this Green Muffin recipe, as you can read from the comments below. However, to make it perfect for St.Paddy's day, follow Holly's tip and top these muffins with a Green Frosting, made with lime, yogurt and a hint of coconut, or even mint!
Related Recipes
Banana & Nutella Muffins
Cranberry Sauce Muffins
Low-Fat Strawberry Cup Cake
Chocolate Cake with Avocado Frosting