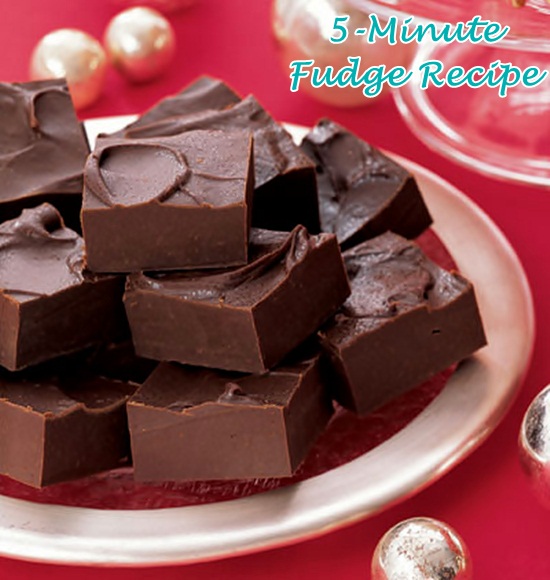 As January draws to a close and February rings in, Love is in the air, literally, and all around me people have started planning for Valentine's Day celebrations. As you grow older, Valentine takes on a new meaning, but that still doesn't stop you from enjoying this special moment of love and appreciation towards your partner. A dinner together, a memorable evening, or just sharing dessert from the same plate after kids are tucked in bed – these all can be ways to celebrate love, and the best part is, you don't have to do elaborate plans, or spend lots of money.
Chocolates and Valentine are kind of tied together, and though there are a million ways to enjoy this cocoa fruit, there's nothing like a special Homemade Fudge, pure, unadulterated, smooth and delicious! I still remember my first encounter with Fudge; we were in downtown Sacramento visiting friends and we found this cute mom-and-pop candy sore tucked into an alley lined with flashy motorbikes. We went inside for a feel of the candy store, and came out with a bag full of Fudge in various flavors! There was nothing fancy about it, just plain chocolate combined with flavor essences like vanilla, espresso, peppermint or liqueur. But the smooth, melt-in-your mouth taste that lingers on your mind even after you've devoured the whole piece, it's still fresh and vivid in my mind.
I always thought it was hard work to make a good fudge recipe, toiling over the stove for a long time stirring the chocolate, but after I tried this 3-Minute Fudge recipe, I was hooked, and have since then tried several variations, and all have turned out to be wonderful! With less than 5 ingredients, and not more than 5 minutes of your time, there's no excuse not to try this recipe. In fact, it is so good, that I challenge you you'll be making this way more often than you anticipated, and for good reason! Try it this Valentine's Day, and see the the smile across your loved one's face.
5-Minute Fudge Recipe
With less than 5 ingredients, and 5 minutes of your time, this Microwave Fudge recipe is a perfect solution to your chocolate or dessert cravings!
Author:
www.funandfoodcafe.com
Ingredients
2 packages (12 oz ) of dark chocolate chips (60-70% cocoa content)
1 (16 oz) can of sweetened condensed milk
3 tables spoons of butter
¾ cup chopped walnuts (or other nuts, optional)
1 teaspoon vanilla (or any essence of your choice)
Directions
Mix all ingredients in a microwave-safe bowl, and heat on HIGH, uncovered, for 3-4 minutes.
Do this in 30 second intervals, stirring the chocolate in between to prevent scorching or burning.
Once the chocolate is melted and smooth, transfer the contents to a 9x13 cake pan, lined with parchment paper.
Chill the fudge for 20-30 minutes, until firm and set.
Cut into squares using a sharp serrated knife.
You can store the Fudge pieces in the refrigerator for upto 2 weeks.
This is a wonderful basic recipe to make Fudge at home, and you can customize it to suit your taste or occasion. Replace walnuts with other nuts of your choice, and substitute vanilla with other flavors like peppermint, Grand mariner, Bourbon, espresso, etc. You can also make this as a great Foodie gift to share with people. The fudge will stay nice and fresh in the refrigerator for at least a couple weeks, but only if you can resist not finishing it all up by then!
For a skinnier version of the recipe, replace the butter with 3 tbsp water, and use canned coconut milk instead of condensed milk. You can still enjoy a smooth fudge, without adding too many pounds to your waistline!