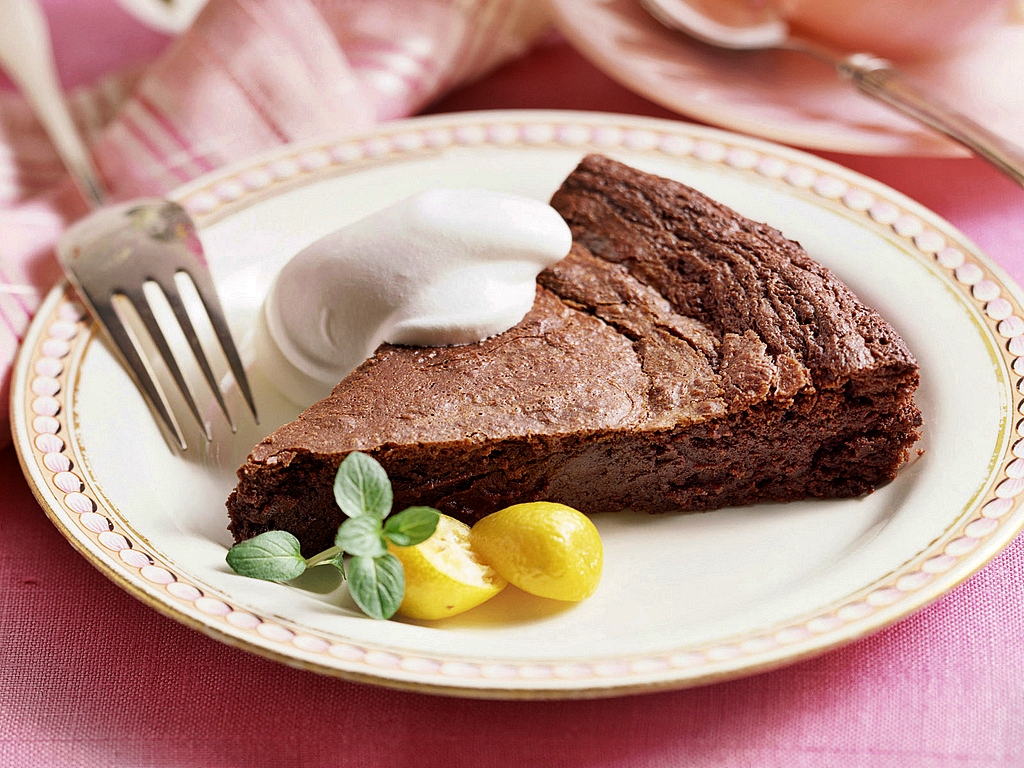 Flourless chocolate Cake (Gluten free)
When it comes to most baked desserts, they involve the use of some kind of flour or gluten, to make them rise, thereby giving them a soft and airy texture. A few years ago, these kind of desserts would have been strictly out-of-reach for those who are allergic to Gluten, or are on a gluten-free diet for one reason or another. But not anymore. The increased awareness and adaptation of Gluten-free diets as part of a healthy lifestyle has opened several avenues for such people, so practically any recipe these days can be found with a gluten-free version! I don't have any such limitation, and yet when I saw this delectable Flourless Chocolate Cake recipe by Gina Neely on FoodNetwork [photo via Flickr images], I knew I had to give it a try. It looked so appealing, and as I read the ingredient list, I thought it resembled Molten Chocolate Lava Cakes a bit, which is another of my favorite dessert, so the decision was easy to make.
I have to admit, I was skeptical of how the cake would rise at all, given the lack of gluten, but when it came out of the oven, it looked absolutely delicious. Yes, it does not have the same height and rise like a traditional cake, but that does not bother me. I have baked cakes with wheat flour before, and they tend to be thinner too, but as long as it tastes good, I have no complaints, and neither should you! The eggs in the recipe make up for the lost gluten, and the butter lends it a nice moist texture. 1 whole stick of butter, of course it will taste good, right!
Gina's recipe called for Brandy, which I replaced with some espresso and vanilla extract. She also calls for using a spring-form pan, but I didn't have one, so I just used my regular 8-inch cake pan and still the cake turned out just fine!
Here's a video recipe to help you understand the process better. The video uses egg yolks and whites separated, so you beat them up separately to form medium-stiff egg white peaks. Somehow, this is always hard for me to attain, so I chose to use eggs as whole, and as you can see, that still works out just fine! You can follow the video if you feel comfortable, or just follow the simpler recipe that I used and have outlined below.
Flourless Chocolate Cake
Prep Time: 10 mins
Cook Time: 30 mins
Serves: 6 slices

Ingredients
4 ounces bittersweet chocolate
1 stick (1/2 cup) unsalted butter
3/4 cup granulated sugar
3 large eggs
1/2 cup unsweetened cocoa powder
1/2 teaspoon vanilla extract
1/2 teaspoon finely ground espresso (optional)

Method
Preheat oven to 375 degrees. In a heat proof bowl, combine chocolate and butter. Melt the chocolate and butter using either a double boiler (heat proof bowl over a simmering pot of water) or in the microwave in 30 second intervals, stirring between each interval. I melted mine in the microwave; its easy, you just have to watch it, and keep stirring between each heating interval so it doesn't burn or scorch. 4 ounces will take you a little less than 1 minute, so try 30 sec, 30 sec, 15 sec intervals, until your chocolate is melted completely.

Once fully melted, whisk in the sugar. Once combined, whisk in the eggs one at a time, until fully combined. ensure to use a whisk, and not a spatula or beater. You DO NOT want to beat the mixture, just whisk it in one direction until all ingredients are fully combined. Stir in vanilla and espresso (if using). The final mixture will still be smooth and silky, and will pour down from a spoon. There's no gluten, so it will not resemble a standard cake batter at all.

Finally, sift in the cocoa powder into the chocolate mixture and whisk to combine.

Pour into a greased 8-inch cake pan. Bake for about 23-25 minutes, until you start seeing a crust on the top. Let it rest on a wire rack for 5 minutes before removing from pan.

Serve warm topped with whipped cream, ice cream, fresh berries, chocolate shavings or any of your favorite fixes.
I love devouring my moist Chocolate cake with a cup of mocha or coffee. The hint of espresso makes it even more appealing! You can enjoy it as a dessert or as a simple sweet treat to soothe your dessert cravings. In fact, even if you put a little less sugar, it should work out just fine, because the chocolate does have its own sweetness, and if you are going to serve it with whipped cream or ice cream, you'll never miss the sugar anyways!