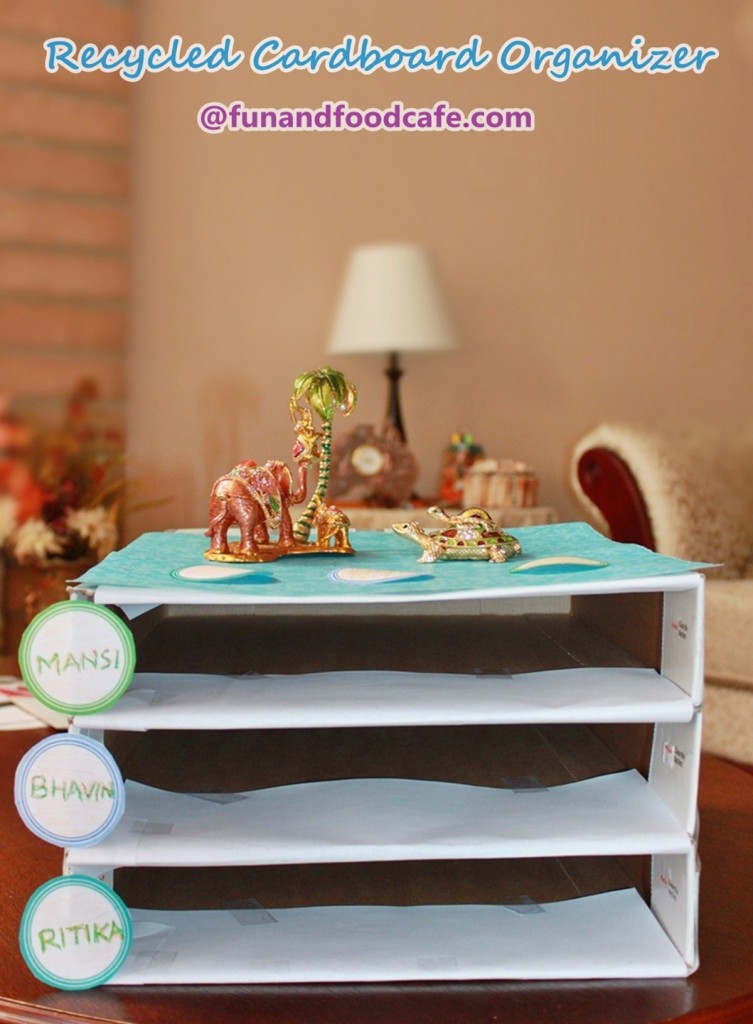 A filer or organizer made with recycled fedex boxes
Ritika has been inspired by her Art teacher at school lately, and is now more and more involved in her craft projects at home; she even has her own homemade caddy with a set of glue-sticks, pencils, toddler scissors, ribbons and markers, which keeps her busy most of the time while I complete other chores. It is so endearing to see a 3-year old being mesmerized by their work, and pretty much every "project" is good enough to find a place on our refrigerator, as she proudly sticks them up using her magnetic alphabets!
Seeing her love for crafts, I try to involve her in more DIY stuff at home, sometimes things that are not even necessary, but I know I will be teaching her about doing things herself, as well as make her feel helpful in creating beautiful projects for her Mamma's Blog! Our most recent endeavor was creating this quick and efficient Desktop Organizer using recycled Fedex boxes. Though we have a mail basket at home, most of the mail just sits there for months until I decide its time to clean up, and end up throwing most of them. And its easy to miss deadlines for bills and renewals when the reminders are just lying there in the basket, with no one actually keeping an eye on them, especially my hubby! So I decided it would be a good idea to create a small cardboard organizer that I can keep next to the fireplace – each compartment has a name to it, so we have an assigned space to keep our mails, and every 15 days, I ask each member in the family to sort their compartments and make sure tasks have been taken care of.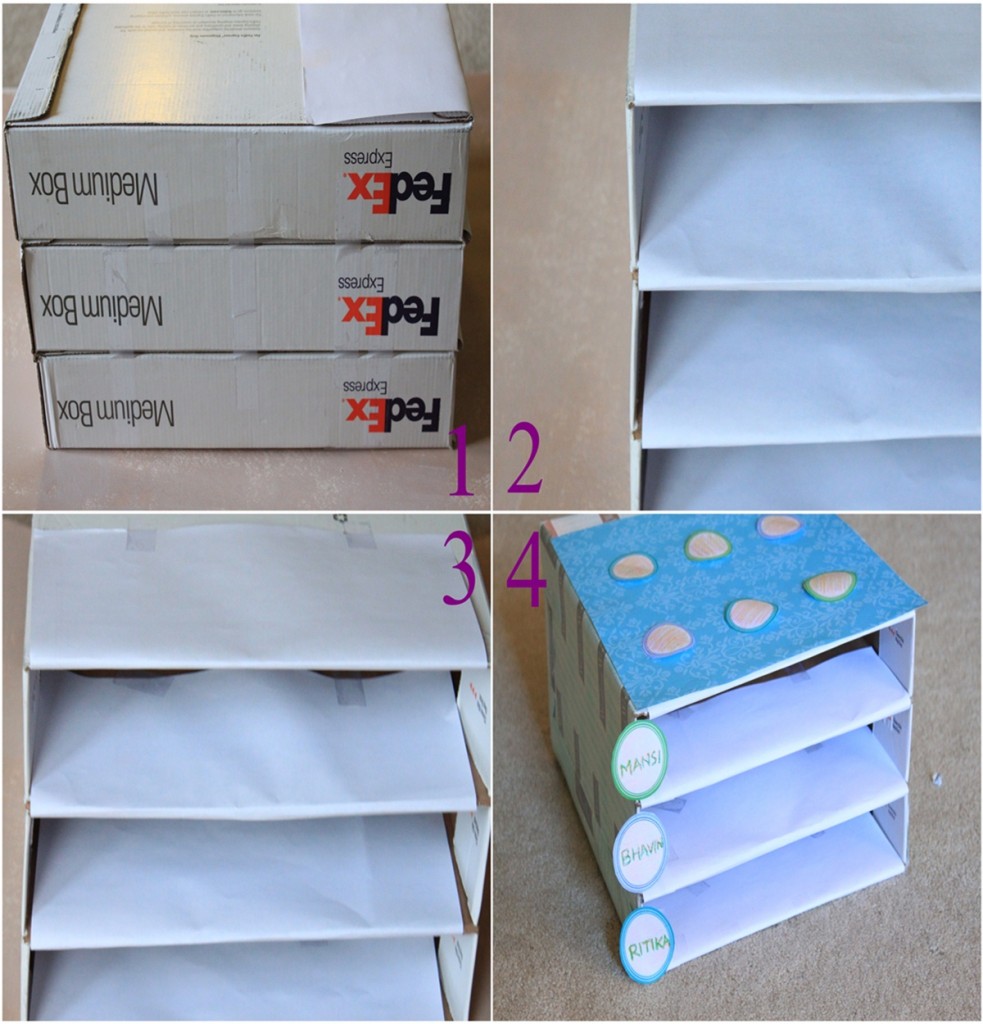 Since it is small but sturdy, I use it to store mail for me and Bhavin, while Ritu just uses her cubby to stack some of her homework, and I can still use the top of the shelf to store a couple of magazines or Ritu's books, so its easy for all of us to relax with a book, sitting by the fireplace! Plus, I feel good thinking I taught her about recycling, a very important concept in this age, and she now knows that every bit of paper is important, as it is responsible for saving the life of a tree!
Recycled Cardboard Organizer
A small and sturdy filer or organizer made with recycled Fedex boxes, convenient enough to put it on a table, beside the bed or in any other corner. you can use it to store documents, kid's books or even reports and files.

Materials:
3 same-sized Fedex shipping boxes (choose any size you like, I used the thinner ones here)
Packing tape or clear Scotch tape
3 White printer paper sheets
Wrapping paper
Glue
Scissors

Instructions:
Cut the flaps from one end of each Fedex box, making an opening like a drawer shelf.

Now stack the boxes on top of each other. If you feel that the boxes don't align perfectly, you can use scissors or a carving knife to cut off extra cardboard. Some boxes, such as those from FedEx, have flaps that add thickness to the back of the box.

Now seal the boxes together with packing tape or scotch tape. make sure you secure them from all sides, especially the back and the sides, all the way from the top to the bottom.

Now cover the boxes with the wrapping paper. Use a glue stick to finish the edges. Wrap it in such a way that the seams show on the bottom of the organizer, for a cleaner look. Seal the edges at the front openings with a transparent scotch tape.

Now, to cover the cardboard that shows through the openings, use the white printer paper and stick them onto each shelf, making sure to cover the front edges, as shown in the above picture. keep it as clean as possible – its important to cover the front edge, no one will be able to see the inside of the shelves anyway.

Finally, if you want to do like me, just cut out cardboard circles for each family member's name tags, and stick them on each shelf. Feel free to decorate the top of the box with any other ideas that you like.
There you have it, a really neat-looking cardboard organizer that will fit in any corner of your house. It is not only convenient, but it also looks good enough to put in your family room. And it is multi-purpose too, so you can use it as a filer, organizer or a small book-shelf for your child's books! What do you think??