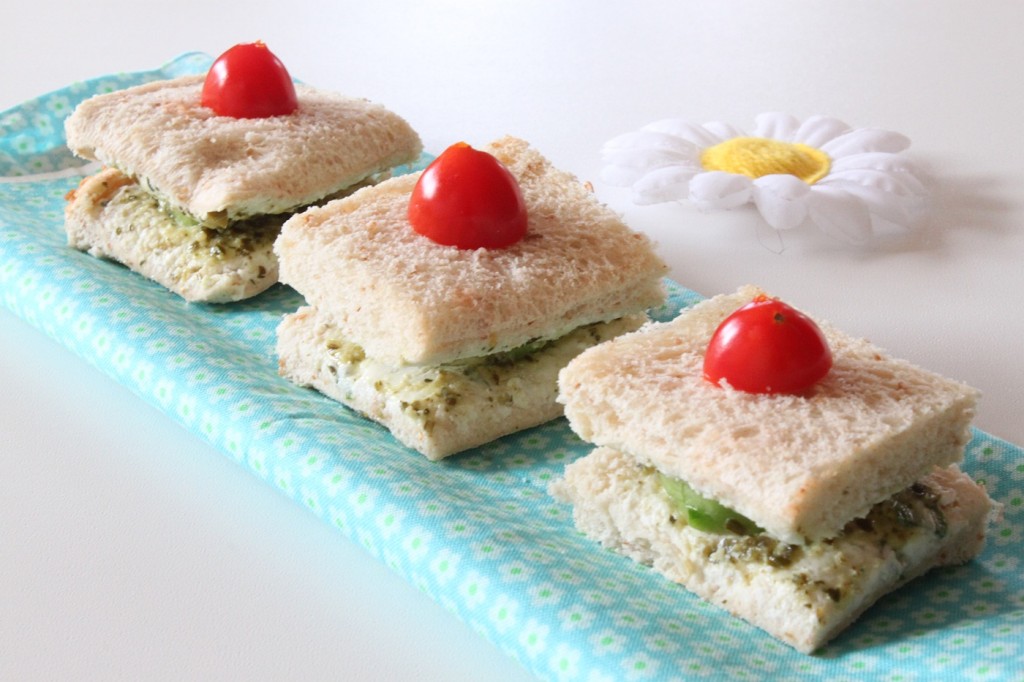 Cucumber Cream Cheese & Pesto Sandwiches
Spring is in the air, and I am sure as the days get warmer, a lot of us plan small parties and get-togethers to enjoy a bit of the sun in our backyards or patios. That's what happened a couple weeks ago when group of friends gathered in my house for a cup of fresh Strawberry Lemonade, some mini Cucumber Cream Cheese Sandwiches, and a lot of idle banter! The freshly bloomed Cherry Blossoms all around inspired us to celebrate Spring, and the promise of bright and sunny days that lie ahead. Though as I write this post, the sky is overcast with dark threatening clouds, and looks like its going to rain all through the week! But nevertheless, you don't need to wait for the sun to enjoy these cute tea sandwiches, or Cuties, as I call them. Serve them with something cool on warmer days, or with a cup of fresh ginger tea on cooler evenings, either way, its a great snack bite! All my friends loved them, and I' sure they'll be a hit with yours too.
The highlight of the recipe, if I can call it a recipe, because there's not much to do really than just assemble these, is the herbed cream cheese. Take some plain bland cream cheese and fluff it up, then kick it up a notch by adding some freshly chopped chives, spring onions, mint and parsley to make a delicious sandwich spread or even a dip. Pair this with the ever-dependable Basil Pesto, some juicy Persian cucumbers and some sweet cherry tomatoes, and you have a winning recipe on your hand. Just to make them look more cute and inviting, I cut them into smaller squares so they are bite-sized, and do not fall apart while eating!
Here's a behind-the-scenes look of how these Cuties were crafted. As you can see, there's not much to do, and lots of praise to earn!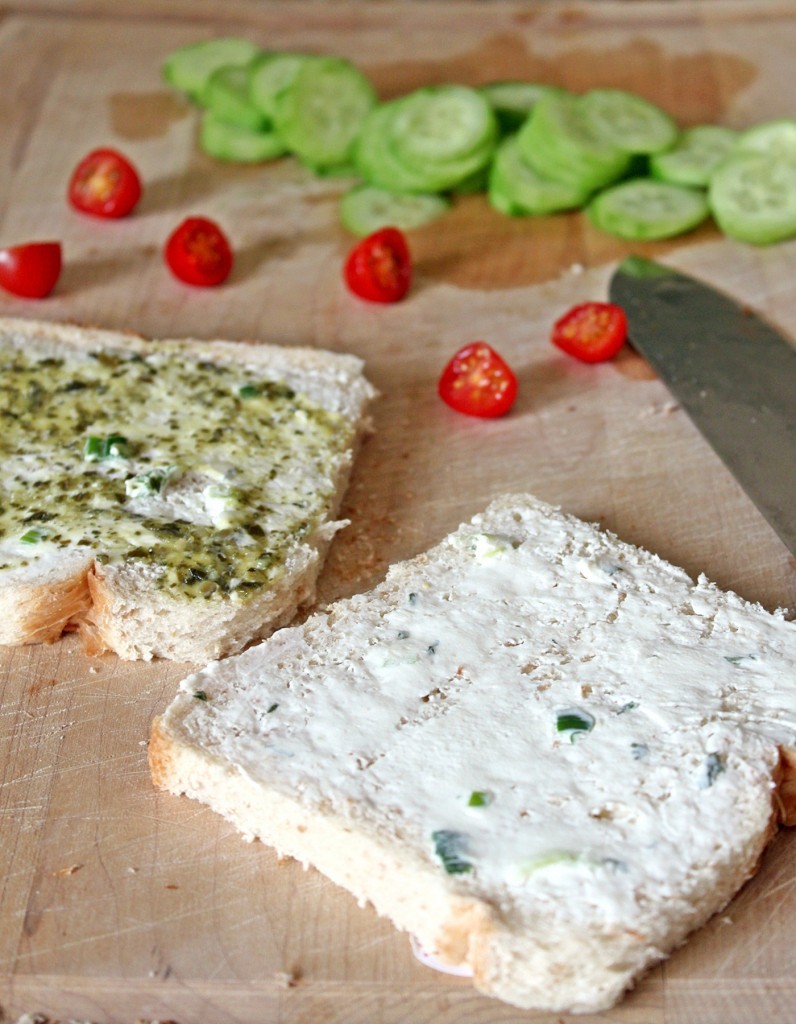 Cucumber Cream Cheese & Pesto Sandwiches
Prep Time: 5 mins
Cook Time: 10 mins
Serves: 2

Ingredients
4 slices of white or wheat sandwich bread
2 tbsp homemade or store-bough pesto sauce
4 tbsp Philadelphia cream cheese
1 tbsp freshly chopped spring onion
1 tsp freshly chopped parsley
1 tsp freshly chopped mint leaves
8 small cherry tomatoes
1 Persian (mini) cucumber, sliced into rounds

Method
Layer and bread slices and take a paring knife, then cut off the edges of all 4 slices.

In one small bowl, mix the cream cheese and beat it until soft and spreadable. Mix the chopped onions, parsley and mint leaves in it and set aside. In another small bowl, take the pesto and stir it to make it smooth.

Take 2 slices for each sandwich, layer one of them with cream cheese mixture and the other with pesto sauce. Do the same for the other 2 slices. Stack them together and cut from the middle to make 4 mini sandwiches.

Now take 2 slices of cucumber and place it between each mini sandwich. Prick a toothpick in the middle, and deck it on the top with half of a cherry tomato, as shown in the picture. Repeat for all remaining sandwiches.

Suggested Variations
Serve these with some fresh Lemonade or Juice on the side as a simple Spring Tea Time Snack!
These sandwiches are a great option for a picnic too. They store well, just wrap them in individual sheets of parchment paper and they'll ride with you well in your car. For variations, layer slices of boiled carrots or beets along with cucumbers, some avocado and cheese might be great too, especially for kids. Serve them with a glass of lemonade for a healthy, wholesome snack!
Related Recipes
Strawberry Yogurt & Cream Cheese Popsicles
Whole-Grain Zucchini Bread
Sweet Potato & Basil Parathas
Indian-style Chickpea Bruschetta