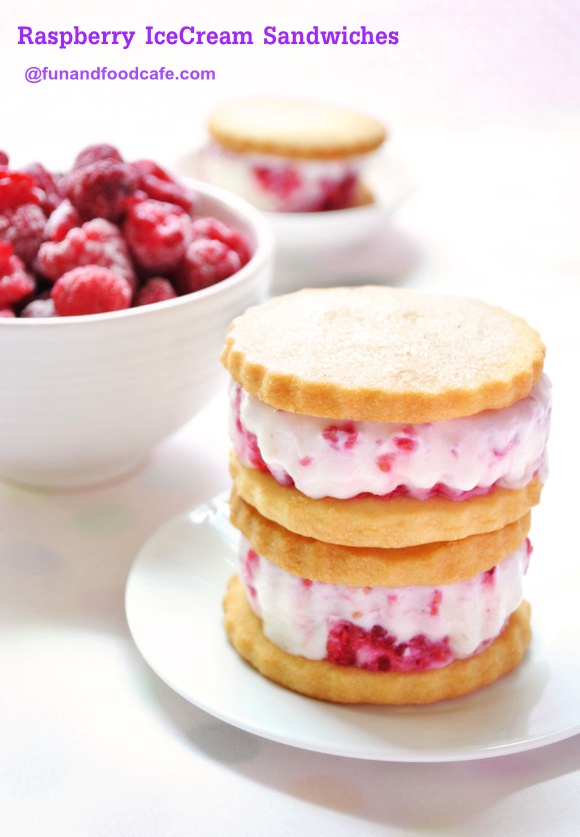 Ice Cream Sandwich is a very popular dessert, and one of my personal favorites, because it actually combined two desserts in one! What more could a dessert-lover ask for?! Though a large part of the world's population would think of Android's ICS as soon as they hear the name IceCream Sandwich, I am not going to talk about that geeky stuff on my Food BLog. But yes, I think this version of ICS will be sure to melt your hearts, invigorate your senses, and have you feeling a moment of Nirvaana, in just a few minutes!
I tried searching a lot about where and how did the Ice Cream Sandwich originate as a dessert, but believe me, I could not find anything other than the fact that it is a very popular treat in Australia, UK, and US, where August 2nd is marked as National Ice Cream Sandwich Day every year. But seriously, who cares about history when a stack of these delicious layered dessert is lying in front of you, ready to be devoured before it melts! As the name suggests, ICS is a big fat layer of your favorite ice cream, sandwiches between two think cookies or wafers. Over the years, it has transformed into numerous recipes that cater to an individuals liking; just choose any flavor of ice cream that you like, and pair it with a batch of your favorite cookies. Vanilla & Chocolate chip, Oreo and Cookie Dough, Butter Pecan and Sandies, Coffee and Almon Cookies – the possibilities are endless!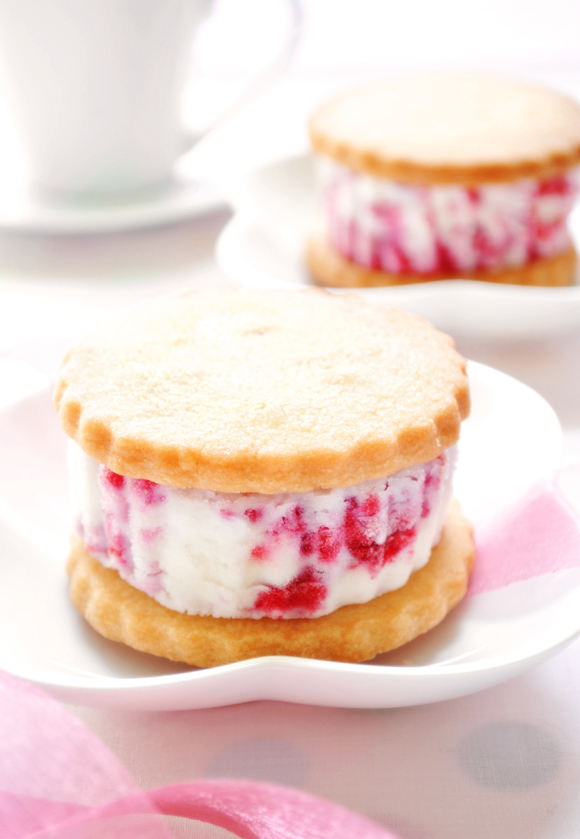 In this post, you'll see the ever-popular Raspberry Ice Cream Sandwich, photographed by my dear friend Nancy. She takes a batch of vanilla ice cream and some mashed Raspberries, then mixes the two and sets it into the freezer to make her own version of Raspberry Ice cream. The cookies are a variant of simple Sugar Cookies, but these are a tad bit softer and more chewy. Layer the ice cream between the cookies and freeze for an hour or until its time to serve. The result, enjoy the flavor of two of your favorite treats in one marvelous bite, soft and gooey in the middle, crisp and chewy at the edge!
Raspberry Ice Cream Sandwiches
Layers of gooey raspberry ice cream sandwiched between homemade sugar cookies that are soft and chewy, this easy-to-assemble dessert is a great crowd-pleaser and can be whipped up in no time.
Author:
www.funandfoodcafe.com
Ingredients
1 litre vanilla ice cream
1 cup raspberries (slightly mashed)
8oz butter (softened)
¾ cup caster sugar
2 tsp vanilla extract
1 egg yolk
2¼ cups all-purpose flour (sifted)
Directions
Prepare the Raspberry Ice Cream:
Allow the ice cream to soften a little before transferring to a bowl and stirring through the raspberries. Using a spatula, smooth the mixture into a rectangular container about 1 inch deep, lined with baking paper, and freeze overnight.
Bake the Vanilla Cookies:
Beat the butter and sugar with an electric mixer until pale and creamy. Add the vanilla and egg yolk and beat to combine. Beat in the flour until a smooth dough forms. Wrap in plastic and place in the fridge for 30 minutes, or until firm. Meanwhile, preheat the oven to 180C (350F) and line a baking tray with paper.
Roll the dough out between two sheets of paper until 5mm (1/4 in) thick. Using a round, fluted 7cm (1 inch) cookie cutter, cut 12-14 rounds. Bake for 15-20 minutes, or until golden brown. Cool for 10 minutes on the tray, then pop them into the freezer until ice-cold.
Assemble the Sandwiches:
Using the same fluted cookie cutter, cut 6 rounds of raspberry ice cream (you may wish to run the cutter under hot water first to make this easier!). Carefully sandwich the ice cream rounds between two vanilla cookies and ta-da, you're all set for Valentine's Day dessert.
Notes
It is best to assemble the sandwiches an hour before serving, and refrigerate them. However, you can store them in the freezer wrapped in baking paper for up to a week.
There was a time when I could eat a couple of these in one go, but not anymore. Not because my cravings or love for ice cream have decreased over the years, that's never a possibility. But as you topple over the 30's,
Moderation
becomes an integral part of your living style, and that's the reason I replace regular ice cream with low-fat option, or cut the sugar in the cookies to half – the ice cream si already sweet! At the end, you can customize it to suit your needs.
How would you enjoy this dessert, and what are your favorite cookie &  ice cream pairings?