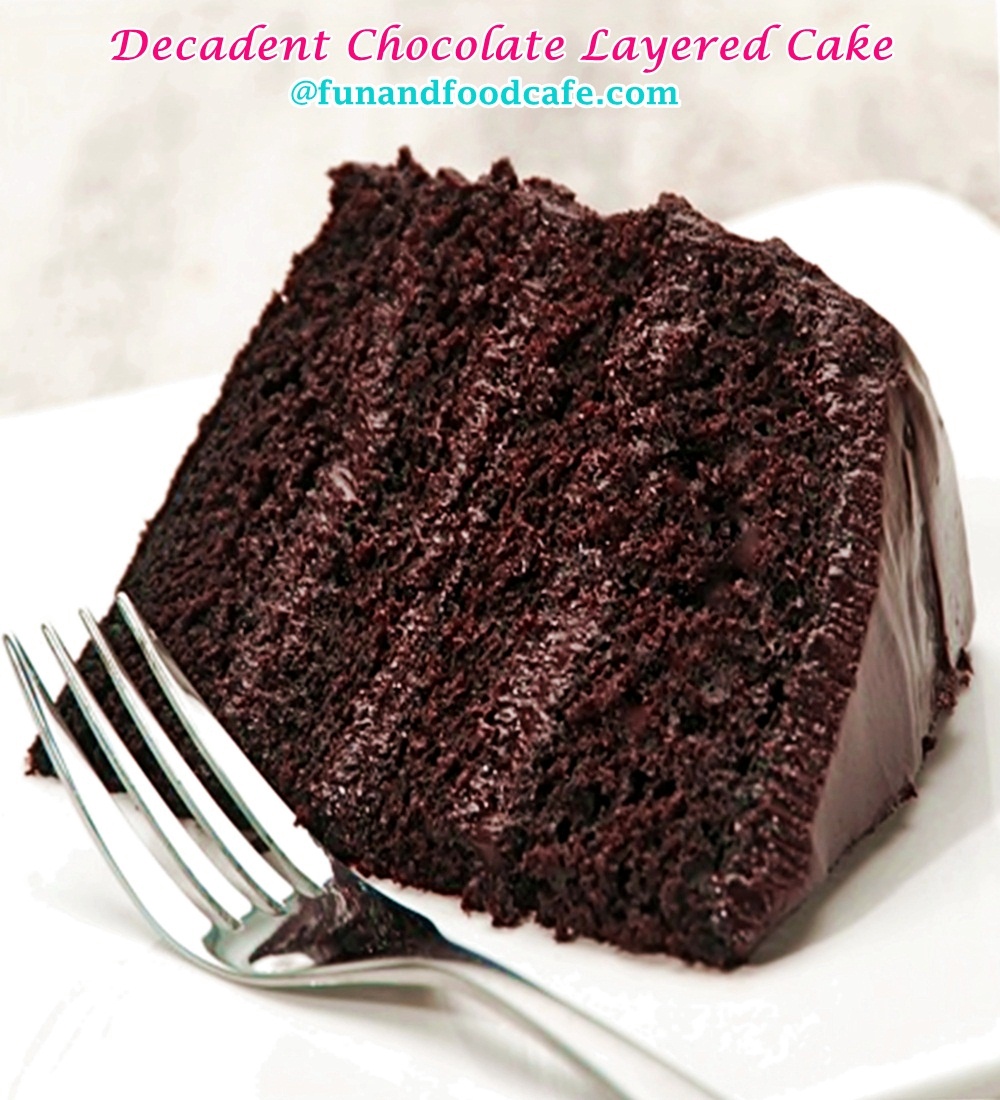 Who doesn't like chocolate Cake, especially when its homemade, and has rich layers of creamy chocolate butter-cream frosting, and a moist dark chocolate cake center that melts in your mouth! Its no wonder that Layered Chocolate Cake still remains to be at the top of the Perfect Birthday Cake list! Inspired by Dorie Greenspan's Layered Birthday Cake in her prestigious cookbook Baking: From My Home to Yours, I wanted to try a hand at homemade birthday cake, albeit, given the chocolate lovers in my house, it was an easy decision to make. This delicious piece of cake that you see above is an adaptation of Dorie's recipe, along with useful tips from the King Arthur Flour website (images courtesy of KAFblog.com), and though it sounds like a lot of work, it really needs just a little bit of planning, and an allotted time so you can bake the best birthday cake ever!
So what's the secret behind baking a perfect layered cake? Well, there are just a few tricks that will help you master the art of baking layered cakes. They did prove to be extremely helpful to me, so I'm sure you'd love to keep them in your stride too!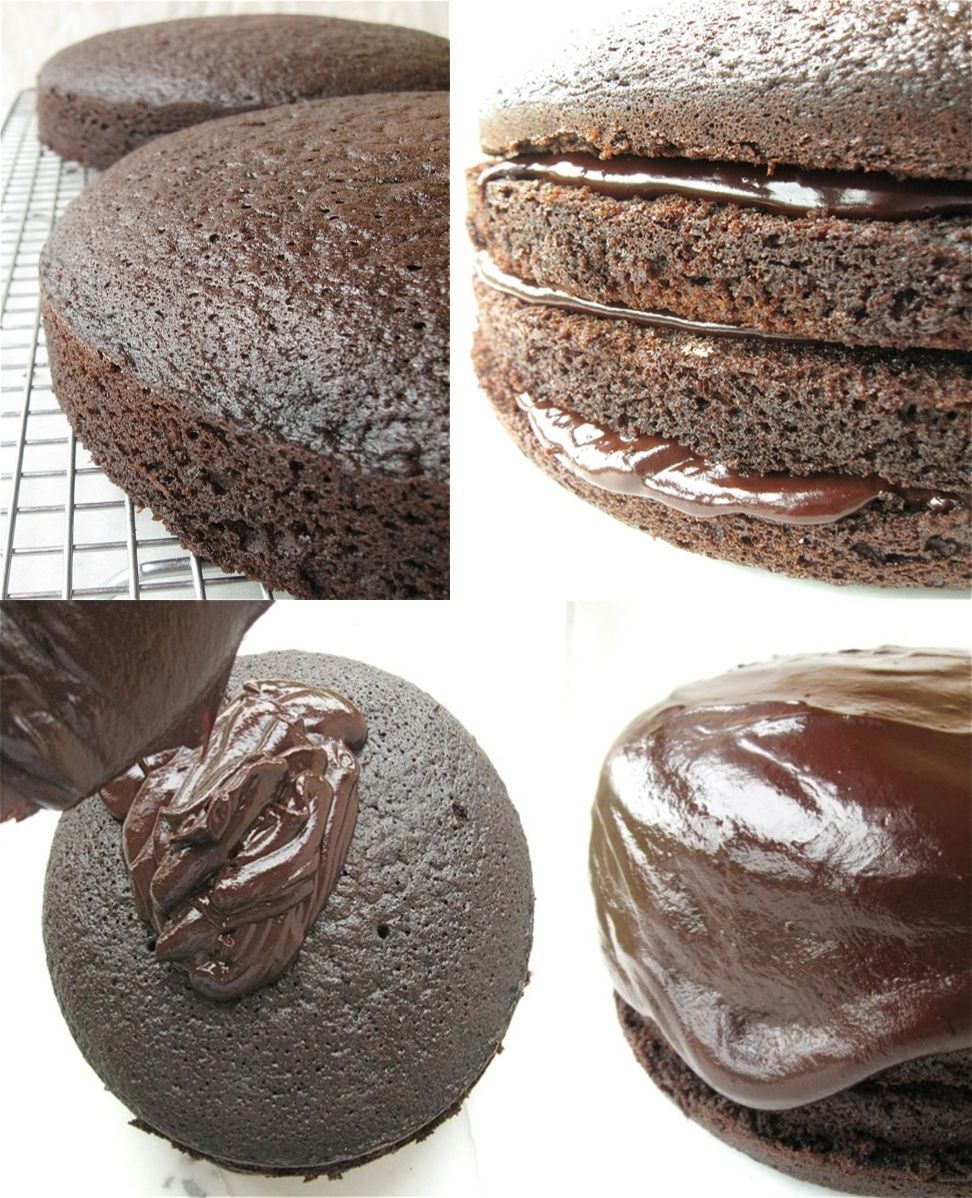 Tips For Baking Perfect Layered Cake
1. Bake the cake at a lower temperature (usually 300 instead of 350) for a longer period of time, so the cake does not puff up too much in the middles, stays flatter, thereby giving even layers.

2. Use a large & wide serrated knife to trim the top and sides of the cake, a process called leveling in layered cakes. This assures smooth cuts and fewer cake crumbles.

3. Always use a cake board to assemble and frost your layered cakes. It is the best and most convenient way to transport the cake in and out of the refrigerator while you frost the layers, and well as the final icing. It is advisable to cover the cake board with wax paper so you don't make it a mess when you decorate your cake.

4. Apply a thin layer of frosting known as the base coat or crumb coat, which glues the crumbs into the cake after you have leveled the layers. When all crumbs have been evenly covered, pop the cake into the fridge for 20 minutes, then remove and proceed with a regular thick layer of frosting.

5. Always use correct consistency of icing as mentioned in your recipe, to frost the cake. When in doubt, try to chill your icing, it helps in creating even layers and cleaner frosting.
There, with the above tips coming to your rescue, plus a little video below to demonstrate how its done in action, you just have to follow the recipe outlined below to a tee, and you'll be on your way in baking perfect layer cakes for all occasions. And don't worry if it doesn't look professional enough – remember, a little it of tardiness goes a long way in saying that you baked it yourself, and that's what makes it more cherishable for your loved ones!
Perfect Dark Chocolate Layered Cake
Layered Chocolate cake is undoubtedly a preferred choice for most birthdays and occasions. This recipe walks you through the whole process of making perfect layer cakes. The dark chocolate flavored cakes is accentuated by the layer of chocolate filling, with a hint of grand mariner, followed by a thick chocolate ganache frosting, the perfect dessert for any occasion!
Author:
www.funandfoodcafe.com
Ingredients
FOR THE CAKE:
2 cups sugar
2 cups Unbleached All-Purpose Flour
2 tablespoons cornstarch
¾ cup Dark Cocoa
2 teaspoons baking powder
2 teaspoons espresso powder
½ teaspoon baking soda
1 teaspoon salt
4 large eggs
¾ cup vegetable oil
2 teaspoons vanilla extract
1¼ cups water
FOR THE FILLING:
12 ounces semisweet chocolate
4 ounces cream
2 ounces whole milk
1 tbsp grand mariner (or any other liqueur), optional
FOR THE ICING:
8 ounces semisweet dark chocolate
4 ounces heavy cream
Directions
Preheat the oven to 300°F. Lightly grease and flour two 9" round pans.
To make the cake: Whisk together the dry ingredients. Add the eggs, oil, and vanilla, beating until smooth. Gradually add the water, beating until smooth. Pour the batter into the prepared pans.
Bake the cakes for about 40 minutes, or until a cake tester inserted into the center comes out clean. Cool the cakes in the pan for 15 minutes, then turn them out of the pans to cool completely on a rack.
To make the filling: Combine the chocolate and cream in a microwave-safe bowl, and heat until the cream is very hot, and the chocolate very soft. Add in the whole milk and stir to melt the chocolate completely, then reheat for another 15 seconds, and stir to make a chocolate ganache. You can add your flavoring at this point if you like, and give it all a final stir.
Divide the cooled layers in half horizontally, to make four layers. Place one layer on a serving plate, and spread with filling. Repeat with the next two layers. Top with the final cake layer.
To make the icing: Combine the chocolate and cream in a microwave-safe bowl, and heat until the cream is very hot, and the chocolate very soft. Stir to melt the chocolate completely, reheating very briefly if necessary.
Pour and spread the icing over the top of the cake, letting it drip over the edges and down the sides. Once it's done dripping, you may smooth the sides with an icing spatula, if desired. Allow the cake to rest, covered with a cake cover (or a big turned-over bowl) till the chocolate is set, at least 4-6 hours, or preferably overnight.