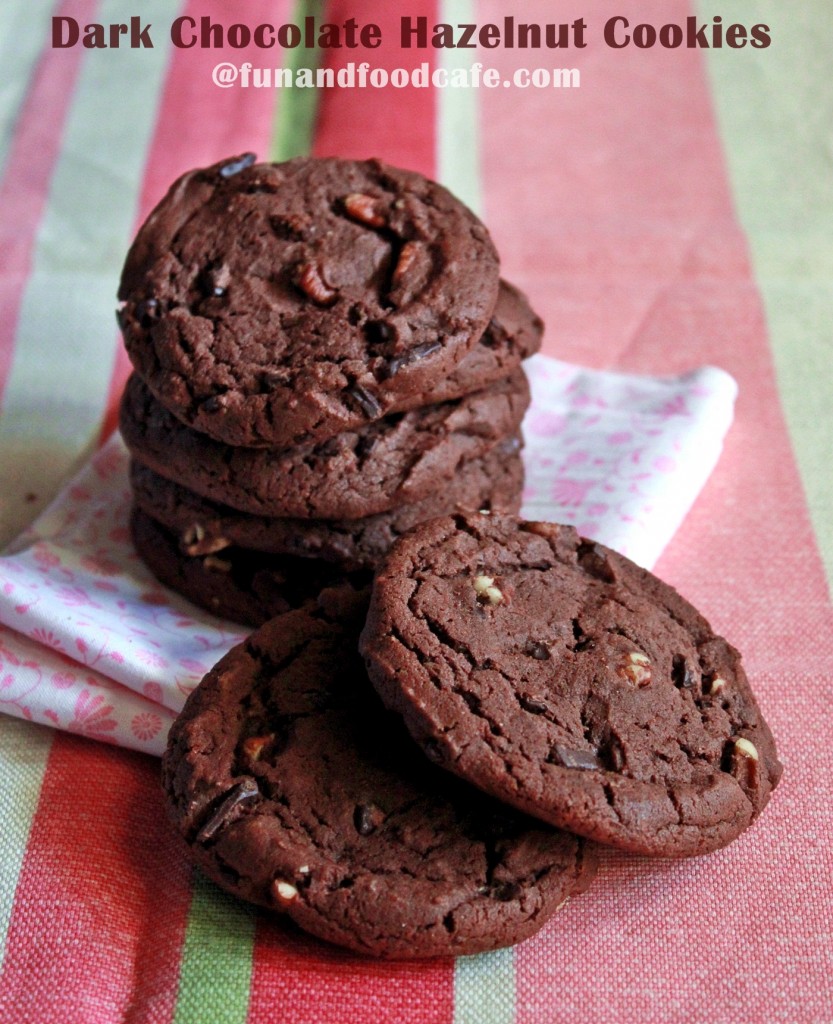 The countdown to Christmas has officially begun, and I am sure everyone is excited about planning holiday gatherings at home, working on Christmas presents, racking their brains for gift ideas and more. Baking is one more activity that takes center-stage during the holiday season. In fact, I think I have been churning out baked goodies every week now, starting from Halloween onwards, and I don't see the trend ending all the way until the New Year begins! Yes, it's going to be too many calories, but when you share the goodies with your friends and family, and organize bakes sales for charity, or potlucks at work and school, you won't be packing on the pounds, but you will definitely be creating warm memories to cherish forever!
Today's recipe is a real killer one – why, you may ask? Because I actually did not have any recipe in mind when I started off with these cookies. The only thing I knew was that I would be using chocolate and Kahlua liqueur, and as I started experimenting with what flavors to add in, I was amazed at how many ingredients I did end up using for this holiday cookie recipe. I just kept thinking about my favorite ingredients and started picking them from my pantry. I ended up with cocoa powder, chocolate chips, caramel chips (they are my daughter's favorite), toasted hazelnuts, vanilla, and of course the cookie essentials. With so many holiday flavors packed into one cookie, I couldn't find a more appropriate name for them other than Kitchen Sink Holiday Cookies!!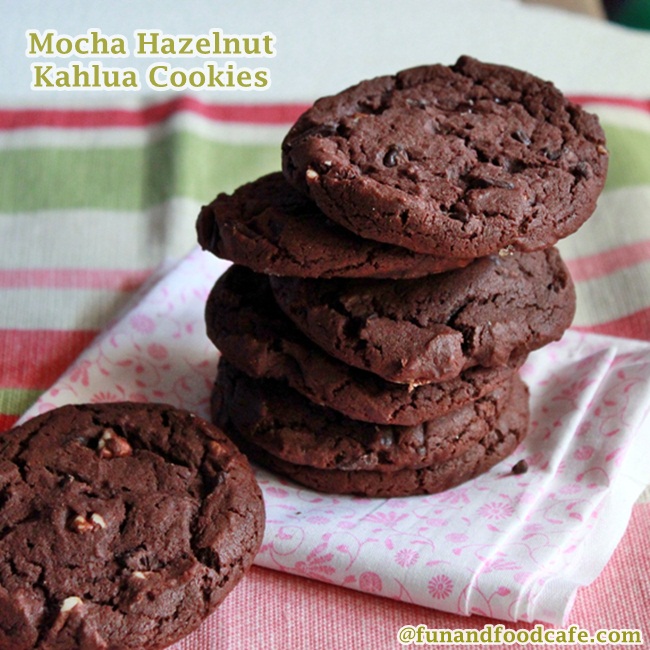 The first attempt at baking was not successful – naturally, I was using so many ingredients and going without a recipe, so a bit of experimenting was expected. This batch turned out to be too gooey, luckily I only baked about 6 cookies, and they were quickly gobbled up by yours truly and my little helper. The second batch was more thought out, and with a better proportion of wet and dry ingredients, i finally managed to bake a batch that was chewy yet firm, cracked from the top and gooey from within, just how a perfect holiday cookie should be! I packed these up in a neat box for a friend who had recently lost her job and needed some cheering up – she loved them, and I am sure your friends would like them too.

Kitchen Sink Holiday Cookies
Loaded with chocolate chips, hazelnuts, mocha flavor, caramel and nuts, these chewy cookies have an intense flavor of dark chocolate, and a splash of Kahlua Mocha liqueur makes it a perfect holiday cookie recipe.
Author:
www.funandfoodcafe.com
Ingredients
½ cup unsalted butter, at room temperature
1½ cup sugar
2 eggs
1 teaspoon Kahlua Mocha liqueur (optional)
1 teaspoon vanilla
2¼ cups all-purpose flour
⅔ cup unsweetened cocoa powder
1 teaspoon baking soda
½ teaspoon salt
1 cup toasted hazelnuts, coarsely chopped
¾ cup dark chocolate chips or chunks
2 tbsp caramel chips
Directions
Preheat oven to 350 degrees F. Line a sheet pan with parchment paper.
In the bowl of a stand mixer fitted with a paddle attachment, beat together the butter and sugar on medium high speed until light and fluffy, about 3-4 minutes. Add the eggs, one at a time, mixing after each. Add the vanilla.
In a separate bowl, combine the flour, cocoa powder, baking soda, and salt.
Add to the wet mixture in the stand mixer and mix on low until combined.
Add the chopped hazelnuts, chocolate chips and caramel chips and stir to combine.
Spoon onto the prepared baking sheet by rounded tablespoons. Bake until cookies are firm and cracked on top, about 10 minutes. Cookies will be very soft. Use a spatula to transfer them to a cooling rack and cool completely.
As you can see, the cookies turned out great, just the way I wanted. They will serve to be excellent gourmet gifts for your friends and family. The pairing of hazelnuts with chocolate, caramel and mocha works beautifully, and I assure you that when you sink your teeth into these cookies and close your eyes, you will be able to experience all your favorite holiday flavors in just one bite – what more can you ask for, from an Ultimate Holiday Cookie recipe??!!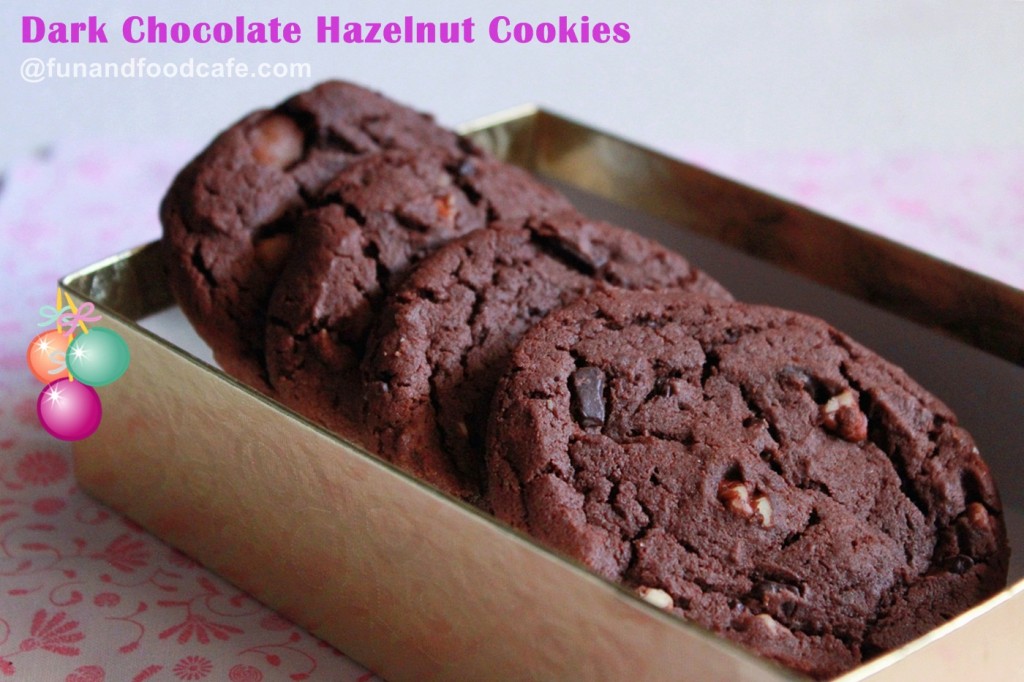 What are your favorite Christmas Cookie recipes?? Please feel free to share via comments!