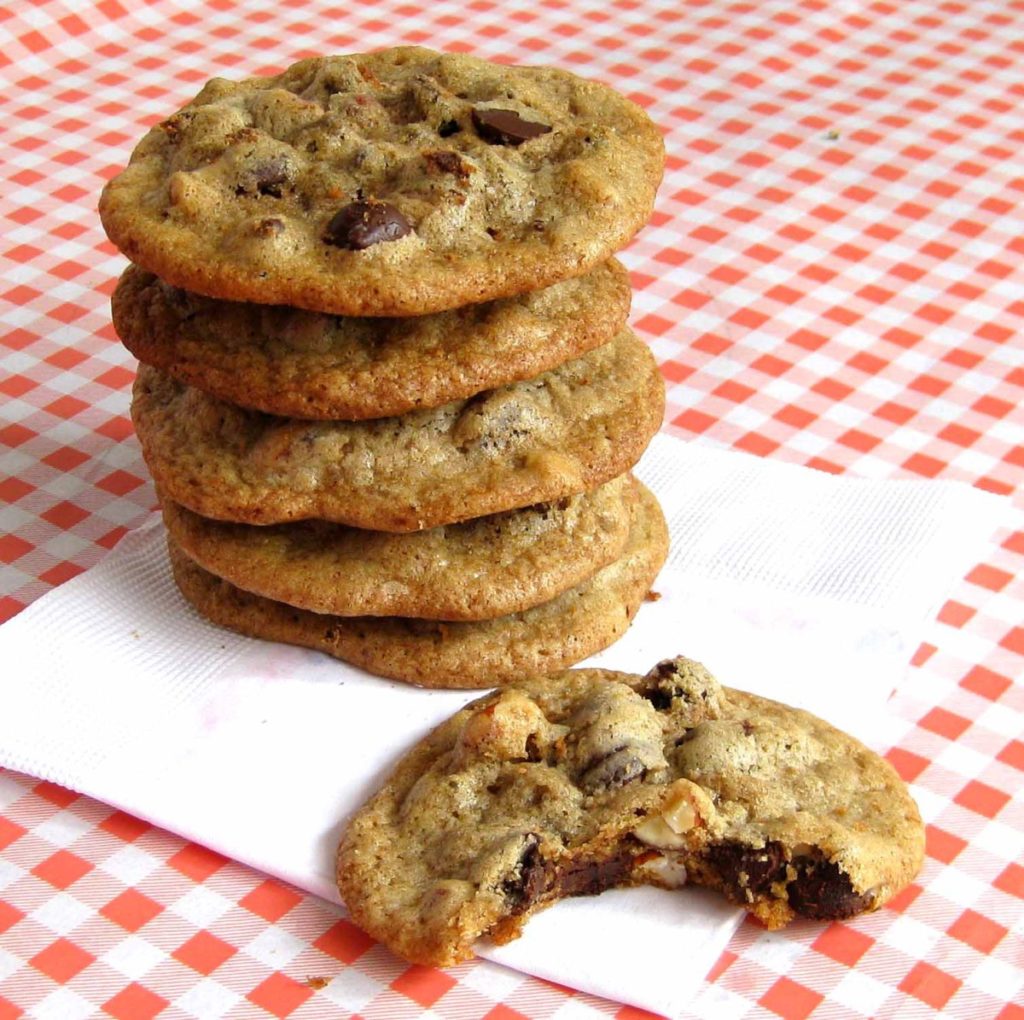 How would you describe your favorite Chocolate Chip Cookies? Soft, Chewy, a bit crunchy, such that it melts in your mouth? If this sounds like your thoughts, then you'll be pleased to know that its very easy to create these in your own kitchen, that too, without much fuss! If you've ever baked before, you'll be familiar with Dorie Greenspan's name – yes, the famous baker who's created so many delicious desserts that you'll fall in love with her even if you look at one of her recipe books!
Today, I'm going to share a yummy chocolate-chip recipe with you, adapted from Dorie Greenspan, which has chopped walnuts added to it to provide that perfect crunch as you bite into the smoothness of dark chocolate. Whenever you bite into a perfect chocolate chip cookie, you'll know you've hot bliss – it is that good, really! That's why you'll never find someone who doesn't like a good chocolate-chip cookie, well, no one except those I-don't-like-chocolate people who seriously must be having a tastebud issue (can you picture me cringing?)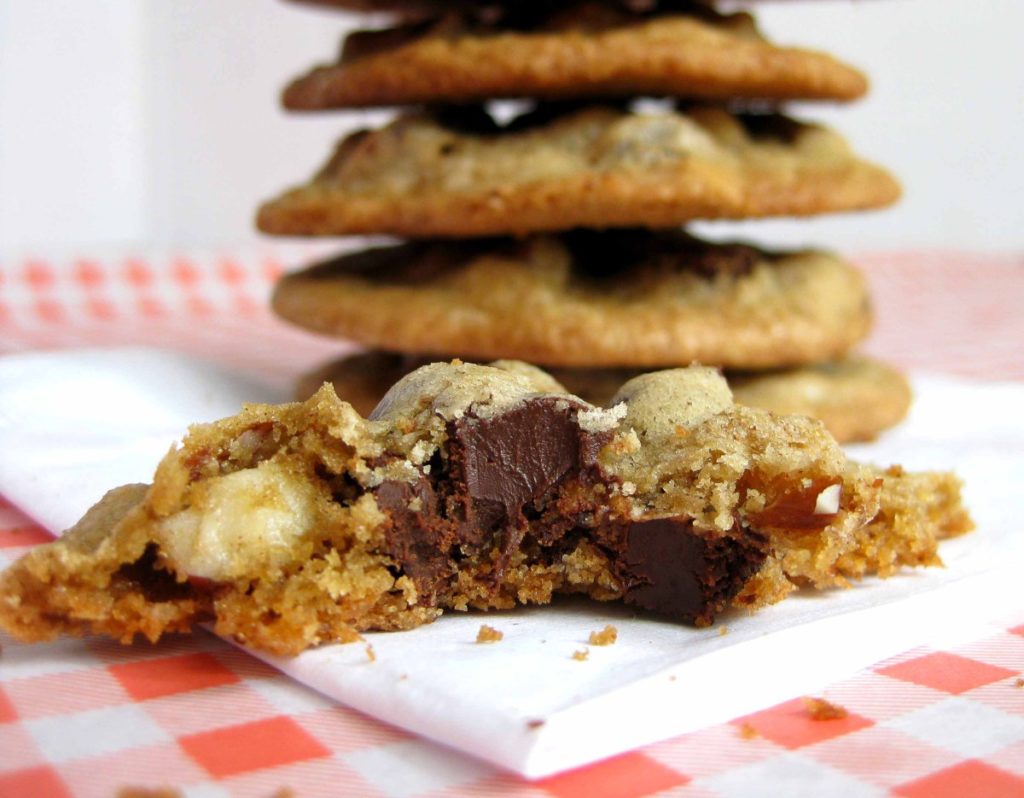 Its amazing how a simple cookie can be enjoyed in so many different ways – but my favorite, in fact it's also my son and daughter's favorite way as well, is to take a warm chocolate-chip cookie and dunk it into a glass of milk, then savor it as it melts in my mouth, tingling every sweet tastebud possible! Sounds sensuous right, well it is! Pure, unadulterated and perfect chocolate chip cookie has the power to make you a kid again, or find that inner bliss that we reserve for our special moments! Here's a recipe you'll cherish in every moment, no matter what the occasion!
Recipe & photos courtesy of Paula from The Cookie Blog
Chewy Chocolate Chip Almond Cookies
If you love Dorie Greenspan, you'll love these deliciously chewy and totally melt-in-your-mouth kind of good Chocolate Chip Cookies. They are thin, soft, and have almonds added for some crunch.
Author:
www.funandfoodcafe.com
Ingredients
2 cups flour
¾ tsp baking soda
1 tsp salt
1 cup/ 2 sticks unsalted butter, room temp.
1 cup sugar
¾ cup light brown sugar
2 large eggs
1 tsp vanilla extract
12 oz./340g chopped dark chocolate chips
1 cup chopped walnuts or pecans
Directions
Preheat oven to 375° F.
Line 2 large baking sheets with parchment paper.
Combine flour, baking soda, salt and cinnamon in a small bowl. With the electric mixer, beat butter, granulated sugar, brown sugar and vanilla extract until light and fluffy. Add eggs, one at a time, beating well (1 or 2 minutes) after each addition.
Gradually beat in flour mixture, in three additions, only until smooth. Stir in the chopped chocolate and nuts. Drop by rounded tablespoon onto prepared baking sheets.
Bake for 10 to 12 minutes or until edges are golden brown. Cool on baking sheets for 1 minute; carefully remove with a spatula to wire racks to cool completely.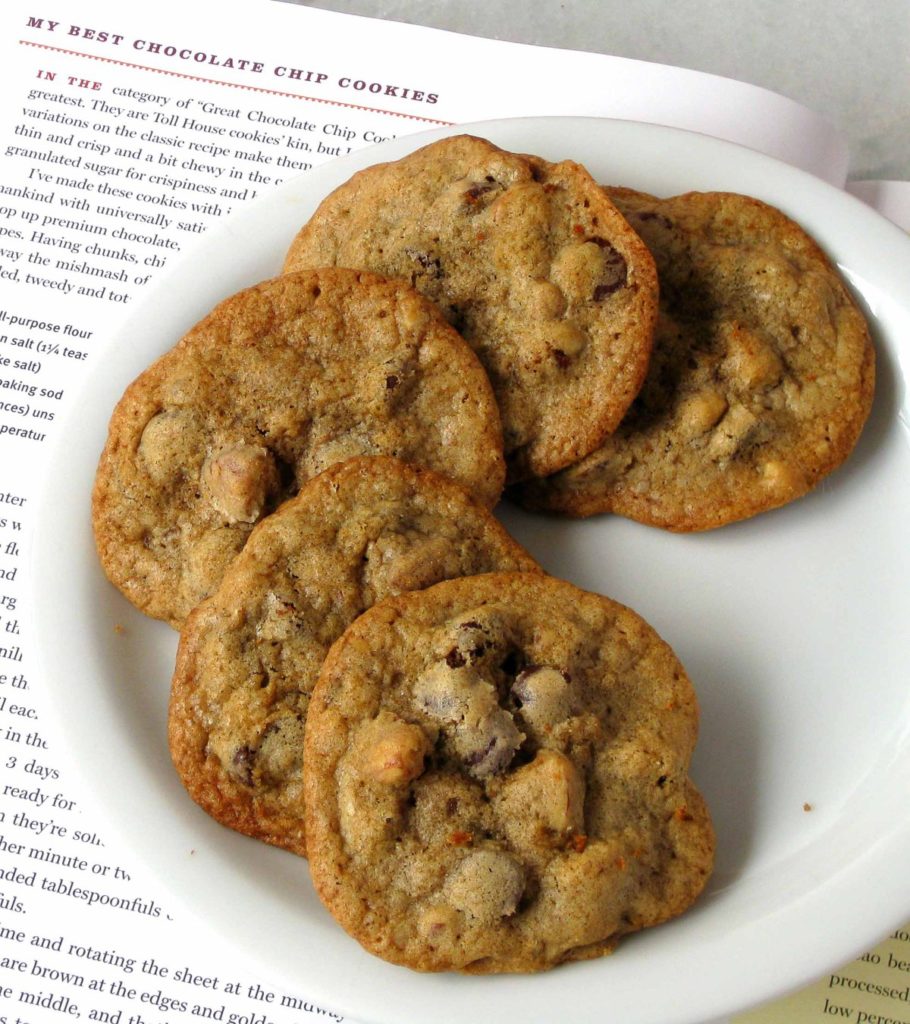 There's nothing like a perfect chocolate chip cookie, but when it comes to describing my cookie, I like a bit of tender, fudgy chewiness but an edge of crisp bite, too. That's where the walnuts in this recipe come in handy. Hope you like this recipe as much as I do. Try it for yourself and see – you won't be disappointed!