Spring break shoots up in one week, and what that means is that kids will demand more attention in every aspect of life, starting from a custom breakfast served every morning! Whether I can keep up with the demands or not is another thing, but I'm definitely going to try to make it special for them, as much as I can! And one morning treat I was thinking of are the Argentinian Pancakes.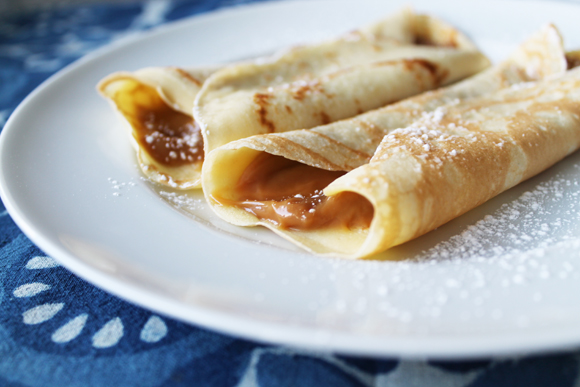 While American pancakes are small, thick and fluffy, Argentinian pancakes are light and thin, much like the French crepes. And the traditional way of devouring them is by generously filling them with some Dulce de Leche. Had your mouth watering, right? I did the same too, when I first came across these Argentinian Pancakes at Cook Your Dream. They looked so delicious I could lick them off the screen, especially the Homemade Dulce de Leche! Incredible!
So I set on my journey to create the magic at home, and it turned out to be much simpler than I imagined it to be! Making your own dulce de leche is not hard, in fact, its a rewarding experiment, you get to lick it off your fingers so many times (wink!) All you need is a heavy-bottomed saucepan, 3 ingredients, and some patience! The end result will be beautiful, I promise!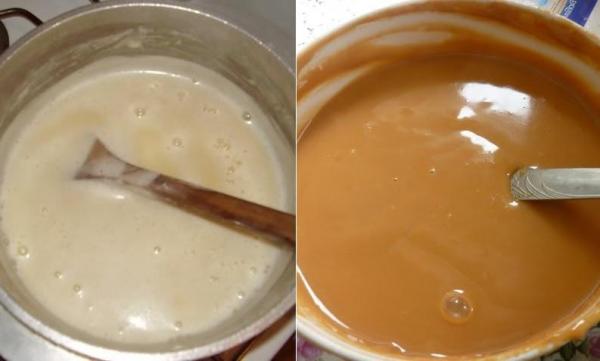 Make sure you have a couple hours on hand as you'd have to monitor and keep stirring the milk/sugar mixture as it caramelizes. Its a perfect way to spend an afternoon, start a movie or read a book on the kitchen island, all while keeping an eye on the beautiful brown mixture cooking next to you!
Once cooked, let the dulce de leche cool down, then store it in a clean dry jar. You can store it for future use when you need a tasty substitution for your Nutella or Maple Syrup. It stays fresh and flavorful in the refrigerator for 2 weeks!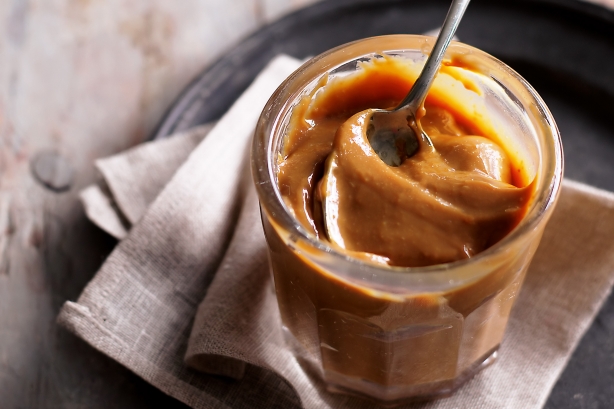 crepes with homemade dulce de leche
Thin crepes filled with a delicious filling of homemade Dulce de Leche - its breakfast served right! Also known as Argentinian pancakes, these are easy to make, and can be served in several different ways!
Author:
www.funandfoodcafe.com
Ingredients
Crepes
3 eggs
2 cups milk
1 cup plain flour
pinch of salt
1 tsp sugar
1 tbsp melted butter
vegetable oil for frying
Dulce de Leche
4 cups whole milk
1½ cups sugar
¼ tsp baking soda
1 tsp vanilla essence
Directions
For the Crepes:
In a medium bowl, whisk together the eggs, flour, milk, salt and sugar. Add the melted butter and whisk until fully incorporated.
Heat a lightly greased frying pan over a medium heat. Ladle or pour a little batter (depending on your frying pan size, just enough so it will thinly coat your pan) into the pan and tilt and rotate the pan until the batter coats the bottom evenly. Cook over medium-high heat until the edges start to brown. Flip the crepe and cook the second side for a few more seconds.
Remove the cooked crepe from the pan and place it on a plate.
For the Dulce de Leche:
In a medium heavy-bottomed saucepan, combine the milk, sugar and baking soda. Stir well to dissolve the sugar.
Bring to a boil over medium heat without stirring. Remove from the heat and skim off any scum on top.
Add the vanilla essence and bring to a boil over medium heat. Reduce the heat to very low and simmer gently for 1 hour, stirring frequently to prevent scorching and sticking to the pan.
Continue to simmer gently for another ½ hour or so over very low heat, stirring frequently, until thickened and caramelised. Remove from heat and let it cool.
Dulce de Leche can be stored in a refrigerator in a clean glass jar for 1-2 weeks.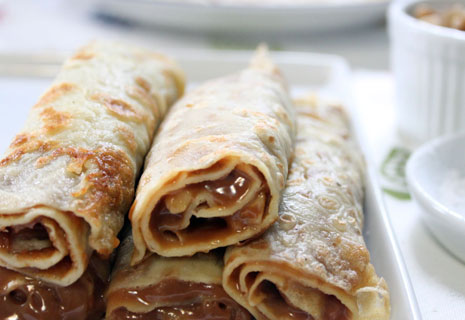 As for the crepes, you can make your own, or if you are short on time, get the Frozen ones that are very easy to thaw and reheat, and can be used as a quick-fix. But nothing like fresh crepes, and they are not that hard to pull off; invest in a good non-stick pan for best results!
Fill the crepes with the dulce de leche and roll them up for easier serving. Dust them with some powdered sugar on the top. You can also add finely sliced bananas inside, or sprinkle some nuts on the top, along with some whipped cream. The opportunities are endless, so go ahead and enjoy a treat as you begin your day, and thank the Argentinians for a tasty treat!