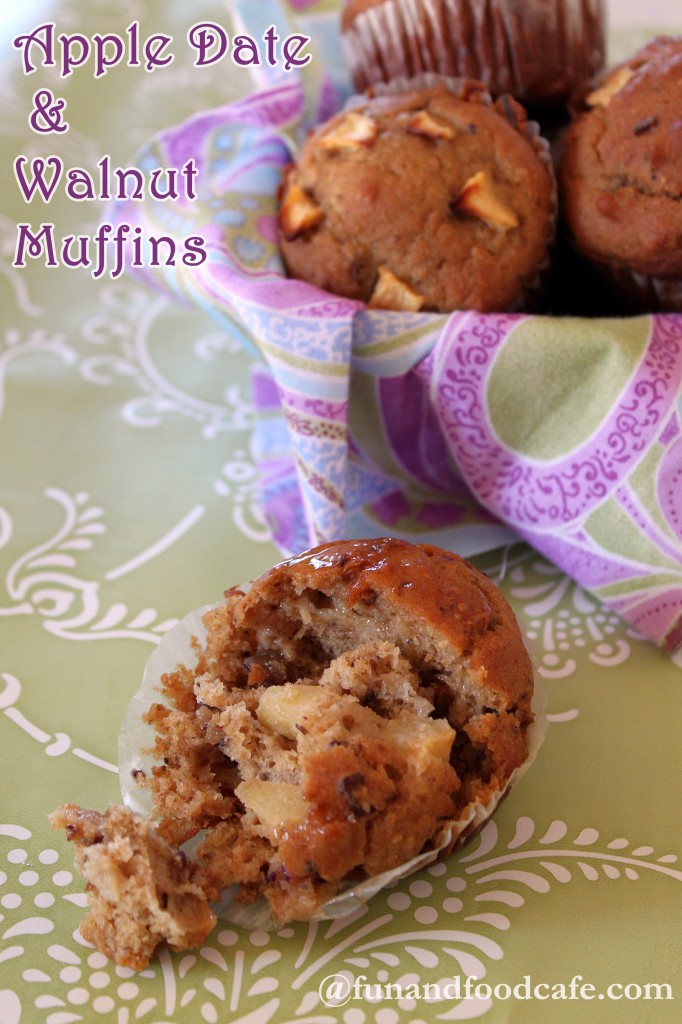 Apple Date & Walnut Muffins, packed with fiber and protein

Halloween officially marks the beginning of the Holiday season, and as November-December approaches, everyone begins their hunt for delicious recipes that will adorn their holiday traditions! Every family has a cherished recipe that has been passed on since ages, something that resides in your head, or something that you have scribbled in your hand-written recipe book. We didn't celebrate American holidays much back in India, yet my friend's mom had a delicious recipe for Apple-Walnut Cake that was to die for! I used to love that cake, and knew I would be making this for my family once I grow up and become a mom.
Today's recipe for Apple-Date-Walnut Muffins is inspired from that wonderful Apple Cake recipe. I have made that cake several times over all these years, however, since past couple years, I revamped it to transform them into muffins rather than a cake – they are easier to store and serve, and my little one loves having them as an after-school treat. And just to make it healthier for her, I changed the traditional recipe to include some dates to substitute for sugar, swapped the All-Purpose flour for the whole-wheat one, and used some applesauce and olive oil instead of eggs. However, the secret ingredient in this wonderful fiber-packed muffins is Chickpeas – yes, you heard it right!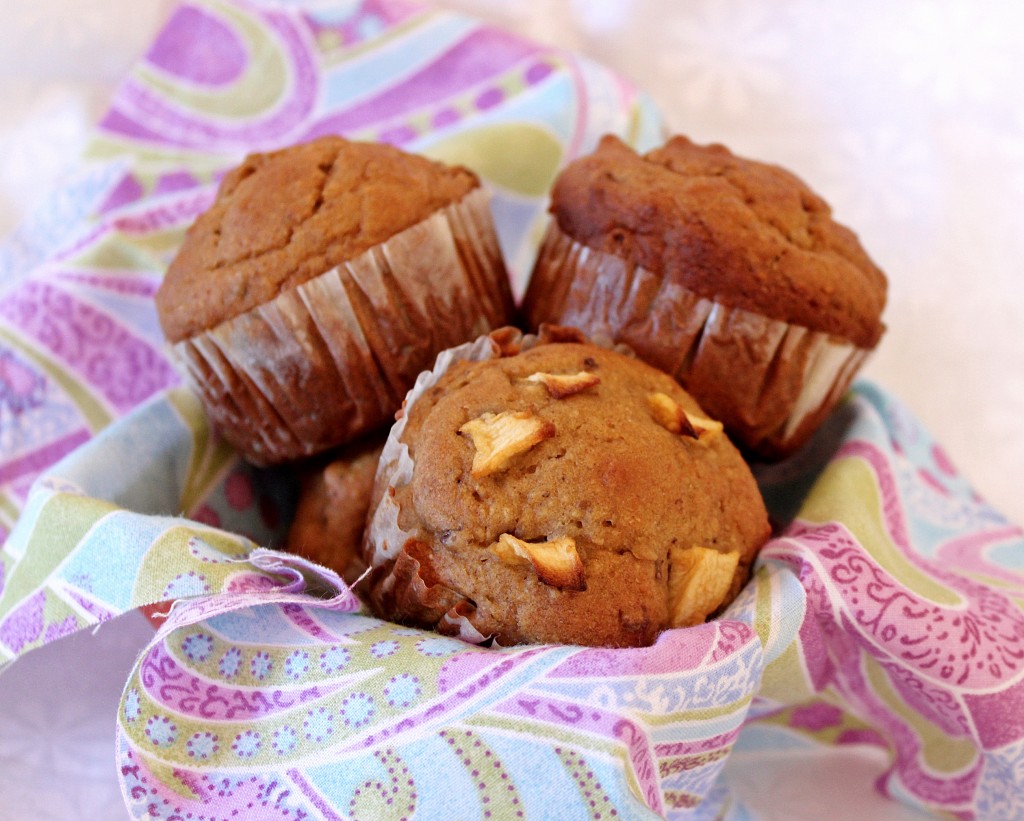 Chickpeas are a wonderful source of fiber, and combined with applesauce and dates, they can make these muffins soft and airy, rather than chewy or heavy, making them our family-favorite, as nothing as healthy could taste as good as these muffins! And last week, I was asked to create a recipe using Diamond Nuts of California, the company that I am sure most of you are familiar with, and the one that produces the best nuts in CA. So what could be better than sharing my magical recipe for Apple Date & Walnut Muffins, which uses Diamond's Walnuts, and is also baked quite often at our house, in fact several times over the year!

Apple Date Walnut Muffins
These fiber-rich whole wheat muffins, made with apples, dates, chickpeas and walnuts are a perfect treat for the entire family. Healthy and delicious to the core, you don't need any excuse to enjoy these power-packed treats!
Author:
www.funandfoodcafe.com
Ingredients
2 cups chopped apples
1 cup whole-wheat pastry flour
¾ cup all-purpose flour
1½ teaspoons baking powder
¾ teaspoon baking soda
½ teaspoon ground cinnamon
½ teaspoon ground allspice
¼ teaspoon salt
1 cup canned chickpeas, rinsed and drained
¾ cup unsweetened applesauce
½ cup unsweetened almond milk or nonfat milk
⅓ cup vegetable or light olive oil
1 tablespoon fresh ginger, grated
1 teaspoon vanilla extract
1 cup finely chopped pitted dates, divided
½ cup chopped walnuts, plus more for garnish
Directions
Preheat oven to 350 degrees. Spray a 12-cup muffin pan with vegetable cooking spray or line with paper liners.
In a large bowl, mix together both the flours, baking powder, baking soda, cinnamon, allspice, and salt.
Place the chopped apples, chickpeas, applesauce, milk, oil, ginger, vanilla, and ½ cup of the dates in a blender or food processor and blend until smooth, about 1 minute. Add this puree to dry ingredients and mix gently until all the flour has been incorporated. If the mixture is too dry, add a small amount of additional milk. Batter should be thick but wet. Fold in remaining ½ cup dates and chopped walnuts.
Divide mixture among prepared muffin cups. Top each with a walnut half if you like.
Bake until a toothpick inserted in the center of a muffin comes out clean,about 18 to 20 minutes. Let cool in pan 5 to 10 minutes, then transfer to a wire rack. Serve warm or at room temperature.
This was a wonderful recipe to try, and has now become the go-to recipe not just for our family, but several other friends who believe in feeding healthy treats to their kids. I would love to experiment with other seasonal fruits instead of Apples, like pears, peaches, even chopped plums. You can make them as muffins, or as one big cake. Top it with some dusted sugar or ice cream for a truly indulgent dessert.
Related Recipes
Whole Wheat Dark Chocolate Muffins
Energy Boosting Green Muffins
Homemade Apple Butter (Apple Jam)
Apple & Blackberry Skillet Pie
Kid-Friendly Apple Sandwiches