The Holiday season is almost upon us, and if you are like me, you have probably started planning your parties and social gatherings and slating weekends to fun, family-friendly events! For me, its easy to decide what the stars of my dinner table are going to be. But when it comes to all the side dishes, I need to put some serious thought into it. These side dishes are as important as the main ones, because they complement the other food, help in setting the mood for a conversation around the table, as well as help in incorporating a bit of everyone's favorite ingredients into the holiday dinner. I also try to spread out my love of ingredients by making 2-3 side dishes, so there's enough variety on the table to please everyone. So for Thanksgiving, I wanted to try a Green Bean Casserole, more because I haven't served it before, and also because I am trying to incorporate more veggies into my recipes this season.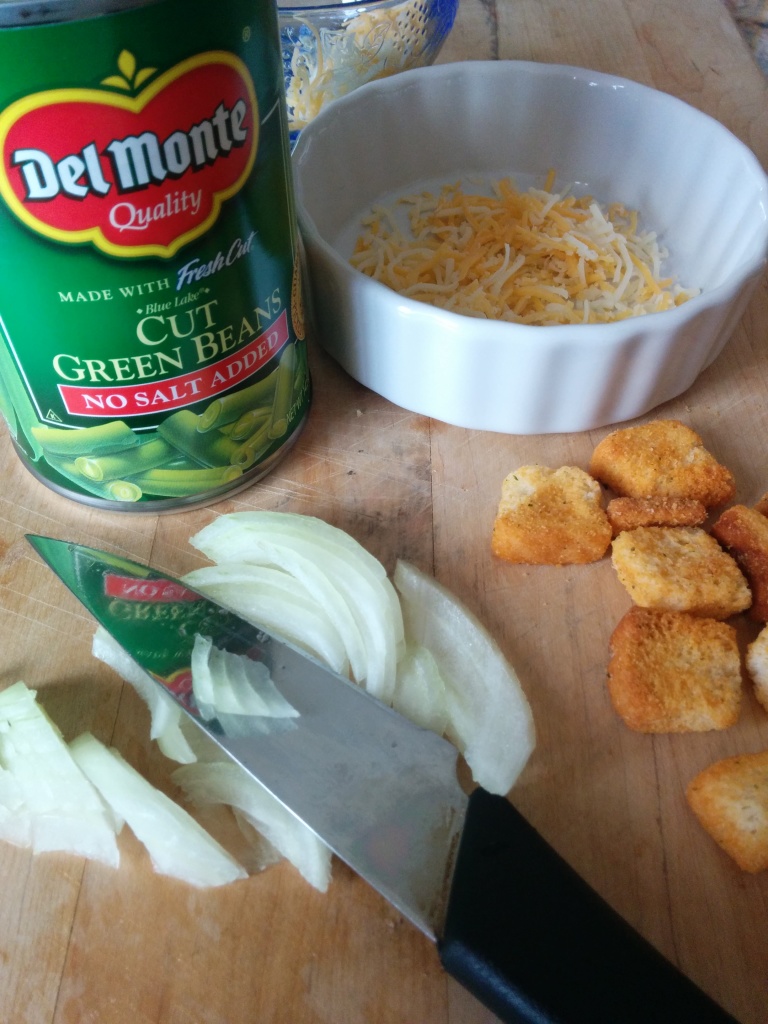 For a quick mock-up, I turned to Del Monte Green Beans. I was surprised they even have a low-salt and No-salt added option, perfect for health-oriented people like me. My daughter isn't a big fan of green beans, so I am always trying to come up with innovative recipes that can coax her to get her fair share of beans, and this one certainly did its job. To let the green beans shine, I decided to not throw in any other veggies, just some cheese and spices for flavor. And instead of going for plain bread crumbs, I crushed a bunch of my favorite garlic & cheese flavored croutons and powdered them coarsely.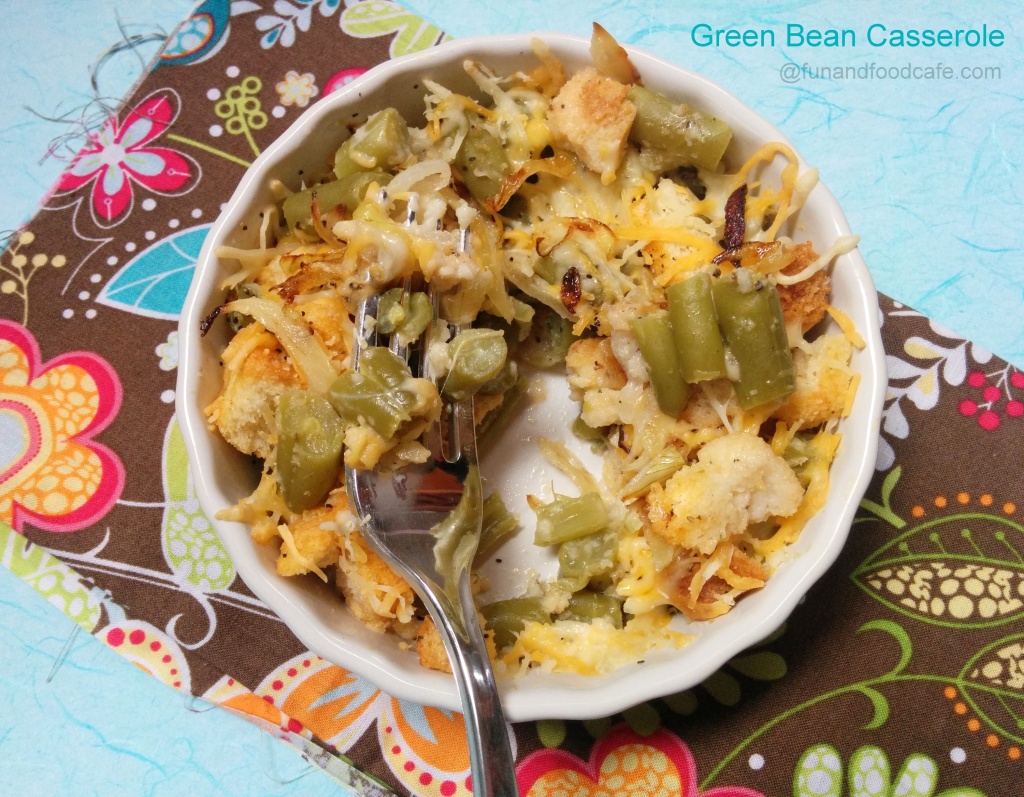 This is a very simple casserole to make. Thanks to Del Monte, the beans are already cooked, so I just sautéed them a bit with 1 tbsp of oil, the sliced onions and the mushrooms, as well as some salt and pepper. I didn't have fried onion rings, so I chose not to use them. The fresh onions and mushrooms do their job well in lending flavor and texture to the dish, so don't worry. And the Sriracha provides just enough kick to take it up a notch! Then add some milk to blend it all together. Layer it into a casserole dish, top it with a heavy helping of shredded cheese and the powdered croutons. Then toss it into the oven and let the magic unveil!
green bean casserole
A healthy and easy side dish to get some veggies on your dinner table, this Green Bean casserole will complement any recipe on your menu. Using canned beans, this easy casserole will be ready in no time!
Author:
www.funandfoodcafe.com
Ingredients
2 tbsp oil
½ cup diced onions
½ cup sliced fresh mushrooms
2 cups canned Del Monte Green Beans
½ cup milk
1 can cream of mushroom soup
2 tsp hot Sriracha sauce
salt & pepper, add to your taste
½ cup crushed garlic & cheese flavored croutons
1 cup shredded cheddar cheese (I used 4-blend Mexican cheese)
Directions
Preheat the oven to 350 degrees F.
Heat the oil in a skillet. Saute the onions and mushrooms in the oil, then add the canned green beans. When they look limp, add the mushroom soup, salt, pepper and Sriracha sauce and mix well.
Add the milk and give it all a nice stir.
Pour into a greased baking dish.
Bake for 20 minutes, then remove from oven, top it with the shredded cheese and the garlic crouton powder.
Bake for 10 minutes longer, or until the casserole is hot and the cheese is melted.
My Thanksgiving Menu
This is a very easy and highly adaptable recipe. Plus it pairs well with almost anything on the table. I love serving my Green Bean Casserole with some creamy Roasted Butternut Squash Soup for appetizers, followed by my super favorite Paneer Butter Masala, Garlic Naan and some Pomegranate Rice Pilaf. The table looks so colorful and the menu brings all Fall's favorite flavors onto the platter. Toast to a happy family by pouring out some Pumpkin Pie Martini, and end on a high note with a rich and creamy Pumpkin Mousse.
Happy Thanksgiving everyone!!
Disclosure: This post was sponsored by Del Monte through their partnership with POPSUGAR Select. While I was compensated to write a post about Del Monte, all opinions are my own.
Related Articles
10 Delicious Vegetarian Side Dishes For Thanksgiving
Make your Own Holiday Centerpieces for $10 or Less
Heart-Warming Roasted Butternut Squash Soup
Best Homemade Apple Pie – Step-by-step Tutorial