This shop has been compensated by Collective Bias, Inc. and its advertiser. All opinions are mine alone. #GoNutsForNuts #CollectiveBias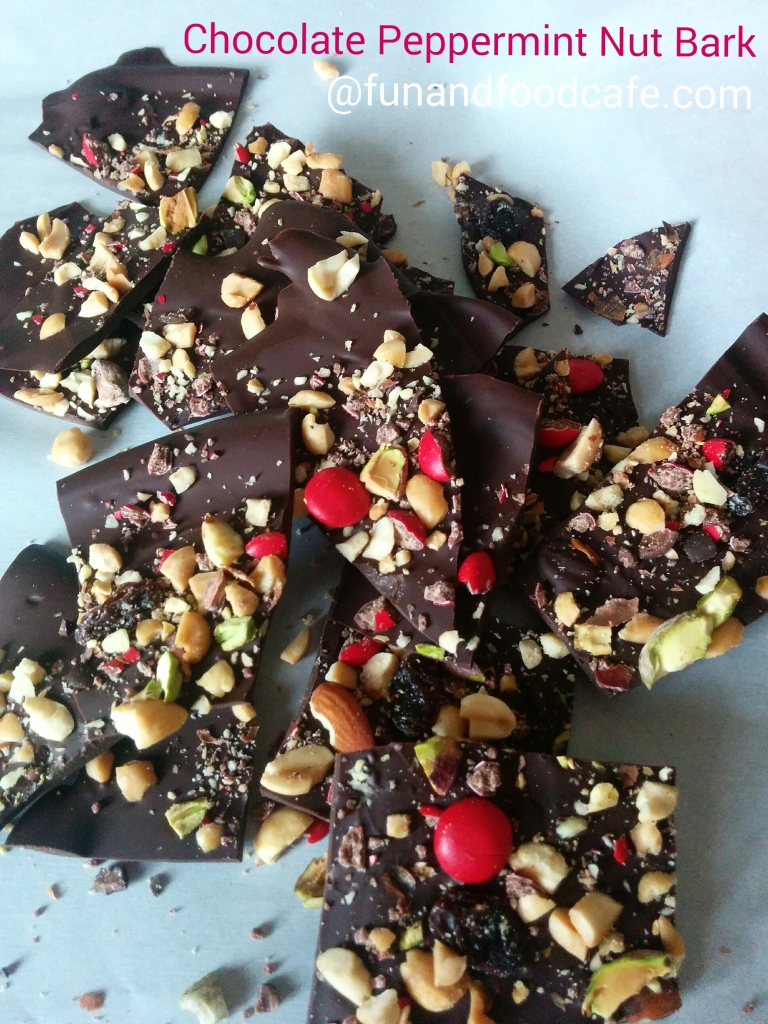 I am a strong believer in throwing Holiday parties and gatherings, and perhaps a bit fashioned, but I love mailing hand-written postcards along with homemade gifts to share with family and friends. It really brings more meaning into the holiday traditions, and will definitely make your loved one feel more special. If you are a budding cook or a seasoned chef, you might be interested in some of these Edible Holiday Gifts that I have previously baked. But if you are looking for a quick and easy 10-minute recipe that looks fancy and doesn't need elaborate shopping, baking or cooking, and yet exudes all the holiday flavors and cheer, then this recipe is perfect for you! It uses practically three ingredients and very minimal cooking skills – in fact, melting the chocolate is the only skill you'll need, and you can count on your favorite microwave to relieve you of that problem as well, so really, it is so simple you have ABSOLUTELY no excuse to not try it out.
Everyone that I know of loves Chocolate and loves Nuts! they are the perfect combination, I believe, and I really feel sad for the people with nut allergies, because I feel they are missing out on one of nature's gourmet treats. But then, if life throws you challenges, you challenge it right back by finding innovative solutions, right? So if you love this Chocolate Bark recipe, feel free to adapt it to replace the nuts with something else – marshmallows, dried fruits, sea salt crystals, dried rose petals would all make excellent additions. We love Planters Nuts in our house, so when I saw their wonderful holiday sleigh display at Walmart, I enthusiastically grabbed a coupe tins of their Holiday flavors, mainly the Holiday Nut Crunch and the Cocoa Almond. A combination of peanuts, almonds, cashews, candies, and chocolate-covered raisins and cranberries, these were perfect for the recipe I had in mind!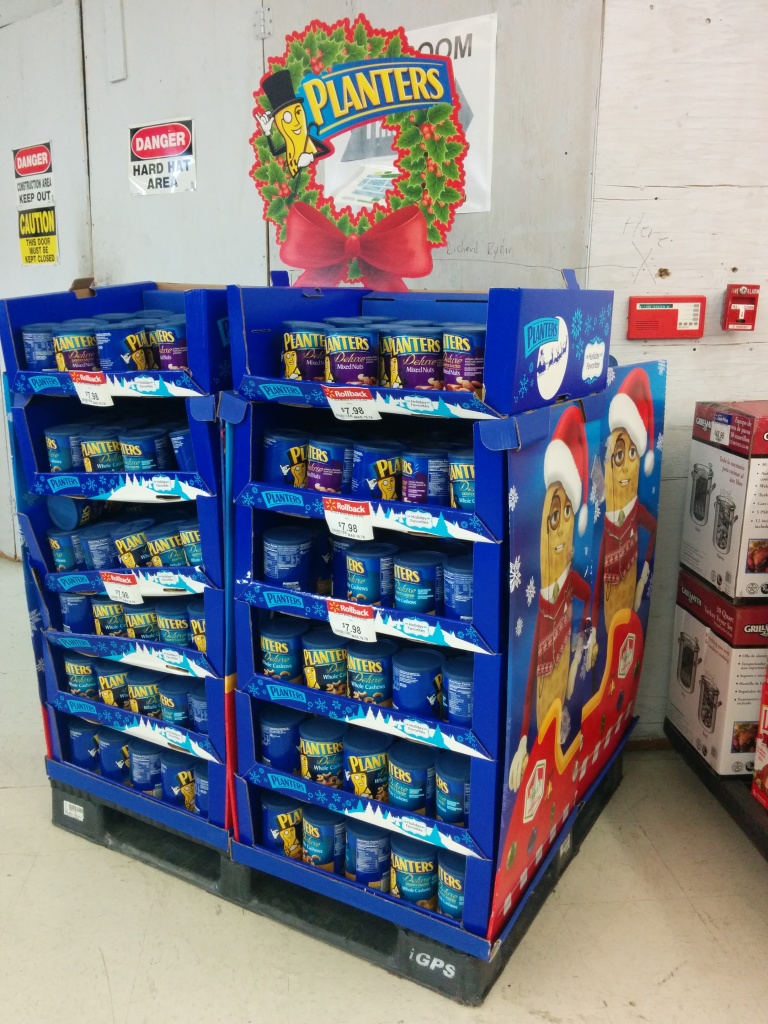 The Planters holiday products come with a companion Blippar app that you can download for Free on your smartphone. Blippar is an app that has image recognition capabilities and gives you the opportunity to interact on a whole different level with the Planter's brand. You can scan (or blip) one of the Planter's seasonal nut items and the site will pop up and provide a menu bar with fun choices like Take a Selfie with Mr. Peanut or a Browse Recipes option with great ideas to use Planters nuts in Holiday recipe. It can automatically scan your product, take an image and do some fun stuff with it. My daughter had a blast playing with it while I finished my shopping.
Anyways, coming back to the recipe, there's nothing at all that I would need to describe. Just melt the chocolate, layer it on a wax paper on a cookie sheet, sprinkle the chopped nut-mix, and let it refrigerate for an hour. Then break into into pieces. I usually do this with my hand, I like uneven pieces when it comes to chocolate bark, it's fun to see who got the bigger piece:) I would recommend using high-quality dark chocolate though, don't skimp on it, because it can make or break the recipe. The sea salt is strictly optional, I like a bit of salt to complement the sweet chocolate. But if you use the Planters nut mix, it already comes lightly salted, so you can omit the sea salt altogether. I also threw in a bunch of roughly chopped pistachios. The red cranberries and the green pistachios make it more "Christmassy", if you know what I mean!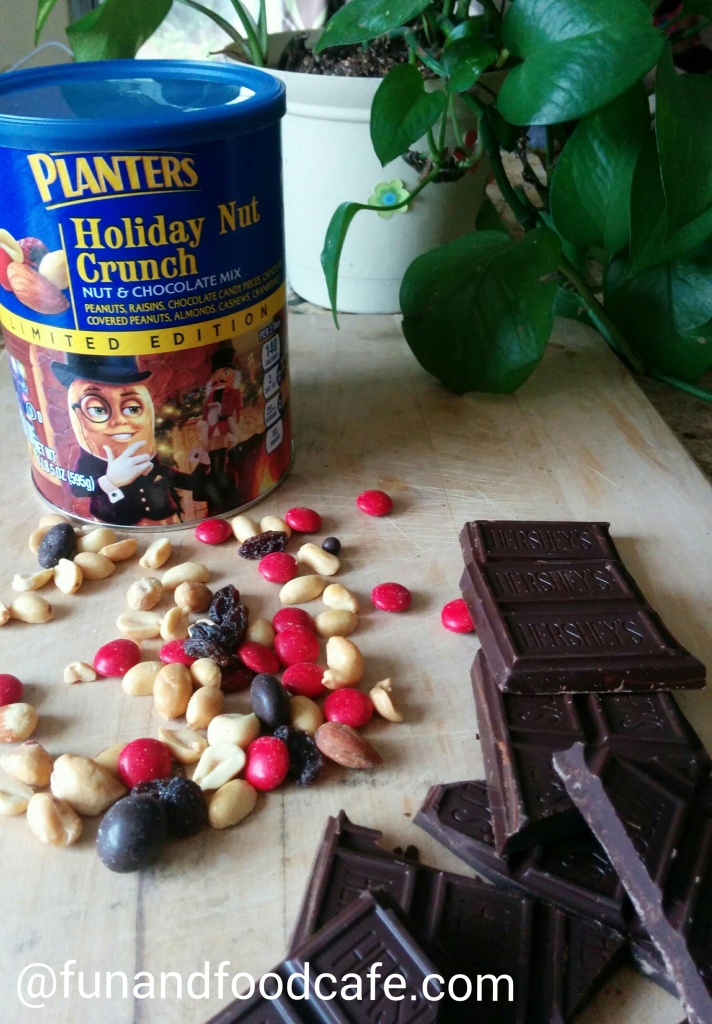 In the end, its a very simple recipe, and something you can't go wrong with. As for melting the chocolate, it's best done on a double boiler on low flame to prevent it from scorching, but our dear old friend, Mr.Microwave does a decent enough job. Just chop the chocolate into pieces, and microwave in 20-second spurts. Mix it with a spoon in between to prevent scorching, and you won't need to bother about the double-boiler business:)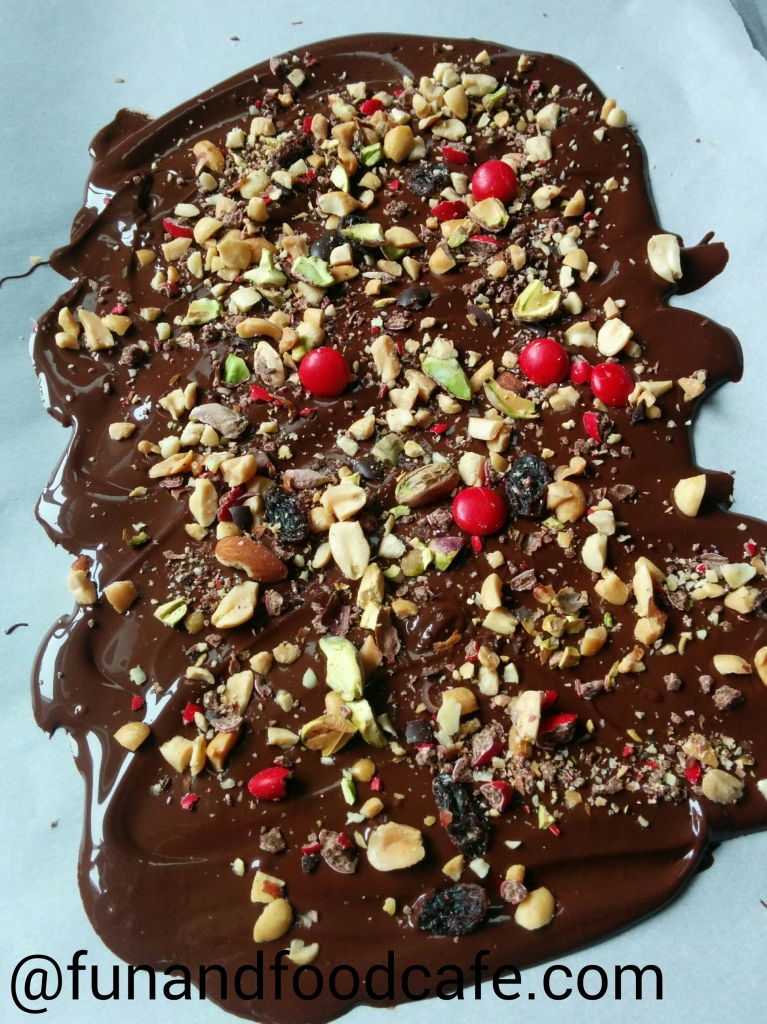 Here it is when it came out of the freezer. Touch on one end to make sure its not soft enough to leave in indentation with your finger. It should be hard and brittle. It looks beautiful, speckled with all those holiday flavors. Just break them with your hand, fill a few pieces in a gift bag or a gift box, attach a hand-written message, and you have a lovely holiday gift ready to be shipped!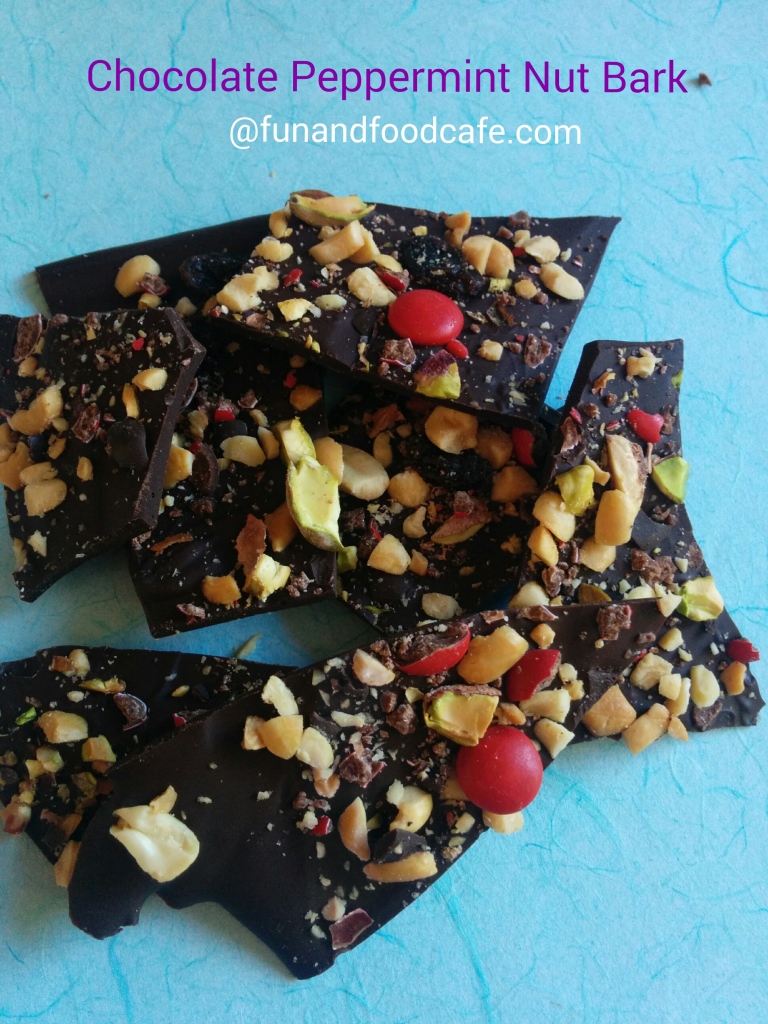 10-Minute Fruit & Nut Chocolate Bark Recipe For The Holiday Season
Looking for a quick and fancy holiday recipe to enjoy with family or give as a gift to friends? then this Dark chocolate fruit and nut bark is perfect! It takes less than 10 mins to assemble, and looks so colorful fancy you wouldn't be able to stop at one piece!
Author:
www.funandfoodcafe.com
Ingredients
2 c dark chocolate (70% or higher cocoa) (about 2 chocolate bars)
1 cup Planters nuts (I used the Holiday Nut Crunch flavor)
1 tsp peppermint extract
sea salt crystals (optional)
Directions
Melt the dark chocolate in the microwave or over a double boiler. Once melted, add the peppermint extract to it.
Pour onto a wax paper lined cookie sheet.
Sprinkle on the toppings and put in the refrigerator for at least 1 hour.
Break apart with your hands or a sharp knife.
Store in an air-tight container in a refrigerator for upto a week (if you can resist not eating it up by then:))
This is a very simple recipe to impress your friends and family by packing them a homemade gift. Everybody loves chocolate, so you can hardly go wrong with this! Here's one last look:)
What kind of gifts do you make during the Holidays? Here are some other ideas to play with:
DIY: Lavender & Jasmine Sugar Scrub
DIY: Hot Cocoa Mix in a Jar
DIY: Homemade Christmas Ornaments
Salted Caramel Turtle Candies
Christmas Candy Recipes
5 Fabulous Foodie Gift Recipes