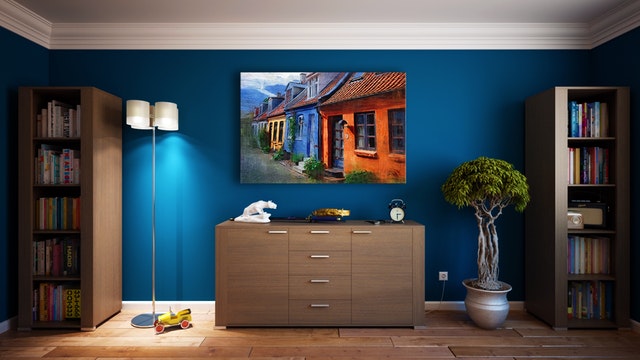 It's safe to say, when you get bored of your decor, you can often start to feel a bit frustrated whenever you're at home. From disliking the design of one room to being over the colors in another, it's never all that great to feel like your home isn't homely at all. It may sound silly, but it can really impact on your quality of life. Because when you're not happy at home, or you don't quite feel comfortable, it will affect you. So, you may just be in need of a really simple refresh. But when you don't have an awful lot of budget available for this, it can feel even more frustrating.
But the key thing to realize is, you don't need to be super rich or even have lots of spare money lying around in order to change up your home. Because it's entirely possible to freshen up your home in a really frugal way. Combining ideas that will cost you next to nothing, require a small investment, or even be completely free, you should find that you're actually able to transform both your home and the way you feel about it in a few easy ways. So if this sounds like something you're in need of, take a look at these ten ideas for some frugal interiors inspiration.
Move The Furniture Around
Your first option is completely free! So we're off to a good start. And as much as it can appear unexciting, it's actually really effective. Because moving the furniture around can make your home feel completely different. Even if you feel like rearranging what you have in one room won't change things, you're going to want to think bigger with this. Because it may be much more effective for you to move furniture between rooms to get the best effect.
Repaint A Few Walls
Next up, you should definitely think about repainting. It's easy to think that changing the paint in your home will be expensive or a lot of work. But that's not necessarily true. When you paint it yourself, you can find that you'll be able to save a lot of money. Paint can be relatively cheap. And yes it will take you some time to get the room ready and then actually paint it, but it won't take you that long on the grand scheme of things. And painting a room will completely change the look and feel of the space altogether.
Upcycle Your Furniture
You've also got the option of giving your furniture a bit of a spruce. If you've started to move things around and it's not really making too much of a difference, or you've not got furniture that's suitable for other rooms, you're going to want to work on some furniture restoration. It can be a simple way to completely shake up your current furniture and can be relatively cost-effective too.
Try Some DIY
If upcycling is definitely your kind of thing, then you should definitely consider some other forms of DIY around the home too. And no, we're not necessarily talking about hanging pictures and repairing rails (although that can help too). Here, you could definitely think about making your own soft furnishings. A few sewing tutorials and a fabric purchase later, you'll home will feel completely refreshed.
Shop Smartly
Maybe you're not getting on too well with the furniture you already have. If it's old and broken, or not the kind that can be painted and spruced up, you may just want to go all out and buy something new. But, again, you can be frugal here. By finding high end furniture brands at low prices, you'll be able to add new pieces into your home without spending the earth. And if you are going to spend, doing it smartly on something like this is always the best idea.
Declutter
Again, we're onto another freebie, or one that will even make you some money! If your home is cluttered, it's going to impact how you feel about it. But you can often find that having a huge clear out and throwing old things away (or even sell them to make some extra cash – maybe to buy that new furniture) will help. With a much clearer and tidier home, it can feel like a brand new place.
Change Your Accent Colors
Next up, another simple idea that may require just a small amount of money – and it's to change the accent colors you have in a room. With things like your cushions and curtains, or decorative ornaments, you'll be able to give the room a new lease of life – maybe even with some of the new soft furnishings you've made!
Play Around With Lighting
Next, you should definitely think about playing around with some new lighting ideas. Because you can really change the mood of a room with lighting. Whether you just change the bulbs or even go for new lighting fixtures, you can often find that something so small will drastically improve the look and feel of a space.
Replace Your Fittings & Fixtures
Maybe you're not happy with some of your more prominent home features, like your kitchen fittings and fixtures? When this is the case, you often feel like you're stuck with them – because an entirely new kitchen can cost thousands. However, you may find that replacing, or even refacing your kitchen cabinets is exactly what you need here. By painting the doors and replacing the handles – or even replacing the doors themselves, you can often create a completely new looking kitchen.
Change The Flooring
Finally, the last idea we're going to cover off concerns your flooring. Because it always seems to make the biggest difference (after the walls). Your flooring always covers off a large surface area, and if you really don't like it, it will impact on how you feel about a space. So, by spending a bit of money and investing wisely, you can change the flooring for something really stunning (and still cost-effective) to give the space a bit of a facelift.