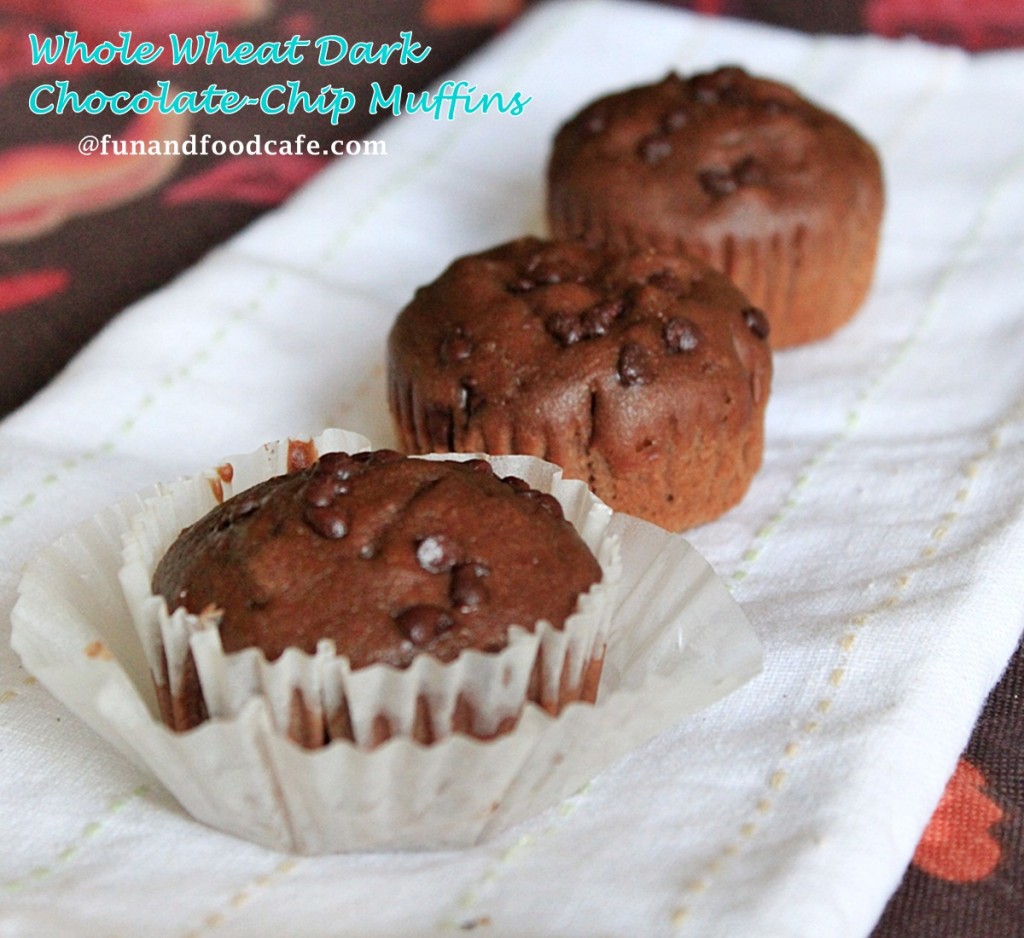 Chocolate Muffins (eggless) made with whole wheat flour and dark chocolate chips
When it comes to chocolate recipes, there is hardly anything that i don't like, so when I saw these delicious Chocolate Cappuccino Muffins on UsMasala, I knew I had to bake them as soon as I can. Made with whole wheat flour and real chocolate chips, these are perfect for my little girl who is as much of a chocolate fan as me, plus it's an eggless recipe that does not use butter too, so works for me as well! I decide to omit the coffee flavor as I was baking these for the kids, and substituted vanilla instead. But I think these would work well even with other flavors like cinnamon or nutmeg. Or sprinkle some M&M's on the top to make M&M Candy Muffins that are too cute to resist!
The beauty of the recipe lies in the fact that it uses melted chocolate instead of cocoa powder to impart the chocolate flavor, as well as keeping the muffins moist at the same time. The oil and milk combined with the baking soda act as a leavening agent, making them rise beautifully. And to make them even more festive or kid-friendly, top them with colorful M&M's or other flavored chips like butterscotch, peanut-butter chips or even Nutella, for a profound flavor variation, as well as a contrasting color effect. But for now, just enjoy these all-chocolate Muffins, and leave the experiments for the next time, because if you make them once, you'll definitely be making them again and again!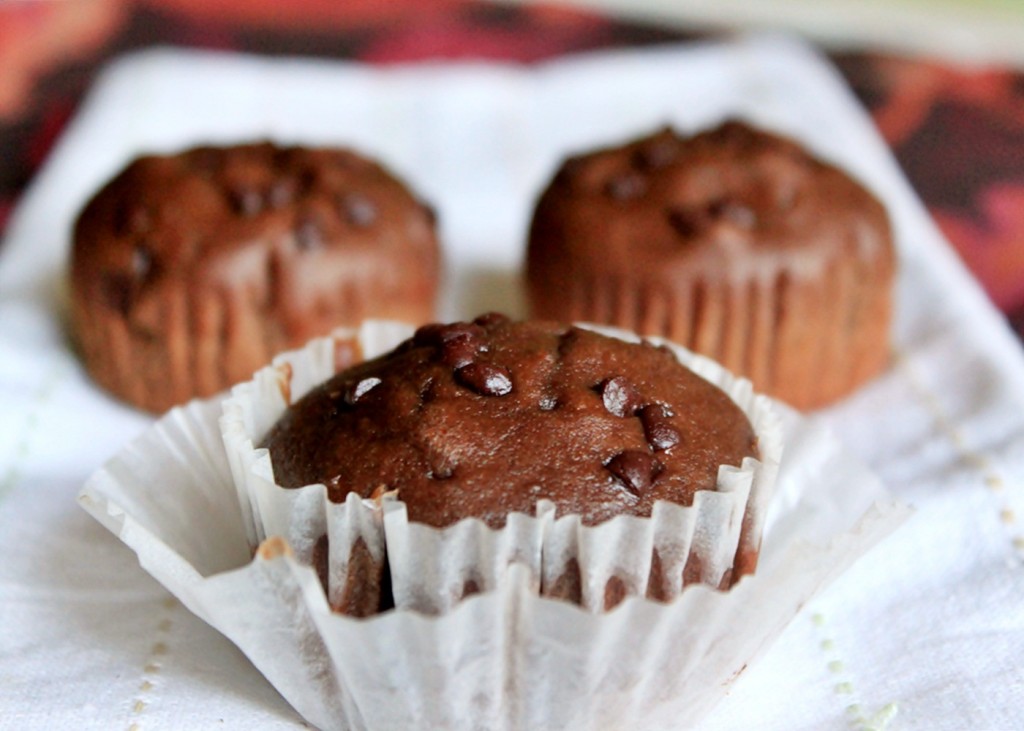 Whole Wheat Dark Chocolate Chip Muffins
Made with whole wheat flour, dark chocolate chips, milk and oil, these eggless chocolate muffins are my recent favorite. Moist, soft and perfectly baked muffins are good for lunch boxes or with your morning coffee.
Ingredients
1¾ cup whole wheat flour
¾ cup + ¼ cup dark semi-sweet chocolate chips
3 tbsp cocoa powder
¾ cup sugar
1 cup milk
⅓ cup vegetable oil
2 tsp baking powder
½ tsp baking soda
½ tsp salt
½ tsp vanilla extract
Directions
Preheat the oven to 350°F. Lightly grease (or line with muffin cups, and grease the muffin cups) a standard-size muffin pan.
Sift all the dry ingredients together in a large bowl, alng with the sugar.
Melt ¾ cup chocolate chips with 1 tbsp milk in a microwave by heating for 30 seconds or so, in 10 second intervals, and stirring in between.
In another bowl, mix the oil, milk, and vanilla extract, then add in the melted chocolate chips and stir to mix well.
Add the dry flour mixture to the wet ingredient bowl and combine with a spatula until everything is incorporated and no dry flour can be seen. Do not beat or over-mix, or the muffins will turn out flat.
Fill the mixture in the prepared muffin pan, filling them upto ¾ level. Sprinkle the remaining chocolate chips on top of each muffin cup.
bake for around 20 minutes until a toothpick inserted in the center comes out clean.
Remove from oven and let them cool on a wire rack, then let them cool to room temperature before serving.
Chocolate Muffins are an all-time favorite, and I am so glad to have found this healthier recipe that yields the same moist and spongy muffins, without using eggs, butter or all-purpose flour! I am going to be making these again, maybe I'll add more nuts next time, to increase the nutritional value. Just reduce the sugar content a bit and these are great as a snack for kids after school. I'm sharing these with the Bloghop at Jane's blog, come join the fun!