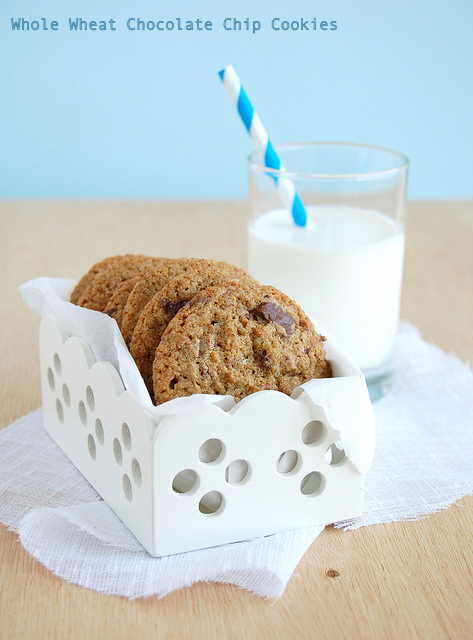 School is about to begin in one week, and I am sure every Mom is out there hunting for Back-to-school recipes. If you haven't looked at it yet, here is a compilation of the Top 12 Back-to-School Vegetarian Recipes that I'm going to turn to for my daughter lunch-box needs. And now its time for Dessert! Yes, like every other kid, my daughter loves to get a treat in her lunch box for snack, and though I'm not a fan of giving her sweet treats every day, I do like to make her happy by sneaking in an occasional cookie or a muffin into her lunch bag. And what makes these extra-special is that I usually bake them myself, so I can be sure of the ingredients that go in there, and it also helps me experiment with my cooking.
She loves chocolate chip cookies, but since I'm averse to feeding her a lot of refined flour and sugary stuff, I was looking for a recipe that replaces white flour with whole grain or whole wheat flour, an also cuts down on the sugar content. That's when I found Patricia's recipe for Whole Wheat Chocolate Chip Cookies. I tried the recipe with a few changes, mainly replacing the granulated sugar with some Maple Syrup. It has a bit more calories that white sugar, but its more pure and unrefined, and has a few antioxidants to its credit. In case you want to use something else, here is a list of what else you can use to replace the white sugar in your recipe. The result were nice and soft chewy cookies, which are great to eat on the day they are baked. Air can do weird things to baked goodies, and that means the more they are exposed to the atmosphere after they are baked, the harder they will become. So use them on the same day, or store them in an air-tight container and use within 3-4 days.
Try them for yourself, I am sure you and your child will love these whole wheat gems. Thank you Patricia, for this wonderful recipe and pictures!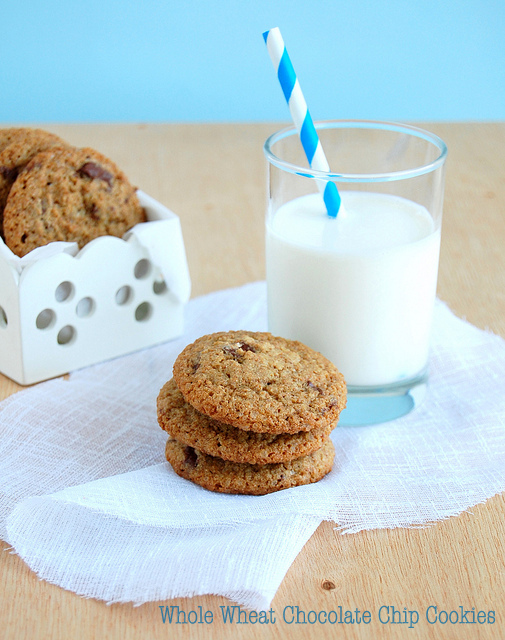 Whole Wheat Chocolate Chip Cookies
Soft and chewy cookies made with whole wheat flour and chocolate chips. Get the power of whole grains without compromising on the taste.
Author:
www.funandfoodcafe.com
Ingredients
3 cups whole wheat flour
1 ½ teaspoons baking powder
1 teaspoon baking soda
¾ teaspoon salt
1 cup cold unsalted butter, chopped
1 cup dark brown sugar, packed
¾ cup maple syrup
2 eggs
2 teaspoons vanilla extract
8oz bittersweet chocolate, roughly chopped
Directions
Preheat the oven to 350°F. Line two large baking sheets with baking paper.
Sift all the dry ingredients into a large bowl.
Add the butter and sugars to the bowl of an electric mixer fitted with the paddle attachment. With the mixer on low speed, mix just until the ingredients are blended, about 2 minutes.
Add the eggs, one at a time, mixing until each is combined. Mix in the vanilla.
Add the flour mixture at once and blend on low just until the flour is barely combined, about 30 seconds.
Next add the chocolate chunks at once and mix on low speed just until the chocolate is evenly combined. Do not over-mix the dough, as that would make your cookies hard.
Using an ice scream scooper, place mounds of dough onto prepared baking sheets, about 3 inches apart.
Bake the cookies for 12-16 minutes or until they are evenly dark brown. Transfer the cookies, still on the baking paper, to the counter to cool.
Cookies are best the day they are made but will keep in an airtight container for up to 3 days.
Related Recipes
Whole Wheat Dark Chocolate Muffins
Apple Date & Walnut Muffins
Spinach Banana & Whole Grain Muffins