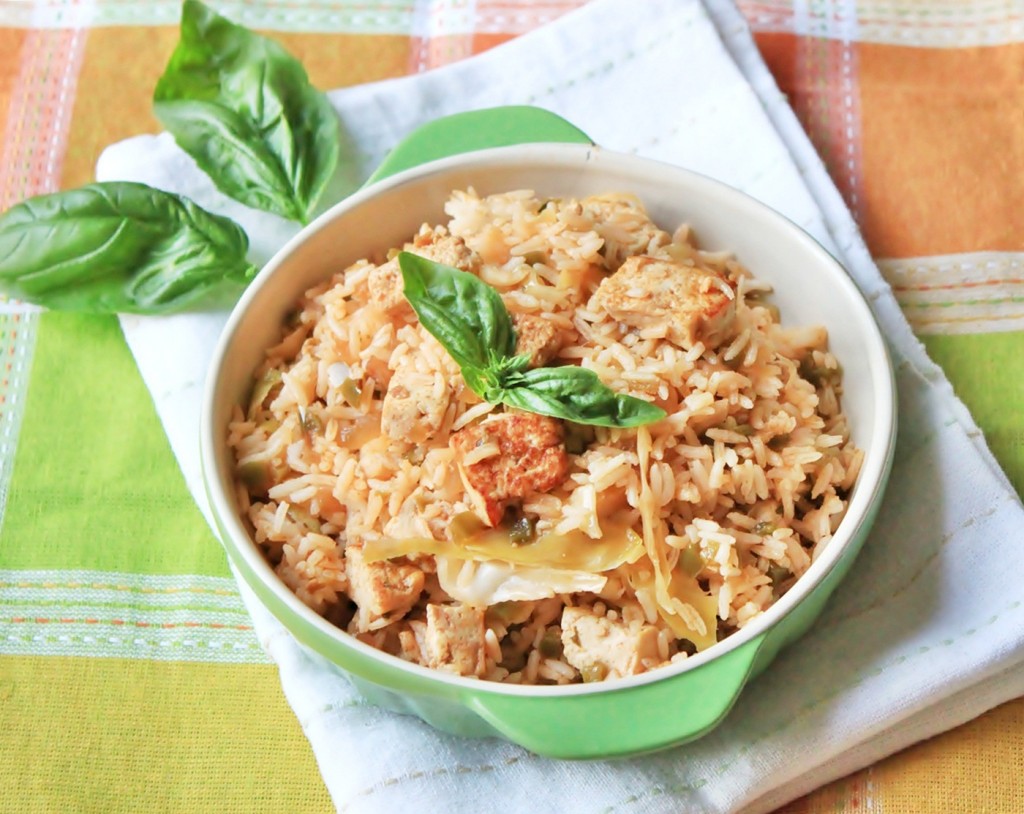 Asian-Style Tofu Fried Rice
When it comes to comfort food, there are a few favorites that spring right into your mind – Mac & Cheese, Parathas (flatbreads), Rice and Dal, warm soups or your favorite dessert. These are some of the things that you never go wrong with. But I think more innovative cooking happens when you take your favorite comfort foods and enhance them or re-design them with unique flavors from the global cuisine, thereby giving a new meaning and identity to those childhood favorites. For most Indian families, Rice is often a comfort food, and if you Google it, you'll be amazed to find how many Rice Recipes you can come up with!
This week, I took one of my favorites, Chinese Fried Rice, and gave it a tiny bit of makeover with some Thai spices, Tofu and Basil. Still pretty Asian recipe, but with the intermingling of Indian spices, it turns out to be a filling and healthy recipe that will work with any kind of taste-buds. Indo-chinese food that you get in India is totally different from the traditional Chinese food. Yes, it does have the Asian spices and a soy-sauce base, yet there are many more spices added for flavor, mainly ginger and garlic, as well as Indianized version of sweet-chili-sauce, which gives it a sweet and sour flavor that is hard to dislike! And of course, we add a lot of steamed veggies like bell peppers, sweet corn, mushrooms, baby corn and more – add whatever you and your family likes, go ahead and use Brussels sprouts, or throw in some diced pineapples, this Fried Rice recipe will assimilate everything and make it taste good! A great way to feed a full serving of veggies and carbs to your kids too! Ritika, my almost 3-year old loves having this for lunch on weekends, even though she is not too fond of rice. Serve it with some noodles on the side, or maybe a simple vegetable curry, and you have an Asian meal that is as comforting as the culture itself!

Chinese-Style Tofu Fried Rice
Prep Time: 20 mins
Cook Time: 30 mins
Serves: 4

Ingredients
2 1/2 cups rice, cooked and cooled
3/4 cup vegetables – carrots, french style green beans, capsicum (red, green, yellow), mushrooms, water chestnuts, baby corn, broccoli
1/2 cup onions, cubed
10-12 pieces of super firm Tofu, cubed
2 green chillies finely chopped
1/2 tsp garlic, minced
1/2 tsp ginger, minced
2 tbsp fresh basil leaves – chopped
1/4 tsp red pepper flakes (optional)
2 Tbsp soy sauce
1 tbsp sweet chili sauce
1 tsp vinegar
3/4 tsp – Black pepper, freshly ground
1 small star anise
1.5 tbsp – oil
Salt to taste

Method
Drain the tofu completely, pat it dry and cut it into cubes. Drizzle some soy sauce over them and let it sit for 10-15mins. With the oven set to broil, spritz it with some oil and line the tofu cubes on a sheet pan and broil for 5-6 mins, flip them and broil for 5 more mins.If you prefer to do this over the stove, just shallow-fry them in a griddle with minimal oil to make them crispy, but not fried.

Heat oil in a wide pan. When hot, add the finely chopped green chillies, garlic, ginger and red pepper flakes. Give it 5 secs and add the cubed onions. Saute until they turn translucent. Add the whole star anise and let it cook on the wok.

On medium high heat, add the vegetables and stir fry for 3-5 mins, depending on how much bite you want in them. Don't overcook them, or steam them ahead of time. Add the soy sauce, chili sauce, vinegar, and freshly ground black pepper and chopped basil leaves. Saute until the vegetables are slightly tender but still retain crunch.

Add the tofu cubes along with the rice and very carefully stir to combine with the vegetables. Taste to see if it needs more salt/pepper and season accordingly. Toss lightly without breaking the rice grains.

Give a final stir so all the spices coat the rice and tofu evenly. Transfer to a serving bowl. garnish with some chopped basil leaves and bean sprouts, and serve hot, with a side of Chinese Noodles or a simple Thai Curry.
Related Recipes
Tofu Stir-Fry in Teriyaki Sauce
Vegetable Manchurian in Gravy
Spicy Asian Hakka Noodles