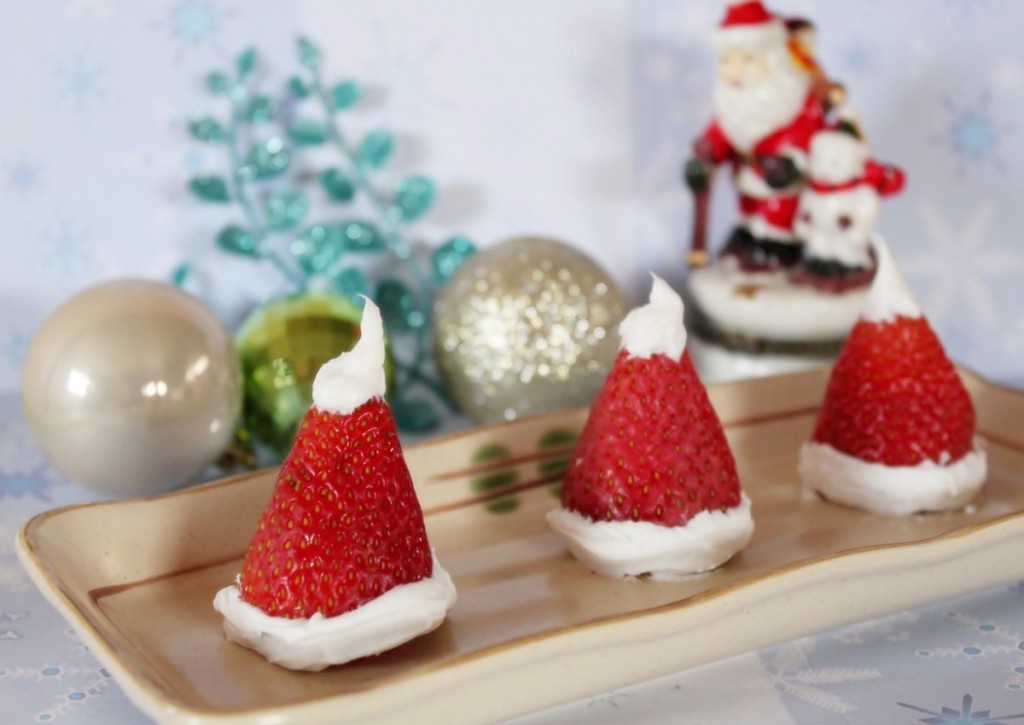 Christmas is just around the corner, and this time, though we have baked a batch of cookies to lure Santa to our house, I am also going to serve him these cute and delicious Strawberry Santa Hats, which I am sure he will not be bale to resist. In fact, he might just be so happy that he may leave a gift or two extra for the home-chef who made his day! So how did this recipe find its place in our kitchen?
Well, the other day, me and my daughter were watching Dora on TV, where she and Boots are off to North Pole to leave a Christmas present for Santa, under his Christmas Tree. It was so touching to see Santa rejoice with glee when he saw that someone had actually thought of a present for him! So as expected, my daughter was adamant on making something for Santa too; and she loves to play Chef Ritu these days, so she donned her tiny apron and we decided to cook something for him, something different, and something which is unique only to Santa. I saw the box of strawberries in the fridge, and I knew what we could make for him, Edible Santa Hats, perfect little treats for this good old samaritan!
I've seen a couple versions of this recipe with brownies, cookies, even ice cream, but I decided to keep it simple, because I knew there would be many desserts to devour during the holiday season, and I did not want to add one more high-calorie dessert to the list. Fruits and cream are a wonderful combination, and I decided to ramp up the buttercream frosting by adding a hint of rose and vanilla to the recipe. Rose adds a wonderful aroma, fragrance and a subtle but rich flavor to the frosting. It also compliments the strawberries well, making this a simple but elegant tidbit that shouts out Christmas to you.

Strawberry Santa Hats
Prep Time: 10 mins
Assemble Time: 10 mins
Servings: 10

Ingredients
10 medium strawberries, cleaned and hulled
1 cup vanilla-rose buttercream (recipe below)

Vanilla Rose Buttercream
1/2 cup (1 stick) unsalted butter, room temperature
1 cup powdered/icing sugar
1/2 teaspoon vanilla extract
1 teaspoon rose extract
pinch of salt

Method
Using a stand mixer with a paddle attachment, beat the butter until light and creamy, about 2 minutes. Add vanilla extract, rose extract and salt. Add the sugar, half a cup at a time and continue beating until smooth. Add more sugar, if needed to reach desired consistency and sweetness.

To assemble, wash and clean the strawberries, then cut the base off to make them flat. Pipe a ring of vanilla-rose buttercream, a little wider than the base of your strawberry. Place the flat berry on this cream. Gently press it so it forms a trim of the hat around the berry. Top the tip of the strawberry with a dot of buttercream to make the pom-pom of the Santa hat.
It takes 15 minutes tops, to make these cute and delicious treats. And the best part, me and my daughter had so much fun doing this together. Yes, we did end up having dots of buttercream frosting decking up our faces, but it was totally worth it, and I'm sure Santa will be very pleased! So how do you plan to entice Santa to deliver extra gifts to your home today? If you are looking for some last minute cookie inspiration, then try a few of these:
Snowflake Sugar Cookies
Chewy Chocolate Chunk Cookies
Elegant Chocolate Truffles
Traditional Chocolate Pinwheel Cookies