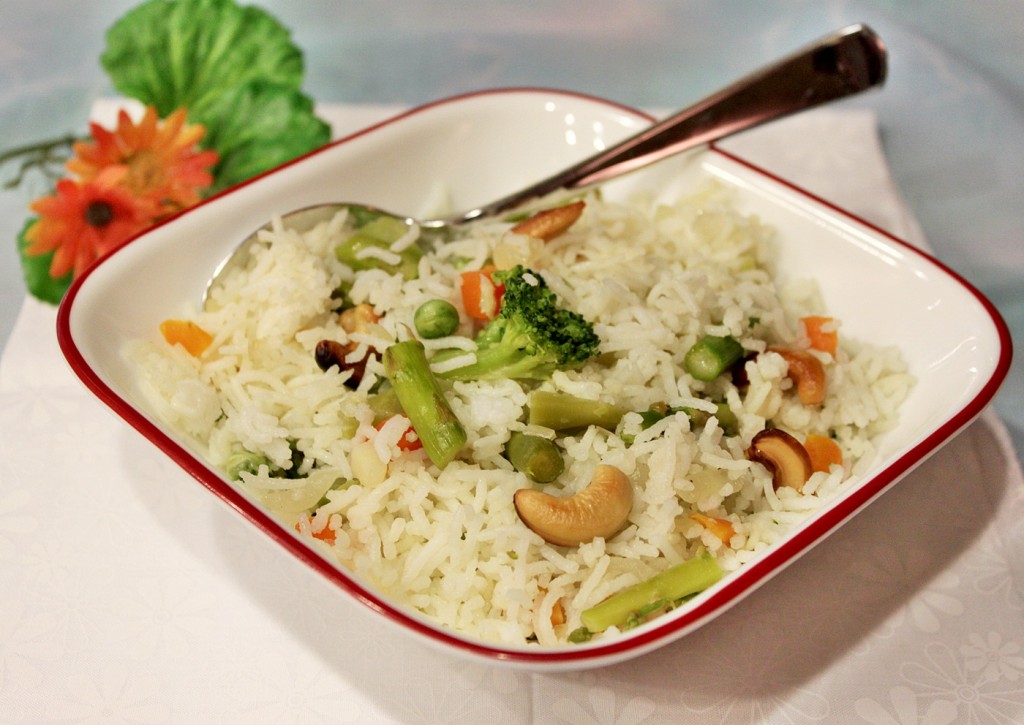 Spring Rice Pilaf
Daffodils are smiling all around, people are planning their vegetable gardens, the sun keeps playing hide-and-seek with the clouds that occasionally burst into rain, and kids are off from school celebrating the sunny weather outside – all this means just one thing, Spring is finally here! As you all get ready to plan weekend getaways, a picnic on a nearby lake, a day at the beach, or a fun-filled Easter egg hunt, don't forget your Spring cleaning, and also to load your pantry with all the fresh seasonal produce that is flooding the farmer's markets. Asparagus, Broccoli and Brussels sprouts have become fore-runners at the grocery isles, so don't hesitate to throw a bunch into your own shopping cart.
I picked up a bunch or two of these goodies myself, and after trying the simple pasta and pizza recipes, I was in need of a serious change to make this favorable at the dinner table. Right around that time, Foodbuzz announced the Spring recipe program with Frigidaire, and that got me thinking. I needed something that uses most Spring veggies, but still is relatively easy to make and comforting to eat. That's when I settled upon my Spring Rice Pilaf. Loaded with asparagus, carrots, peas, broccoli and the nutty flavor of roasted cashews and pistachios, plus the added goodness of fresh spring herbs like mint, parsley and cilantro, this was a quick and satisfying recipe. We enjoyed it with some Cucumber Mint Raita and some Tadka Dal on the side, perfect for a warm spring evening!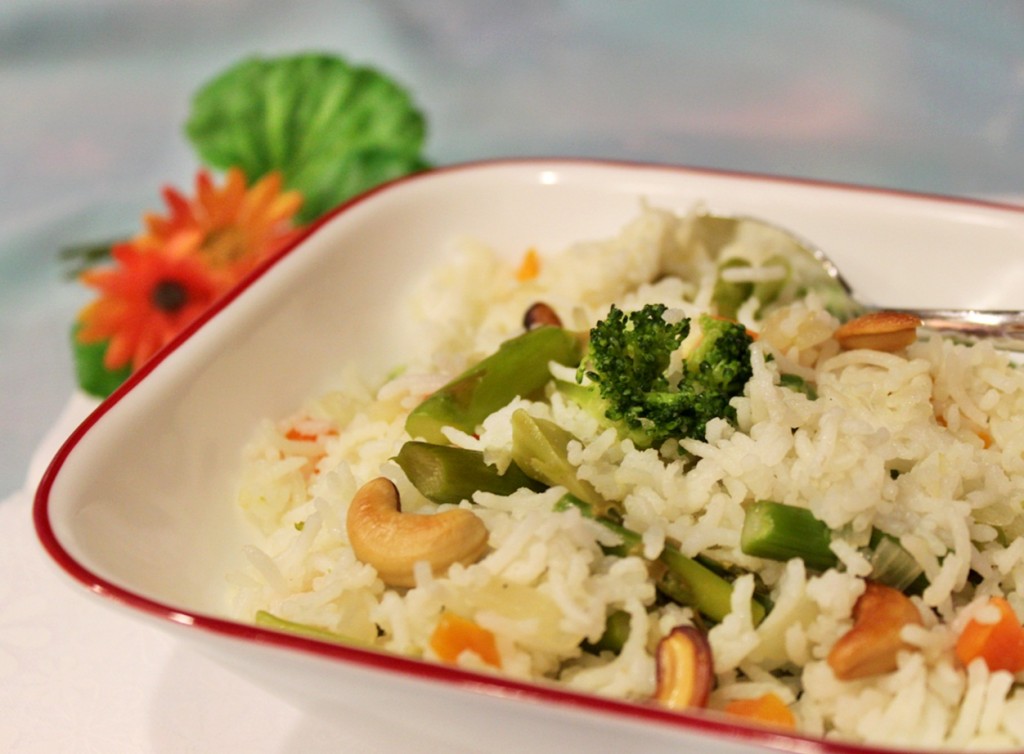 Spring Rice Pilaf (Pulao)
Prep Time: 10 mins
Cook Time: 20 mins
Serves: 2

Ingredients

For the Pilaf
2 tablespoons ghee (browned butter)
2 cups basmati rice (or long-grained Jasmine rice)
1 bunch asparagus, trimmed and chopped into 1-inch pieces
1 carrot, chopped
1 cup fresh or frozen green peas
2 shallots, chopped
1 small broccoli, chopped
Salt and pepper – to taste
4-5 cups water
1/2 teaspoon cumin seeds
1 bay leaf
1 tablespoon lemon zest, plus the juice of 1/2 lemon
1 tablespoon fresh parsley, chopped
1 tablespoon fresh mint, chopped
1 tablespoon fresh cilantro, chopped
1 teaspoon garam masala powder
a handful of cashews and pistachios, shelled

For the Cucumber Mint Raita
2 cups yogurt
1/2 cup water
2 small persian cucumbers, chopped
1 tbsp fresh mint, chopped
1 small green chili – minced
salt, to taste

Method
Melt 1 tbsp ghee in a medium size pan over medium-high heat. Add the cashews and pistachios and saute until nutty and deep golden brown. Remove from the pan and set them aside. On the other and, cook the Basmati rice with water in a rice cooker or on stove-top, as you would normally do.

In the same pan, add the remaining ghee, add the cumin and let it splutter. Add the bay leaf and shallots and shallow fry until pinkish golden brown.

Now add the asparagus, carrot, peas and broccoli, and fry for a few minutes. Season with salt, pepper and garam masala. Cover and cook to sweat the vegetables a bit, stirring occasionally, for 5-10 minutes, until they are cooked but still have some bite to them. Stir in the lemon zest, parsley, mint and lemon juice.

Once the rice is cooked, add it to the vegetable mixture and give a stir with gentle hands, so as to mix well, but not break the grains of rice. Check for seasoning, transfer to a serving plate, and garnish with the roasted nuts and chopped cilantro. Serve hot with Raita or Dal.

To make the Cucumber Raita, mix the yogurt with water and beat well to form a smooth blend. Add the chopped cucumbers and fresh mint, salt and green chillies, and give a stir. Serve fresh, along with the rice.
This post was sponsored by Frigidaire. When you check out Suzanne Goin's springtime recipes at www.maketimeforchange.com, Frigidaire will donate $1 to Save the Children's U.S. programs. Plus, you'll be entered for a chance to win the new Frigidaire Range with SymmetryTM Double Ovens – featuring two large ovens (that can each fit up to a 28 pound turkey!), providing the flexibility to cook multiple dishes at the same time at different temperatures, so you can get more on the table at the same time.
This is a perfect Spring-time recipe for novice cooks out there, to make good use of fresh seasonal produce in a quick, easy and delicious way. If pomegranate is available, I would seriously advocate addition of a few fresh pomegranate seeds for added color and taste. And if you don't mind the calories, drizzle an extra tablespoon of Ghee on the rice right before serving, for an amazing addition to the hot piping recipe!
Related Recipes
Rice Pudding with Mixed-Berry Sauce
Vegetable Tofu Fried Rice
Pomegranate Rice with Toasted Pecans