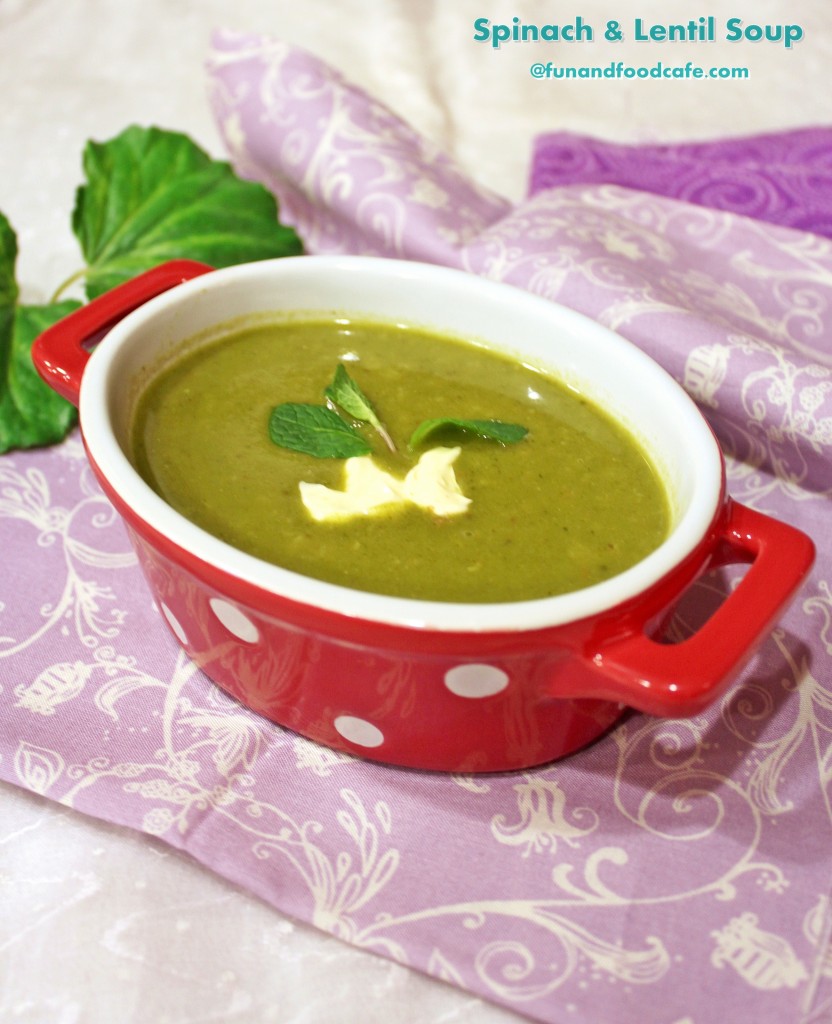 Spinach and Split Peas (Moong Dal) soup flavored with garam masala and mint
Spinach is not called a superfood without a reason! Loaded with vitamins and anti-oxidants, it is a very nutritious ingredient that does not have a very distinct taste, and hence can easily be added to several of your favorite recipes without altering their taste too much, like these Super Moist Spinach Banana Muffins. However, the combination of Spinach and Lentils has been a favorite pairing amongst Indian cooks for a long time. The spinach gravy forms a lovely base for the mushy lentils, making it an ideal recipe for soups and gravies. One such recipe that I am going to share with you today is the Spinach & Moong Dal Soup, a lovely recipe for kids and adults alike!
Most creamy Spinach soups contain sour cream, fresh cream or potatoes to thicken the soup. But in this recipe, we substitute the butter and cream with Lentils, a healthier alternative that not only adds a thick base to the soup, but also increases its nutrition content, adding fiber and proteins to the goodness of the greens! Moong Dal, aslo known as Split-Peas, is the lightest of the lentils; it is easy to cook, and unlike the other legumes, Moong Dal is not too starchy to alter the consistency of the dish. Both spinach and dal can be cooked in under 20 minutes, and if you are using a steam-cook method, that's even better. I normally saute my onions and tomatoes, then add the spinach, dal, water and spices to a pressure-cooker, and cook it for 3 whistles. Then blend it using an immersion blender and you have your soup ready in under 20 minutes!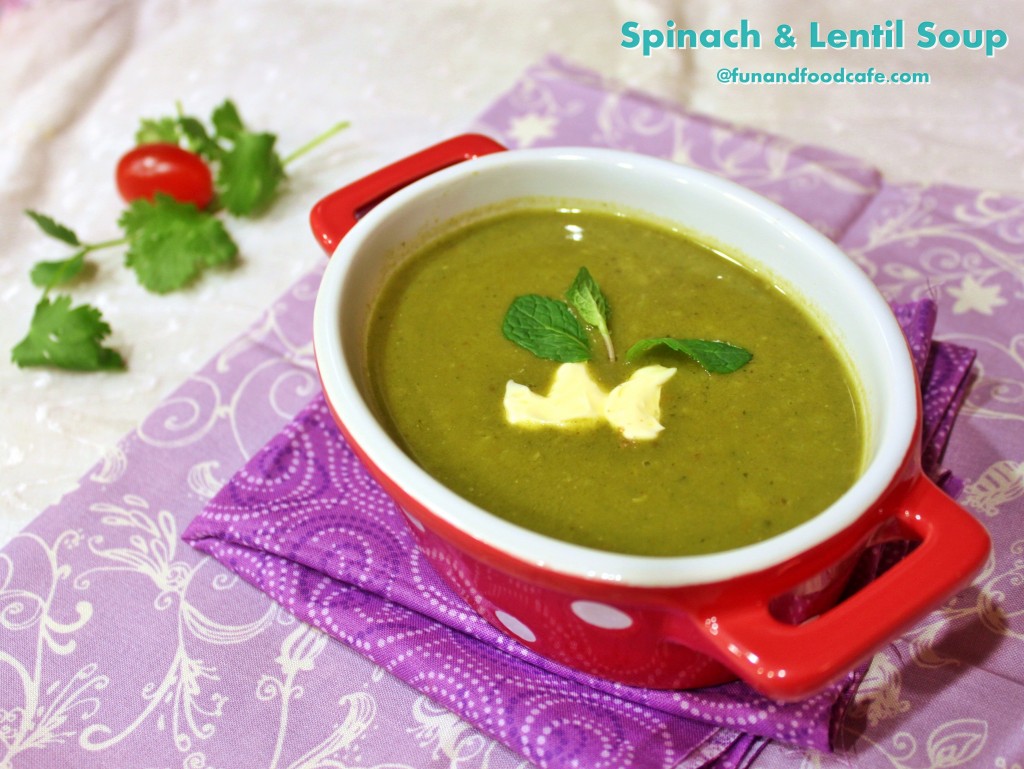 But here I describe the traditional stove-top method, which takes a little longer, yet retains all the nutrients in the recipe. To make it thicker, you can add one medium-sized mashed potato, especially if you are making this for kids. For recipe inspirations, this soup can also be sued as a gravy for several Indian recipes – add paneer or vegetable koftas to this gravy to make Hariyali Kofta Curry, or just add cubes of lightly-fried paneer to make a healthier version of Saag Paneer. I occasionally boil the dal separately, and add it to the soup at the end without blending – this lends more texture to the soup, and this way I can enjoy it with a side of plain Basmati Rice.

Spinach & Lentil Soup
Spinach and lentil (moong dal) soup, delicately flavored with garam masala, ghee and mint. Serve it with rice, enjoy by itself, or use as a base to make Indian-style gravies!
Author:
www.funandfoodcafe.com
Ingredients
3 cups fresh spinach leaves, packed
½ cup yellow split moong dal (split peas), soaked for an hour
1 small onion (chopped)
1 tomato (chopped)
3 cloves of garlic. crushed or minced
2 tbsp butter (or 1 tbsp ghee)
1 tsp cumin seeds
salt - add to taste
ground black pepper, add to taste
¼ tsp garam masala (optional, for flavor)
2 cups water
2 tbsp heavy cream (optional)
Directions
Soak the Moong Dal in water for at least 30 minutes.
Meanwhile, take the butter or ghee in a wok, and add the cumin seeds.
When they start spluttering, add the chopped onions and tomatoes. As oil oozes out from the sides, add the minced garlic and fry for a couple minutes.
Now add the soaked moong dal, along with its water, and let it cook along with the veggies in the wok. Add the salt, black pepper and garam masala (if you like a little kick in your soup).
After about 10 minutes, add the spinach leaves, and add more water as required, then cover with a lid and let it simmer on medium heat, until everything is cooked, about 15-20 minutes. Stir it occasionally and add water only if required.
Bring the mixture to a rolling boil, and then remove it from the stove. Now blend it in a mixer, along with the mint leaves, to form a smooth soup-like consistency.
Add some heavy cream if you like, to make it smooth, and also less spicy, if making this for kids.
To serve, pour it in a bowl, garnish with some more butter or cream fraiche, and serve hot.
Related Recipes:
Moong Dal Basket Kachori
Red Pepper Soup with Corn Salsa
Green Smoothie Recipe
Red lentil & Mixed Vegetable Soup