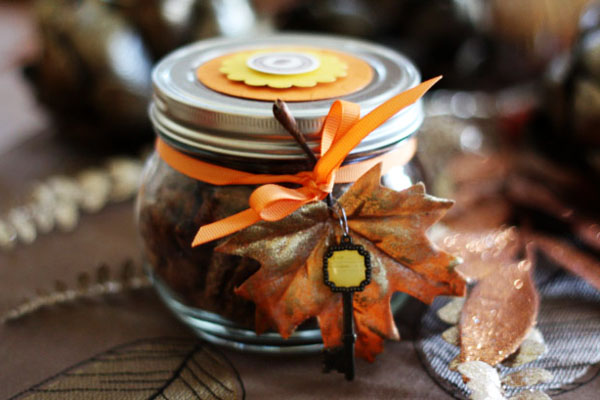 Spiced Nuts are often the best tidbits to serve at any Holiday gathering. Their versatility makes them a crowd favorite, and you can make them spicy, savory, sweet, or a dash of all together. Get inspired by holiday flavors and add cinnamon, nutmeg, vanilla, maple- any flavor that you fancy and give a new twist to your spiced nut recipe. They also make a wonderful gourmet gift or party favor. Just look at that jar of spiced nuts above, adorned by Fall-inspired embellishments. It looks so cute and inviting, anyone would love to receive that as a holiday gift! I already had a recipe, but I was looking for a unique way to pack them so I could gift them to my friends at work. That's when I came across these beautiful glass jars designed by Patty Allan, and shared via celebrations.com. Patty's family and friends love this heart-warming gift idea, and I am sure you would too. Check out the Spiced Nuts recipe that I have included so you can create memorable gifts for your loved ones too, something that will warm their hearts and soul!
Holiday Gift Jars
What You Need
small glass jars (mason jars)
decorative ribbon
silk leaves
embellishments
craft paper, stickers, paper punches
Directions
Step 1: Decorate the jar's lid with circular shapes of color cut or punched from craft paper. Add a Thanksgiving stamp, stickers, or your own personalized message on the top.
Step 2: Tie a silk maple leaf around the jar with ribbon. Small key embellishments that you can find in the Scrapbooking section of the craft store can be added as well, like the key dangling from the leaf. It gives it some added dimension and a vintage touch.
Step 3:Fill with spiced holiday nuts or anything else you want to gift!
Spiced Nuts Recipe
Prep Time: 10 mins
Cook Time: 6 mins
Servings: 2 cups

Ingredients
2 tablespoons butter
1/4 cup light brown sugar
2 tablespoons water
1/4 teaspoon nutmeg powder
1/4 teaspoon cayenne or chipotle pepper
1/4 teaspoon ground cinnamon
1/2 teaspoon salt
2 cups mixed nuts, such as walnuts, pecans, hazelnuts and almonds

Method
Mix all the spices in a bowl and set aside. Heat nuts in a dry skillet and cook, stirring frequently, until begin to toast, about 4 minutes. Transfer to a small bowl and set aside.

Add the butter, sugar, water and mixed spice powder to the hot skillet and cook, stirring, until a glaze forms, about 1 minute. Return the nuts to the skillet and toss to combine with the glaze. Cook for about 1 to 2 minutes, or until the nuts are glazed and golden brown.

Remove from the heat and transfer to a baking sheet lined with aluminum foil, separating with a fork. Let rest until cooled and the sugar has hardened, about 10 minutes. Store in an airtight container.
Good food and happy memories are what make any Holiday season special. Use this time to bring out the artist in you and make simple but personalized gifts that will melt the hearts of the recipients. After all, that's what Giving Thanks is all about, right! Happy Thanksgiving!