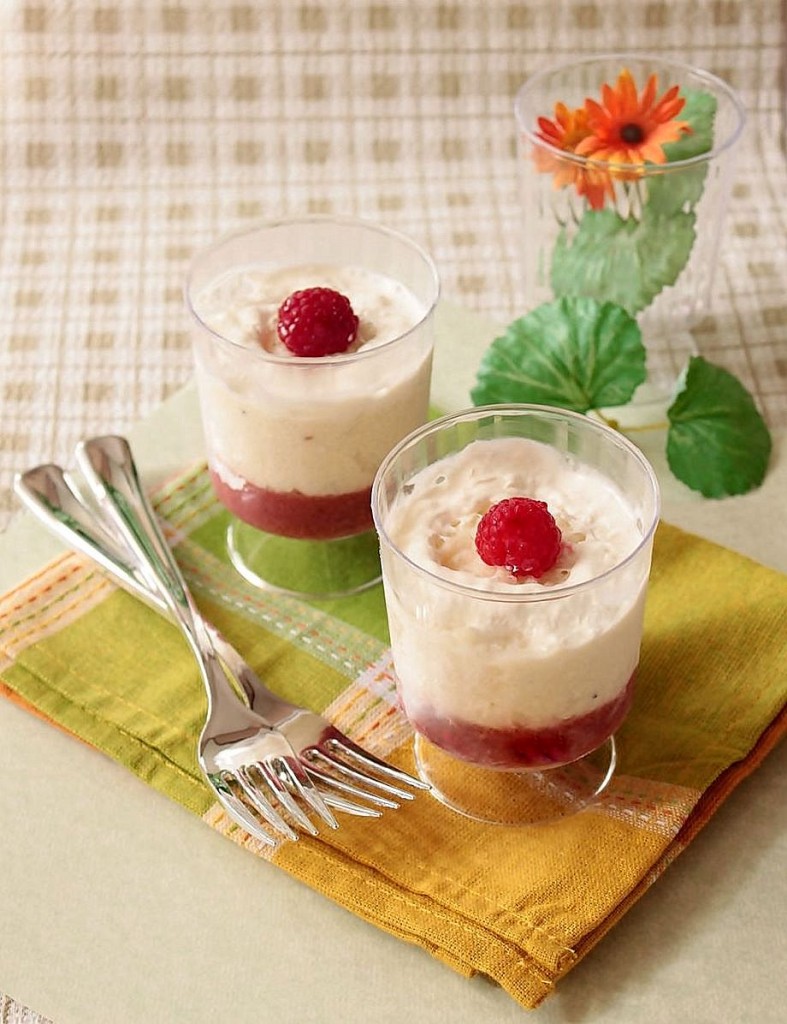 I have made Phirni before, and everyone in our family enjoys this rich and creamy Rice pudding, However, when I first came across Jagruti's version in her post about Father's Day, I was intrigued by the flavor combination and decided to give it a try. Firni is a kind of Rice Pudding, made with Powdered Rice. It is similar to what we call Kheer or Payasam in India, but made with powdered rice rather than whole, and is typically flavored with saffron or rose, cardamom and a plethora of nuts. It is not as runny as kheer, instead it is thick an creamy, almost to the point that if you chill it, you can scoop it out and relish like ice cream!
The colorful and immensely flavorful version of this dessert that you see in the picture above, has a layer of Mixed Berry sauce that adorns the base, followed by a layer of chilled Firni that is aromatically flavored with Rose water and rose essence. The sauce contains a mixture of red berries – strawberries, boysenberries and raspberries, all reduced to a thick pulpy sauce in a saucepan, just like you'd do for your Pancake topping. Topped with whipped cream and some more berries and pistachios to garnish, this elegant dessert will leave an impression, no matter what the occasion. I made this for Diwali as well as Christmas, and it did more than impress, for I had guests requesting the recipe as they licked their bowls!

Rose Firni with Mixed-Berry Sauce
Prep Time: 30 mins + 2 hours + Chill Time
Cook Time: 50 mins
Servings: 4

Ingredients

For The Sauce
10 strawberries
1 cup mixed red berries (raspberries/goji beries/boysenberries)
1 tsp vanilla essence
1-2 tbsp sugar

For The Firni
1 1/2 cup raw Basmati rice
1 gallon whole milk
1/2 quart Half & Half or Evaporated milk
1/2 cup sliced almonds, divided in half
7-8 green cardamoms, seeds removed
1.5-2 cups sugar
1/2 teaspoon Rose essence
2 tbsp Rose water
raspberries or chopped pistachios for garnish

Method

For The Sauce
Take a wide and deep skillet or wok. Add the roughly chopped berries and sugar and let it cook on low heat. Add the vanilla essence after about 5-7 minutes. Gently mash the berries with the back of a spoon and cook until they become mushy and thick, like a pancake topping sauce. Remove from flame and let it cook for about 5 minutes. Then puree this in a blender to make a smooth sauce. Do not add water, but use the liquid and juice from the berries itself. Pass the sauce through a sieve to get rid of the berry seeds. Store the sauce in an air-tight glass bottle until time to serve.

For The Firni
Wash the rich thoroughly & soak in water for about 2 hours. The grains will get longer & whiter. Drain the water & spread all the rice on a paper towel. Set aside till completely dry to touch. I usually soak them and leave them to dry overnight, and would recommend you do that too.

Take the dry rice and the cardamom seeds & dry grind till the rice becomes like a coarse powder, more like semolina (rawa) rather than a fine powder.

Take 1/2 cup of milk, rose essence and half of the slivered almonds (reserving the other half for garnish) and blend till it becomes fine and the almonds are mostly grounded with milk.

Take a thick bottomed pan. Combine all the milk (including almond milk) and half & half and boil at low heat till it reduces a little bit in amount. Add the sliced almonds. Now its time to add the dry rice powder, 1/4 cup at a time, stirring continuously to avoid sticking and forming lumps. It should all blend in smooth with no lumps at all.

Continue the same process till all the rice powder is added to the milk. Boil the milk with everything in it while frequently stirring it, till it starts getting thick and the rice is all cooked. You can taste it to see that there is no uncooked grain of rice.

Add the sugar and boil some more, till it reaches the desired consistency. Switch off the heat, and add the Rose water. Let it cool to room temperature, then put it in the fridge till time to assemble.

Assembling The Dessert
Take medium-sized dessert glasses, add 2-3 heaping tablespoons of the mixed-berry sauce at the bottom, and let it refrigerate/chill/set while you prepare the Firni.

Once the Firni has been cooled enough in the refrigerator, at least 10-15 minutes, and the sauce is set in the glass, load up the glass with the Firni mixture on top of the set sauce; fill it up, then place a raspberry or some chopped pistachios on the top as garnish, and let it freeze or set for at least a couple hours.
This is a wonderful dessert to prepare a day ahead so you don't have to rush in on the big day. Plus, the combination of rice pudding with a sweet berry sauce makes it ideal for Indian or non-Indian guests alike. If you don't have time to set these in glasses, just serve the pudding once its chilled, then drizzle some sauce on the top for added flavor. You could also use saffron to flavor the pudding instead of Rose, but I think the latter goes well with Berries. If you choose Saffron, I would suggest choosing Mangoes as a base for your fruit sauce – I think it would be delicious!
Related Recipes
Leftover Cranberry Sauce Muffins
Creamy Blueberry Ice Cream
Coconut Panna Cotta with Berry Topping
Bread Pudding with Rum Raisin Custard Sauce