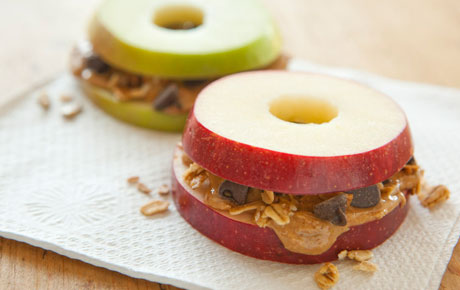 When it comes to lunch-box options, there are some items in the pantry that always come to your rescue, like fruits, any kind of nut butter, granola, what thins, bread, pasta, etc. I am sure Fruits will always be a part of your child's lunch or snack, but eating the same thing can get repetitive and lose its charm. So its a good idea to shake things up a bit, or come up with innovative ways to serve your food, especially when its about pleasing your kids, and getting them to eat their food without much cribbing!
Colorful and irregular shapes are a hit with the kids, and a spin on the shapes and presentation can have them gobble up their lunch or snack much faster than an average day. Just like these utterly cute, healthy, nutritious and delicious Apple Sandwiches. This recipe and photo are courtesy of Whole Foods (our content partner), and the minute I saw them, I went into my kitchen and replicated these, albeit, with a few changes. And my 3-year old was so happy to see her favorite Apples transformed into something so creative and out-pf-her-imagination, that she gobbled up two of these in no time!
This is also a great recipe to inspire kids to make their own lunches – its super easy, and super fun to do. Just cut the apples for them after removing the core and using cookie cutters of desired shapes, then let them do the rest! I have also included several variations for the recipe that will make this an instant hit for kids and adults. Try these and let me know which version is your favorite!
Kid-friendly Apple Sandwiches
These cute, colorful and extremely delicious Apple Sandwiches, layered with Peanut Butter, Granola and Chocolate Chips are perfect for kids, they are highly nutritious, and easy enough to inspire kids to make their own lunch!
Author:
www.funandfoodcafe.com
Recipe type:
snacks, kid-friendly, lunch-box
Ingredients
2 small apples, cored and cut crosswise into ½-inch thick rounds
1 teaspoon lemon juice (optional)
3 tablespoons peanut or almond butter
2 tablespoons semisweet dark chocolate chips
3 tablespoons granola
cinnamon sugar (optional, to sprinkle)
soft cheese like Brie (optional)
honey or caramel syrup (optional)
Directions
Remove the core from the apples, then slice them into thick rounds.
Now take a smaller cookie cutter that can fit inside the sliced apples, and remove a circle of fruit from the center. You can use any shape that you like, stars, circles, squares are all fun cut-outs, so your peanut butter can peak out through the small opening in the sandwich.
Brush the apple slices lightly with some lemon juice to prevent them from turning brown.
Spread one side of half of the apple slices with peanut or almond butter then sprinkle with chocolate chips and granola. Top with remaining apple slices, pressing down gently to make the sandwiches.
Serve immediately, or keep refrigerated until ready to serve.
Notes
If you want to make it extra-special, sprinkle a dusting of brown sugar on top of the apples for a delicious dessert. If these are for adults, give them a spicy note by sprinkling some ground cinnamon sugar on the top and it will taste like
Apple Pie
. Make it healthier and more filling by placing a layer of soft cheese, like Brie, in the middle. Or transform these into delectable desserts by drizzling caramel sauce in a zig-zag pattern.
This is a wonderful and easy snack recipe, and I'm sure you'll get addicted to it once you try it. In fact, you can use the same concept with different fruits – Pears, Nectarines, Pineapples – these would all be great. just experiment with the fillings and create colorful healthy sandwiches every time! Do you like Apples? Chekc out more delicious
Apple Recipes
here at funandfoodcafe!
Related Recipes
Apple Butter
Apple Bread
Apple Crisp