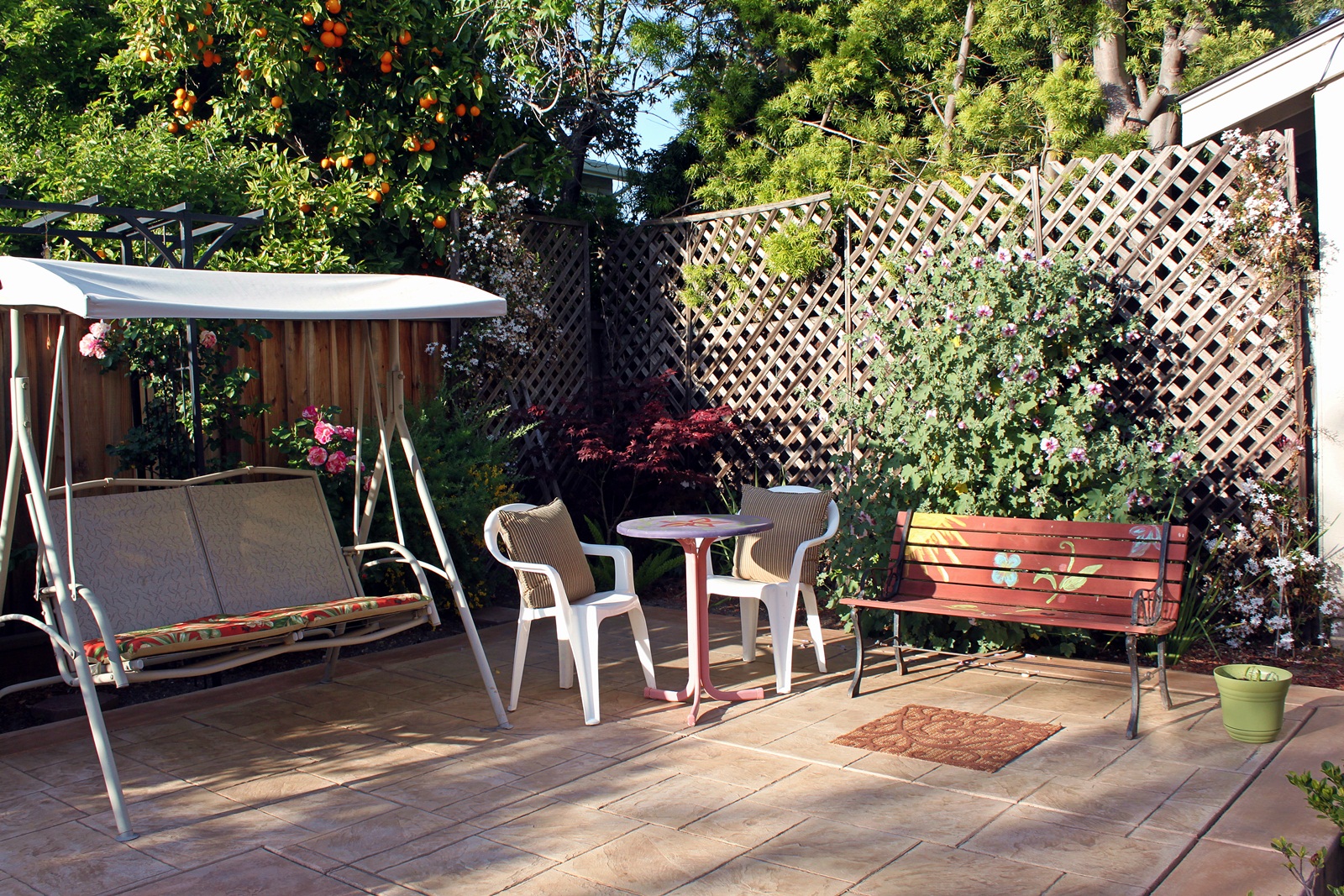 Last week I told you guys about the latest project that I am working on – sprucing up my backyard on a very low budget! It wasn't much about creating a new look outside, but sometimes, small changes can make things more meaningful. I wanted to work on the patio since some time now, especially as the weather is getting nice and warm outside. The garden looks beautiful, with flowers blooming all around, and thought it would be good to spend some more time outside. I did not want to spend big bucks on a new garden set, so I decided to just re-use some of the existing furniture, move it around, and create a space outside where we could sit, chat and spend our evenings, perhaps entertain a few guests from time to time.
I didn't have much in mind, but I knew it would be a good idea to paint the garden pots to give them a fresh new look. That's when my 4-year old said that Mommy, can we paint ladybugs and Butterflies on the pots please? Though it sounded kiddish, I knew it might actually work! Instead of going for a simple coat of paint, this would bring more character to the garden, and would also create lasting memories. So with a little help from my sister and pre-schooler, we painted 3 pots and arranged them around the backyard.
Next I tackled the patio bench that was lying in the garage since a long time. I wanted to paint the whole bench, but to maintain the nature theme that we had painted on the pots, I just washed it down and dribbled something on it. As you can see, it did turn out pretty well. Paired with an outdoor mat and a couple throw pillows, it created a welcome seat out there.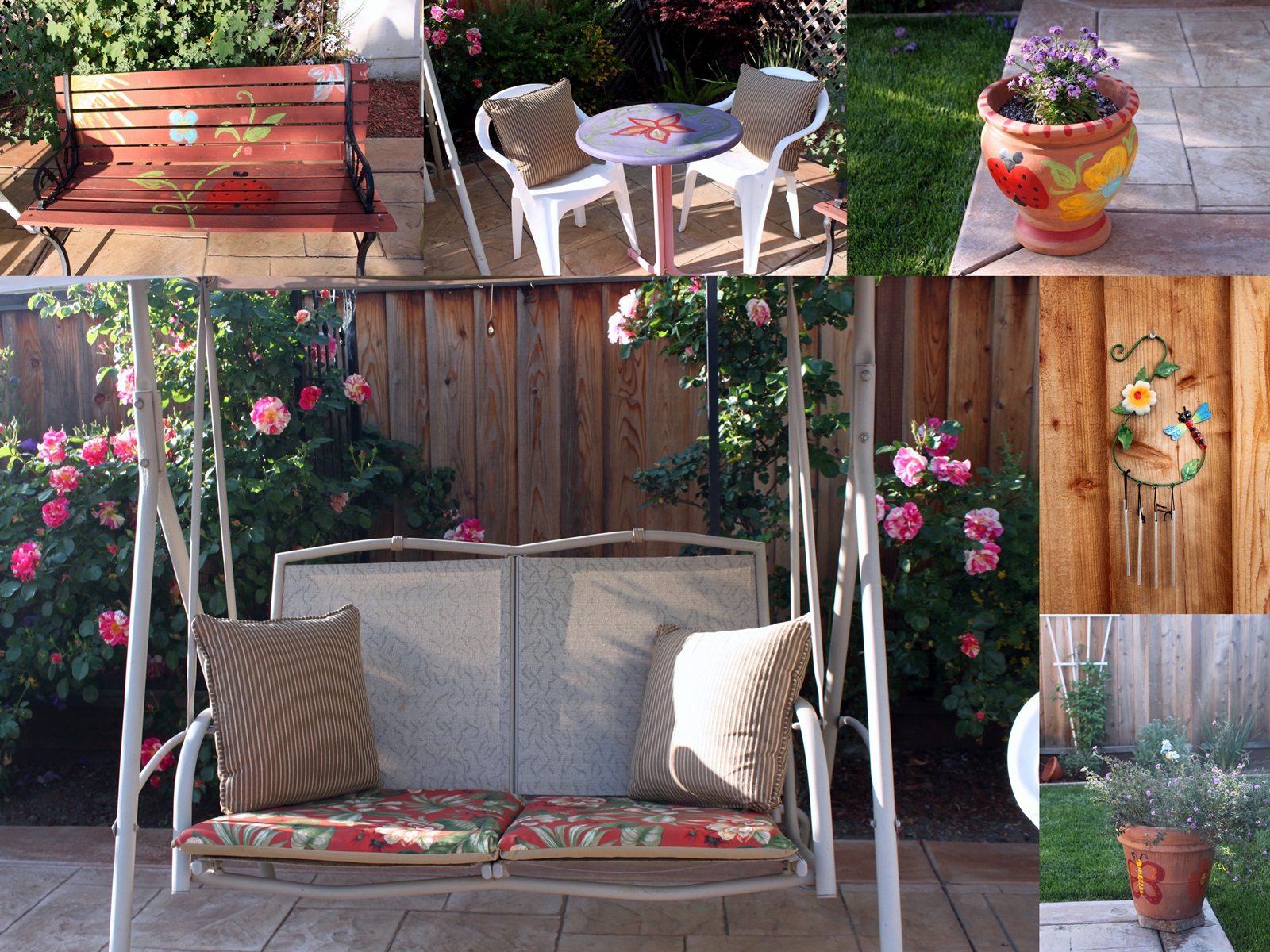 Finally, I tucked in a small round patio table, more like a corner table, and placed it with 2 outdoor chairs. Though simple plastic chairs, they didn't look so much out-of-place when I threw on a couple outdoor pillows on them too. I painted the table's surface and decorated it with a few knick-knacks. A new chair-pad on the swing gave it an upliftment, and tied all the pieces together. I also added some accessories like wind-chimes, outdoor lanterns and candles, a throw-rug and such, to make it more personal. I have also bought tonnes of fabric from a thrift store, and I'll be using it to create more pillows. This is still work in progress, so I will be sure to upload more pictures soon.
So, what do you think? I felt really good doing this project, if I could call it so. I know it wasn't a big initiative, but with some thought, and a weekend spent with family and friends, I was able to add more enthusiasm to my life. Every time we sit on the swing and enjoy a round of drinks or snacks, we reminisce what fun we had while re-inventing this ambiance. My daughter loves the ladybugs and butterflies painted on the pots, and it makes it all the more worthy to see that adorable smile on her face. Over the next few weeks, I'll try adding more sophisticated touches to this outdoor space, but for now, I think I was able to Zest Up at least one part of my life, and I thank Kraft for inspiring me to accomplish this!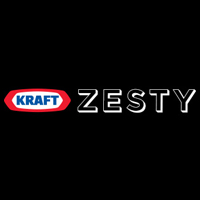 Kraft Italian Dressing only has one goal in mind… tantalizing your tastebuds. And we're always looking for new ways to help you amp up your zest appeal. Like what you see? Let our Zesty Guy show you even more ways to spread a little zest at getmezesty.com.
"Disclosure: Compensation for this project was provided by Kraft via Glam Media. The opinions expressed herein are those of the author and are not indicative of the opinions or positions of Kraft"