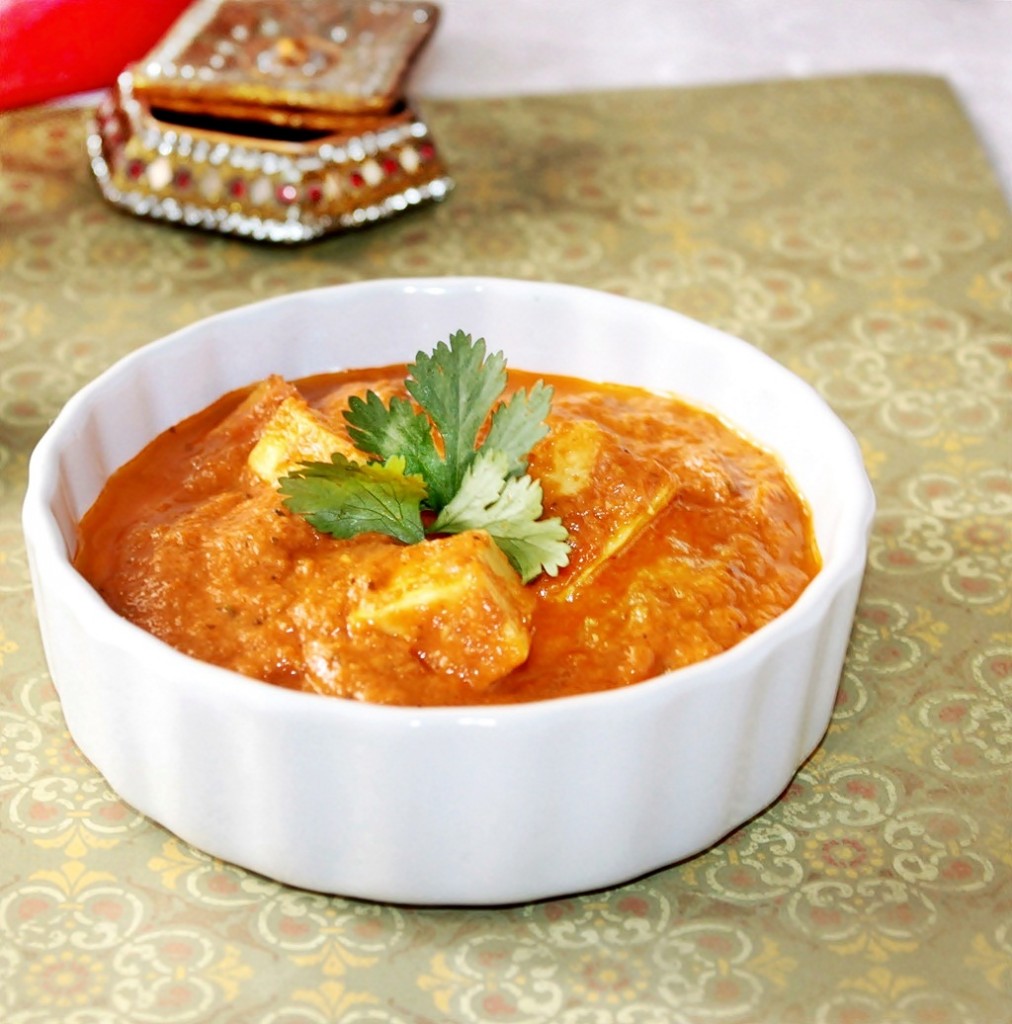 Paneer Tikka Masala – Marinated paneer and veggies grilled and cooked in a spicy Indian gravy
When it comes to Indian cuisine, Paneer needs no introduction. If there's a celebration that involves Indian food, then you are sure to find Paneer on the menu list. And why not – with its smooth and creamy texture, a chunky cubical form, and its ability to absorb and accentuate the flavors of anything that it is paired with, this version of Cottage cheese is a true delight to work with. And today's recipe isn't a surprise either. In fact, for decades this has been an Indian favorite, especially because it combines the goodness of two different recipes in one delectable version.
Paneer Tikka Masala, as a the name suggests, is a curried version of Paneer Tikka, which in turn are simply chunks of paneer marinated in a yogurt-based gravy, paired with bell peppers, tomatoes and onions, then grilled to perfection on skewers, and transferred to a plate in the form of perfect appetizers. But when you mix these with a smooth and creamy gravy, just like Paneer Butter Masala, but a bit spicier, then you get Paneer Tikka Masala, a marriage made in heaven!
Tikka Masala is often the first choice that anyone makes when you go to an Indian restaurant. Replace paneer with chicken and you get an all-time favorite recipe; if using Chicken, prepare to marinade the meat overnight, and use the same marinade recipe. They key is to get the marinade right, and allow enough time for the flavors to steep in. Luckily, Paneer does not need as much time as meat; an hour is enough for it to absorb all the flavors. Also, make sure you use good quality of spices, especially Garam Masala and the Tandoori masala, as it is a key enhancer to the recipe. Kasuri Methi is another addition that lends a nice subtle flavor to the curry, Kasoori methi are dried fenugreek leaves which taste similar to a combination of celery and fennel with a slightly bitter bite. Sprinkled over meats and curries, they help enhance the flavor of other spices in a recipe. The use of Maida (all-purpose flour) is strictly optional; I have found that it helps thicken the curry a bit, but I have made recipes with and without it, and frankly, there's not much difference.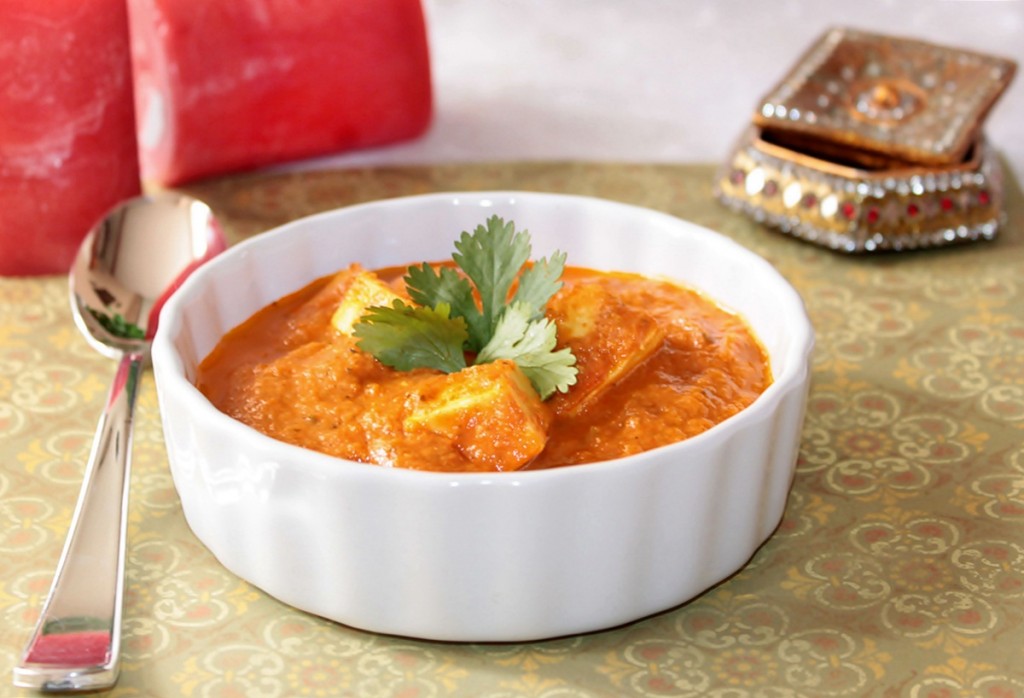 Paneer Tikka Masala
Prep Time: 60 mins
Cook Time: 25 mins
Serves: 4

Ingredients

For the Marinade:
12-15 cubes of Paneer
1 green or red bell pepper – cubed
1 tomato – cubed
3 tbsp Thick/Hung Curd
1 tsp Tandoori BBQ masala ( I use Shaan brand)
1/4 teaspoon ground cardamom
1 tsp Turmeric powder – 1 tsp
1 tsp Garam masala powder powder – 1 tsp
1/2 tsp Dried kasturi methi leaves – 1/2 tsp
1 tsp Lemon juice – 1 tsp
Salt – to taste
1 tsp Oil

For the Tikka Masala Gravy:
1 cup Tomato puree
1/2 onion – finely chopped
1/2 tsp Jeera
1 tsp Ginger garlic paste
1 tsp AP flour or Maida
1 tsp Chilli powder
1 tsp Turmeric powder
1 tsp Coriander powder
1 tbsp Oil

Method

For the Marinade:
Take your thick yogurt and transfer it to a muslin cloth, keep aside for 10-15 minutes, so all the water is removed from it. Mix the curd with masala powders, kasoori methi, lemon juice and salt. Then add paneer, tomato, and capsicum to the yogurt mix and marinate for an hour. While it marinates, prepare the gravy on the side.

For the Gravy
Heat oil in a wok, add jeera and allow it to splutter. Then add the onions and saute until slightly golden brown. Add ginger garlic paste and saute for one more minute. Add maida, salt, turmeric and coriander powders and mix well.

Now add the tomato puree, chilli powder and saute until oil oozes out on the side and the gravy thickens. Add about 1/2 cup water and allow it to boil for 2 mins. Adjust salt if required.

As the gravy thickens, Roast the marinated paneer along with the veggies in a shallow frying pan with 1 tbsp oil, until slightly golden brown. Set aside on a dish. Then add the paneer and veggies to the gravy and allow it to cook for 5 mins, as the flavors steep in. Bring it to a gentle simmer, then remove from heat.

Garnish with finely chopped coriander leaves, a drizzle of cream, and serve immediately with rice or Naan.
Related Recipes
Paneer Butter Masala
Tandoori Paneer Pizza
Kaju Paneer Masala
Paneer Asparagus Lollipops (Appetizers)