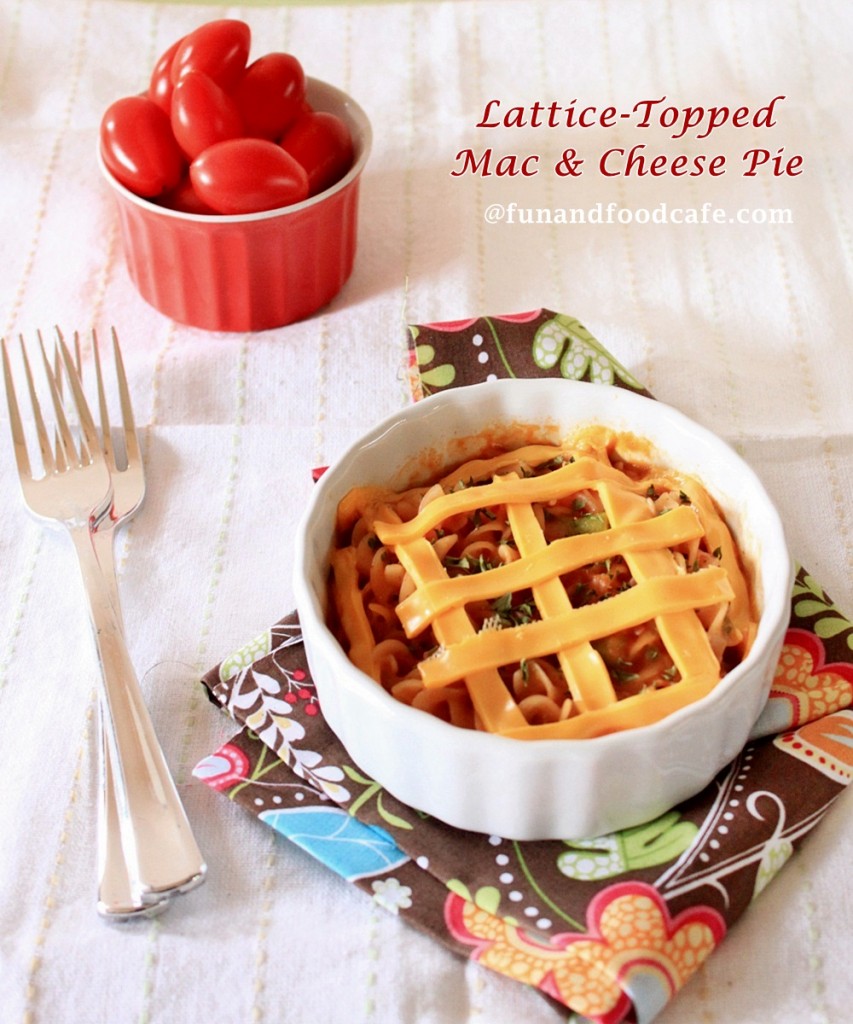 Baked macaroni and cheese with tomatoes & parsley topped with cheese slices to make a lattice pie
Mac and Cheese is undoubtedly one of the favorite family-friendly recipes out there. It brings out the kid within you, and is so versatile that you can adapt it to suit any age, any occasion. My 3-year old, like any other toddler, is warming up to Pasta these days, but kids love food that's colorful, inviting them to dig their spoons in, and food that fills their hearts and tummies equally! So when Kraft came up with a challenge to create kid-friendly recipes using Kraft Singles, I instantly had an idea that needed to be executed. Even when I thought about it in my mind, I knew it would be an instant hit, and let me tell you, I was not wrong!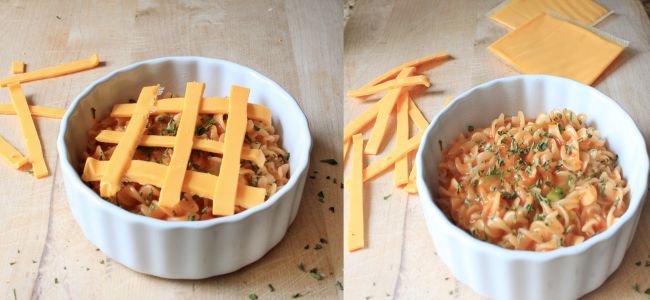 I am a dessert person, so I draw inspiration from a lot of delectable desserts, especially about color, presentation and look. When I looked at the square slice of cheese, I thought about pies, and how it would be a great idea to create a lattice-pie with cheese. Pasta pairs well with any kind of cheese, and of course would taste great with the pretty yellow Kraft cheese that's full of flavor and calcium. As part of the Foodbuzz Tastemaker Program, I received a coupon for free Kraft Singles and a stipend to cover the cost of preparation. SO after buying a package, which is any ways a staple in our household, I set out to execute my Lattice-Topped Mac n' Cheese. Instead of elbow macaroni, I opted for curvy pasta, but you could pull this off with any other small-sized pasta that you like. To add some flavor and nutrition, I threw in freshly chopped parsley, some broccoli and finely chopped cherry tomatoes. And to highlight the lattice effect, I chose to bake these in individual ramekins rather than a large dish.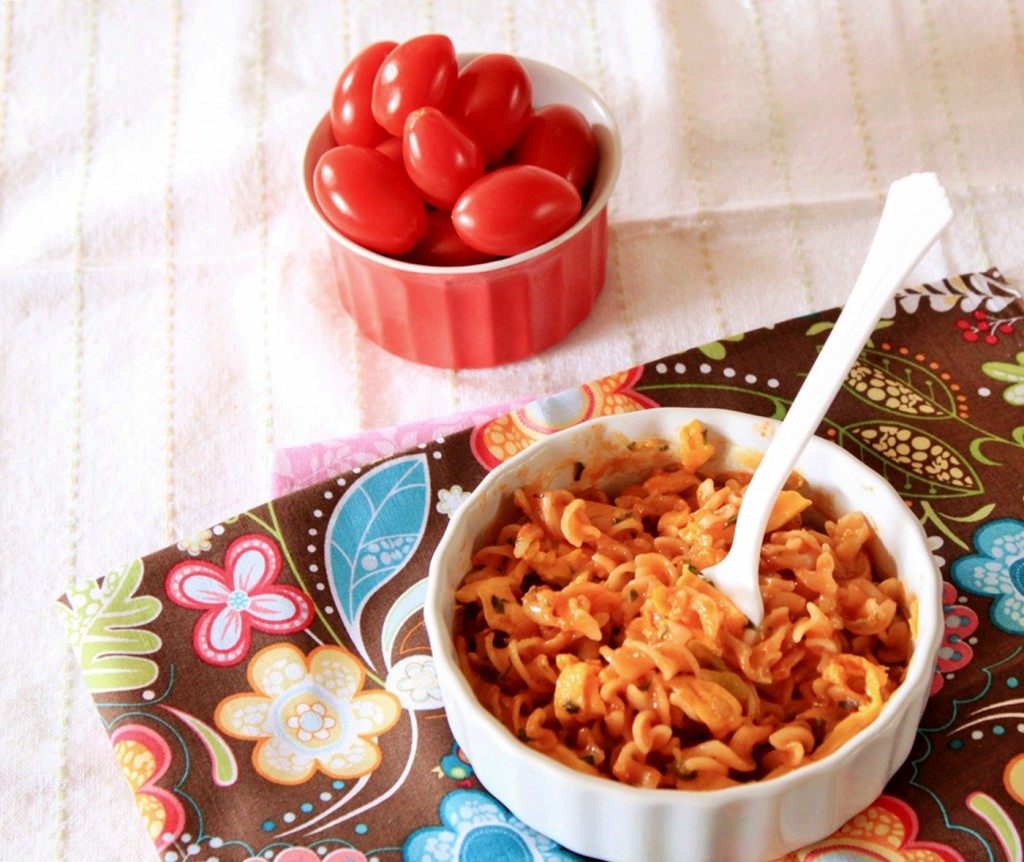 Lattice-Topped Mac n Cheese
Baked macaroni and cheese with tomatoes & parsley topped with cheese slices to make a lattice pie, fun and kid-friendly healthy meal.
Ingredients
8 ounces elbow macaroni (or any small pasta you like)
2 tablespoons butter
¼ cup all-purpose flour
2 cups milk
1 package of Kraft Singles (slices)
12-15 hard cherry tomatoes, sliced into halves
Directions
In a large pot with boiling salted water, cook elbow macaroni until al dente. Drain and set aside.
Take 5-6 slices of Kraft singles and chop them into thin (1/2 inch) strips using a kitchen shear. This will be used for the lattice top at the end.
In a medium saucepan, over medium heat melt butter or margarine. Whisk flour and stir vigorously.
Add milk and cook until thick and bubbly, about 5 to 7 minutes. Add 3 slices of Kraft Singles and stir until completely melted.
Transfer the pasta into am oven-safe dish. Add some salt and give a stir. Add the chopped broccoli and the chopped parsley. Top it with the cheese sauce and toss to coat well. Finally drop in the cherry tomato halves.
Bake in a preheated 350 degree F (175 degrees C) oven for about 20 minutes.
Remove from the oven, then arrange the Kraft cheese strips on top of the pasta in a lattice pattern. Put it back into the oven for another 10 minutes until the lattice bubbles or melts over.
Remove from the oven and allow to cool for 10 minutes. Serve the lattice-topped mac and cheese along with a side salad for a kid-friendly, family-friendly meal!
I absolutely loved how this turned out, and so did my little girl. But the pleasant surprise was that even the eldest kid of the family, aka "my husband" ate the whole thing out of his ramekin in one go! I loved the pure and creamy texture of the cheese, and the lattice-top was indeed a successful experiment. It looked appealing, and had the delicious flavor that I already expected from the recipe. And if lattice is not your forte, just take a fork and whisk it all together – it still tastes as lovely as it should! I urge you to give this recipe a try – I promise it will not disappoint.