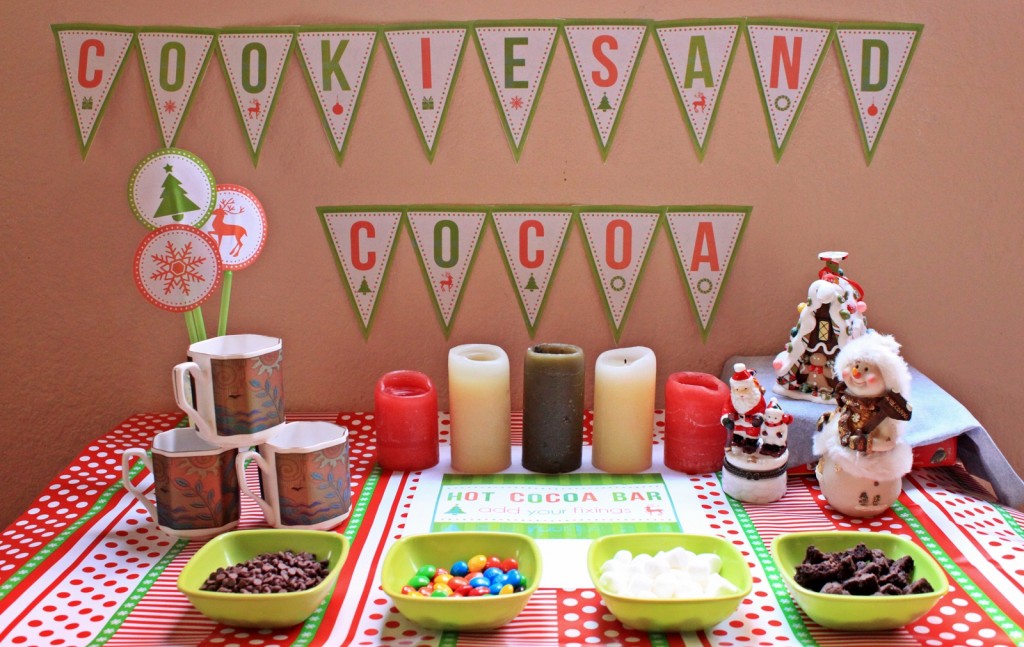 I love the Holiday season, because it gives us a reason to mingle with friends and family, and even make new friends, something that we tend to neglect in our super-busy lives! But with a full-time job, and 2 kids to dote upon at home, I can rarely find time for myself. In fact, I seriously cannot remember when I had a long conversation with my husband – these days, our chats are barely 2 minutes long, before the pre-schooler comes and interrupts us, or I hear the little one's cry and it's time for his feed or nap!
But Holidays have a magical quality of making everything more tolerable. Just the thought of decorating your house, buying new things, planning parties and gatherings, cooking and baking new treats, and the prospect of getting together with people puts me in a happy mood. Of course, for some this can be really stressful, but with some pre-planning and delegation, you can make the most of these festivities, without being stressed. Below I share with you some simple Holiday entertaining ideas, and I hope you like them.
Cookies & Cocoa Night
Wouldn't it be perfect to have your dearest friends over at your house on Christmas eve, and we all could sit near the tree, sipping hot chocolate and enjoying lovely homemade cookies for dessert as we chat and reminisce about our lives by the fireplace?! Just whip up a batch of some basic Hot Chocolate, and keep a tray filled with mix-ins, so people can customize their own cocoa. Just line up a tray with some mini marshmallows, chocolate shavings, mini M&M's, crushed caramel candies, or crushed peppermint candies. You can also keep some bottles of liquid syrup to add flavor to the hot chocolate. Kahlúa has a range of options, including the seasonal Pumpkin Spice or Peppermint Mocha flavor. Bake a batch of 3 of your favorite holiday cookies, like the Cranberry Pistachio Biscotti, the Chocolate-Chip Gingerbread Cookies, and the Snowflake Sugar Cookies. Put on some holiday music and let the people sing along and mingle, sipping on their mugs of piping hot cocoa.

Snacks & Treats Potluck Party
And if you are one of those who feel that any Holiday party is incomplete without a fair amount of food, then go for a Potluck. Instead of a traditional fare, try to co-ordinate just snacks or side dishes along with desserts. This way it's easy on everyone to bring something, and as a host, you don't need to make arrangements for a full-fledged sit-down dinner. Just set a buffet with all the food and drinks, and let people entertain themselves on their own.

Holiday Cocktail Party
Another really popular and not-so-stressful option is to host a cocktail party. You basically only have to serve cocktails and some hors d'oeuvres at the gathering. Just arrange some seating to facilitate open conversations so it's easy to go up and down the bar while talking to people. Line up 3-4 of your favorite cocktail recipes like the Cranberry & Apple Cocktail, the Blackberry Chocolate Harvest Cocktail or the traditional Pumpkin Pie Martini . For appetizers, try the classic and elegant Cheese Pumpkins,  or a platter of Sweet & Savory Cracker Bites or even Berry & Mascarpone Cream Tartlettes.  And for desserts I would highly recommend these Espresso Kahlua Brownies  or slices of Layered Chocolate Cake – always the perfect ending to a party! A cocktail party allows you to concentrate more on the mood, rather than the food.  It also works great for inviting distant friends, colleagues or acquaintances.

Chocolate Fondue Party
Last, but not the least, host a Fondue party. It is not only convenient, but is extremely popular with kids and adults alike! And it's highly versatile, so you could go for a Cheese Fondue, a Chocolate Fondue, or both. Just arrange for a table filled with platters of fruits, crackers, brownies, and marshmallows, and your guests will figure out the rest. These days you can customize your chocolate fondue to add flavors, we've tried Kahlúa Mocha and Hazelnut flavors in fondue and they pair well with most food items. Just end the party with a round of hot coffee or hot chocolate, and your guests will thank you for your warm hospitality!
Entertaining is all about having fun, and being a host should never be a stressful affair. I hope you enjoyed this post about easy yet elegant entertaining tips. I am leaving you with a delicious Hot Cocoa recipe to start feeling the warmth of the Holiday season!
Creamy Nutella Hot Chocolate
Deliciously creamy Hot Cocoa, perfect for a Christmas night or a holiday celebration. Add a dollop of Nutella and perhaps Kahlua liqueur for an extra shot of heavenly goodness!
Author:
www.funandfoodcafe.com
Ingredients
2 cups full-fat milk
2 tbsp unsweetened cocoa powder
2 tbsp granulated sugar
2 tbsp miniature chocolate chips
2 tbsp mini marshmallows
4 tbsp Nutella
2 tsp Kahlúa Mocha liqueur (optional)
Directions
Warm the milk until it boils. Dissolve cocoa powder in the boiling milk.
Add all the other ingredients and give it a good stir. Serve in glasses, topped with whipped cream and marshmallows.