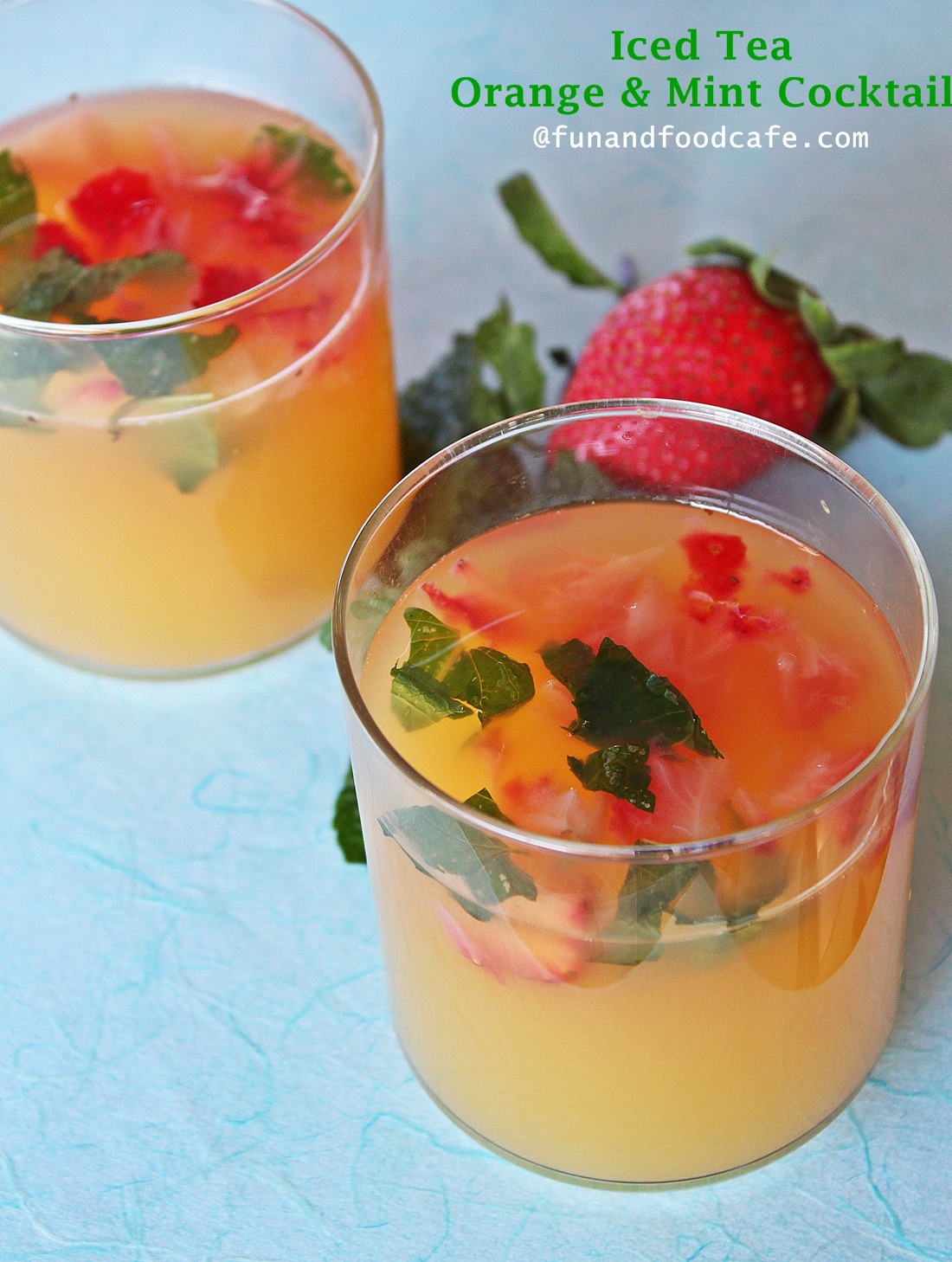 We've been blessed with some warm sunshine in the past few days, and it has actually been good enough to take a book out on the swing in the backyard and enjoy reading in the sun. And to make the most of this moment, I whipped up a batch of Orange & Iced Tea Mojito, with a hint of strawberries in it. I got the inspiration when I was sent some samples of Lipton Iced Tea for review. They have introduced two new flavors – Honey Ginseng and Half-and-Half. The former one got me intrigued, as I had never tried a drink with Ginseng before. Also, the half-iced tea-half-lemonade combination was perfect for a mixed drink, so there was no reason to doubt the combination. All I had to do was figure out which other fruity flavor to mix with the Iced tea!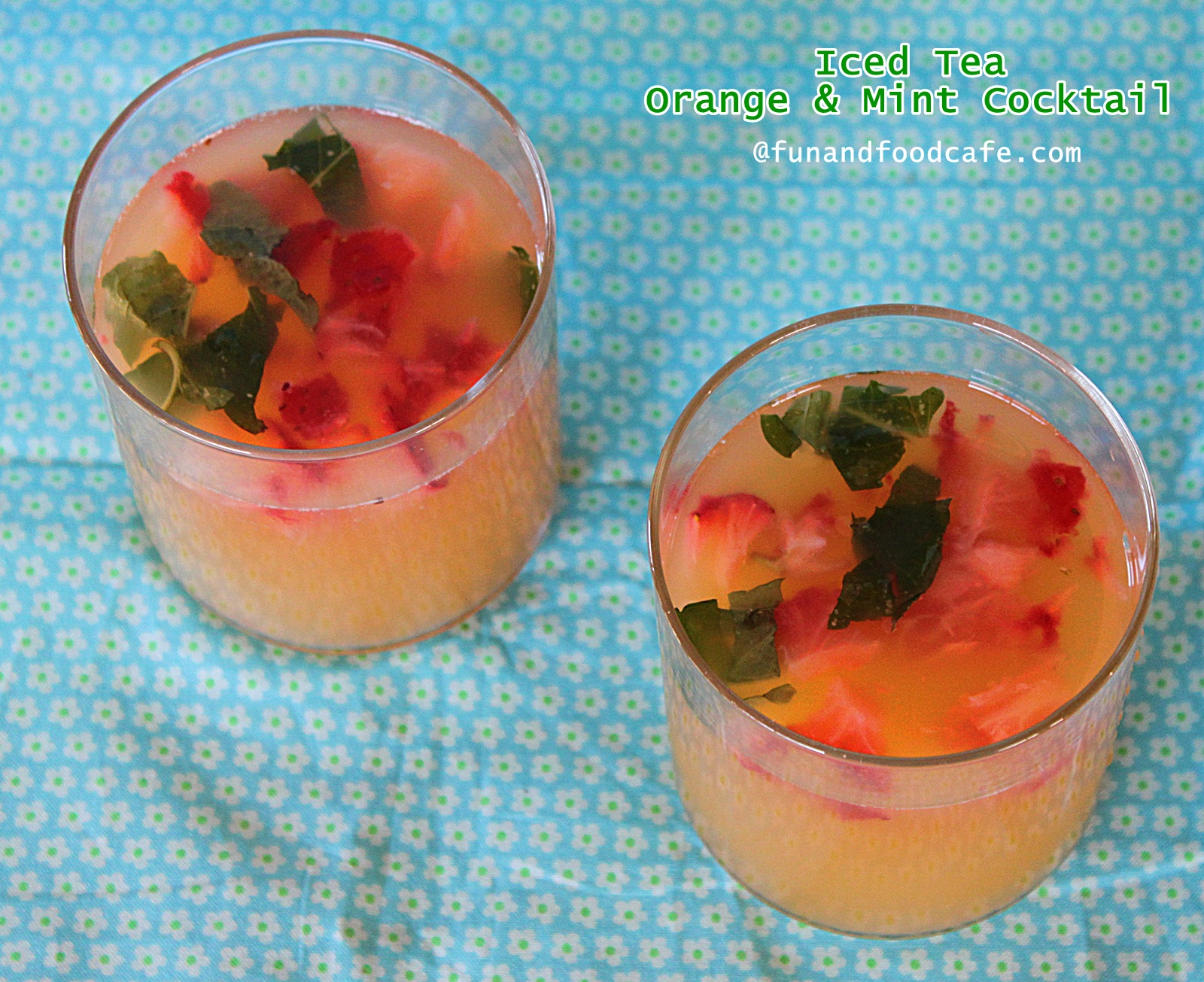 I had some Orange juice in my refrigerator, so that was an easy choice. I paired it with some fresh mint from my garden to make an Iced-tea version of Mojito, and just to add some more flair, I muddled up some strawberries and threw them into the serving glasses! I was worried that the ginseng might overpower the drink, but the Ice tea has a very subtle flavor, and the honey adds to its natural sweetness, making it a perfect base for any kind of cocktails. In fact, you can go ahead and add a splash of vodka, gin or rum, and whip up a perfect cocktail which will be as good as Long Island Iced Tea, or even better, thanks to the fresh and fruity flavors that Orange and Strawberries impart to the drink!

Iced Tea & Orange Mojito
Use your favorite Iced tea as a base for this fresh and fruity Mojito recipe, featuring orange juice and strawberries, along with fresh mint. A great cocktail to serve on warm days.
Author:
www.funandfoodcafe.com
Ingredients
½ cup Iced Tea (I used Lipton's Honey-Ginseng flavor)
1½ cups orange juice
4-5 medium-sized strawberries
7-8 fresh mint leaves
ice cubes, for serving
Directions
Clean your strawberries and muddle them with a tablespoon of orange juice and a couple mint leaves, or mash them to make them pulpy.
Divide the muddled berries and spoon them into 2 serving glasses. Add half of the iced tea and half of the orange juice in one glass, and pour the remaining into the other.
Add the ice cubes and garnish with remaining mint leaves.
Serve immediately.
Flavored Iced teas have been a rage in the US since quite some time, but by reducing the sugar content, and sprucing it up with healthier alternatives like Honey, Ginseng and Green tea extracts, Lipton makes it easier to conjure up new drink recipes that use Ice tea as a base. Just pair it up with your favorite juice, and you'll have a refreshing summer drink to enjoy.
What are some of your favorite Ice Tea flavors? and how do you enjoy your Ice Tea? Never know where I'll find the inspiration for another great recipe!
Everyone loves a girl's night in and 2013 is my year to mix it up! Whether I am sharing unique, new recipes with friends, finding new ways to entertain or fun ways to stay active, I can't wait to have more girl's nights in this year.
Lipton Iced Tea and Dance Central 3 have teamed together to host the 'Game On' sweepstakes so you too can take your next girl's night in to the next level. Enter to win one of four ultimate entertainment room makeovers which include a new Samsung TV, sound system, Xbox 360 Kinect bundle and console, Dance Central 3 and more! Find out how here.
This is a sponsored conversation written by me on behalf of Lipton Iced Tea. The opinions and text are all mine.