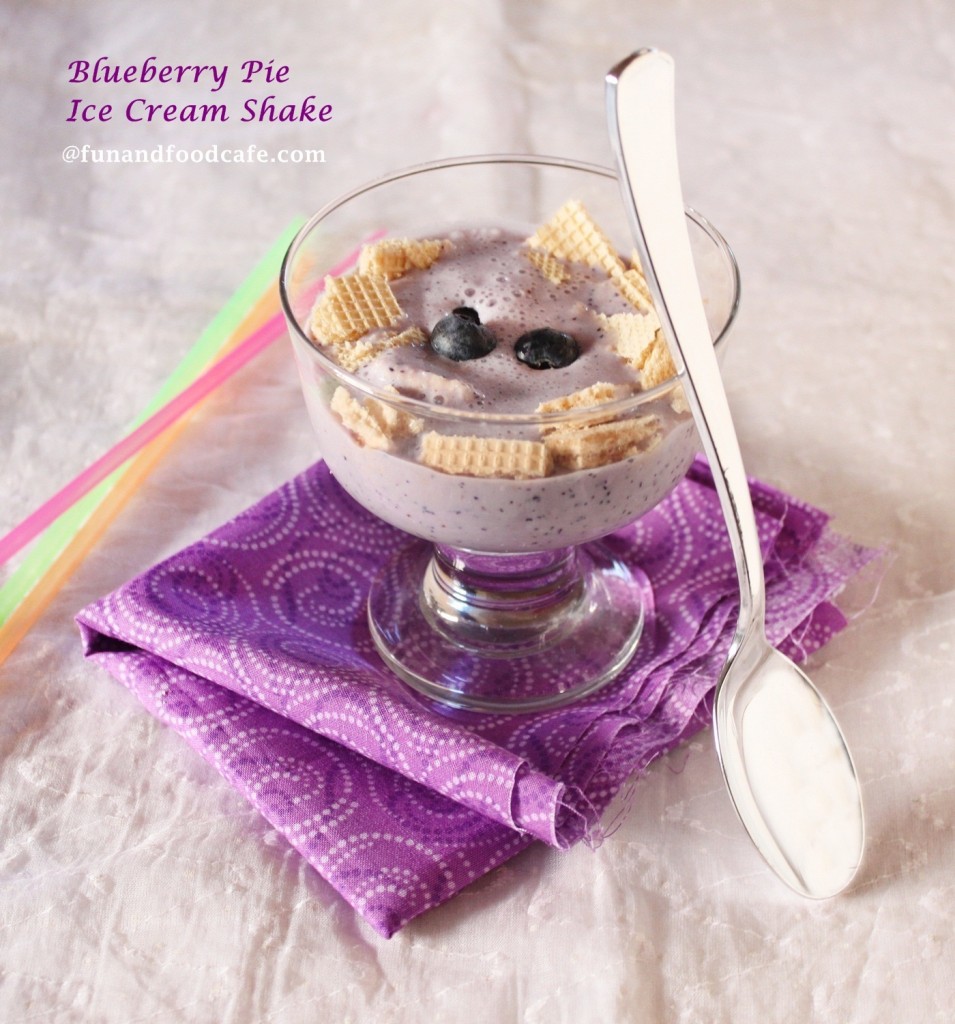 Summer has been on in full swing these past few days as temperatures hit the 80′s, perfect time to enjoy backyard barbecues, water activities or just enjoy a weekend afternoon reading a favorite book on your hammock! One of the best parts about Summer is you get to cook and enjoy nice cool things, ice-cream, fruit punches, milkshakes and popsicles can be gobbled up without guilt, thanks to the scorching heat outside. And if you are looking for a deliciously unique take on a traditional milkshake recipe, then this post is for you.
Last week, I bought some fresh berries to make smoothies for my 3-year old, and after a couple days, she wanted something new, and frankly, even I yearned for a change of taste. So with a basket of blueberries that awaited their fate in the refrigerator, I tried to think of a new way to enjoy these berries. I poked around the fridge and found a few interesting ingredients which stirred up an idea in my mind, and the first form of a Blueberry Pie Milkshake started taking its shape! A thick and creamy ice cream shake that tastes just like eating a blueberry pie, this recipe is very versatile and will not fail to impress.
Ritika was excited when I started gathering the ingredients for our milkshake – blueberries, vanilla ice cream, milk, vanilla cream wafers and cream cheese! She balked a little at the last one, but I guess she trusted my culinary instincts to a degree, and started doing her part of breaking up the wafer biscuits. Inspired by blueberry cheesecake ice cream, I was sure this combination would work, my only tiny doubt was the consistency of the milkshake because of adding cream cheese. But that was cleared too as everything started blending together, creating the most amazingly delicious milkshake that's ever been made in our kitchen!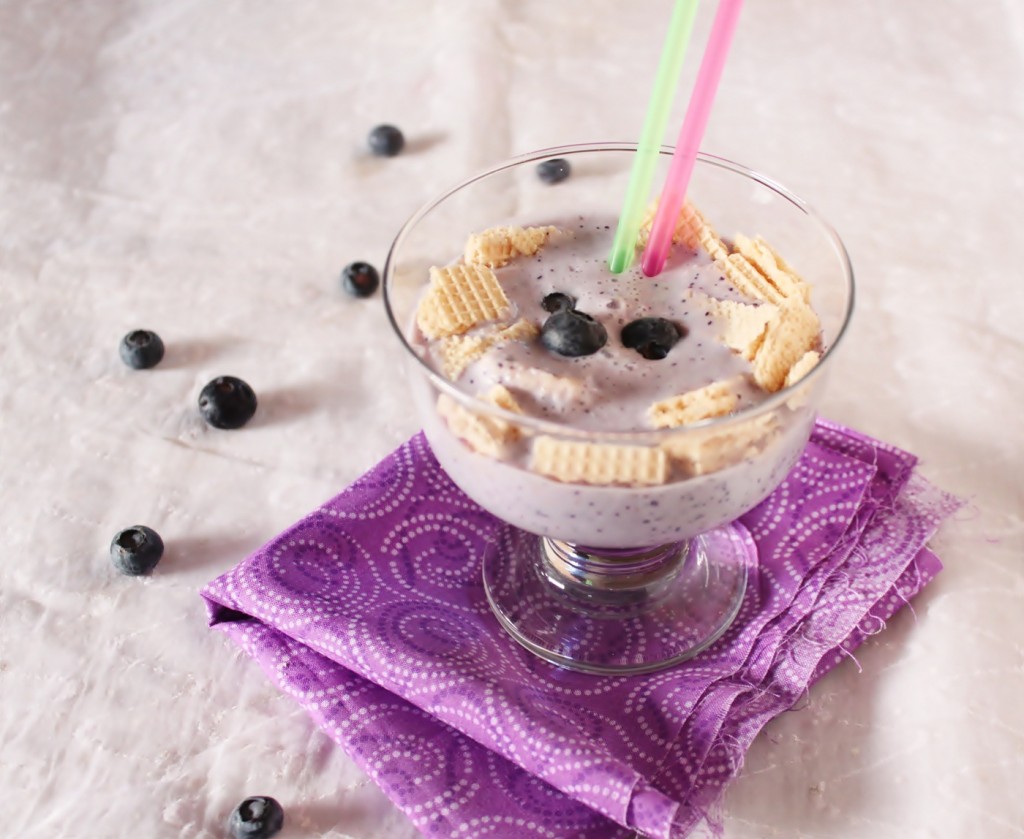 Blueberry Pie Ice Cream Shake
Prep Time: 5 mins
Cook Time: 7 mins
Serves: 2

Ingredients
3 tablespoons cream cheese, softened
3/4 cup milk
1 cup fresh or frozen blueberries (thawed)
1 cup vanilla ice cream (or blueberry swirl ice cream)
4 pieces vanilla cream wafers

Method
If you are using frozen berries, just thaw them a little and remove excess water so the milkshake does not get too watery. Combine cream cheese, milk, blueberries and vanilla ice cream in a blender, and mix well until smooth. Add frozen ice cream and give a final whirl to blend it all in. This will make it thick and creamy.

Take 2 dessert glasses. Fill them with the ice-cream shake. Break the vanilla cream wafers into small pieces and layer them on the sides of the glass. Top the shake with some more fresh blueberries and serve immediately.
This is a very simple but deliciously unique ice cream shake recipe. Its almost like drinking Blueberry Pie, and the color is so vibrant and lovely, it is a perfect treat on a hot summer day! You can experiment with other flavors that you like, in fact, it wouldn't be a bad idea to go with frozen mixed-berries too – you'll end up with a wonderfully flavorful milkshake that is even prettier to look at, with its dark violet color! I am sure your kids will absolutely love this recipe, just like my daughter did, and it will keep them full for a few hours at least.
Related Recipes
Homemade Cheesecake Recipe
Strawberry Cream Cheese Popsicles
Creamy Blueberry Ice Cream