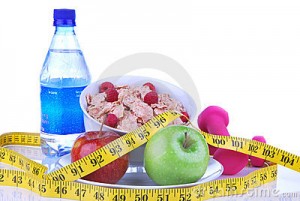 How To Lose Fat in a Healthy Way
A month ago I had a visit with my general physician, and through I was in good shape, as we chatted casually, she commented how I was still 12 pounds overweight than my pre-pregnancy weight! I know most Moms cut themselves some slack after pregnancy and its no harm as long as you are in a healthy weight range. But still, this conversation spurred me into trying to get back in shape and try to lose as many pounds as I can, close to 10 if possible. I know many of you Moms out there might be feeling the same thing, but the din and bustle of a busy harried life makes it extremely difficult to find time and motivation to meet your weight-loss goals. However, after a lot of research and consulting a friend who is also a dietitian and weight-loss consultant, I was able to come up with a plan that could kick-start my weight loss – my goal was to lose 5 pounds in 5 weeks, in a healthy way so that I don't lose any energy, I don't starve myself to death feeding on only oranges and water, nor do I find myself lifting weights and running on the treadmill 24/7 in the gym.
Before I share these tips with you, let me tell you that you will definitely have to show some dedication and determination if you follow this plan. You can never gain anything without giving up something in return, but this is not as tough as it sounds, and if I can do it, I am sure you all can do it too! The principle is simple, lower your calorie intake moderately, increase your exercise level a little, combine the right foods in your meal to make your metabolism work effectively, and space your meals correctly so your body burns more fat and converts it to muscle.
How To Lose 5 Pounds in 5 Weeks

Reduce 500 calories per day from your daily calorie intake. So if you are eating 2000 calories a day, drop down to 1500, but never below 1200. If you can't just eliminate 500 calories from your food itself, compensate with burning more calories in the gym. I eliminated 300 from my diet and burned 200 every day in the gym by doing cardio and strength training. 500 per day is 3500 per week, which is 1 pound lost in 1 week!

Eat 5 meals a day
Your meal should consist of 2 – 4 ounces of protein and 1/2-1 cup of complex carbs or fruit, such as salad, green vegetables, or a dense fruit like apple. You can eat a 1/2-1 cup serving of any kind of rice (white or brown), quick-cooking oatmeal or potato to make your metabolism burn fat better. A combination of right foods balances the meal and accelerates fat-burning metabolism. Also, eating a balanced meal every 2 -3 hours will keep your body burning fuel constantly and steadily increase your metabolism; if you eat large meals only 3 times a day, your metabolism slows down and there is more accumulation of fat. 3 proper meals and 2 150-calorie snacks like nuts, fruits, granola bars or low-calorie protein bars are a perfect breakdown of your meals.

Eliminate Processed Food and Fat from your diet
When you want to see rapid weight loss, you will definitely have to eliminate or drastically restrict enriched and processed foods from your diet. I would suggest limiting intake of Pasta, Bread, Sugar and Fatty foods as much as you can. An occasional treat is allowed, but for the most part, substitute these with healthier food choices like nuts, fruits, veggies, cheese, whole-grains, etc. The more processed a food is, the higher the concentration of calories, so try to stay as close to the raw form as possible, and you'll easily restrict your calorie intake.

Eat before you exercise
Your body needs fuel to exercise and it helps to eat a small meal before you exercise to keep your metabolism chugging along. The meal you eat should be about 200 calories and contain a carb like oatmeal or rice (instead of fruit or a vegetable) before you exercise so your body will have plenty to burn. This is important, as many people choose to exercise without having a meal; this can backfire and prevent higher metabolism rather than assist it.

Drink at least 100 ounces of water a day
This is absolutely necessary – drinking eight to twelve 8-ounce glasses of water helps you flush out all the fat you are trying to lose, as well as toxins from your body. Also, limit the salt in your diet too, as sodium leads to water retention, thereby preventing fat burn.

Get 30 minutes of high-intensity exercise every day
Did you think you could lose weight without adding exercise to your regimen? Sorry, but that never happens. Its a myth, and will always remain so. You can never lose weight by only cutting calories from your diet. Spend at least 30 minutes of moderate to intense activity every single day. Or you could choose to work out for 60 minutes 3 times a week, and leave the weekends for yourself. Exercise not only makes you happier, but also helps in increasing metabolism so you burn more fat, even when you are sleeping or sitting! I'll have to do another post on types of exercise routines, but for now, here's a good read on Exercises that Help You Burn Fat and How To Combine Cardio with Strength Training for effective Weight Loss. These will help you plan your regime.
There, you have a complete plan with tried-and-tested tips that will help you meet your weight loss goal in a easy, safe and healthy way. Remember, it is a simple math – 1 pound of fat = 3500 calories, which means you have to eliminate 500 calories per day from your intake by combining low-fat balanced meals with moderate exercise. The only thing you have to be diligent about is counting and tracking your calories, which is very easy these days as everything is printed clearly on food labels, even restaurant menus list calories in every dish, so its right there staring at you. Use it wisely, keep yourself committed, and weigh yourself every week to see the results. This will keep you motivated, and in no time you'll be back to your dream weight!