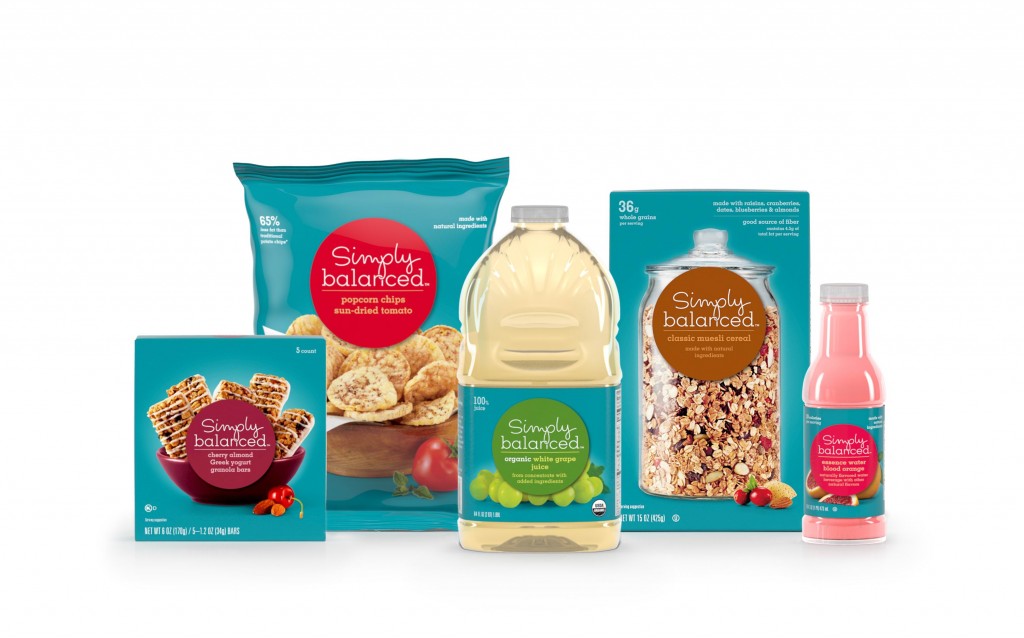 These days, almost everyone has jumped on the Be Healthy, Stay Healthy bandwagon. and why not. With the increasing knowledge about how obesity can lead to tonnes of diseases, it is only fair to start being healthy right from the beginning, and its all the more important to keep your kids healthy, and inculcate a healthy perspective in your entire family. Being a working mom, I try to keep a balance between healthy home-cooked meals and ready-made quick-fixes, so that I can ensure that my family stays on the healthy track.
Nowadays, it has become comparatively easier to find healthy food choices in the grocery stores, which is a boon for working moms like us. And I am really glad that one of my favorite stores Target has now launched a new line of healthier products under the Simply Balanced brand name. It takes the guesswork out of eating well, because all Simply Balanced food meets nutritional requirements that include low sodium and fat, zero Trans Fat, no Hydrogenated Oils or high fructose corn syrup, and no synthetic colors, artificial preservatives, flavors or sweeteners. So now I have even more choices than before to incorporate balanced meals in my diet plan, without breaking my bank! Here are some of my favorite healthy choices that we make in our family, and Simply Balanced has a product for pretty much all of my criteria.
Eat a good healthy breakfast
It is a well-known fact that Breakfast is the most important meal of the day. So each of us, including my pre-schooler, prefer to start our day with a bowl full of cereal or oatmeal and granola, along with a cup of tea. The Blueberry Almond with Flax Instant Oatmeal from Simply Balanced is our family favorite. Make sure you include one serving of dairy and one serving of fruit in your balanced breakfast.

Add more fluids to your meal
It is very necessary to maintain a healthy supply of fluids in your body. So while water is the number one choice to meet this requirement, we do indulge in juices from time to time, as well as milk. My daughter loves the Simply Balanced Apple Juice, which she gladly takes in her lunch bag every day. Try to stick to 100% fruit juices with low or no-sugar to get the best out of these products.

Replace White rice with Brown rice
This was probably the hardest change for us, because honestly, Brown rice does not taste half as good as white rice, especially when paired with Indian curries and dals!! However, a lot of studies have linked high cholesterol and heart problems to the starch present in white rice. So making this switch was not only a healthier alternative, but it also helps us keep our weight in control. In fact, I see a significant loss in fat after I switched to brown rice.

Opt for healthier snacks
Everyone in our house has a sweet tooth, and so I find it very hard to restrict the sugar intake in our diet. But lately, I stock up on Simply Balanced Fruit & Nut Granola bars, as a healthier snack option than my cookies and baked goodies. My daughter loves the Fruit Roll-ups, while my husband opts for the low-sodium chips, again all these are made available by the Simply Balanced brand.

Avoid Trans Fats and Preservatives
Trans fat is the number one culprit in increasing the bad cholesterol in your body,so make sure whatever you eat contains none of this ugly stuff. Also, the farther you go from fresh food, the more damage it does to your body. So try eating foods that contain no artificial preservatives. And whenever possible, choose fresh, organic foods which will do good to your body.
These are my 4 tips to lead a more healthier lifestyle. Though small, it has helped our family take a step towards a more balanced and fit life. What are some of your favorite ways to make healthy choices? And here are some of my favorite recipes that I have tried to re-create, using healthier alternatives to common ingredients, without compromising on the taste and appeal of the dish. Try them and come back to let me know what you think about them!
Healthy Recipes
Spinach & Banana Muffins
Brown Rice & Barley Salad
Baked Zucchini Fries
No-Sugar Date & Apple Muffins
Detoxifying Green Smoothie

Take the guesswork out of eating well. Introducing Simply Balanced,a new brand from Target that's thoughtfully crafted for taste and goodness.
www.target.com/simplybalanced
Disclosure: Compensation was provided by Target via Glam Media. The opinions expressed herein are those of the author and are not indicative of the opinions or positions of Target.