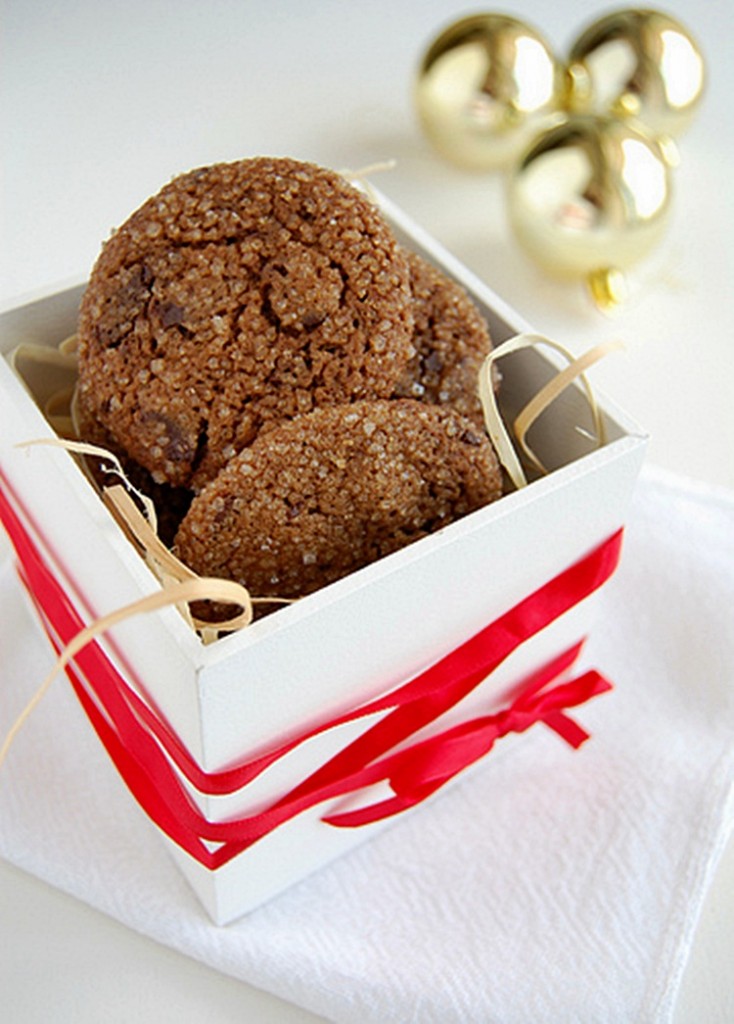 As we roll in towards December, the preparations are on for Christmas; we even put up our Christmas Tree last Sunday, as soon as the Thanksgiving fiesta was over, and I've been scouring the magazines for all the delicious Holiday recipes that will find their way into our kitchen! I have a list of recipes to share, but I wanted to kick-start the Christmas recipes with this very delicious and extremely popular cookie recipe from my friend Patricia, of the Technicolor Kitchen. She, in turn, got inspired from the original recipe at Martha Stewart's website, but no matter what lies behind the inspiration, it is one winning recipe that I urge you to try this holiday season!
Christmas is kind of incomplete without a traditional Fruit Cake, Gingerbread Cookies, or perhaps a fancy Yule Log Cake. Ginger is such a versatile ingredient, and using freshly grated ginger adds a wonderful aroma and a scintillating taste to this cookie recipe. Instead of using spice-blend, I love how they use freshly ground spices, and the addition of chocolate makes it soft and chewy, making it a crowd-pleaser for kids and adults alike!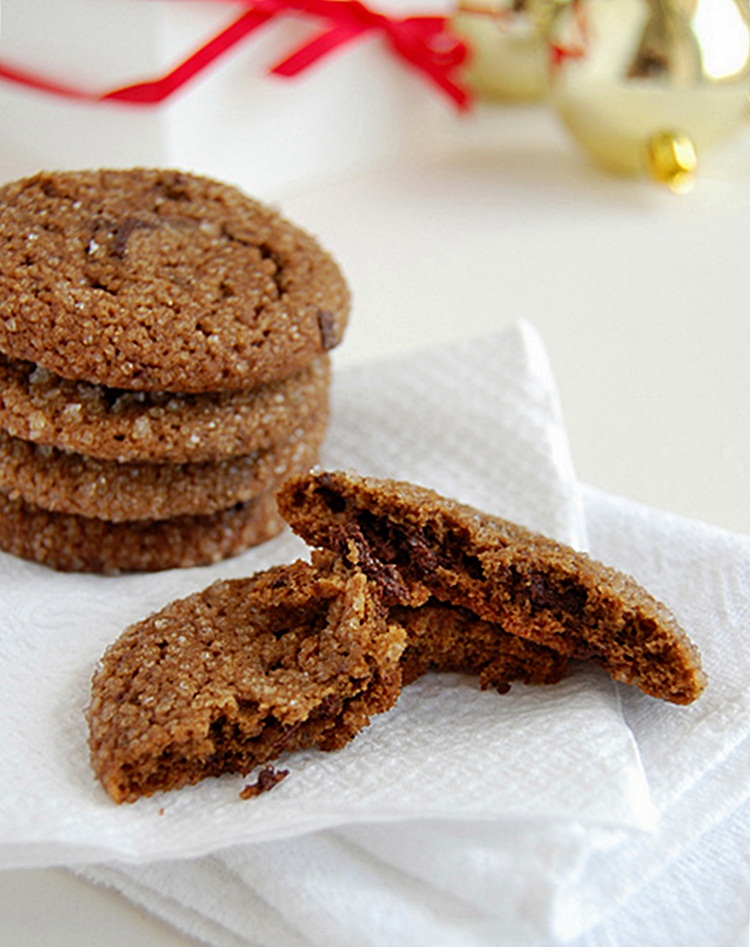 Chocolate Gingerbread Cookies
Christmas is incomplete without Gingerbread. And if you can pair this holiday flavor with another classic, like Chocolate, then its like Paradise on a Plate! These soft and chewy chocolate gingerbread cookies, shimmering with sugar crystals are perfect foodie gifts for the holiday season.
Author:
www.funandfoodcafe.com
Ingredients
7oz dark chocolate, chopped
1½ cups + 1 tablespoon all-purpose flour
1¼ teaspoons ground ginger
1 teaspoon ground cinnamon
¼ teaspoon ground nutmeg
1 tablespoon cocoa powder
½ cup unsalted butter
½ cup dark-brown sugar, packed
½ cup un-sulfured molasses
1 teaspoon baking soda
¼ cup granulated sugar
Directions
Chop the chocolate into small chunks and set aside.
In a medium bowl, sift together flour, ground ginger, cinnamon, nutmeg, and cocoa powder.
In the bowl of an electric mixer, fitted with the paddle attachment, beat butter until whitened, about 4 minutes. Add brown sugar and molasses, and beat until combined.
In a small bowl, dissolve baking soda in 1½ teaspoons boiling water.
Beat half of the flour mixture into the butter mixture. Beat in baking-soda mixture, then remaining half of flour mixture. Mix in the chocolate chunks at the very end.
Transfer the dough onto a large piece of plastic wrap. Pat dough out to about 1-inch thick; seal with wrap and refrigerate until firm, at least 2 hours or more.
Preheat oven to 325°F; line two large baking sheets with baking paper and keep ready.
Remove the dough from the fridge and divide it into 24 pieces. Roll the dough by hand to smoothen the cookie balls and flatten them slightly, about 1½-inch thick balls. Place 2 inches apart on the baking sheets and refrigerate for another 20 minutes.
Remove the trays, then roll each cookie ball in granulated sugar. Bake until the surfaces crack slightly, about 10 to 12 minutes. Let cool for 5 minutes, then transfer to a wire rack to cool completely.
These soft and chewy cookies are unlike the Gingerbread cookies I've previously had, which are brittle and crunchy. I guess the chocolate does the trick, and also the way how baking-soda is mixed with water to create an effervescence in the recipe, making them soft and moist. These are so good, you'll not be able to stop at one! Pack them in gift boxes and share them with friends and family for the holiday season. What's your favorite Gingerbread recipe?? Do let us know!