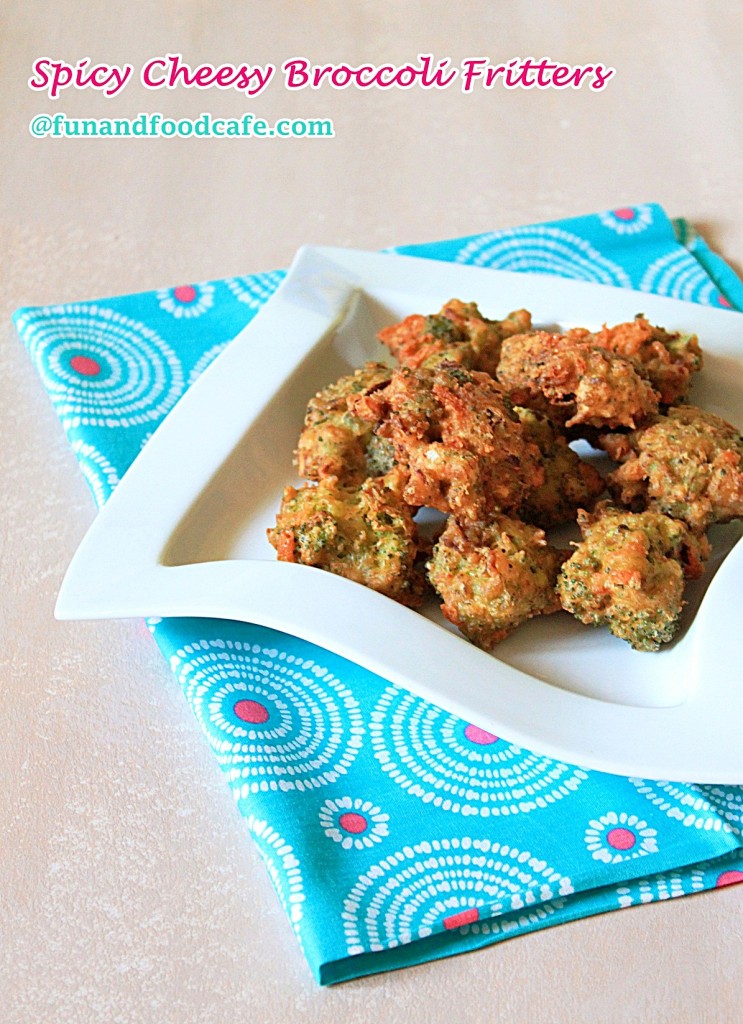 Two days ago we observed a sudden change in the weather, and from warm and humid days, it suddenly became dark and gloomy, and the sky was overcast with clouds the whole day, as if officially announcing the end of Summer in the Bay Area! And today, as I celebrate Labor Day with my family and friends, I know this is probably going to be one of the last summer garden parties until next year! But nevertheless, we will enjoy it to the fullest, with a platter of delectable food like Grilled Paneer Pizza, Smoked Mozarella Caprese, Black Bean Burgers and Grilled Pineapples and Peaches with ice cream for dessert! Oh, and of course, these super delicious Broccoli Fritters that are spicy, cheesy and gooey, and garlicky too – if that doesn't make your mouth water, Take a look at the photo below and I'm sure you'll head out to your kitchen right away to make these for yourself.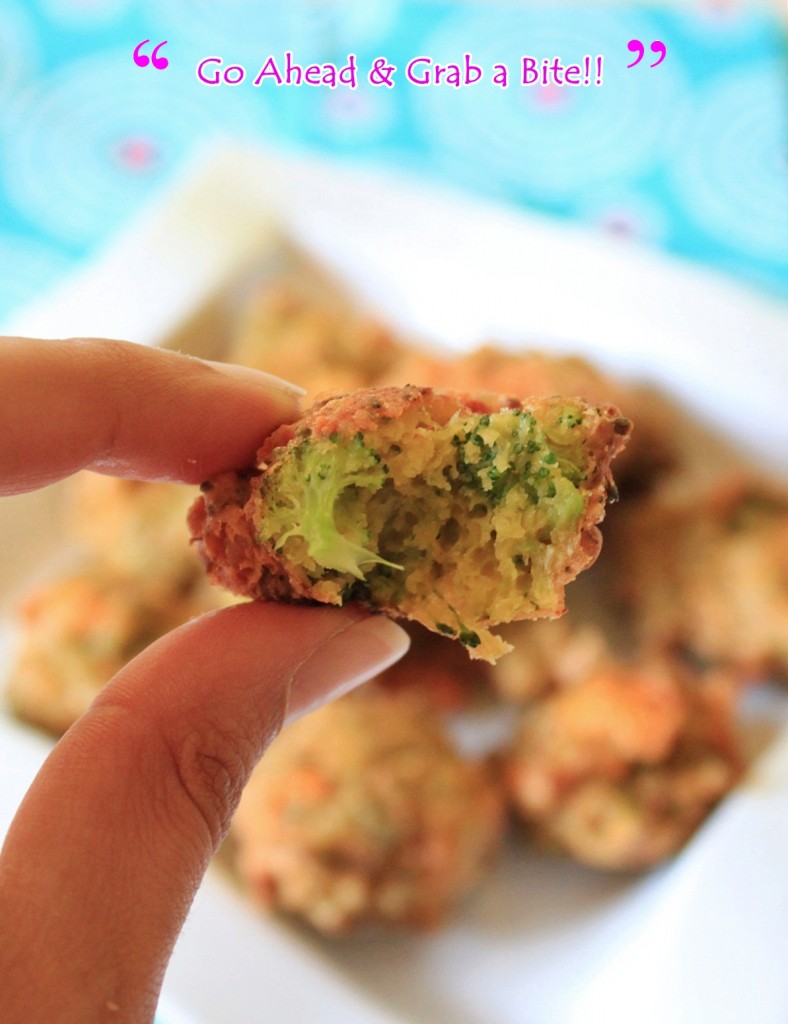 Pakoras are a favorite treat in Indian households, especially when it rains – a glass of piping hot tea and a plate full of Pakoras perfectly compliments the wet and chilly weather outside, and the brief 2-day downcast urged me to make these today. I wanted to try something different, other than potatoes o onions or spinach pakoras, so I decided to give Broccoli a try. I chopped them fine, added some garlic salt, some shredded cheddar cheese and a nunch of seasonings, then off they went into a hot fryer, and out came something so delectable that you can eat it right off the plate. Nice and crispy from the outside, oozing out cheese from the inside, these are a perfect treat for a potluck or an evening with friends and family.

Fried Broccoli & Cheese Fritters
Fresh broccoli mixed with cheese, rolled into dumplings and deep fried to make these delicious fritters which are perfect for snacking!
Author:
www.funandfoodcafe.com
Ingredients
3 cups fresh broccoli, chopped into small pieces
1 small onion, chopped finely
1 cup shredded cheese (cheddar)
¾ cup gram flour (besan)
¼ cup semolina (rava), optional, please see notes
1 garlic clove, minced
salt - add to taste
½ tsp red chili powder
¼ tsp asafoetida (hiing)
oil for frying
water, as needed for the batter
Directions
Wash the broccoli heads and stems and chop it into small chunks, about ½ inch big.
Steam the broccoli by placing it in a microwave-safe bowl with water, and heat for 5 minutes, until tender, but not cooked. Then set aside to cool.
In a large bowl, combine the gram flour, semolina, shredded cheese, minced garlic and salt and chili powder with water, to make a thick paste.
Add the chopped broccoli and onions, and mix it all together so the broccoli is well-coated with the flour mixture. Add water as needed (start with very less water), until you reach a consistency where you can roughly shape the mixture into round or oval balls and drop them into the oil. It should not be thin or runny.
Heat oil in a large frying pan under medium heat. Drop the roughly shaped fritters into the oil, then lower the flame, and fry 3-4 fritters at a time, until crisp and golden brown on all sides.
If you prefer a healthier option, then you can even shallow fry them in a skillet with less oil, flipping them over until cooked, just like griddle cakes.
Remove and let them cool on a tissue paper, then serve them hot, with your favorite dipping sauce on the side.
Notes
Semolina is added to make the fritters more crispy. However, if you don't have it on hand, you can use all-purpose flour too, or just add some bread crumbs to the batter instead.
Broccoli is a highly versatile ingredient, and these fritters are a creative way to use this magical ingredient in a way that's so delicious, you wouldn't even know that you are eating Broccoli! I guess that's what makes it such a hit with kids too, my 3-year old gobbled up a bunch with her favorite cheese-dip, while all the elders enjoyed these with a side of sweet and spicy Tamarind Chutney. Have you tried Broccoli fritters before? If not, try these right now, they are totally worth it, and you don't need to wai for rainy weather!