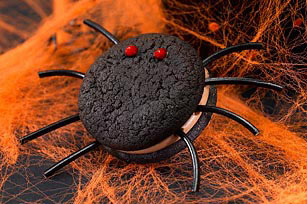 The spooky holiday is just around the corner, and we are so excited to get our little toddler into a home-made witch's costume! Holiday traditions take on a whole new meaning once you have kids in the household – and this time, I'm looking forward to the costume party, the trick-or-treating, as well as devouring some ghoulish Halloween treats. If you are planning a party at home and wondering what to put on the menu which is simple and scary, then this article is perfect for you. Here are 3 extremely easy Halloween recipes which will make cooking more fun, rather than a chore!

Witch's Hat Dessert
(Adapted from bhg.com)
One of the simplest Halloween treat is to make these delicious Witch Hats, which use store-bought ingredients and hence can be put together in a jiffy. Use a dark chocolate cookie to make the base of the Witch's Hat. Or take 2 chocolate-chip cookies and add some creamy white or colored frosting between them to make a cookie sandwich. Use an inverted chocolate ice-cream cone on top of the cookies. Then use orange and green colored frosting to decorate the Witch's Hat, as well as pipe a generous amount of frosting to glue the cone (hat) onto the cookies(base).

Cheesy Pumpkins
(Adapted from bettycrocker.com)

Take some packed Cheddar cheese (lumped, not shredded or cubed). Take s spoonful of cheese and roll it into a small ball. Make several such balls and refrigerate until firm, about 10 minutes. Now use a toothpick to draw ridges around balls to resemble pumpkin veins. Dip bottoms of cheese balls in chopped peanuts, so they can be stable on your serving plate. Insert pretzel sticks cut in small sizes to make pumpkin stems. Store in refrigerator until ready to serve.

Apple Jaws
Use red or green ripe apples, and cut them into 4 quarters, removing veins and pith. Then take a wedge out of the center of each quarter. Dunk them in water with a little lemon juice to prevent browning. Stick slivered almonds into the jaw to make teeth, and add a pair of eyes using colored icing.

Spider Cookies
(Adapted from Kraft magazine)

Take some black licorice and cut it into equal-length 1 inch strips to be used as spider legs. Take 4 Oreo cookies, and insert licorice pieces into opposite sides of each snack cake to make the spider's legs. Take some Red decorating gel and make the spider's spooky eyes.

Vampire Fingers
Take some store-bought french fries and fry or bake them as instructed. Now use a paring knife to shape the edges of the fries to make them curved, like fingernails. Then apply some tomato ketchup on the top to make red painted nails. Arrange all the fingers in a tall mug and serve.
Holidays are all about having fun, and enjoying the festivities with friends and family. Food is always an important part of any celebration, but stick to simple yet delicious stuff, so you too can make the most out of being a host! Happy Halloween!